The Match Out: ASX extends rally, MA Financial suffers on visa changes, Atlas hoping for Chicago asset
---
Equities started this week where it left off, with buyers in full control for the Monday session. Supported by strength in commodity markets and a strong US session on Friday night, the ASX managed a 1% rally today. Materials were the standout sector with rumours of Chinese stimulus helping support commodity markets, while four other sectors were also up more than 1%. Healthcare was the only sector in the red to start the week.
The ASX 200 finished up +70pts/ +1.02% at 6964
The Materials sector was best on ground (+2.16%) while Consumer Discretionary (+1.52%) & Tech (+1.46%) were also strong
Healthcare (-0.26%) was the only sector in the red today, with heavyweight CSL falling despite the broad buying seen around the market.
Atlas Arteria (ASX: ALX) -XX%, confirmed it had bid for a stake in the US toll road Chicago Skyway. More on that below.
MA Financial (MAF) -21.76%, the investment manager was caught up in plans to change Special Investment Visa (SIV) terms today, the stock trading near 2 year lows.
A2 Milk (ASX: A2M) +2.52%, was buoyed by the news their current product would have Chinese registration extended for its current products out to 2023 while the process for updated registration to the new standard was progressing.
Star Entertainment (ASX: SGR) halt, and didn't trade today as it waits for the final report from the regulatory review.
Imugene (ASX: IMU) halt, also didn't trade as it looks to bring on two new institutional investors in a special placement. News on the structure of the deal is expected from the biotech by Wednesday.
Iron Ore rose 2.88% in Asia today continuing its bounce off recent lows. Fortescue (FMG) was up 3.31%.
Gold is flat at $1714/oz
Asian stocks were strong, Nikkei rallied 1.16% but the Hang Seng outperformed, rallying +2.7%
US Futures are all marginally lower, S&P 500 futures pointing to a -0.05% decline.
ASX 200 Chart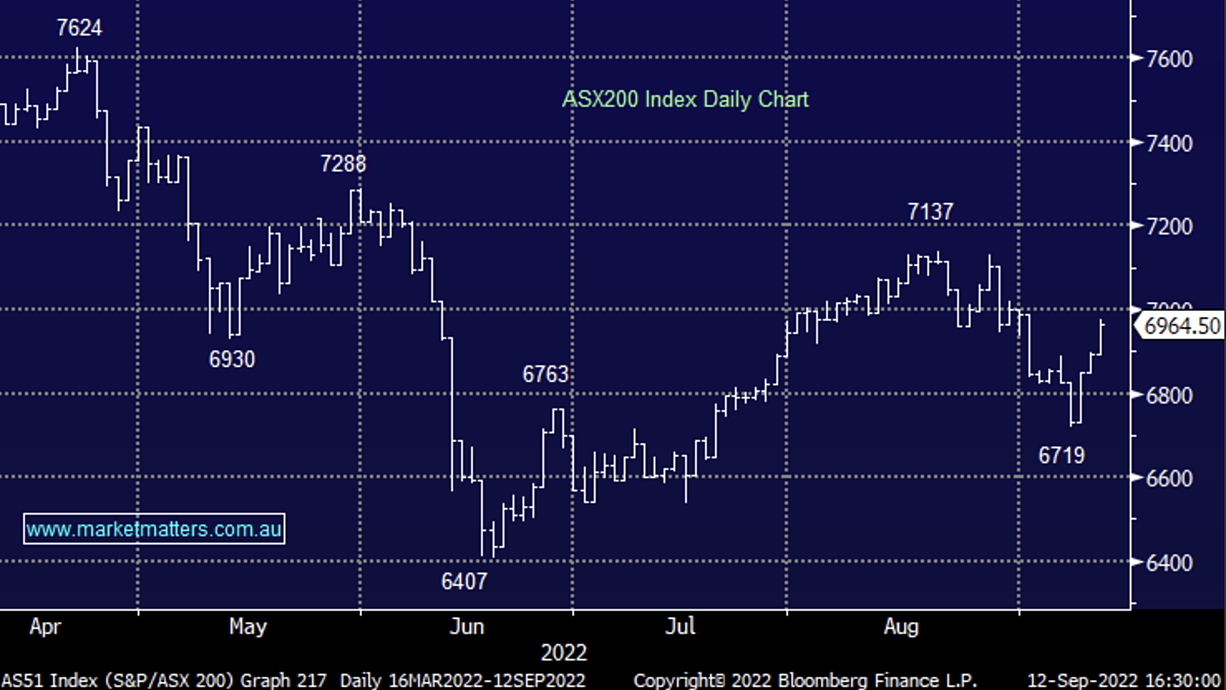 MA Financial (MAF) $3.99
MAF -21.76%: the asset management company traded down to nearly 2-year lows today on news the Australian Government was looking at changes to the Special Investment Visa (SIV) process. Under the current system, migrants can effectively skip the queue b investing $5m in approved investment schemes, of which MA Financial run a number of products for. Currently, around 50% of the total $7.2b under management comes from high net worth, however, MA Financial said the figure coming from SIVs is closer to 37%. The company reiterated FY22 guidance (December yearend) of 30-40% growth in underlying EPS, while 85% of gross fund inflows for the first 8 months of the year were not "from clients under the migration related programmes."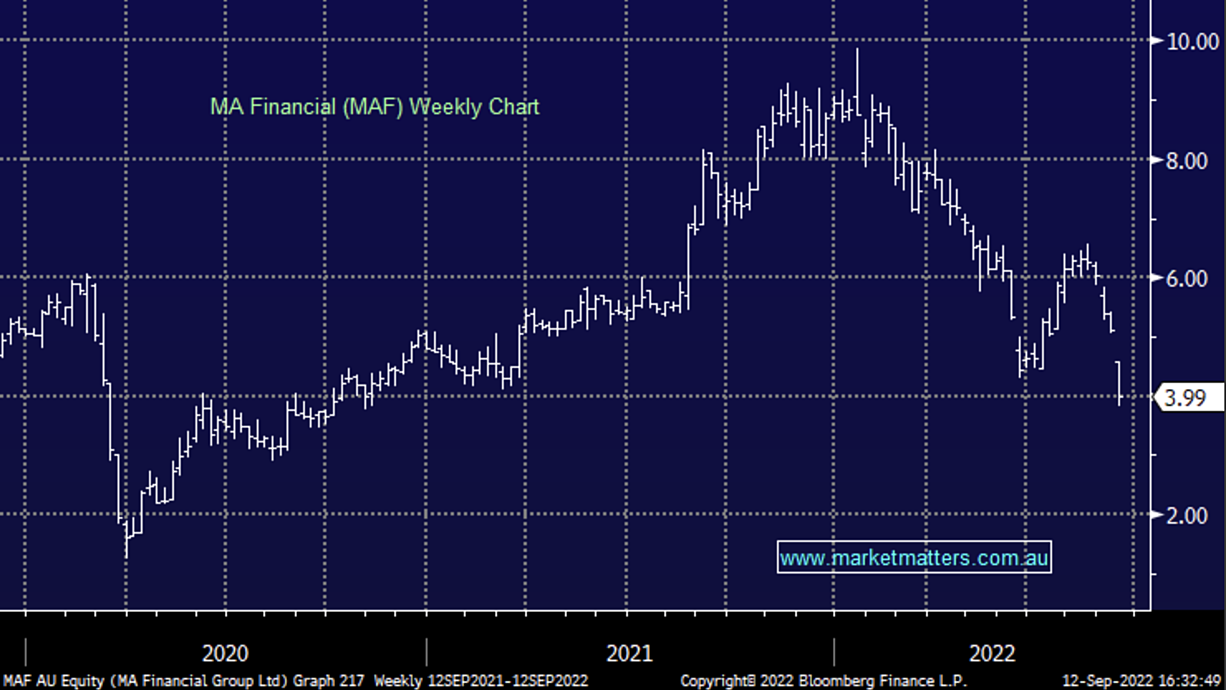 Atlas Arteria (ALX) $7.81
ALX -2.13%: the toll road operator fell today after confirming it had joined the bidding for a 67% stake in Chicago's Skyway asset. The stake is being sold by Canada Pension Plan Investment & OMERS Infrastructure, rumoured to be worth around $US2.7b and earnings of ~$US67m/year. The sellers are looking for a quick turnaround, which Atlas is likely to provide given they've owned a stake in the asset previously. The deal would likely need to be accompanied by a capital raise as well, hence the market's caution on today's news.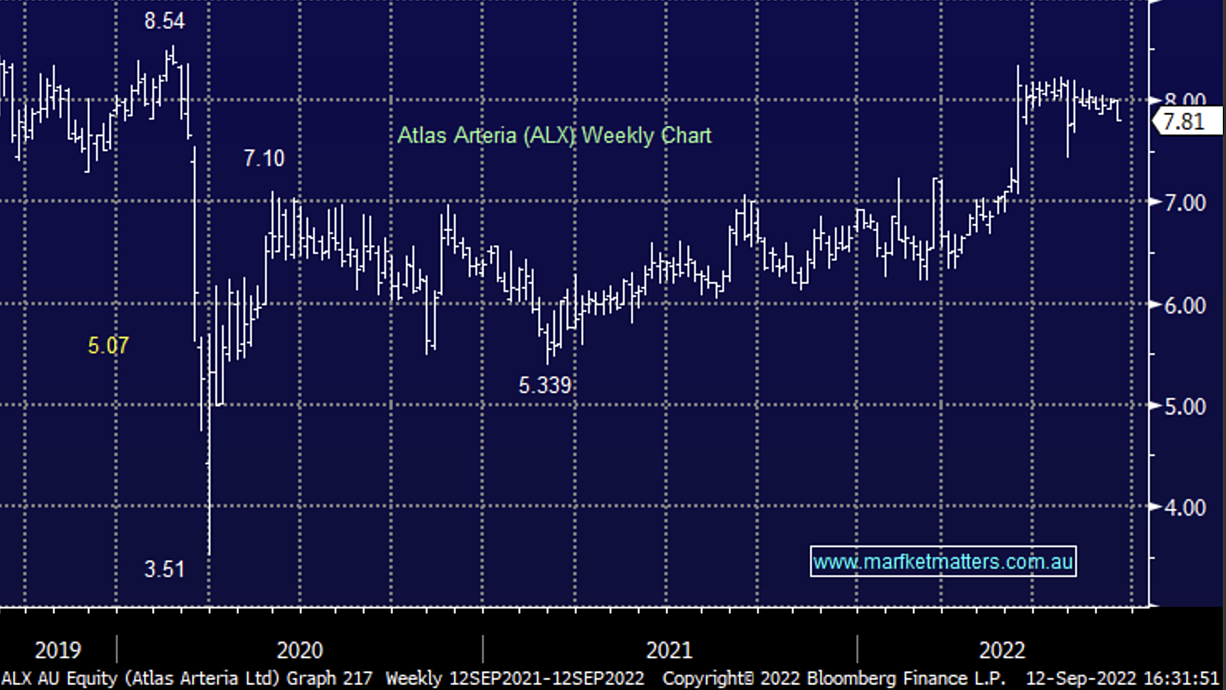 Broker Moves
GTN Ltd Rated New Buy at Barclay Pearce Capital
Karoon Energy Rated New Buy at Barclay Pearce Capital; PT A$3.49
Major Movers Today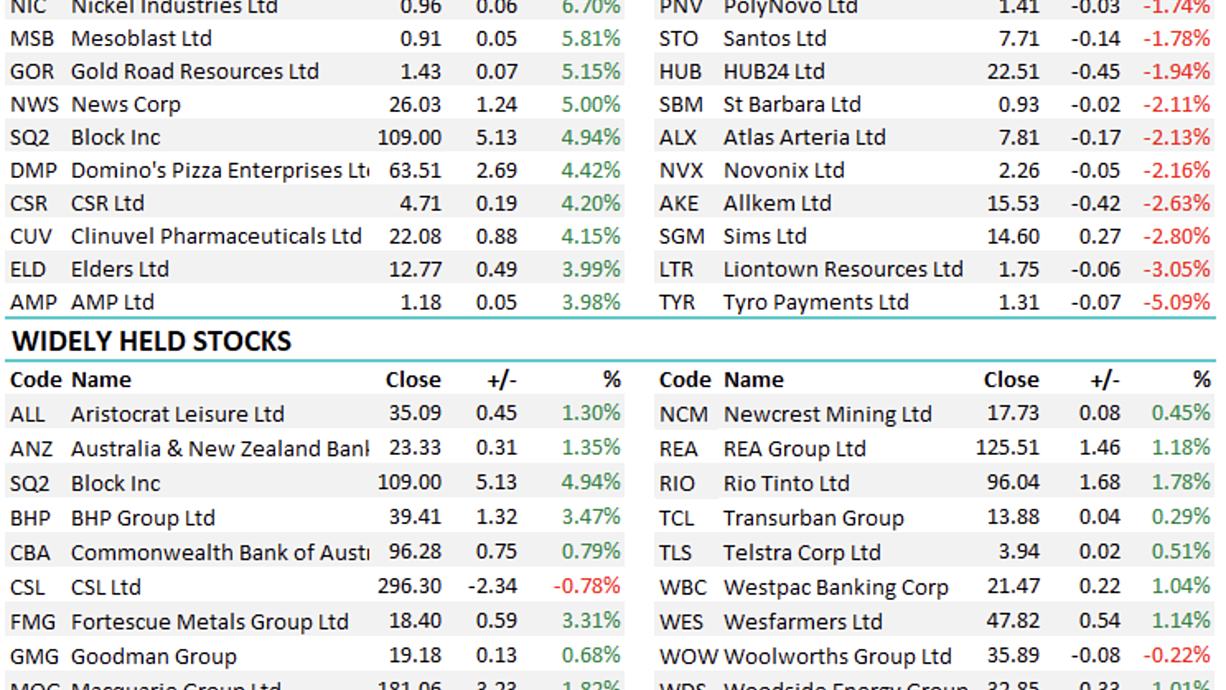 Have a great night
The Market Matters team.
Make informed investment decisions
At Market Matters, we write a straight-talking, concise, twice-daily note about our experiences, the stocks we like, the stocks we don't, the themes that you should be across and the risks as we see them. Click here for your free trial.
The Match Out will be available each day after the market close. Follow my profile to be notified when the latest report is live.