The Match Out: ASX fades after getting within touching distance of all-time highs, Ramsay cops $20b takeover bid
---
The local market had a strong rally early in the session, coming to within 8 points of the all-time high before 11AM. Strength in the financials sector early helped carry the index, however, selling in the heavyweight sector weighed on the index as the session went on. Commodity facing sectors took a backwards step on the back of a global growth outlook downgrade. Healthcare was the standout, though stock-specific factors carried the sector. Overall the index gave back 55pts intraday to close just marginally higher.

The ASX 200 finished up +4pts/ +0.05% at 7569
The Healthcare sector (+2.58%) was the strongest today, helped by a big rally in sector heavyweight Ramsay Healthcare (RHC).
Energy (-1.46%) & Materials (-0.57%) were the weakest links and the only two sectors in the red today.
Rio Tinto (ASX: RIO) -2.76%, was out with their 1st qtr production update. It's a seasonally weaker quarter for iron ore but the numbers looked light on anyways. Guidance was unchanged but volumes were down YoY across the board.
Ramsay Healthcare (ASX: RHC) +24.24%, copped a huge $20b bid from private equity group KKR – more on that below.
AGL Energy (ASX: AGL) -3.18%, revealed an electrical fault at their Victorian coal plant Loy Yang A could see 25% of its capacity offline until August. Assessment works and modelling is underway to determine the extent of the issue.
Zip Co (ASX: Z1P) -3.6%, will announce their quarterly update tomorrow. The ASX code will also switch over to ZIP.
Whitehaven Coal (ASX: WHC), +3%, jumped on a decent quarterly update. Production was a little light on however they maintained guidance for the full year with a quarter left. Pricing was where they beat - realized coal prices at $315/t, up from $204/t over the first half. They also now have $161m in cash even after paying $80m in divs and buying back $67m in shares.
Santos (ASX: STO), -1.08%, shares were weaker on the back of lower oil prices however they announced a $US250m share buyback to start in May, and the CEO outright called the shares undervalued. They look to be printing plenty of cash as a result of strong energy markets as well and updated their dividend policy as a result.
Iron Ore was ~0.7% lower in Asia today
Gold was flat overnight before tracking down -US$9 in Asian trade today, settled $US1940 at our close.
Asian stocks were mixed today, Hong Kong down -0.4%, China was down -0.9% & Japan's Nikkei +0.85%
US Futures are all weaker, looking set to give back some of the gains seen overnight. S&P futures down -0.47% and Nasdaq futures -0.9%
ASX 200 Chart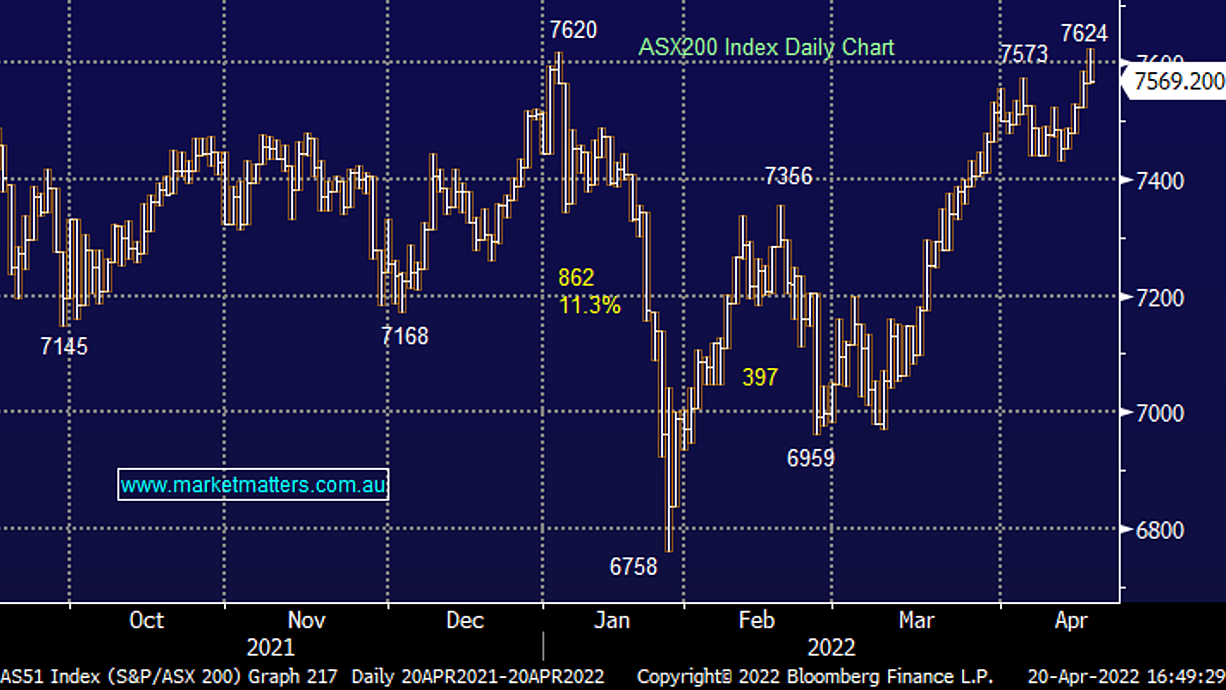 Ramsay Healthcare (RHC) $80
RHC +24.24%: articles about a potential takeover of Australia's largest hospital operator started popping up overnight forcing Ramsay to confirm the reports this morning. A KKR led consortium has put forward an initial $88/sh bid, a 26.7% premium to yesterday's close for the company which owns and manages hospitals all over the world. The indicative proposal would require a number of approvals given the complex structure of the company, while KKR would also need to put together $20b to close the deal. Ramsay is also in the midst of selling its stake in Sime Darby which complicates things. They also have a decent franking credit balance so it's likely part of the bid would be paid as a dividend to distribute that to shareholders – if the deal is eventually approved. Shares closed 10% below the offer price.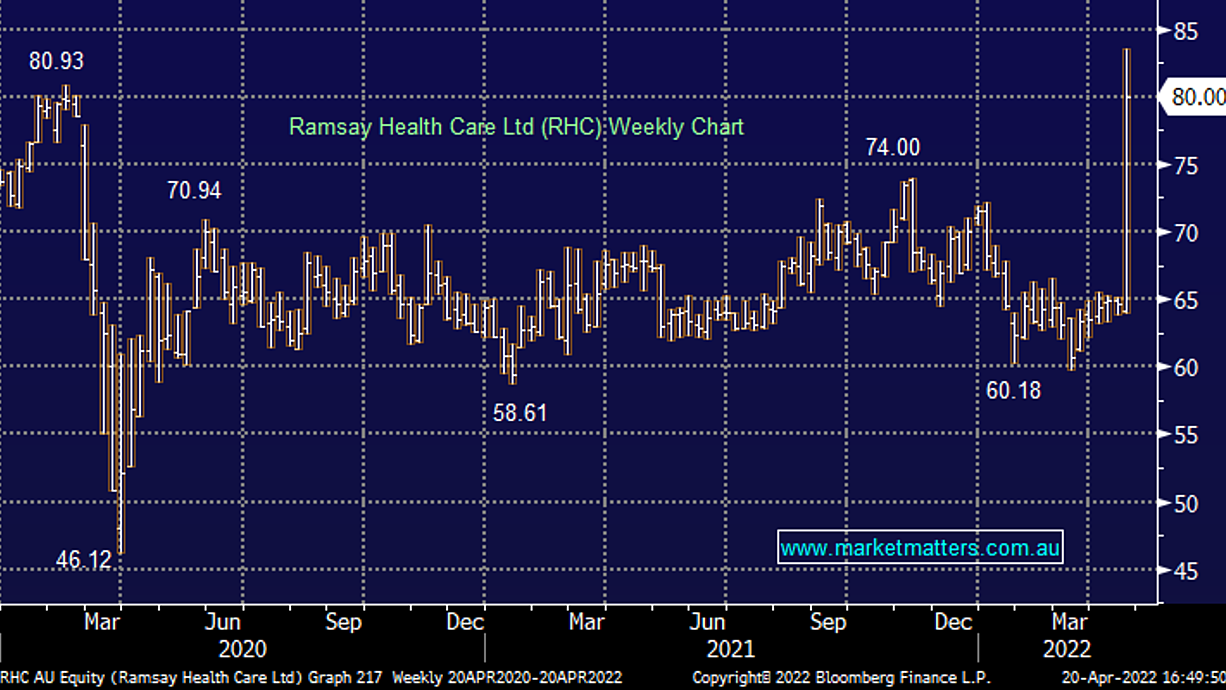 Broker Moves

Netwealth Cut to Neutral at Evans & Partners Pty Ltd; PT A$13.50
DEL AU Raised to Speculative Buy at Morgans Financial Limited
Worley Raised to Outperform at Macquarie; PT A$15.26
SiteMinder Ltd Rated New Hold at Jefferies
Major Movers Today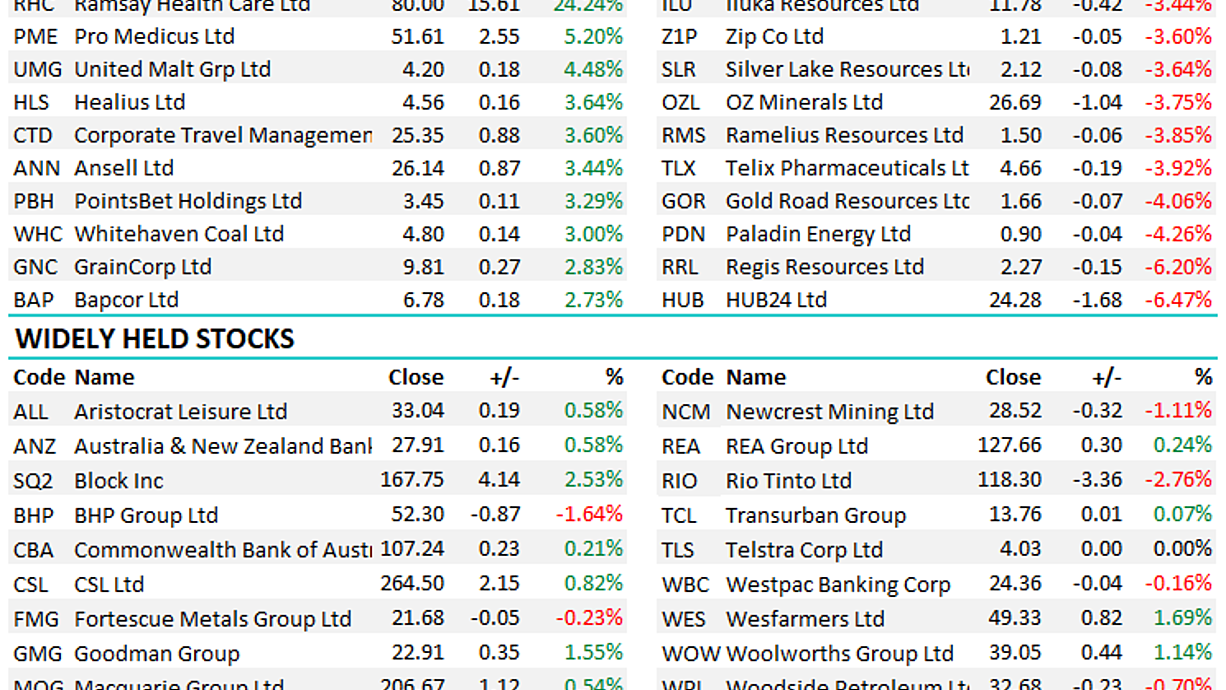 Have a great night
The Market Matters Team