The Match Out: ASX falls again, RBA to lift rates on Tuesday, Energy bounces back
---
Another tough session for Australian shares although the sell-off had a more pedestrian feel about it with the index tracking up from early morning lows. Inflation data at 11.30am this morning took centre stage and while it came in ahead of expectations, the initial knee-jerk sell-off by equities was met with buying while the reverse played out in the bond market implying that traders are positioned for liftoff.

The ASX 200 finished down -56pts/ -0.78% at 7261
The Energy sector was best on ground (+0.97%) while Utilities (+0.55%) & REITs (+0.35%) were also higher.
IT (-2.43%) and Staples (-1.87%) the weakest links.
The US market fell between 2-4% overnight depending on what indices we look at so a decline of 0.78% was a good effort today locally.
US Futures rallied during our time zone having been hit early on, S&P eminis up around 1% from morning lows.
Western Areas (WSA) +0.26% acquisition by peer, IGO, takes a step closer with the first court hearing and key dates outlined – no other suitors likely.
The Reject Shop (TRS) -21% hit hard as the CEO resigns 2 years into its long-awaited turnaround.
Iluka (ILU) +1.44% posted March Quarter 2022 production and sales scorecard with Rocky saying… We like Iluka. The company continues to execute significant and commercially sensible portfolio transformations with a degree of rigour, analysis, process and clarity that is encouraging.
Northern Star (NST) -5.39% down on weak quarterly production with costs the main issue.
Iron Ore was ~2.5% higher in Asia today supporting a bounce back in Iron Ore names, Fortescue (FMG) +1.72% & BHP +0.77%.
Gold was down to ~US$1898 , the strength in the $US continuing to hurt.
Asian stocks were mixed Hong Kong flat, Japan down -0.98%, while China was up +2.28%
US Futures are all up, around +0.60%  
ASX 200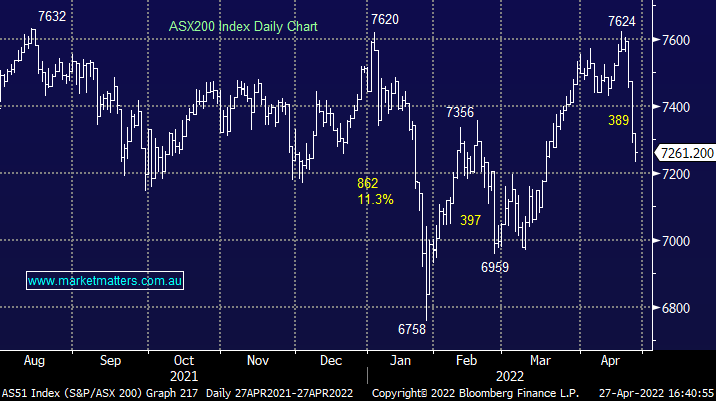 Inflation Data = Rate Hike next week
Today saw the hottest inflation print since 2001 with Headline CPI printing 5.1%, well above the 4.6% expected, while the underlying result which is the RBA's preferred measure came in at 3.7% exceeding expectations of 3.4%. Bond yields rallied with the 3-year yield hitting a high of 2.745% as the market moved to fully price in a cash rate increase of 0.15% in May taking the benchmark rate to 0.25%. We also saw a number of forecasters who had previously been tipping a June hike realigning themselves with reality and hanging their hats on a May move. At MM, we think the RBA should be increasing rates by 40bps but concede that is unlikely. In any case, the market is positioned for higher rates and we wouldn't be surprised to see a relieve rally when some of the uncertainty is overcome – Just do it Governor Lowe!

Life 360 (ASX: 360) $3.77
360 -29.4%: family tracking and safety business Life360 saw shares fall to a 2 year low today after halting plans for a dual listing in the US and providing soft guidance for the full year. Growth is coming through the business, though Monthly Active Users were only up 8% in the quarter. Supply chain issues were weighing on their hardware sales so the company is shifting strategy to focus on software upsells. Initial testing has been fruitful, but this is expected to have a slight drag on near term revenue though they expect CY22 revenue in the range of $US245-275m while consensus sits near the top end. The CEO said the US listing plans were dropped following a change in market conditions i.e. the ridiculous revenue multiples are no longer being paid!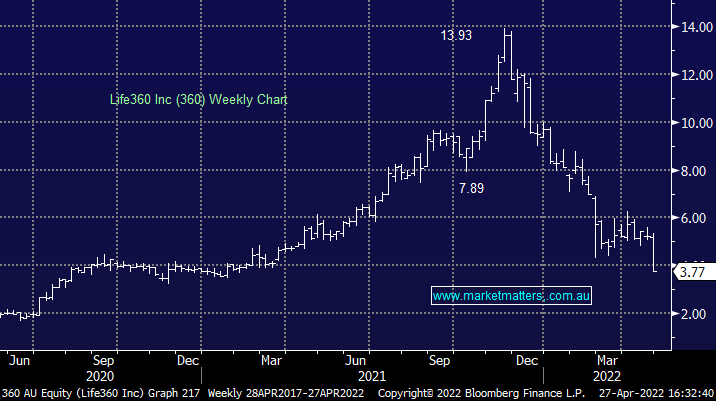 Broker Moves

Perseus Raised to Outperform at Macquarie; PT A$2
Treasury Wine Reinstated Overweight at Morgan Stanley
Playside Studios Rated New Overweight at JPMorgan
United Malt Cut to Hold at Morgans Financial Limited; PT A$4.27
United Malt Raised to Outperform at Credit Suisse; PT A$4.62
Beach Energy Cut to Underweight at Morgan Stanley; PT A$1.70
EML Payments Cut to Hold at Canaccord; PT A$2
Major Movers Today
Make informed investment decisions

At Market Matters, we write a straight-talking, concise, twice daily note about our experiences, the stocks we like, the stocks we don't, the themes that you should be across and the risks as we see them. Click here for your free trial.
The Match Out will be available each day after the market close. Follow my profile to be notified when the latest report is live.