The Match Out: ASX falls, RBA steps away from yield targets, Commodities in the crosshairs today
---
While the short odds favourite failed to get up in the cup today, the decision by the RBA at 2.30 pm this afternoon to scrap yield targets and remove guidance for 2024 rate hikes was expected and that saw both bond yields and the AUD tick lower post the announcement. The ASX was soft during early trade today, it bounced as the RBA took some uncertainty away but that didn't last long and we sold off into the close, the material stocks providing the biggest drag as China facing commodities took a beating, Iron Ore limit down and Coal prices continued to slide. Don't fight the PBOC the clear message at the moment!
The ASX 200 fell -46pts /-0.63% to 7324 today
Commodity stocks the biggest drag, Coal is in the vortex of Chinese negativity with Whitehaven (WHC) down ~9% , Iron Ore was limit down in Asia, the iron ore stocks falling ~2.5% could be called a win. As we wrote this AM, iron ore stocks are looking for a low and outperformance versus the underlying commodity – even though the stocks were lower is often a sign that a turn is near. We wrote about switching from IGO limited (IGO) into Mineral Resources (MIN) earlier in the week, we didn't push the button yet and IGO whacked ~8% today – not good.
Westpac (WBC) fell another 2.73% today – follow through from yesterday's weak FY21 result, brokers universally downgraded – NAB & CBA the best of the banks in a weak market falling less than 1% today while Bank of QLD (BOQ) that we discussed this AM fell 2.29%
The weakness we felt across portfolios at the end of October has continued into November which a few weak patches today, however, I started writing the performance reports for our SMA Portfolio's today, and the Active high Conviction SMA (based on our Growth Portfolio) added +1.75% in October v a decline of -0.10% in the market. Rolling 12 month return sits north of 37%, about 10% above market.
Netwealth (NWL) -2.06% has lobbed a merger proposal at Praemium (PPS) today, looks more like a takeover but anyway, the deal values PPS at $1.50+, the stock rallied 14% to close at $1.425. We own this in the Emerging Companies Portfolio & Harry covers off below.
Goodman Group (GMG) +5.57% upgrades guidance and now sees EPS growth of more than 15% saying customer demand for high-quality properties close to consumers has never been greater
IAG -7.02% downgraded margin expectations, now sees reported insurance margin 10% to 12%, saw 13.5% to 15.5% previously, having increased its expectation for FY22 net natural perils claim costs to $1.045b vs previous assumption of $765m
Gold was flat in Asia today ~$US1794, it just can't get a move on above US$1800
Iron Ore Futures limit down which is off 9.95%
Asian markets were mixed, Japan down -0.17%, Hong Kong +0.21% while China fell -1.5%
US Futures are mixed, Dow & S&P lower, Nasdaq a tad higher
ASX 200 Chart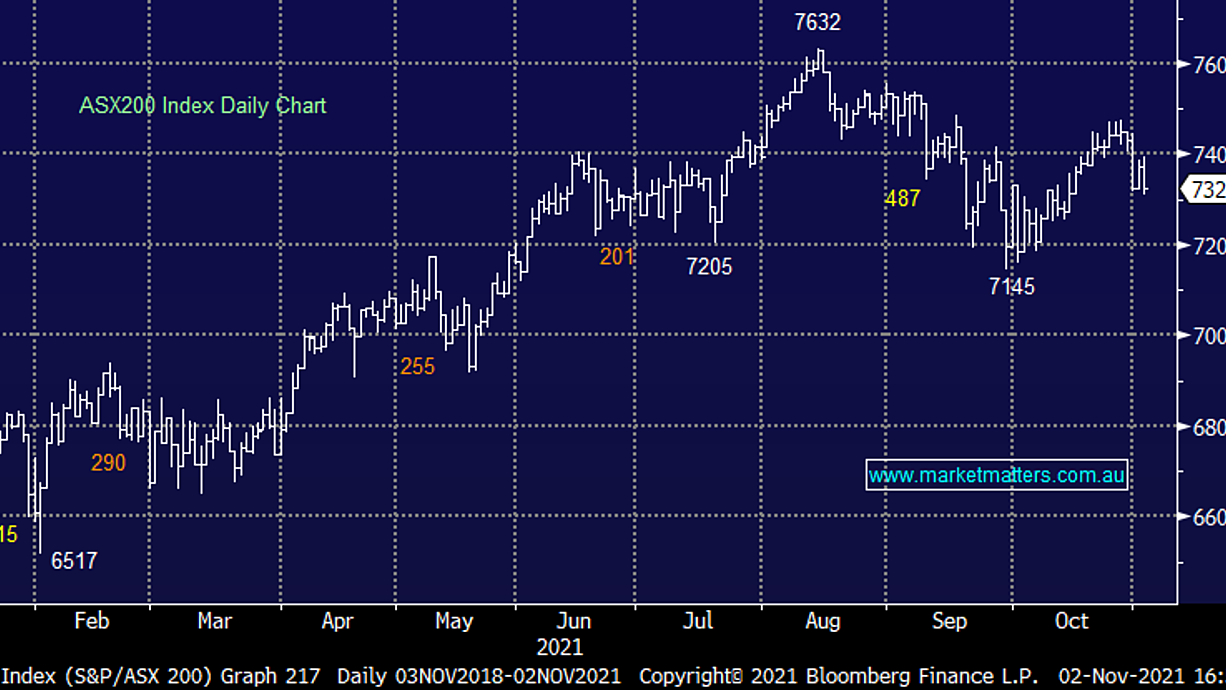 RBA Today – as expected
The RBA kept rates at 0.10% today however the key focus was on commentary around yield targets, and these were scrapped. They said their decision to discontinue the yield target (which was pegging to April 2024 bond to 0.10%) reflects the improvement in the economy and the earlier-than-expected progress towards the inflation target. They went on to say that given that other market interest rates have moved in response to the increased likelihood of higher inflation and lower unemployment, the effectiveness of the yield target in holding down the general structure of interest rates in Australia has diminished. In other words, the market has forced them to step aside which was the clear message they sent on Friday by not intervening when bonds tanked (yields spiked)
The key points in today's update were:
Yield Target Scrapped Amid Economic Improvement
Removed 2024 Rate Hike Guidance
Committed to Maintaining Highly Supportive Monetary Policy
Effectiveness of Yield Target on Capping Rates Diminished
While this seems to be a fairly material shift by the RBA, dropping the yield target and tweaking language around when a rate hike might be likely, the rest of today's statement went along the lines of what MM suggested this AM – that tightening is a long way off and that key economic metrics still have a long way to go, most notably the labour market and a sustained move in underlying inflation into the RBA's target band. Essentially, the RBA is now guiding to sometime in 2023 based on their current forecasts which are further out than the market had priced. That explains a weaker AUD and a pullback in yields post the announcement today and fits out thinking that yields are due a rest.
Australian 3 year bond yield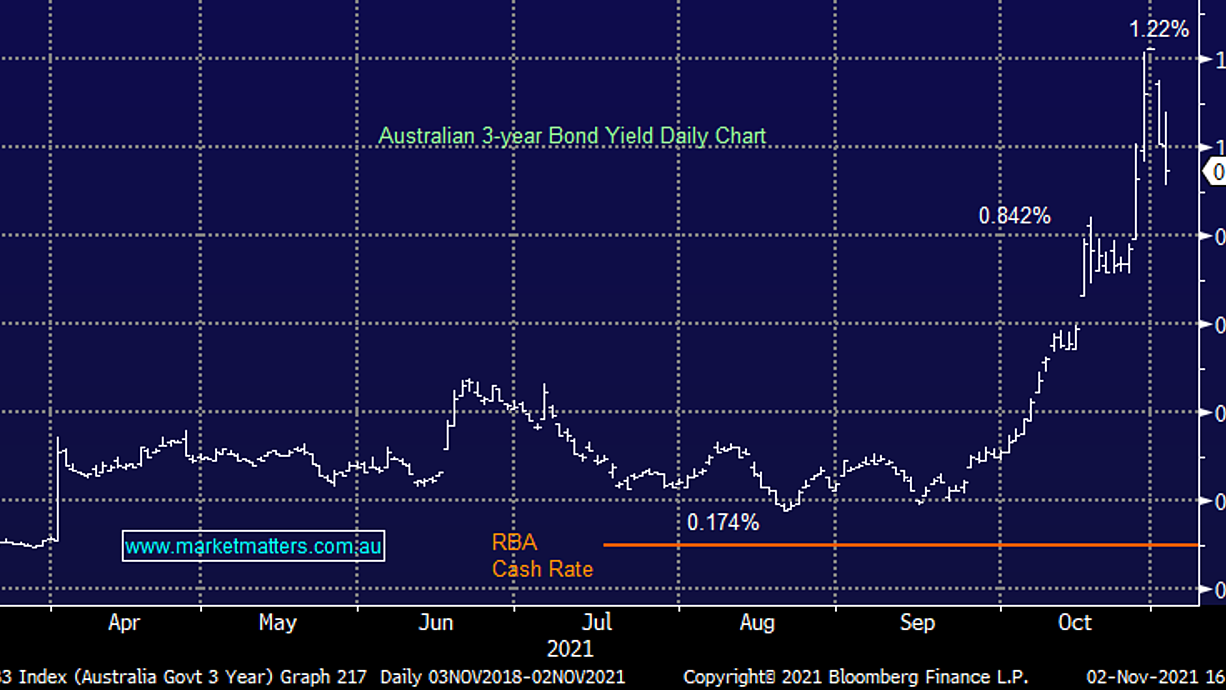 Praemium (PPS) $1.425
PPS +14.46%: the investment platform has had an approach from peer Netwealth (NWL) in an all scrip offer. Praemium shareholders would receive 1 NWL share for 11.96 PPS shares, plus a cash consideration of around 5c tied to the sale of the international arm. The total worth would be $1.55/sh, a 29% premium to the close last week when first approached, however, the Praemium board believe they can squeeze more. Competitor HUB24 (HUB) has been very active, now Net Wealth (NWL) is stepping up. PPS was strong today, however, we see more upside given the substantial synergies between the two.
MM is long PPS in the Emerging Companies portfolio
Praemium (PPS)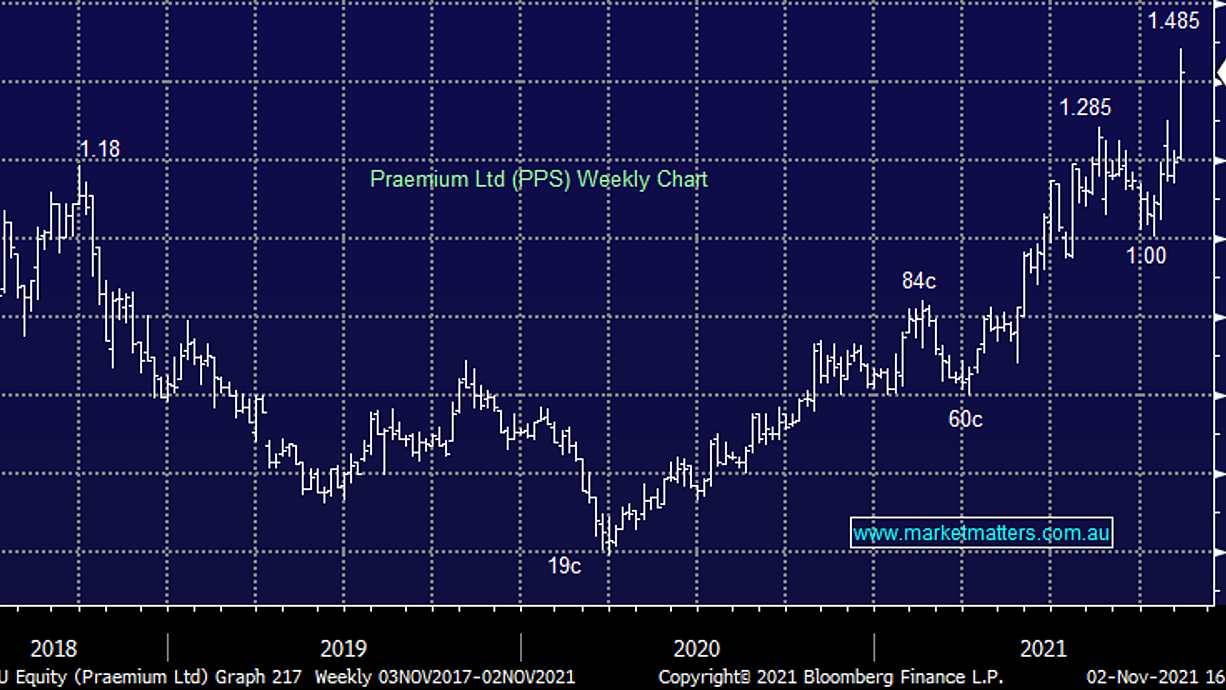 Broker Moves
McPherson's Rated New Underperform at Barclay Pearce Capital
Westpac Cut to Equal-Weight at Morgan Stanley; PT A$24.80
Westpac Cut to Neutral at Goldman; PT A$25.60
Widgie Nickel Rated New Speculative Buy at Euroz
Qantas Rated New Overweight at Barrenjoey; PT A$6.80
Westpac Cut to Neutral at Credit Suisse; PT A$25.20
Fortescue Raised to Hold at Morgans Financial Limited; PT A$13
Major Movers Today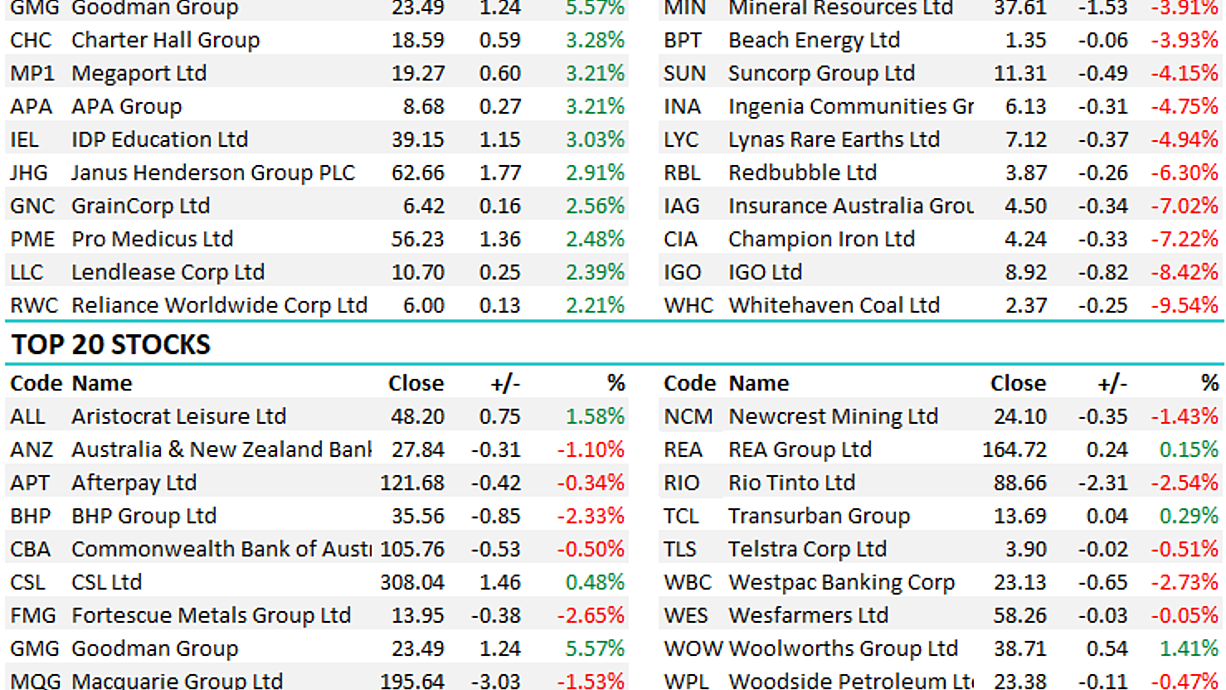 Make informed investment decisions
At Market Matters, we write a straight-talking, concise, twice daily note about our experiences, the stocks we like, the stocks we don't, the themes that you should be across and the risks as we see them. Click here for your free trial.
The Match Out will be available each day after the market close. Follow my profile to be notified when the latest report is live.