The Match Out: ASX grinds higher in a quiet session, RBA to hike rates tomorrow, probably by 50bps
---
A positive start to the trading week with the ASX defying the negative lead from the US and weakness in Asia to push higher into the close – Energy the standout as Coal & Oil stocks grind ever higher while weakness was more obvious across the telcos.
The ASX 200 finished up +22pts/ +0.34% at 6852
The Energy sector was best on ground (+3.97%) while Materials (+1.94%) were also strong.
Communications (-0.90%) and IT (-0.84%) the weakest links.
The RBA is likely to raise rates tomorrow, the market now expecting 50bps taking the cash rate to 2.35%.
A reminder that Market Matters is hosting a live webinar tomorrow at 12.30pm titled: Our Post Reporting Play Book – Click Here to Register if you haven't already.
Regal Partners (ASX: RPL) Trading Halt was in the market raising $110m this morning at $2.60 to seed new funds. The price was a 7.1% discount to the Theoretical Ex-Rights price of $2.80
Pilbara (ASX: PLS) +4.23% rallied on a broker upgrade while Lovisa (LOV) +3.99% hit new all-time highs today – two positions we hold in the Emerging Companies Portfolio.
Shaw initiated on Premier Investments (ASX: PMV) +2.85% this morning with a Buy and $27.10 PT versus $21.27 close today. PMV is one we've had on the radar for a while.
Given a quiet day lets reiterate our macro stance that we discussed in Macro Monday this morning to ensure subscribers are across our views.
In simple terms, Global Inflation has risen to its highest level in many decades causing bond yields and interest rates to follow suit e.g. Goldman Sachs can see UK Inflation topping 22% if energy prices continue to rise, not surprisingly UK 2-year gilt yields have already hit a 14-year high.
Rising interest rates are a huge headwind for stocks specifically leading to a value contraction across the highly priced growth stocks / sectors, something we haven't meaningfully experienced in over a decade.
The US S&P500 is in the midst of a 25% correction from its January high and while the markets arguably become too pessimistic and oversold the trend clearly remains down.
The key take away is to simply be selective when buying and respect the trend because it's the direction in which surprises usually unfold.
Our preferred scenario is the ASX200 will now rotate around the 6800 area before having another look on the downside.
Iron Ore was ~3% higher in Asia today supporting a bounce back in Rio Tinto (ASX: RIO) +1.75% & Fortescue (ASX: FMG) -4.59% (down 79c while they traded ex-divi for $1.21)
Gold was flat today trading ~US$1711 at our close.
Asian stocks were mostly lower, Hong Kong down -1.31%, Japan -0.17% while China was flay
US Futures are all up, around +0.20%
ASX 200 Chart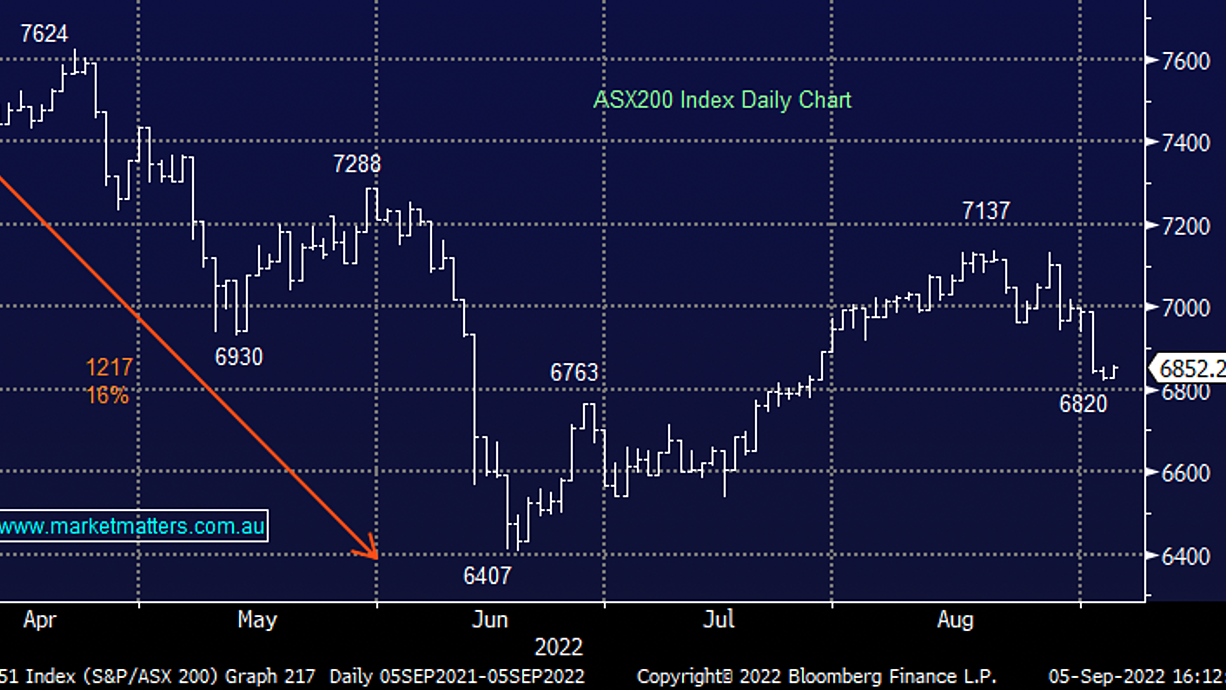 Broker Moves
Premier Investments Rated New Buy at Shaw and Partners
GPT Group Raised to Outperform at Macquarie; PT A$4.68
Adbri Reinstated Neutral at Goldman; PT A$2.35
CSR Reinstated Neutral at Goldman; PT A$5.15
Pilbara Minerals Raised to Overweight at JPMorgan; PT A$4.10
CVN AU Rated New Underperform at Barclay Pearce Capital
Major Movers Today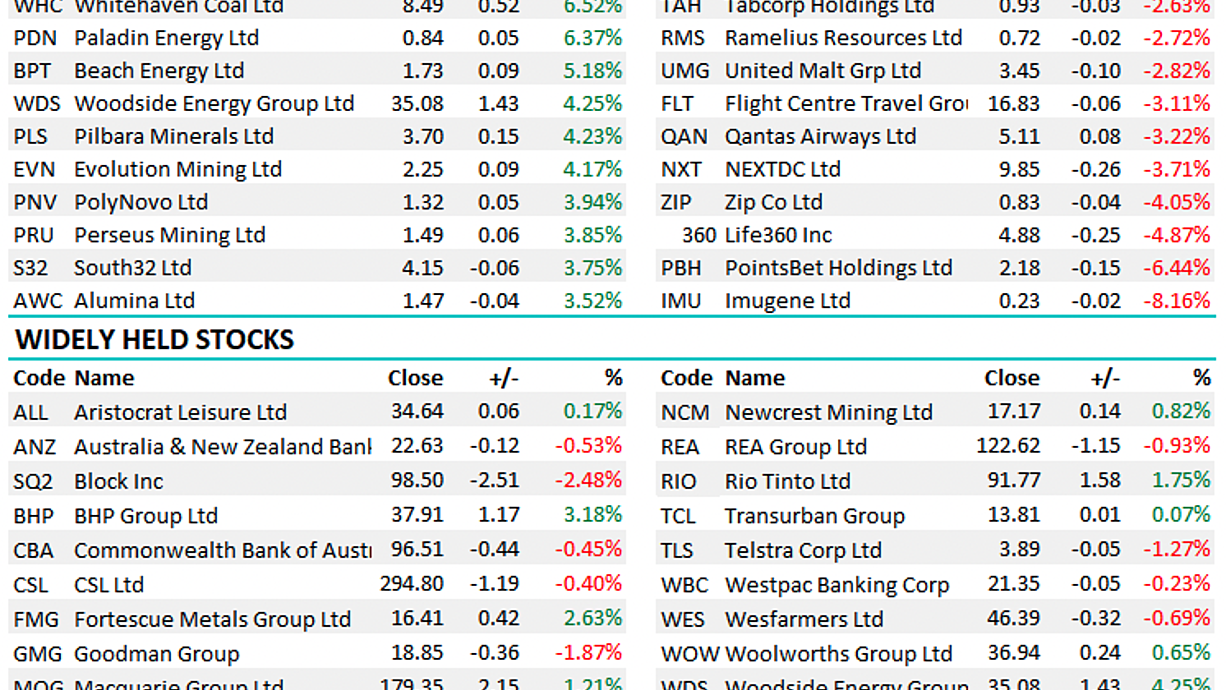 Have a great night
The Market Matters Team
---
Make informed investment decisions
At Market Matters, we write a straight-talking, concise, twice daily note about our experiences, the stocks we like, the stocks we don't, the themes that you should be across and the risks as we see them. Click here for your free trial.
The Match Out will be available each day after the market close. Follow my profile to be notified when the latest report is live.
---
Follow James Gerrish's wires
---