The Match Out: ASX higher, tech leads as the RBA wind up QE
---
A solid session for Aussie stocks today keying off a good session overseas that saw major indices rally into the close. Tech and Utility stocks the main driver however the buying was broad based, 163 stocks in the ASX 200 closed up on the session buoyed by an RBA that kept rates unchanged and ended QE – both as expected whilst also saying they'll remain patient on further tightening.
The ASX 200 finished up +34ts/+0.49% back up at 7006 today.
The Utility stocks bounced well up +2.57% as a group supported by IT (+2.41%) and Financials (+1.15%).
Materials fell -1.21% to be the only sector to finish in the red with BHP down -3.06%. This is down because 1) It held up into the recent selling due to index upweights and 2) Holders in London now have ASX listed shares which they are offloading. The selling should subside in the next few days.
Boral (ASX:BLD) +5.79% rallied after announcing a large $3bn capital return to shareholders.
Aussie Broadband (ASX:ABB) -1.42% released a quarterly trading update today saying they were likely to deliver FY22 EBITDA of $27-30m, the market was already at a shade above $30m – Harry covers below.
Appen (ASX:APX) + 7.9% topped the leader board today after their 2

nd

 largest shareholder increased their stake
Credit Corp (ASX:CCP) +2.86% was higher after delivering a good 1H22 result – they always tend to beat.
Iron Ore markets closed in Asia.
Gold was marginally higher at $US1800 at our close – a weaker USD overnight helped and that saw Newcrest (ASX:NCM) rally +3.48% today.
The majority of Asian markets closed for Chinese New Year.
US Futures are marginally lower, all off around -0.20%.
ASX 200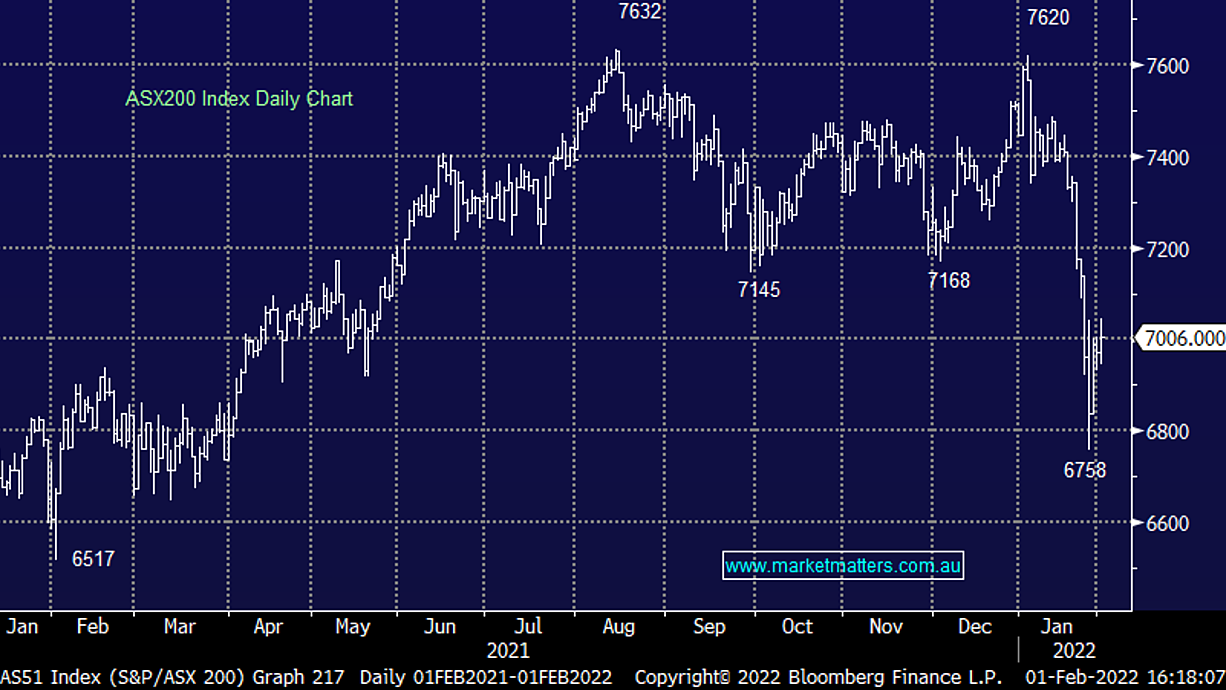 The RBA Today
As expected, the RBA kept rates on hold today plus they ended their $350 billion pandemic bond buying program, also a widely tipped outcome. They upgraded their outlook for unemployment to fall below 4% later this year to around 3.75% by the end of 2023 and increased forecasts for underlying inflation – they now expect +3.25% this year before falling to about 2.75% over 2023 as pandemic supply side issues resolve. 
They went on to say that "the omicron outbreak has affected the economy, but it has not derailed the economic recovery." Countering some of this optimistic rhetoric was an acknowledgement that wages growth was still too low and that it's too early to conclude that inflation was sustainably within their target band, plus for good measure they reiterated the central bank's commitment to "maintaining highly supportive monetary conditions" to achieve full employment and get inflation within the bank's 2 -3% target band.
All in all, in-line with expectations, no major surprises with the key takeaway being that their accommodative policy settings remain, albeit without QE which is now deemed overkill given the better economic outcomes that have been achieved. Stocks went up post the release while the AUD fell, although not materially.
Australian Dollar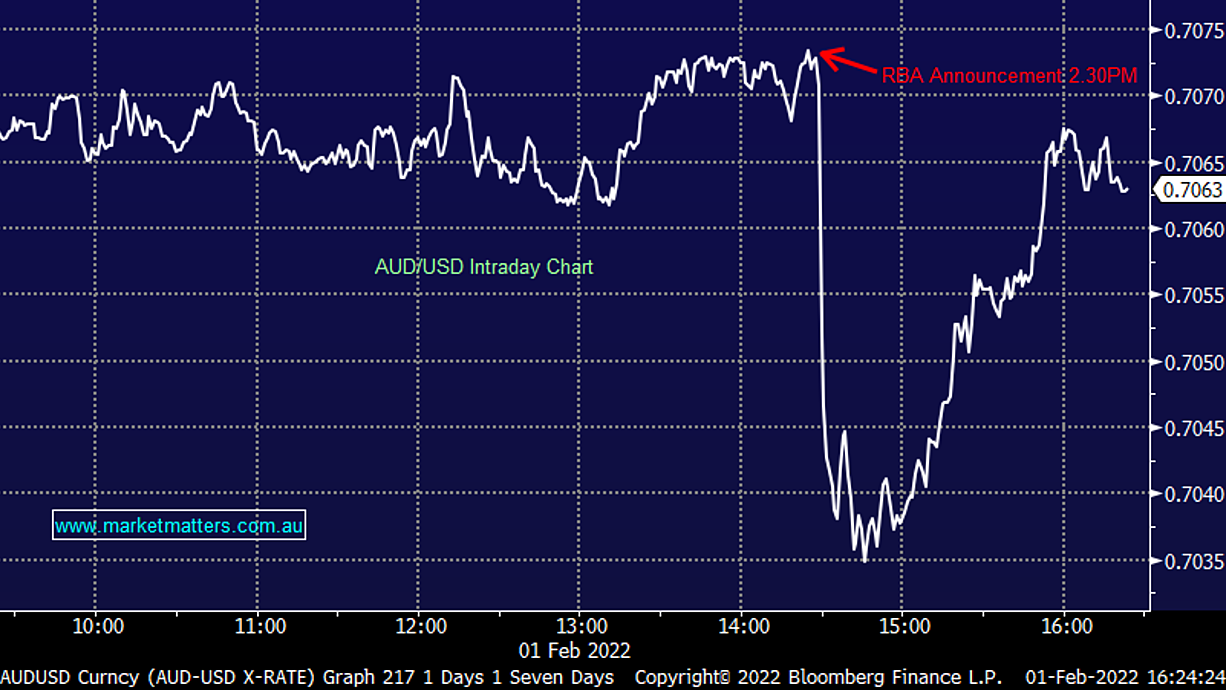 Appen $10.38
APX +7.99%: A strong performer on the market today and technically APX looks great for a continued rally. Their 2nd largest shareholder - London-based asset manager Mondrian Investment Partners which manages around $US10bn - filed up this morning going from a 6.18% holding to 7.37%, showing confidence in the Artificial Intelligence business. There is a lot of conjecture around whether or not APX will meet guidance, Macquarie think they'll miss, Citi think they'll meet while a few others are sitting on the fence. We own the stock in our Flagship Growth Portfolio from $11.76, so we're down around 10%, however given the large deterioration in SP over the past 12 months, we think the risk/reward favours the buyers, even if this result is a tough one. APX report on 24th Feb with the market expecting EBITDA of $94m.

MM is bullish APX.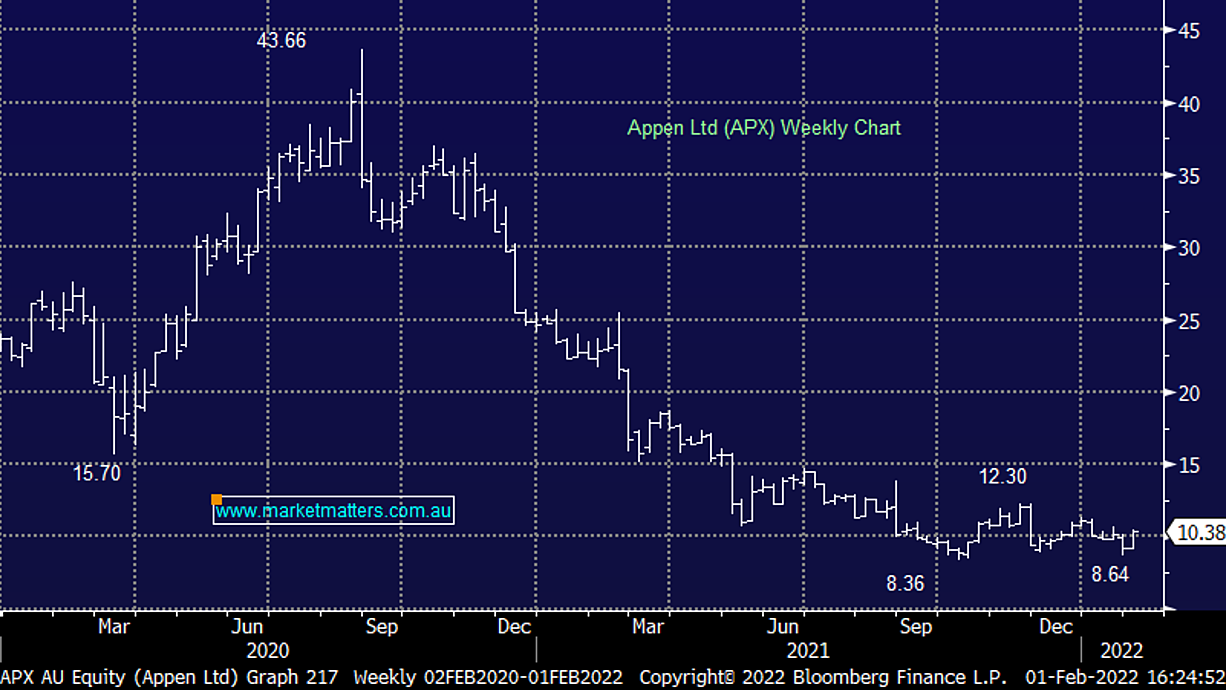 Aussie Broadband $4.16
ABB –1.42%: todays' quarterly update a touch soft in terms of guidance but still showed strong growth. Total connections at 494.8k was right at the top of guidance provided in December, jumping nearly 10% in the quarter. Higher marketing spend over the quarter weighed on earnings though, and guidance looks to assume higher costs will weigh on the second half as well. FY EBITDA is expected between $27m to $30m, around 10% below consensus. Despite this, the stock only fell marginally today after spending much of the session in the green. We spoke to management this morning, and they were excited by the growth being seen across the business with connections driving earnings in outer years despite taking on higher marketing costs near term. The Over The Wire (OTW) takeover remains in play with a vote expected later this month. It would be a transformative deal, taking ABB to a market-leading position particularly in the business offering, providing scale and synergies.

MM is bullish ABB.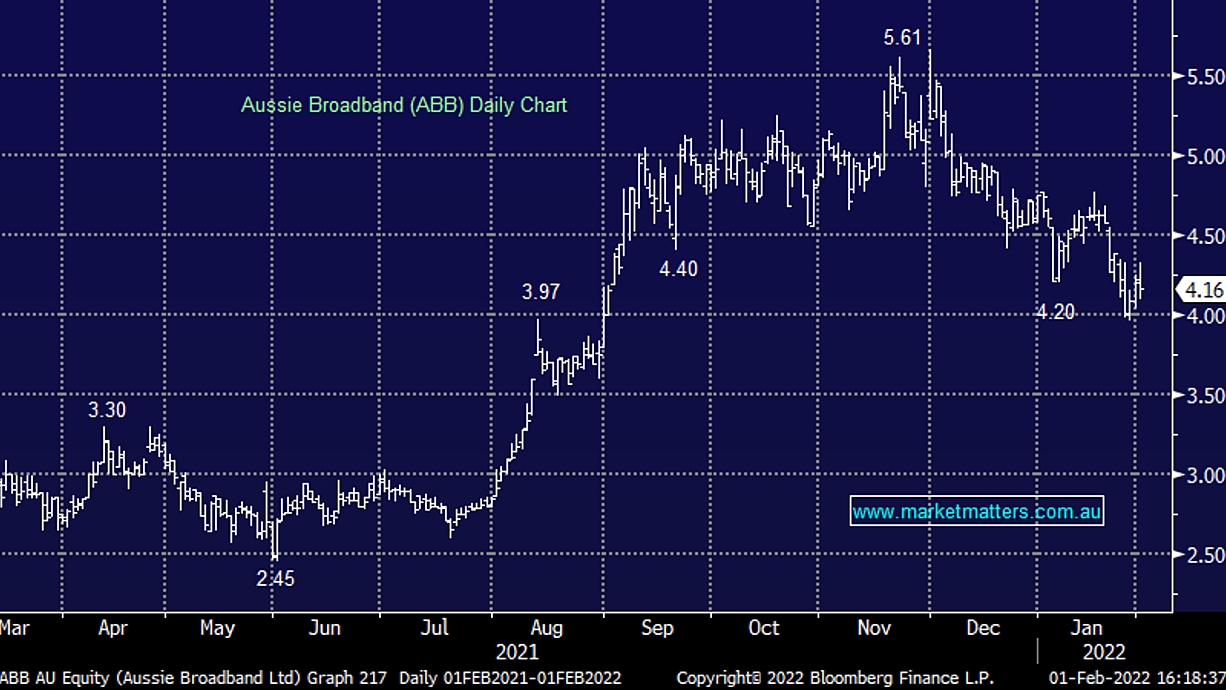 Broker Moves
Newmark Property Rated New Buy at Moelis & Company; PT A$1.97
Ansell Raised to Neutral at Macquarie; PT A$28.30
AVADA Group Rated New Buy at Shaw and Partners; PT A$1.35
Centuria Office REIT Raised to Buy at Jefferies; PT A$2.50
Brambles Cut to Underweight at Morgan Stanley; PT A$9.30
CSL Rated New Sector Perform at RBC; PT A$290
Platinum Asset Raised to Equal-Weight at Morgan Stanley
Dicker Data Rated New Positive at Evans & Partners Pty Ltd
Gold Road Cut to Sector Perform at RBC; PT A$1.25
Estia Health Cut to Neutral at JPMorgan; PT A$2.15
Ansell Cut to Hold at Morgans Financial Limited; PT A$28.95
Carsales.com Raised to Outperform at Credit Suisse; PT A$25.80
NextDC Cut to Hold at Jefferies; PT A$11.29
Major Movers Today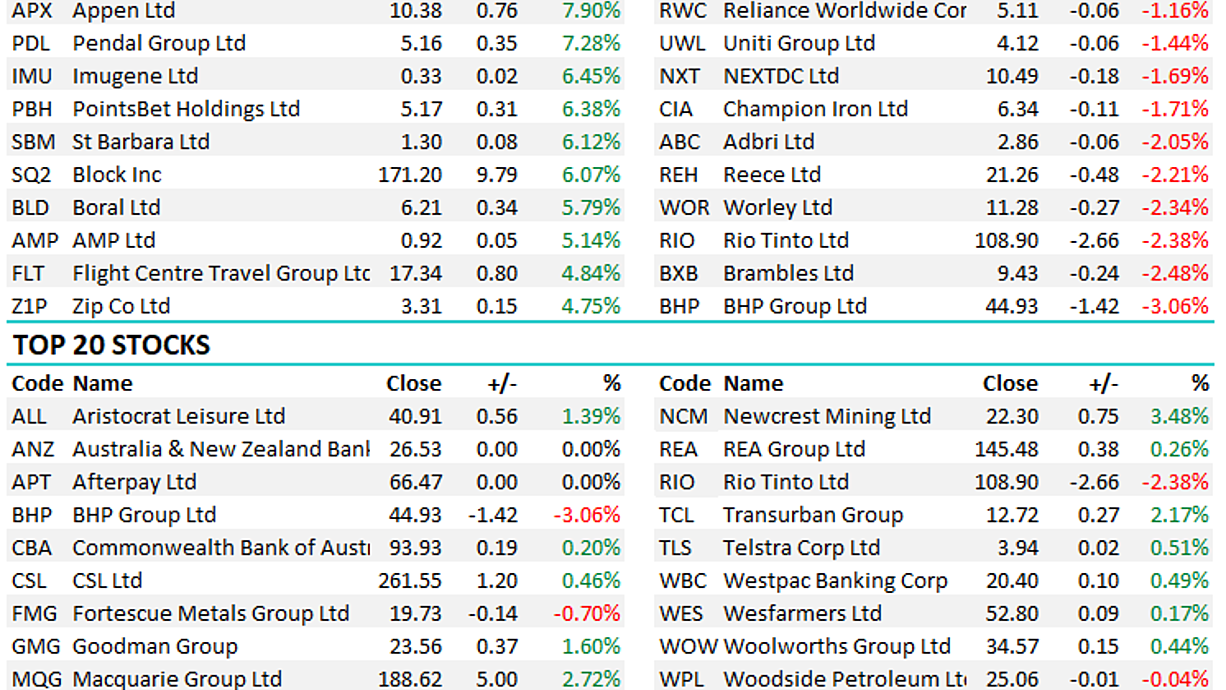 Enjoy your night
The Market Matters Team.
Make informed investment decisions
At Market Matters, we write a straight-talking, concise, twice daily note about our experiences, the stocks we like, the stocks we don't, the themes that you should be across and the risks as we see them. Click here for your free trial.
The Match Out will be available each day after the market close. Follow my profile to be notified when the latest report is live.