The Match Out: ASX kicks off August on the front foot after rallying more than 6% in July
---
The ASX continued to climb the wall of worry today, opening near the session lows before grinding higher throughout the day to close on the high, just a whisker below 7000. Utilities & Energy were strong while some profit taking played out in the IT stocks which had bounced well from their recent lows.
The ASX 200 finished up +47pts/ +0.69% at 6993
The Utilities sector was best on ground (+1.95%) while Energy (+1.94%) & Healthcare (+1.61%) were also strong.
IT stocks (-0.42%) and Consumer Discretionary (-0.20%) the weakest links.
For July, the All Ords Accumulation Index was up +6.34% while the Small Ords had a more impressive bounce back to be up +11.43%.
The S&P 500 was also impressive, up +9.11% although the rise in the AUD took some of the shine off un-hedged $AU domiciled returns.
Market Matters Portfolios bounced back after a tough June, Flagship Growth +7.47%, Income +3.11%, Emerging Companies +15.06% & International Equities +7.35%.
Aussie Broadband (ASX: ABB) -15.98% hit today following a Q4 update that showed lower than expected growth, although earnings to still come in at the top of the guided range. While lower growth is a negative, management discipline meant earnings held up.
United Malt (ASX: UMG) -17.17% knocked down to all-time lows on a big downgrade.
Lots happening at the Diggers & Dealers event this week with around ~70 companies presenting – the Agenda available here
Evolution Mining (ASX: EVN) +0.38% took the opportunity to push through a material resource upgrade at Ernest Henry (EH). Copper - 28% increase in Copper in the Mineral Resource to 1.13 million tonnes (20 year resource life), Gold - 24% increase in Gold in the Mineral Resource to 2.07 million ounces
Paladin (ASX: PDN) -2.7% also presented today although their newsflow had been big beforehand with a specific focus on the LH restart.
Strandline (ASX: STA) -2.5% after releasing their quarterly with construction at their Coburn Mineral Sands operation ~80% complete and on budget.
Iron Ore was ~1% higher in Asia today
Gold was flat during Asian trade ~US$1765.
Asian stocks were higher Hong Kong up +0.10%, Japan +0.90% while China was up +0.2%
US Futures are all marginally lower, down ~0.20% across the board.
ASX 200 Chart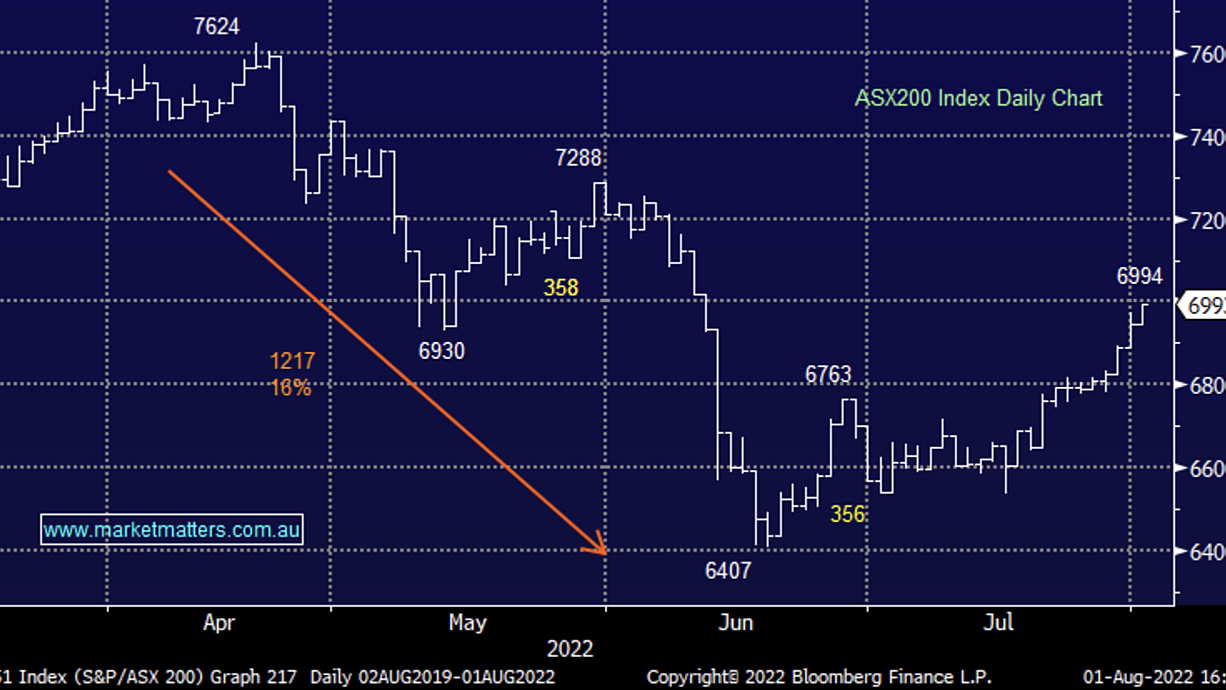 Aussie Broadband (ABB) $3.05
ABB -15.98%: the telco provided a 4th quarter update today, shares initially traded higher before selling off as the market digested the news. Total connections were up 7%, however, this included the Over The Wire (OTW) acquisition which added around 1.5% to the growth number. Total services were up 46% for the year, led by strong growth in Business, though this was slightly below expectations given the reduced marketing initiatives over the election period. EBITDA is expected to come in at the top end of the $38-39m range though with better than expected savings and improved margins We spoke to the CEO of Aussie Broadband today, who said they were happy with the performance and a number of the pressures on their service seen in Q3 had eased. They will release their FY22 results on 29 August.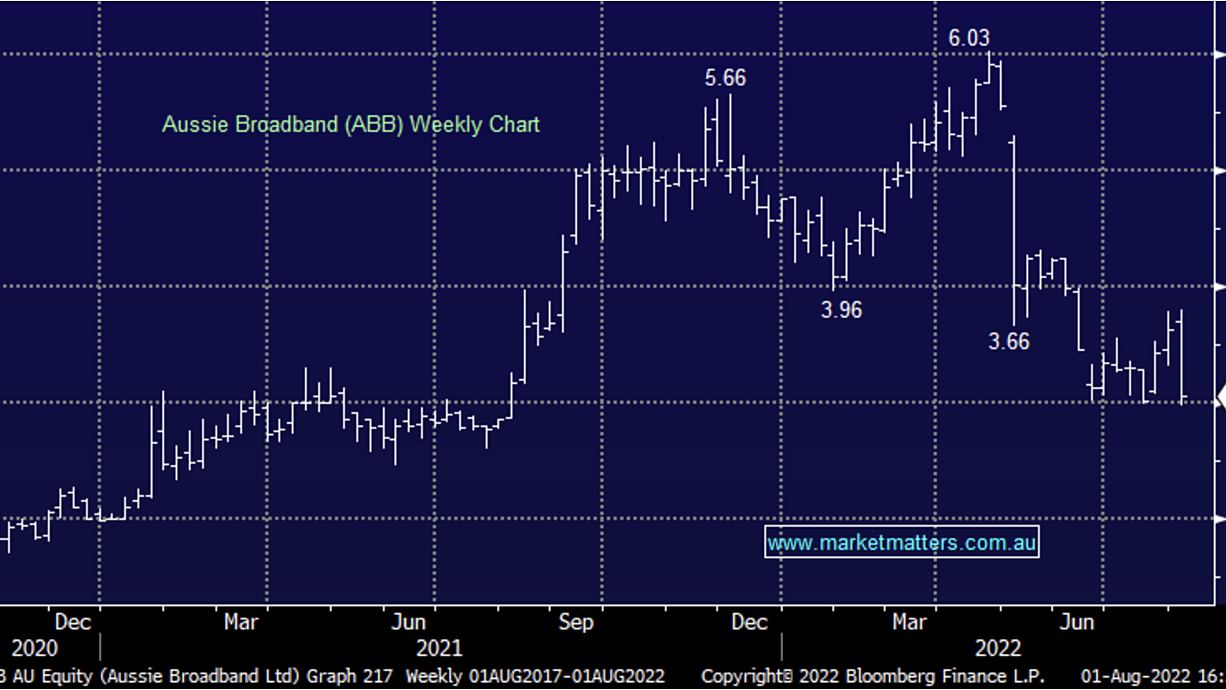 United Malt (UMG) $3.04
UMG -17.17%: fell sharply today hitting a new all-time low in the process following a big earnings downgrade. They now see $100 million to $108 million on underlying EBITDA versus the previously guided range of $115 million to $140 million. The main issue being the cost and poor quality of domestically-sourced North American barley which is resulting in increased production costs and a reduction in margins. They had flagged an improvement in the 2nd half but alas, we're not yet seeing it.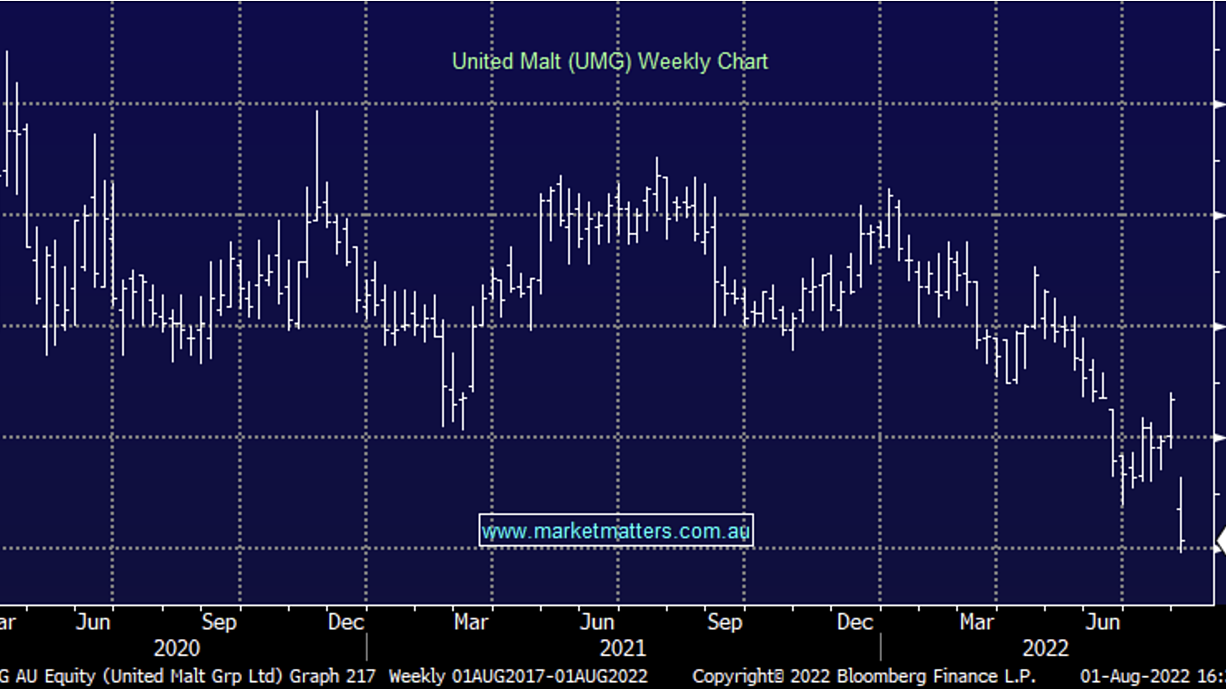 Broker Moves
Zip Co. Cut to Sell at Citi; PT 70 Australian cents
Bendigo & Adelaide Raised to Buy at Goldman; PT A$11.89
Bank of Queensland Cut to Neutral at Goldman; PT A$8.16
Westpac Raised to Buy at Goldman; PT A$26.12
Fortescue Cut to Sell at UBS
Credit Corp Rated New Buy at Jefferies; PT A$30.34
Lottery Corp. Rated New Hold at Jefferies; PT A$4.41
Major Movers Today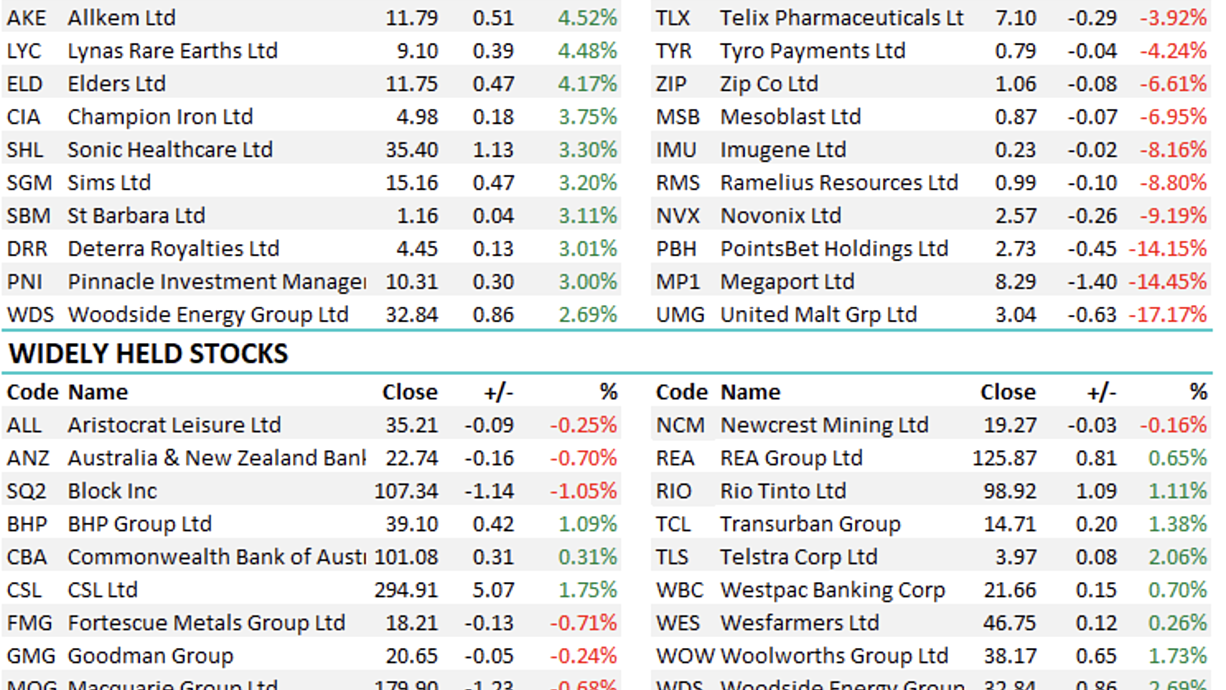 Have a great night
The Market Matters Team
Make informed investment decisions
At Market Matters, we write a straight-talking, concise, twice-daily note about our experiences, the stocks we like, the stocks we don't, the themes that you should be across and the risks as we see them. Click here for your free trial.
The Match Out will be available each day after the market close. Follow my profile to be notified when the latest report is live.
---
Follow James Gerrish's wires
---