The Match Out: ASX kicks off September on the back foot, down 2%, BHP trades Ex a big dividend
---
The market was hit hard today following weakness overseas and a raft of ASX companies trading ex-dividend - BHP had the biggest bearing trading Ex $2.4707 fully franked taking 46pts off the ASX 200, simply a huge influence on our little market these days!
The ASX 200 finished down -141pts/ -2.02% at 6845
The Consumer Staples sector (+1.03%) was the only one to finish higher while Healthcare (-0.22%) outperformed.
Materials (-4.86%) and Utilities (-3.01%) the weakest links, although dividends were a factor.
Not a lot of love into the close this afternoon – not a great sign, nervousness around being long overnight creeping in again.
August marks the end of reporting season and when looking across the Market Matters Portfolios, we're reasonably happy with most of them against a flat backdrop for the ASX and a US market that fell 4.2%.
For August, the Flagship Growth Portfolio added 2.87%, The Emerging Companies increased by 3.07%, The International Equities Portfolio put on 3.68% while the Income Portfolio lost ground (just), off -0.23%, although this has been our most consistent earner over time.
Members can view all of Market Matters portfolios here including current positioning and a clear overview of performance & portfolio commentary.
We recently launched Market Matters Invest allowing easy investment into our suite of portfolios – to sign up for our (free) monthly performance reports – Click Here
Whitehaven Coal (WHC) -0.88% was actually up strongly today if we factor in the 40cps fully franked dividend – the stocks ended down 7c, the dividend was worth ~57c
Property stocks came under the pump again, and while some rallied from morning lows, we fear we've been a little early here adding to property exposure in the Income Portfolio.
AGL Energy (AGL) -4.95% traded ex-dividend which made up 10c of the 38c move lower. We reiterate our interest in AGL in the low $7's having previously sold mid $8's
Standline (STA) -2.08% confirmed production at their WA-based Mineral Sands operation will come online early.
Aussie Broadband (ABB) -4.32% has seen some decent Director buying following their weaker-than-expected result.
Wisr (WZR) -7.59% which is a stock we owned briefly in our Emerging Companies strategy last year fell despite fund manager Alceon filing up, they now own 13.68% of the company. Clearly they are bulls!
Webjet (WEB) -0.91% was upgraded from Macquarie, they like it after WEB said all 3 of their businesses were now profitable & earnings in FY24 would be higher than pre-pandemic levels.
Harry was on Ausbiz this morning talking specifically about the Emerging Companies Portfolio - Click here to watch
Iron Ore was flat in Asia today, although it's had a tough week.
Gold was down US$20/oz trading US$1704/oz
Asian stocks were all lower, Hong Kong down -1.5%, Japan fell -1.6% while China was off -0.24%
US Futures are down, Nasdaq the worst of them off 1%
ASX CHART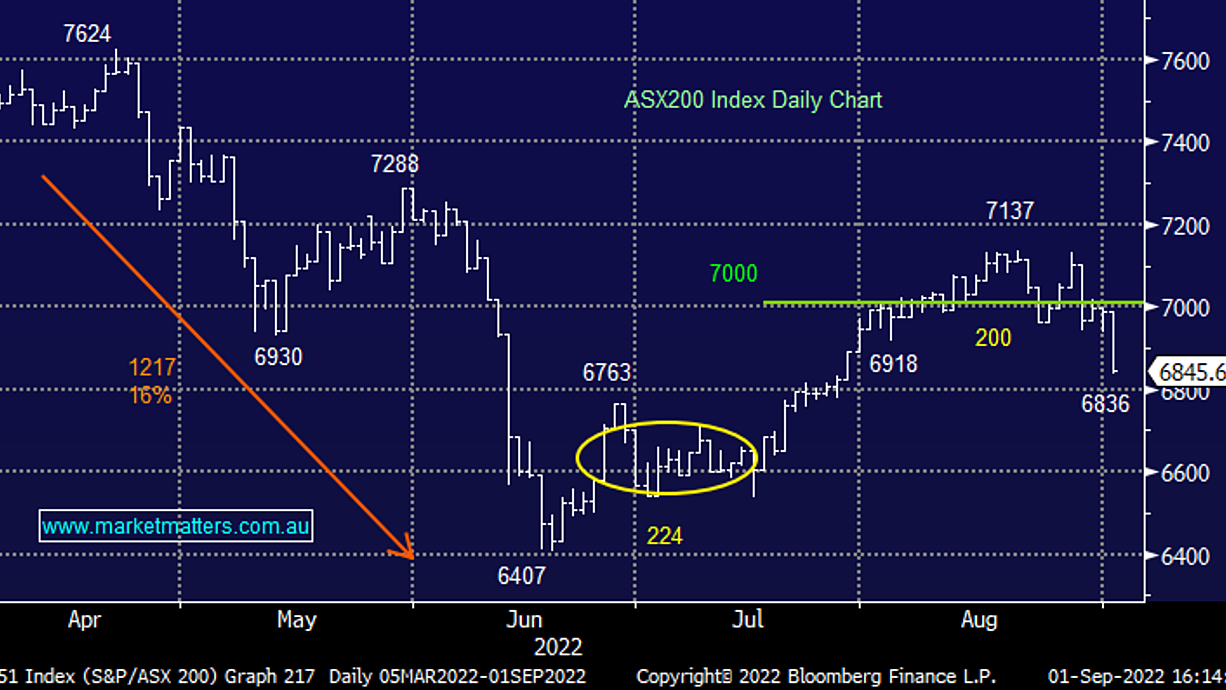 Strandline (STA) 48c
STA -Unch: another positive update from the mineral sands company today as they progress towards the first shipment from their WA Coburn asset. Construction works are now more than 90% complete, on budget and set to be delivered ahead of schedule. Works are no focussing on finalising the Mineral Separation Plant and supportive infrastructure with their first 10kt shipment of heavy mineral concentrate expected to depart early next quarter. According to the update, current prices are around 35% ahead of feasibility study levels, with each shipment expected to generate ~$10m of revenue and help support further ramp-up of production.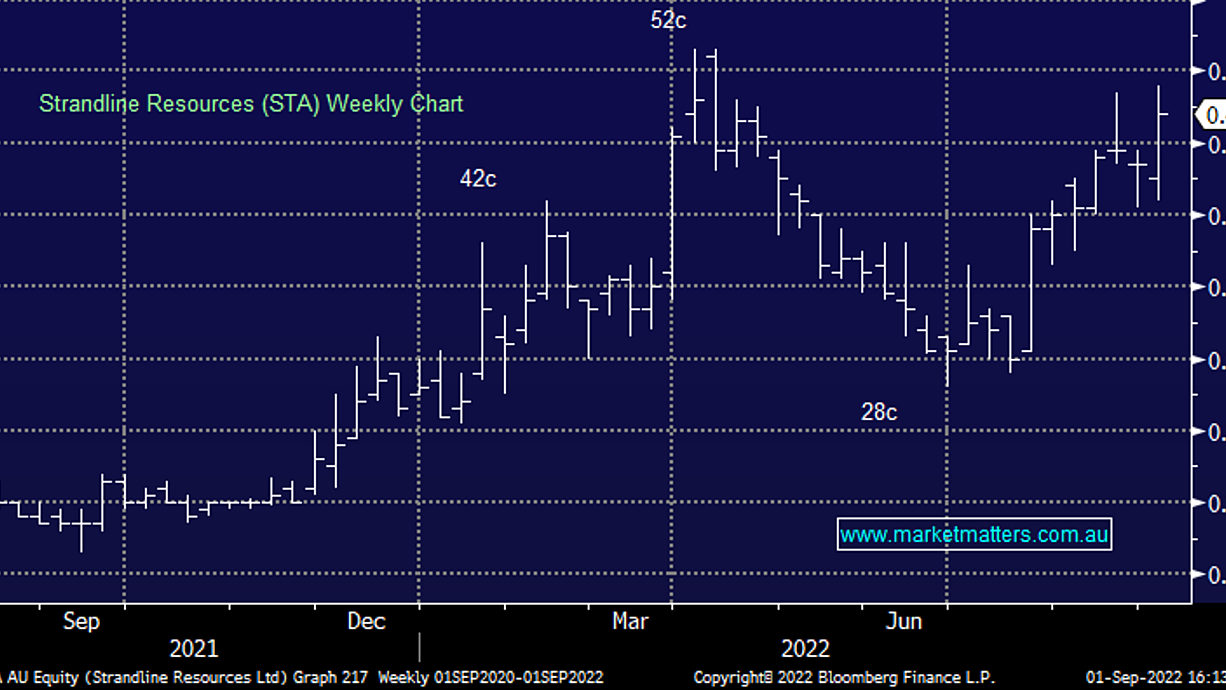 Aussie Broadband (ABB) $2.66
ABB -4.32%: It has been a tough period for ABB with a number of earnings downgrades sending the stock down 41% year to date. Following this week's results and share price decline, it is worth highlighting that all of ABB's directors have bought stock in the market since, with 6x change of interest notices out so far. Total Director buying in the last 2x business days now represents ~$1.4m. Some of the most aggressive director buying we have seen and a very good sign.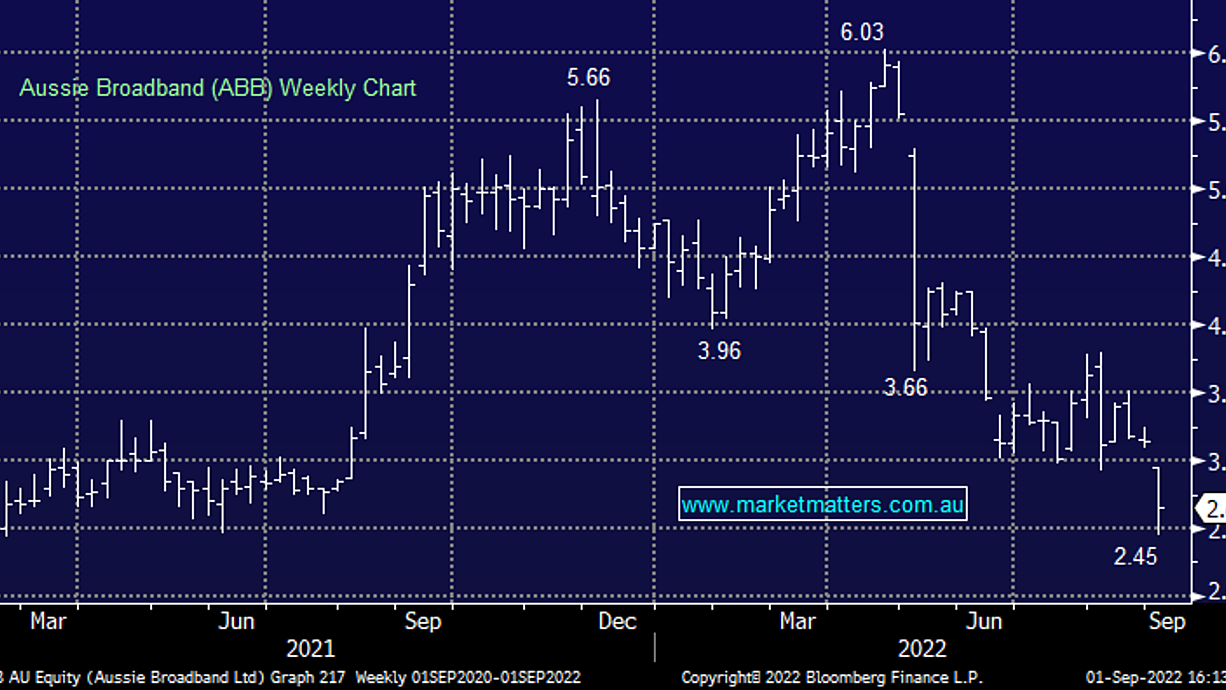 Broker Moves
Webjet Raised to Outperform at Macquarie; PT A$6.15
Nickel Industries Cut to Neutral at Macquarie; PT A$1
NobleOak Life Rated New Underperform at Barclay Pearce Capital
MoneyMe Rated New Buy at Barclay Pearce Capital; PT A$1.13
Atlas Arteria Rated New Hold at Barclay Pearce Capital
Helloworld Rated New Underperform at Barclay Pearce Capital
Austock Rated New Underperform at Barclay Pearce Capital
PointsBet Rated New Underperform at Barclay Pearce Capital
St Barbara Reinstated Buy at Barclay Pearce Capital; PT A$1.47
Payright Rated New Underperform at Barclay Pearce Capital
Top Shelf International Cut to Hold at Moelis & Company
Atlas Arteria Cut to Neutral at Credit Suisse; PT A$7.55
Delorean Corp Cut to Hold at Morgans Financial Limited
Endeavour Group Raised to Buy at Jefferies; PT A$8.20
St Barbara Raised to Outperform at Macquarie; PT A$1.10
Ainsworth Game Raised to Outperform at Macquarie; PT A$1.25
MoneyMe Cut to Sector Perform at RBC; PT 75 Australian cents
Genex Power Cut to Hold at Canaccord; PT 25 Australian cents
Major Movers Today
Have a great night
The Market Matters Team
Make informed investment decisions
At Market Matters, we write a straight-talking, concise, twice-daily note about our experiences, the stocks we like, the stocks we don't, the themes that you should be across and the risks as we see them. Click here for your free trial.
The Match Out will be available each day after the market close. Follow my profile to be notified when the latest report is live.