The Match Out: ASX marginally higher, Resources rally, Gold stocks shine
---
A fairly lacklustre session at the index level today with the market only marginally higher, however there were some big moves at the stock level. Gold the standout with a number of names up more than 10% as the precious metal traded up to US$1840, some IT stocks bounced well while there was also some strong moves in the broader resources & energy sectors, Copper & Iron Ore particularly upbeat while Crude Oil also traded higher. Today certainly another example of a market set up for stock picking / active management over index hugging!
The S&P/ASX 200 added +9 points / +0.14% to close at 7342.
Material stocks (+2.99%) led the line, Energy (+0.75%) was also strong while Communications (-1.23%) and Property (-1.06%) dragged.
On the economic front, local unemployment dropped to 4.2% v 4.5% expected, the lowest level this side of the GFC with the bulk of jobs being full time, the participation rate stayed stable at 66.1% versus 66.2% expected.
Gold stocks ripped, our long suffering position in Northern Star (NST) +11.20%, Newcrest (NCM) was +6.59% and Evolution (EVN) +8.92% all standouts.
There was also some good moves in the broader commodity complex, BHP +3.11% indicative of the gains however the likes of Oz Minerals (OZL) +3.95% and Fortescue Metals (FMG) +4.56% also rallied – the commodity trade well truly intact.
Nice to see the good trading update from HUB 24 (HUB) yesterday rewarded with a 4% gain today – it was up a touch yesterday in a weak market however deserves a bigger re-rate in MM's view.
Xero (XRO) also caught my eye after selling off this morning only to recover this afternoon. XRO a buy at current levels.
Even the perennial underwhelmer PointsBet (PBH) put on ~5%.
Iron Ore was up ~0.5% in Asia after a decent session overnight.
Gold was up US$25 at US$1838 at our close.
Asian markets all higher, Japan up +1%, Hong Kong +2.7% & China +1.5%.
US Futures are pricing a higher open, up around +0.40% across the board.
ASX 200 chart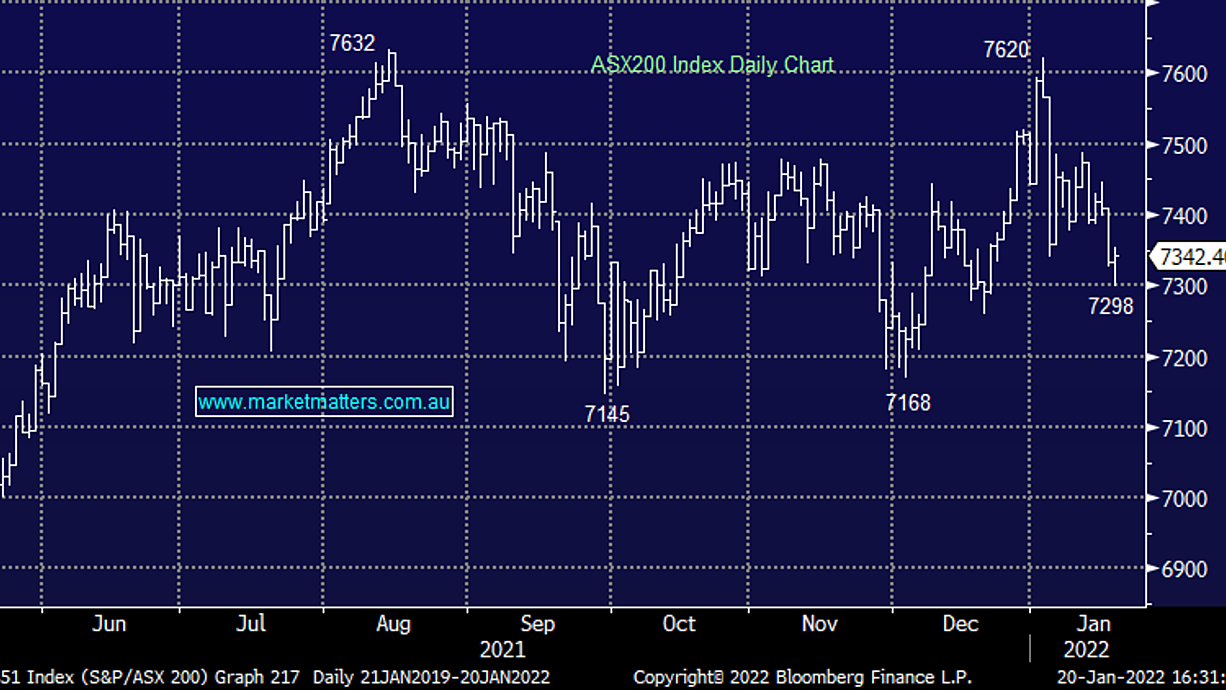 Coronado (CRN) $1.51
CRN +5.94%: a strong day for the coal company with the 4th quarter production coming in ahead of expectations. Saleable coal production for the full year of 17.4mt was slightly ahead of 2020, and a small beat to guidance that was revised lower in December. Revenues were strong and Coronado managed to finish the year with a net cash balance of $US123m, extremely well-funded for growth and capital returns for shareholders – we should hear more on this front at the full year result next month, the same will likely happen with Whitehaven Coal (WHC).
MM remains bullish and long CRN.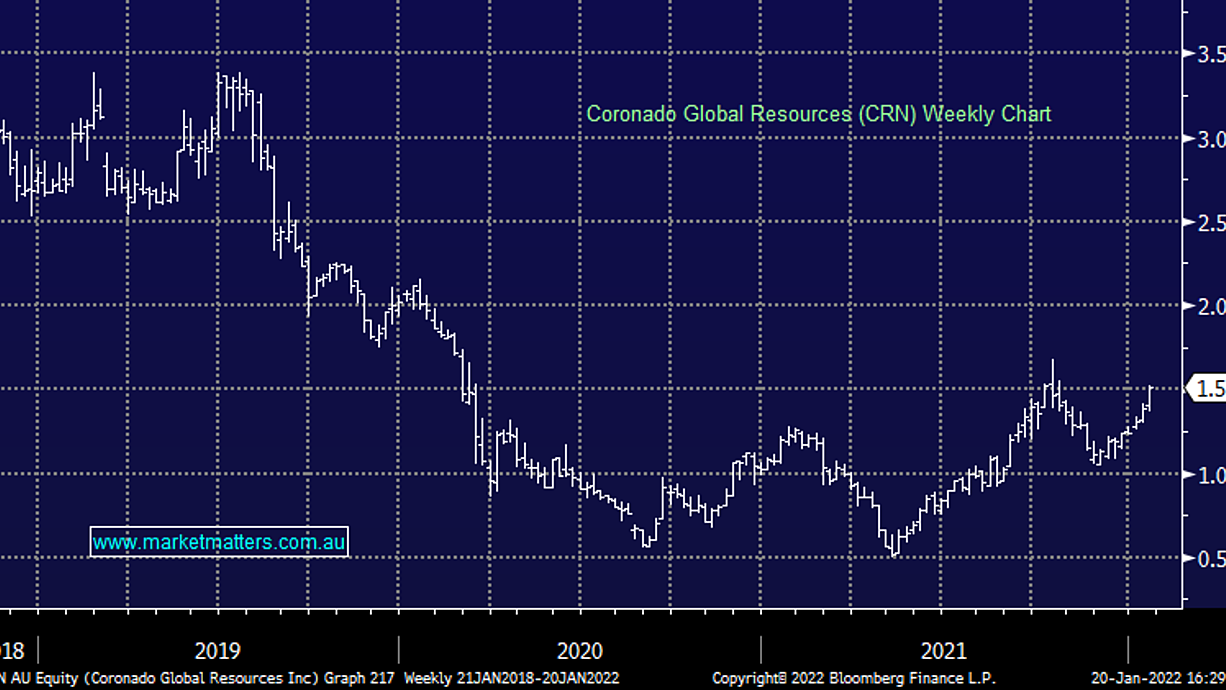 Whispir (WSP) $2.55
WSP -1.92%: 2nd quarter trading update for the communications business today, though the stock traded lower in the session. Cash receipts in the 2nd quarter were up 125% YoY, managing to add another 127 customers. The sales did come at a cost with an increased headcount weighing on free cash flow however the growing pipeline of sales are expected to offset the costs, particularly in North America where another key customer was added. The company reiterated full year guidance of revenue of $64-68m.
MM recently bought WSP.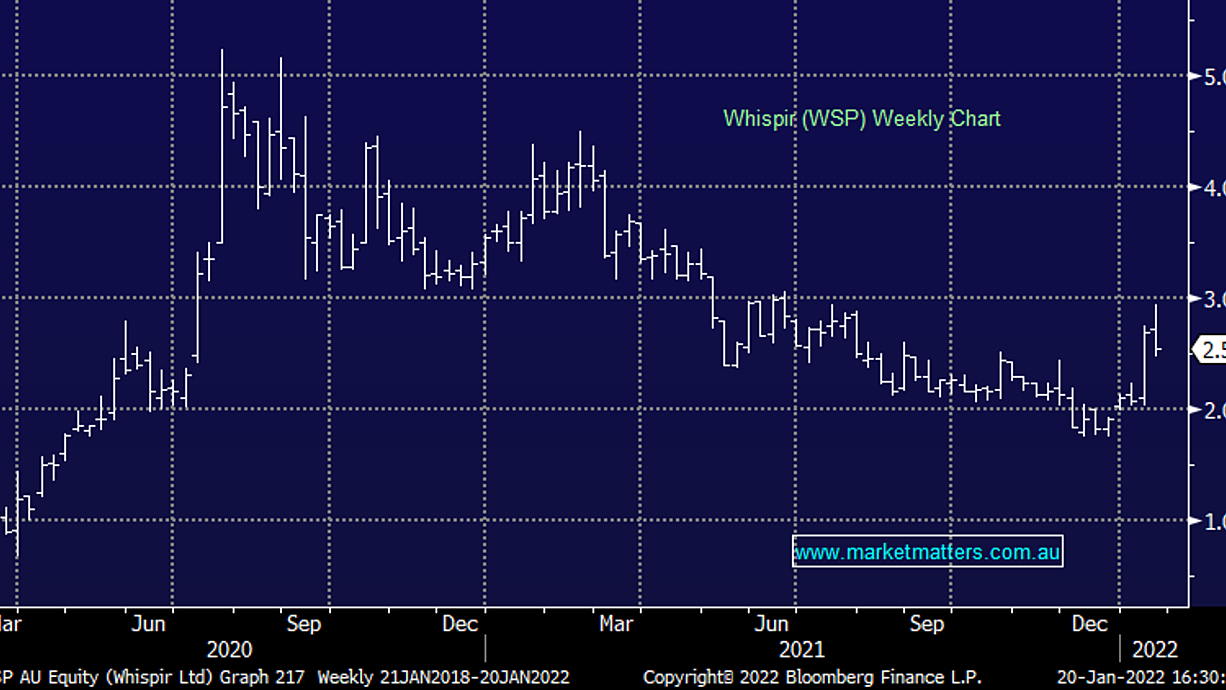 Broker Moves
ANZ Bank Raised to Overweight at Morgan Stanley; PT A$31
HUB24 Raised to Buy at Ord Minnett; PT A$34
Aristocrat Rated New Overweight at Jarden Securities; PT A$46.85
GQG Partners GDRs Rated New Buy at Goldman; PT A$2.45
Cooper Energy Cut to Neutral at JPMorgan; PT 32 Australian cents
Reece Rated New Underweight at Barrenjoey; PT A$20
Megaport Raised to Neutral at JPMorgan; PT A$15.50
Dexus Industria REIT Raised to Add at Morgans Financial Limited
Major Movers Today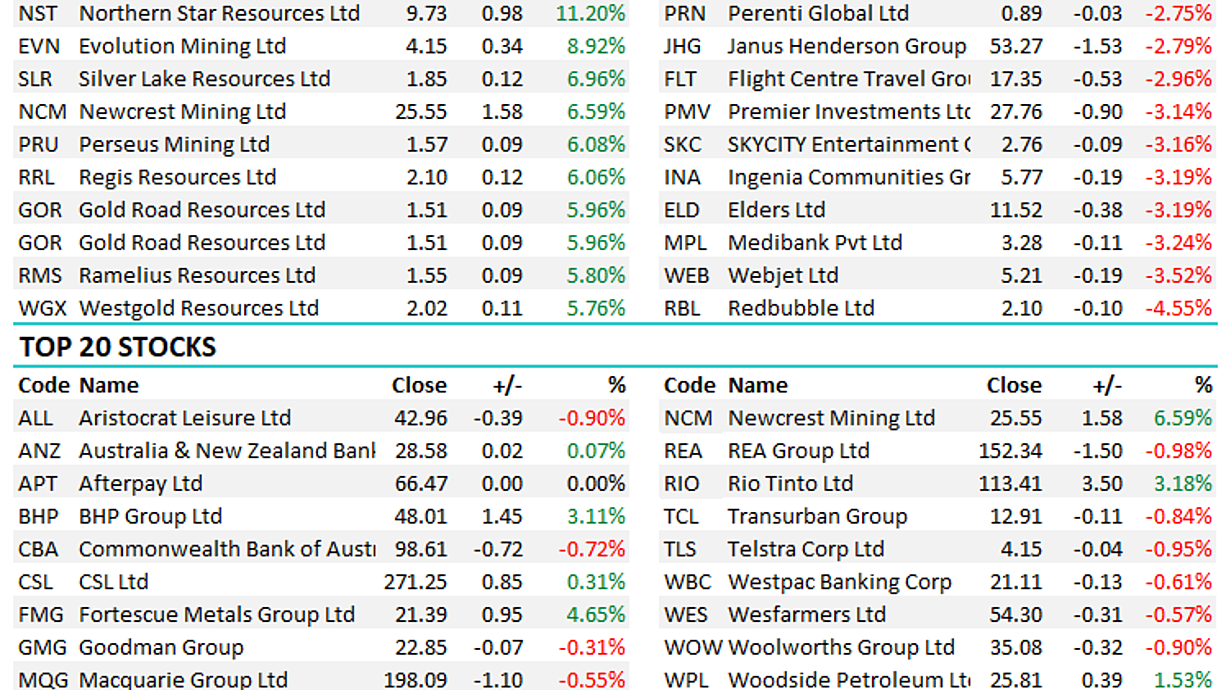 Enjoy your night
The Market Matters Team
---
Make informed investment decisions
At Market Matters, we write a straight-talking, concise, twice daily note about our experiences, the stocks we like, the stocks we don't, the themes that you should be across and the risks as we see them. Click here for your free trial.
The Match Out will be available each day after the market close. Follow my profile to be notified when the latest report is live.