The Match Out: ASX rallies, Iron Ore surges around 10%, Resource stocks offset weakness in IT
---
A strong bounce back from early morning weakness today as the late sell-off in Tech shares overnight cast a shadow over the market early, however with commodities strong and strength during the Asian time zone today, the local material sector provided a strong backbone for the ASX to overcome technology weakness and finish nearly 0.8% higher – back up through 7400 in the process.

The ASX 200 finished up +57 points / 0.78% at 7410.
Materials were strong led by the Iron Ore stocks – Fortescue Metals (ASX: FMG) +9.8% while BHP & RIO put on +4% and +3.6% respectively. FMG is still down -26% YTD while BHP is -10.3%.
We bought FMG in the Flagship Growth Portfolio today although didn't think the stock would rally around 10%.
Iron ore futures in Singapore surged nearly 10% on optimism easing regulations for China's property sector will boost demand – Futures actually traded limit up on the day.
Tech was the weak link after J Powell got the nod to continue on as Fed Chair. He's more of a hawk which means higher interest rates and that saw long duration stocks trade lower.
Afterpay (ASX: APT) -5.4% today and that stock is now down 9% for the year even though it's been taken over.
Coal prices are also on the up – January futures +5% today saw Whitehaven Coal (ASX: WHC) +4.17%.
Bapcor (ASX: BAP) -9.58% fell after losing their long standing CEO.
Woodside (ASX: WPL) +3.46% after cementing the deal to merge with BHP's energy division.
Ive Group (ASX: IGL) unchanged following their AGM today – the integrated marketing business continues to chug along and remains too cheap for the cash and dividends being generated.
Gold was flat in Asia after losing $US40 overnight, trading US$1808 at our close.
Asian markets were mixed, The Nikkei off -0.40%, Hong Kong -1.13% and China +0.10%.
US Futures are now down a touch – they were higher at out close 30 minutes ago, however they have dropped fairly sharply since then.
  ASX 200 chart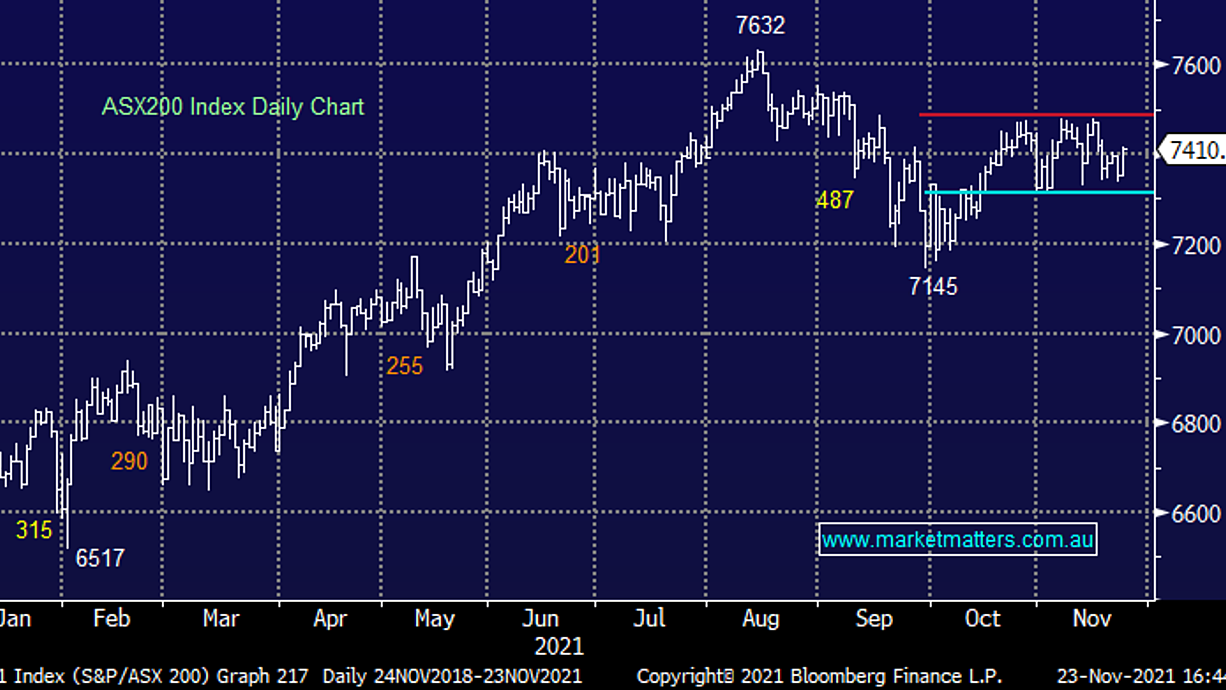 Bapcor (ASX: BAP) $7.46
BAP -9.58%: The auto parts and servicing business announced that CEO Darryl Abotomey will retire in February next year, sending the stock plummeting. Darryl has led Bapcor for the last 10 years including through its IPO in 2014 and the successful push into the Asian market. The company has been one of the winners through COVID with demand for car parts sky rocketing and earnings up 50% in FY21. They reiterated guidance today with the announcement with earnings expected to be at least in line with FY21 and seeing strong demand through the next 18 months, however the market has concerns around the potential reset of earnings that comes with a new CEO as well as the departure of a highly regarded name. Abotomey also has more than 2 million shares and performance rights to his name which may increase the pressure come February. The stock is stuck in a range between $7 and $8.50.
MM would be interested in BAP closer to $7.
Bapcor
Broker Moves
Nickel Mines Raised to Outperform at Macquarie; PT A$1.45
Judo Capital Rated New Neutral at Citi; PT A$2.60
Judo Capital Rated New Outperform at Credit Suisse; PT A$2.75
Judo Capital Rated New Neutral at Goldman; PT A$2.46
Nickel Mines Raised to Buy at Jefferies; PT A$1.50
Major moves today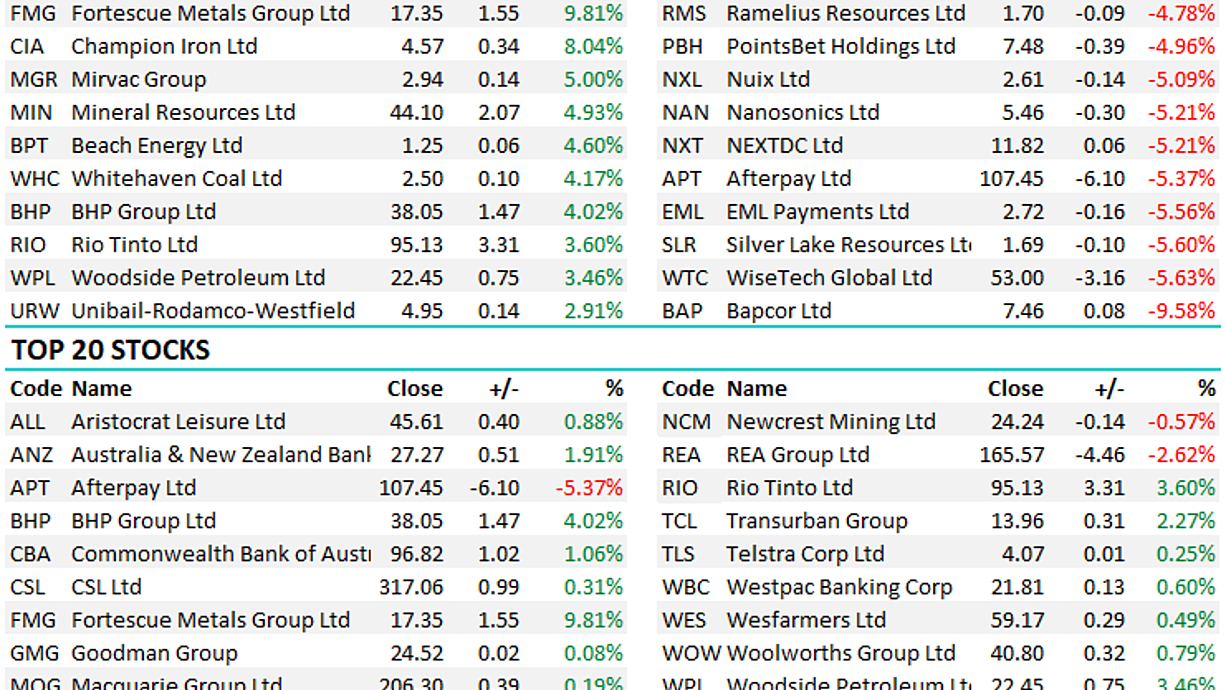 Enjoy your evening
James, Harry and the Market Matters Team.
Make informed investment decisions
At Market Matters, we write a straight-talking, concise, twice daily note about our experiences, the stocks we like, the stocks we don't, the themes that you should be across and the risks as we see them. Click here for your free trial.
The Match Out will be available each day after the market close. Follow my profile to be notified when the latest report is live.