The Match Out: ASX ticks higher, Defensive sectors outperform, Metcash (MTS) delivers strong result & rallies
---
A very tough day for some parts of the Australian market today despite the ASX 200 closing a few ticks higher, the IT stocks hit more than 2% while the defensive utilities and consumer staples rallied by almost the same degree. The Small Caps were a tough place to be with the Small Ords down ~1.5% and looking at our Emerging Companies Portfolio there was plenty of stocks in that space down more than 5%. It was actually a strange day but clearly risk off overall, the performance of your portfolio today would be a good indicator of how defensively it is set.
The ASX 200 finished up +3pts/+0.05% at 7245, SPI Futures actually ripped +30pts higher after our cash market closed, a bullish move.
The Utilities sector was best on ground up +1.99% followed by Consumer Staples +1.91% while the IT stocks -2.20% the clear standout on the downside following in the footsteps of their overseas counterparts.
Metcash (ASX: MTS) +7.34% rallied on a very strong 1H update, we own in our income portfolio.
Bapcor (ASX: BAP) -5.60% tanks as MD shown the door early, we are now looking at this stock as a potential buy for our Emerging Companies Portfolio.
Zip Co (ASX: Z1P) -10.14% was indicative of the capitulation style selling in some parts of the market, Afterpay (ASX: APT) down 4% to $94.
Magellan (ASX: MFG) -3.99% on weaker than expected FUM growth.

Pitch Your Play (LIVE) was on today, all those registered will a receive a copy of the recording while the presentation will be posted on the Market Matters Website for members tomorrow. It was a small / mid cap tilt, with the stocks covered including

Gentrack (ASX: GTK)

,

South 32 (ASX: S32)

,

Global Data Centres (ASX: GDC)

,

Retail Food Group (ASX: RFG)

,

Audinate (ASX: AD8)

,

Blackstone Minerals (ASX: BSX)

,

Top Shelf (ASX: TSI) and Elenor Investors Group (ASX: ENN). MM will cover our thoughts on these stocks in coming notes.
Morgan Stanley today saying that BHP's weighting in the ASX 200 Index could rise to 9.5% from 5.7% after the miner completes plans to scrap its dual-listing structure and move its primary listing to Australia, making it the gauge's biggest stock.
Gold was flat in Asia today $US1780 at our close.
January Iron Ore Futures up +1.50% today in Asia.
Asian markets were mixed, Nikkei -0.46%, Hong Kong -1.28% while China was up +0.17%.
US Futures are all higher, S&P now up +0.60% while Nasdaq Futures are +0.30%.
ASX 200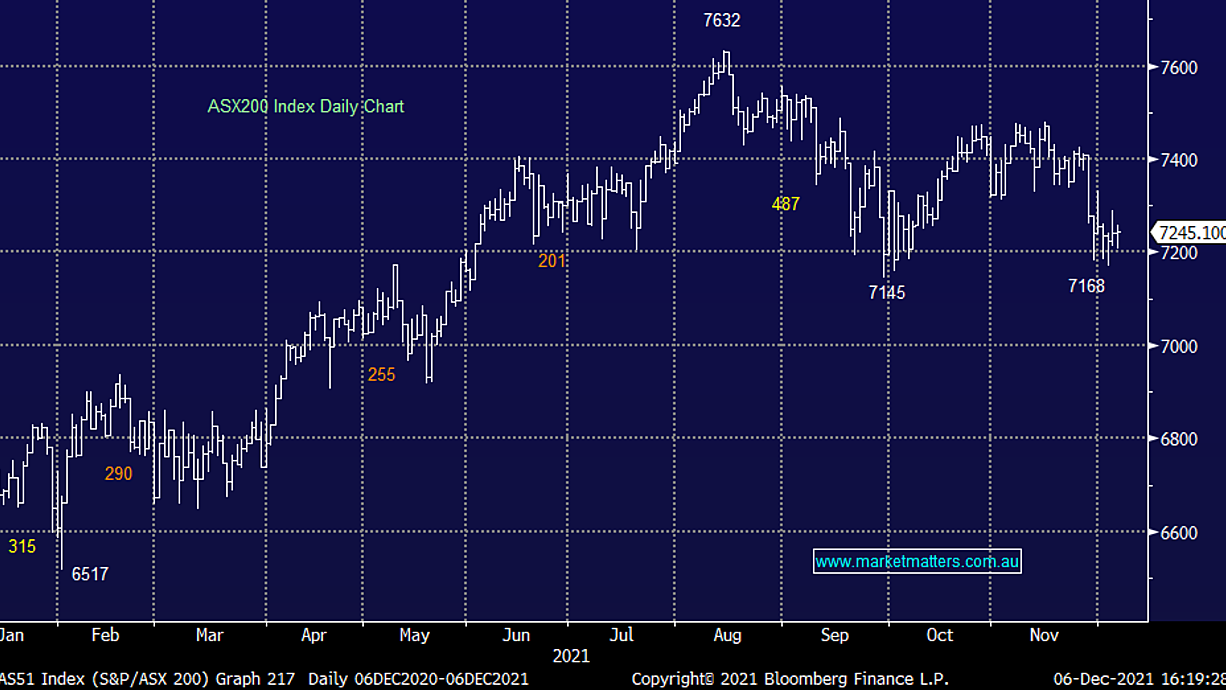 Metcash (ASX:MTS) $4.24
MTS +7.34%: 1H results out for Metcash today and they were strong with EPS growth of 15% despite coming off a very strong comparable period i.e. the starting point was high. It was even more impressive considering the loss of its 7-Eleven contract while they also had lower tobacco profits which implies the rest of the business is accelerating. They went on to say that the 2H has started well, with year-on-year growth in every segment. Overall, it was a big beat to consensus and with strong momentum in the underlying business, expected upgrades on the back of this.
MM is long and bullish on MTS for income and growth.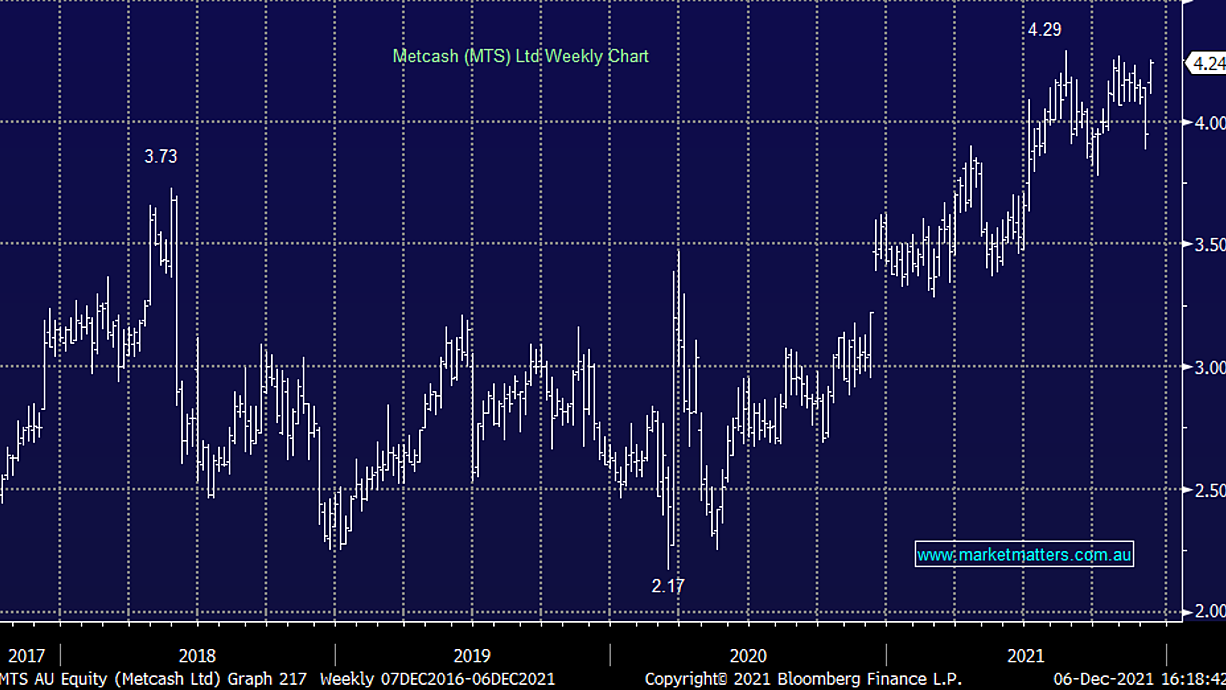 Bapcor (ASX:BAP) $6.41
BAP -5.60%: the car parts distributor was smacked to 15 month lows today after ushering long standing CEO Darryl Abotomey out the door. Just two weeks after announcing Abotomey would retire in February, the Bapcor board brought forward his departure saying the relationship had soured and his "position as MD & CEO had become untenable." What's worse is that the to-be stand in CEO Mark Powell is not yet available, CFO Noel Meehan has been appointed acting CEO while the search for a permanent nomination continues. While it's a strange shift in direction from the Bapcor board, ultimately the CEO was already moving on, the process has just been brought forward to this side of Christmas. We now ponder whether this creates a buying opportunity in a quality company operating in a favourable sector.
MM is becoming bullish on BAP.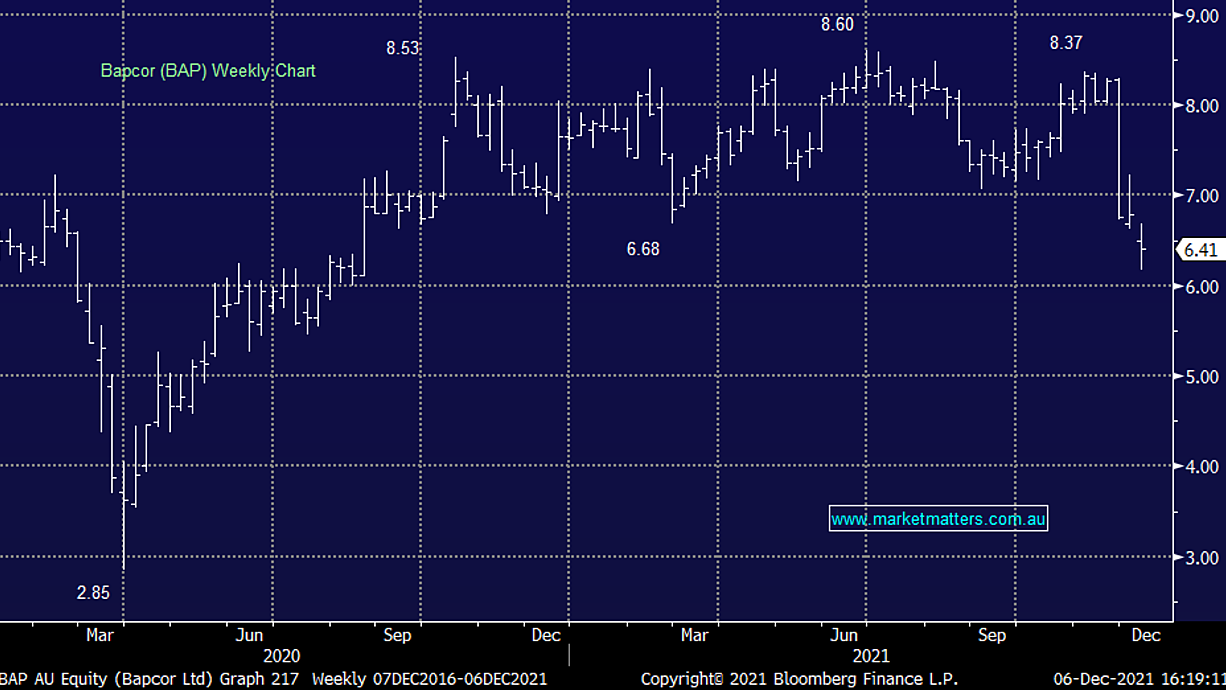 Magellan Financial Group (ASX:MFG) $31.08
MFG -3.99%: The global fund manager was hit today after reporting total funds under management (FUM) at period end for November of A$116.41 billion, up 1.4% from a month ago. Retail FUM fell slightly to $30.2 billion from $30.3 billion m/m however the pace of growth in FUM has very much slowed on the back of weak performance. We recently added MFG to the Income Portfolio today and while today's update was not the pivot we are looking for, we think the re-rate on the stock has more or less played out. The stock is down 40% over the past year versus the index which is up 10%.
MM is positive on MFG for income.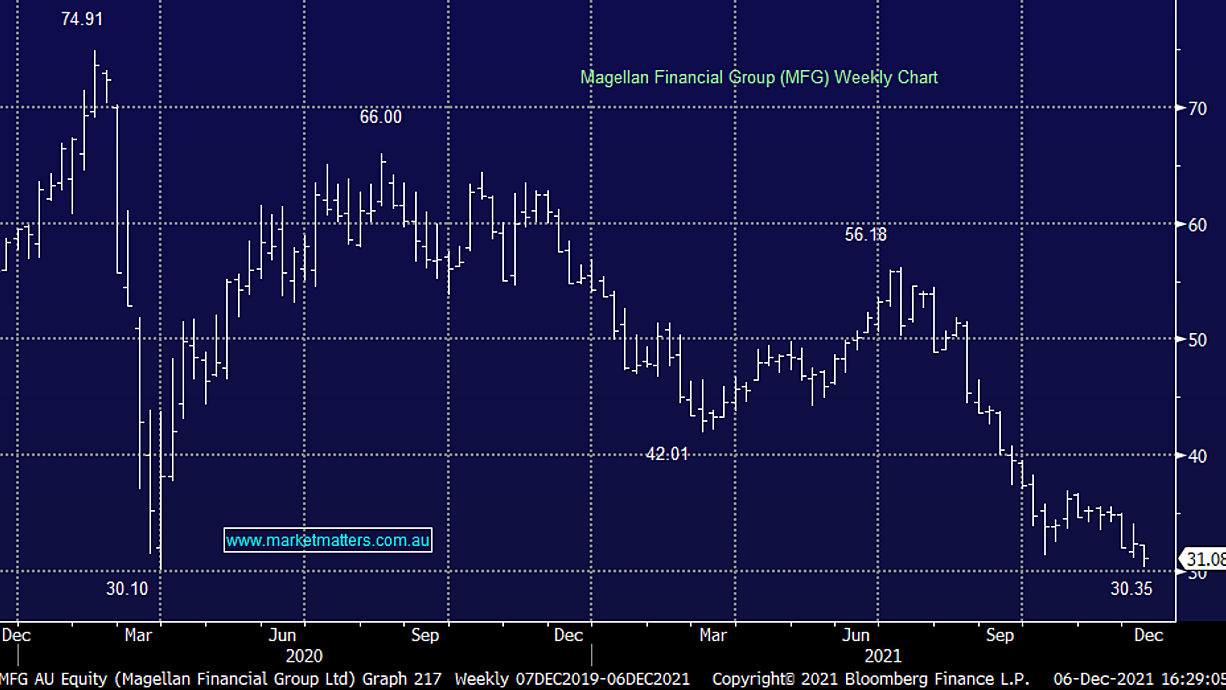 Broker Moves
Insurance Australia Cut to Underweight at Morgan Stanley
Rio Tinto Cut to Neutral at JPMorgan; PT A$102
Fortescue Cut to Neutral at JPMorgan; PT A$20
ResMed GDRs Raised to Outperform at Macquarie; PT A$39
Lynch Group Reinstated Overweight at JPMorgan; PT A$4.70
TRP AU Rated New Speculative Buy at Morgans Financial Limited
Major Movers Today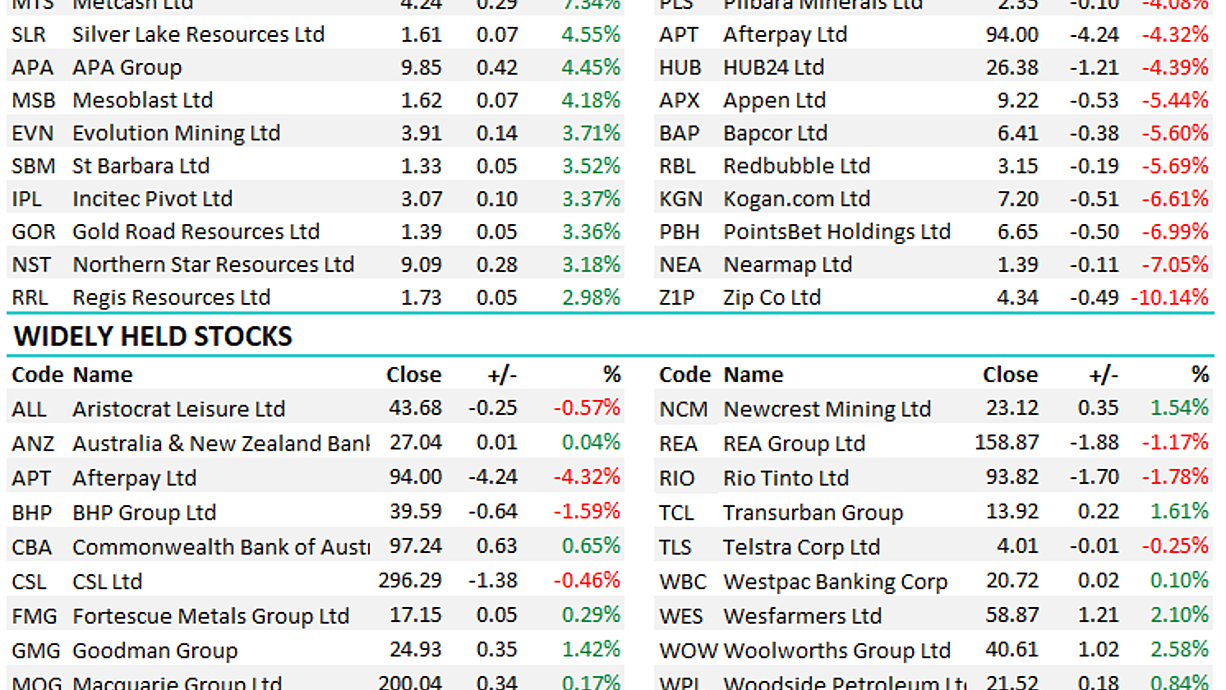 Have a great night
Harry, James, and the Market Matters Team.
Make informed investment decisions
At Market Matters, we write a straight-talking, concise, twice daily note about our experiences, the stocks we like, the stocks we don't, the themes that you should be across and the risks as we see them. Click here for your free trial.
The Match Out will be available each day after the market close. Follow my profile to be notified when the latest report is live.