The Match Out: ASX whacked, Tech the biggest drag although HUB 24 (HUB) quarterly a +ve exception
---
A tough day at the office for the Australian market today with the ASX down over 1% led lower by the IT and Healthcare sectors. Financials were also weak however there were some offsets, with Energy strong and Utilities living up to their defensive qualities, while at the corporate level we actually saw some positive updates from stocks, and they rallied! As we've written a few times of late, stock picking in 2022 will be very important.
The S&P/ASX 200 fell -76 points / -1.03% to close at 7332.
Energy stocks (+0.59%) led the line on a weak day, Utilities (+0.17%) also relative performers while IT (-2.56%) and Healthcare (-1.56%) dragged – as expected really given the rise in yields overnight.
BHP -0.3% released production numbers today that were broadly inline with expectations, we covered this AM and again in the weekly video below.
HUB24 (ASX:HUB) +2.12% chose a tough day to release a cracking quarterly, FUA +$3.6bn which was +$1.2bn ahead of James Bisinella's expectations – the business has good momentum.
On the flipside, Megaport (ASX:MP1) -16.15% whacked on a weaker than expected quarterly and no FY22 guidance, top-line growth of ~8% simply not enough for such a highly-priced company.
Appen (ASX:APX) +3.87% rallied as the market starts to think Macquarie is wrong on this stock – no trading update pre-results implies no downgrade as MQG analysts were expecting.
Iron Ore was up ~5% in Asia which helped the miners on a tough day.
Gold was down US$5.85 at US$1813 at our close.
Asian markets were lower, Japan knocked -3%%, Hong Kong -0.42% and China -1.02%.
US Futures are pricing a sharply weaker open down between -0.57% (Dow) and -0.85% (Nasdaq).
ASX 200 Chart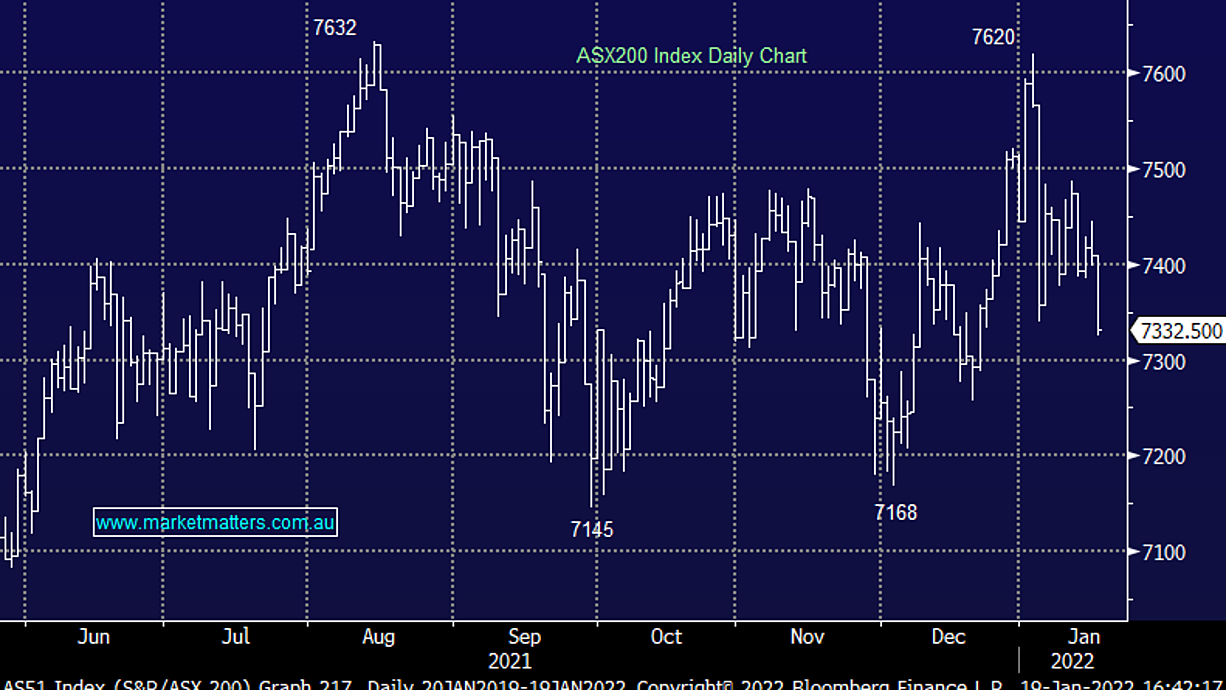 Weekly video update
This week James and Harry discuss:

Bond yields and what it means for portfolio positioning
HUB 24's (HUB) strong quarterly update
BHP and their production scorecard, and how they intend to play the stock as we approach unification
3 stocks James is happy to buy here and now.
Click Here to View – remember to 'like' the video if you do and be sure to sign up to the Market Matters You Tube Channel.
HUB24 $27.42
HUB +2.12%: Some good news on a tough day for stocks with investment platform HUB 24 announcing a very strong quarterly Funds Under Administration (FUA) update with a another record period of flows. For 2Q22 net flows were +$3.6bn which was a material beat to our Shaw Analyst James Bisinella's estimates of $2.4bn (+$1.2bn). Platform FUA is now at $50.0bn (+128% YoY) or $68.3bn including PARS (+118% YoY), supported by strong net flows and market movements with the XAO +2.0% QoQ. A total of 28 new licensee agreements were signed during the quarter, a strong result and broadly in line with 1Q22.
MM remains bullish HUB.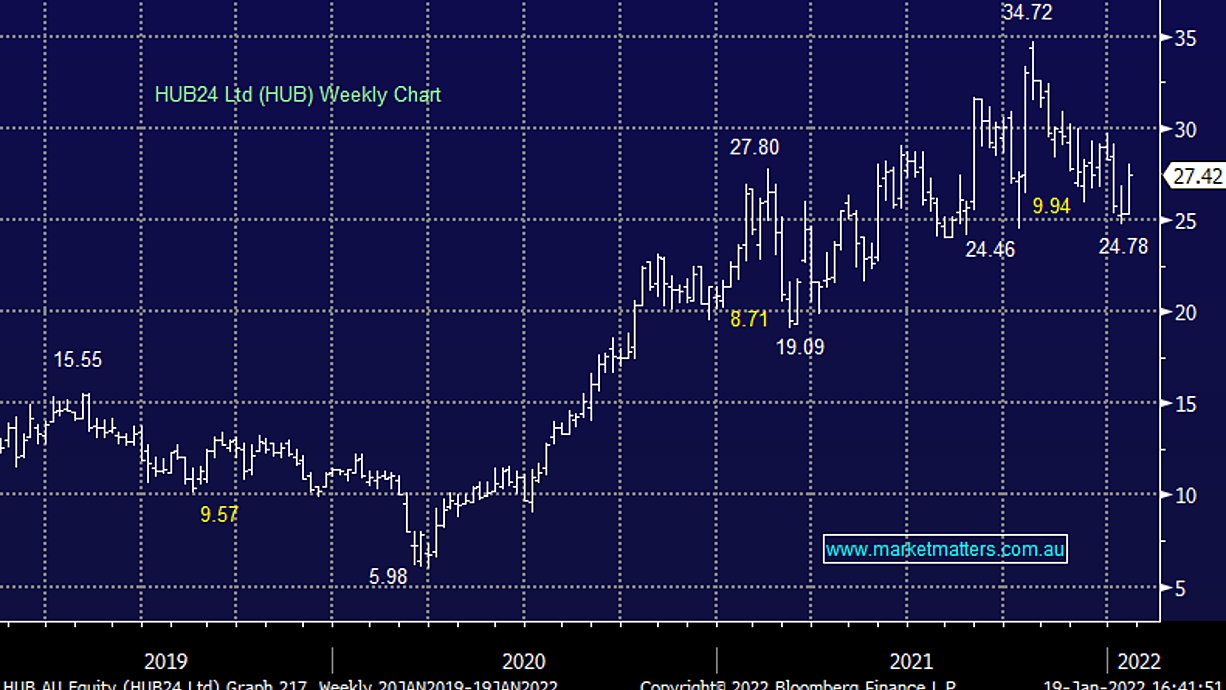 BHP Group $46.56
BHP -0.3%: the Big Australian was out with their December Quarter update today highlighting operations for the first half which were largely as expected. Where it mattered in iron ore BHP hit the numbers, up 1% QoQ and maintaining guidance. A ramp up in production out of the South Flank operations were slightly offset by a lack of train operators to see delivery to ports. Copper was weak with maintenance activities overrun and a lack of water leading to a small downgrade of 4% to full year guidance. Too much water was the issue for coal, La Nina caused higher than average rainfall across local operations meaning BHP failed to take advantage of the recent rally in prices, though such a small portion of the group's earnings it should only be a marginal impact overall. Finally Petroleum was strong, though a strong skew to the 1H was well flagged so there was no change to guidance. Plenty in the works for BHP with the unification vote being finalised this week before being completed at the end of the month, while the Petroleum spin out to Woodside (WPL) is just around the corner.

MM remains bullish BHP.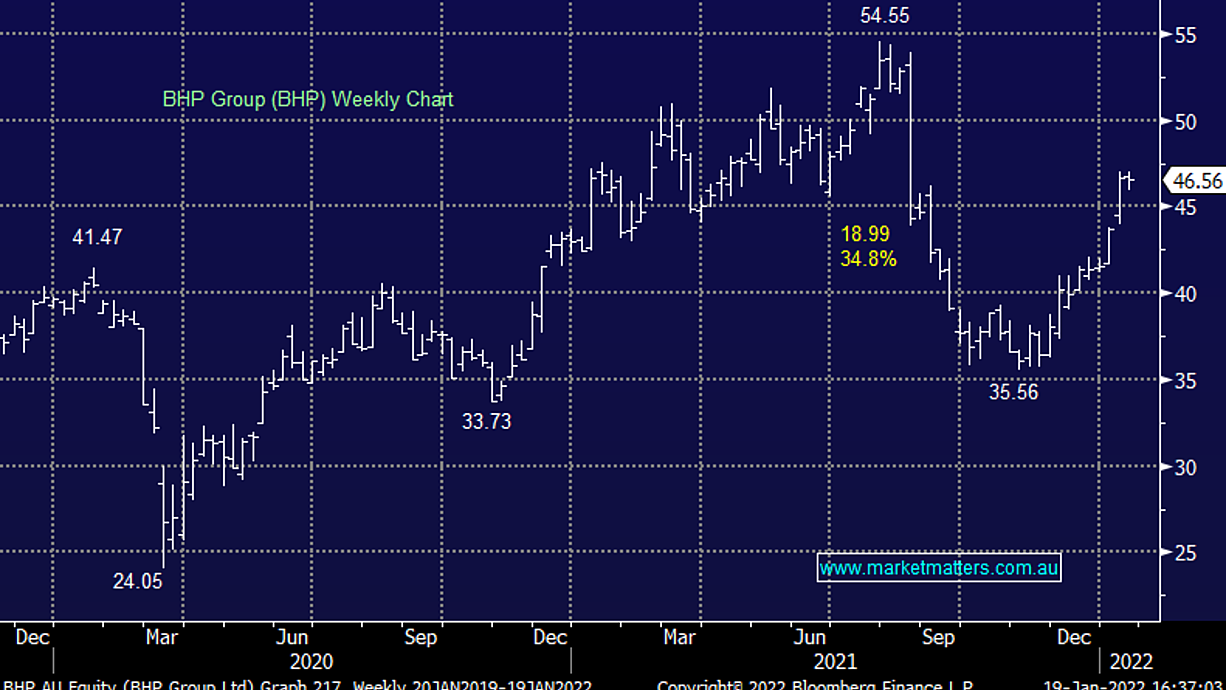 Broker Moves
Redbubble Rated New Neutral at Jarden Securities; PT A$2.60
Redbubble Cut to Equal-Weight at Morgan Stanley; PT A$2.65
Cochlear Cut to Neutral at Macquarie
South32 Raised to Buy at SBG Securities; PT A$4.85
BHP Group PLC Cut to Hold at SBG Securities; PT 2,380 pence
Integral Diagnostics Rated New Neutral 1 at Barrenjoey
Carsales.com Cut to Underweight at JPMorgan; PT A$20.60
Seek Raised to Overweight at JPMorgan; PT A$34
REA Group Raised to Overweight at JPMorgan; PT A$165
Pendal Group Reinstated Buy at Bell Potter; PT A$7.48
Harvey Norman Raised to Outperform at Credit Suisse; PT A$5.62
Major Movers Today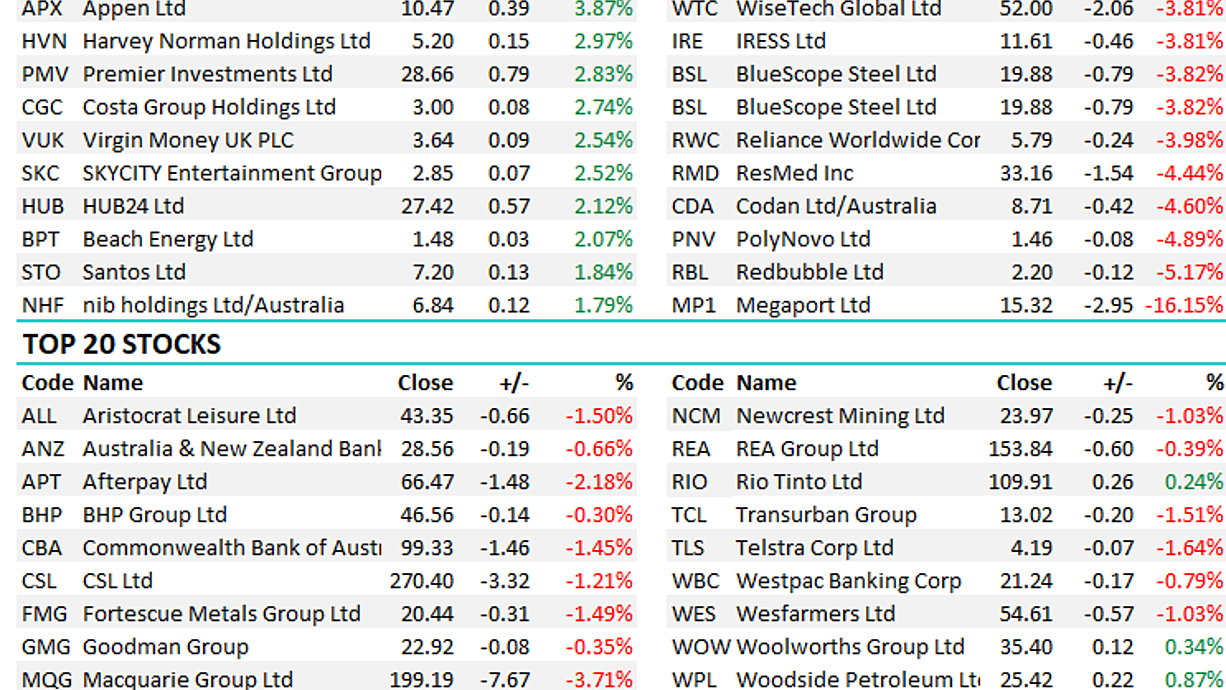 Enjoy your night
The Market Matters Team.
Make informed investment decisions
At Market Matters, we write a straight-talking, concise, twice daily note about our experiences, the stocks we like, the stocks we don't, the themes that you should be across and the risks as we see them. Click here for your free trial.
The Match Out will be available each day after the market close. Follow my profile to be notified when the latest report is live.