The Match Out: Market down on global growth concerns, Metcash (MTS) sees solid trading
---
A poor session for the ASX today with weakness amongst the Energy, Utilities, & Material stocks dragging down the broader market while IT & Healthcare edged higher. That in itself tells an interesting story given bond yields traded sharply higher overnight (US 10 years +15bps) while a similar but less aggressive trend played out in Australia today (Aussie 10 years +5.5bps). Higher value IT & Healthcare generally struggle under that scenario however today they benefitted from a move out of those sectors more exposed to global growth - Energy & Materials hit by more than 2% a pop.
The ASX 200 finished down -97pts/ -1.42% at 6729
The IT sector was best on ground (+0.33%) while Healthcare (+0.17%) was also positive despite the broader weakness.
Energy (-2.88%), Utilities (-2.11%) & Materials (-2.06%) the weakest links.
We hosted a webinar yesterday titled Post Reporting Playbook with a focus on stocks we like and the levels we would trade them – Click Here to view
Aussie GDP came in at +0.9% QoQ which was inline with expectations while the YoY result of 3.6% was a touch better than the 3.4% expected.
Obviously the interest rate decision yesterday gained a lot of airtime however there is now a decent divergence between what economists are saying and where the market is pricing rates.
We lean on UBS research who now think there will be 2 more hikes of 25bps each with the cash rate topping out at 2.85%, a far cry from the nearly 4% being priced by the market. We think the UBS call will prove to be more accurate than the markets.
Metcash (ASX: MTS) +0.49% held their AGM today and gave a trading update, saying sales were good and supply chain pressures are easing somewhat. Labour shortages are still an issue. We own MTS in the Income Portfolio
Macquarie were active on their bank calls today, upgrading CBA, ANZ & Bendigo Bank (ASX: BEN), downgrading NAB & Bank of QLD (ASX: BOQ) – a call on relative valuation.
They think earnings overall will improve near term given expanding margins (increasing borrower rates quicker than savings rates) however they remain cautious around asset quality further out.
APA Group (ASX: APA) -0.66% is having a few issues securing Basslink, apparently the bidding is getting more competitive. We sold APA above $12 and are once again starting to see value as it approaches ~$10.
Lots of stocks trading ex-dividend today so while portfolios took a hit, bank balances will get a boost soon!
We used today's weakness to pick up a few new positions across MM Portfolios given our cash levels were high.
Iron Ore fell ~1.5% in Asia today.
Gold fell back below $1700/oz.
Asian stocks were down, Hong Kong hit -1.79%, Japan -0.65%% while China was off 0.10%.
US Futures are all lower, but not by a lot (-0.20%) + they have recovered throughout our time zone today.
ASX 200 Chart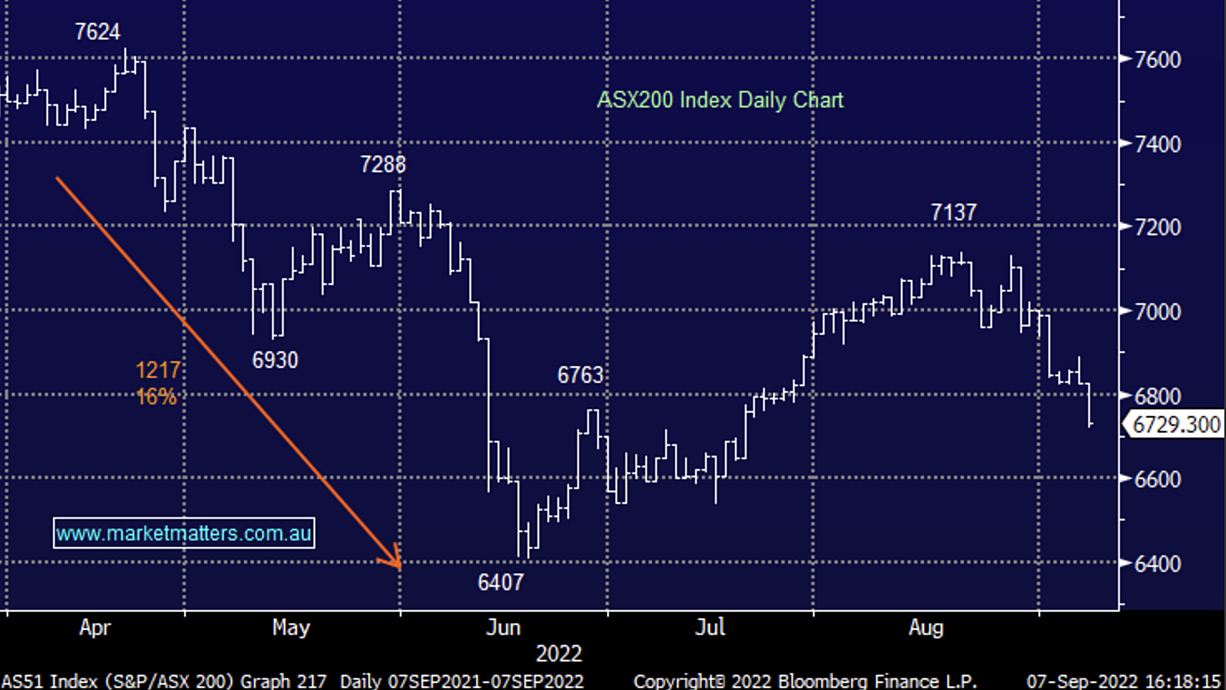 Metcash (MTS) $4.14
MTS +0.49%: the food, liquor and hardware distributor hosted their AGM today coming with positive commentary since their April year-end. Sales for the first 17 weeks of the year are up 8.9%, led by a 19.5% jump in hardware, supported by 11.5% growth in liquor, and 4.9% in food. Inflation has certainly helped support the growth, while also likely pushing costs higher however the company noted pressures had started to ease in recent weeks. COVID-related costs were also easing while supply chains are opening up again which should provide some relief on the cost front as well.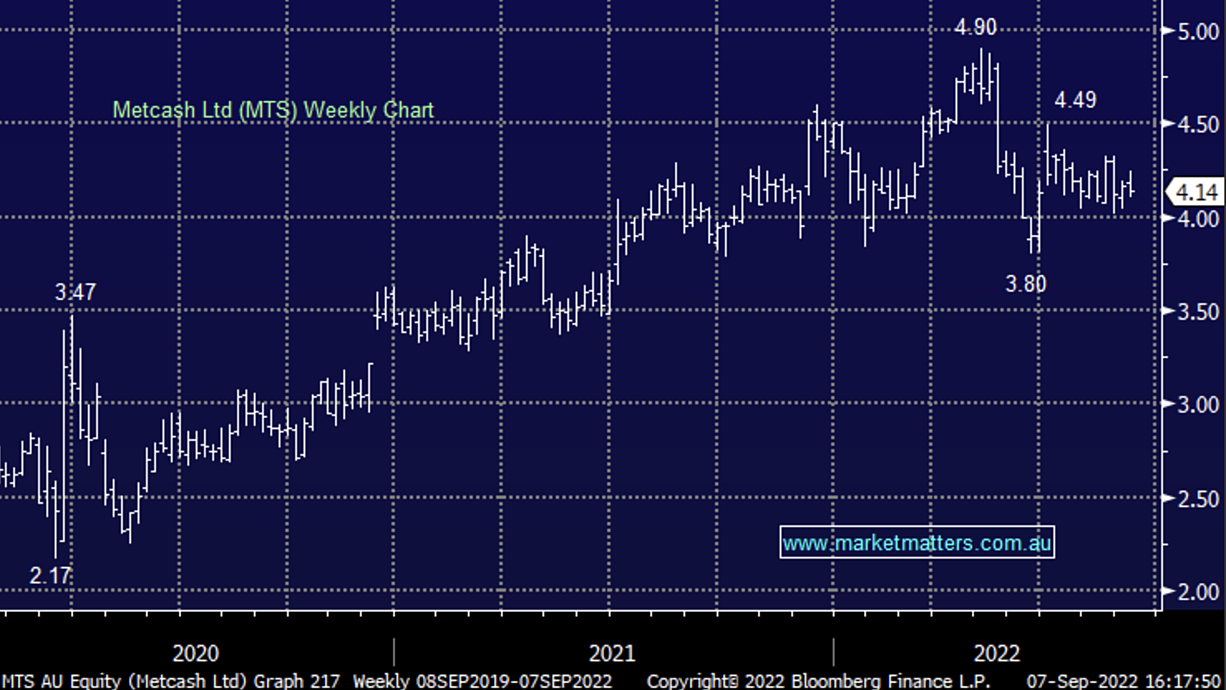 Broker Moves
BetMakers Technology Rated New Hold at Barclay Pearce Capital
Carsales.com Raised to Outperform at Macquarie; PT A$24.40
Alumina Cut to Underperform at Macquarie; PT A$1.10
Ventia Services Rated New Hold at Barclay Pearce Capital
Silex Systems Rated New Underperform at Barclay Pearce Capital
Monash IVF Rated New Hold at Barclay Pearce Capital; PT A$1.05
Navigator Global Rated New Buy at Barclay Pearce Capital
ASX Raised to Neutral at JPMorgan; PT A$80
ANZ Bank Raised to Outperform at Macquarie; PT A$24
NAB Cut to Neutral at Macquarie; PT A$30.25
CBA Raised to Neutral at Macquarie; PT A$90.50
Bank of Queensland Cut to Neutral at Macquarie; PT A$7
Bendigo & Adelaide Raised to Neutral at Macquarie; PT A$9
Playside Studios Rated New Buy at Shaw and Partners
Starpharma Reinstated Speculative Buy at Bell Potter; PT A$1
Sandfire Raised to Neutral at JPMorgan; PT A$3.80
Major Movers Today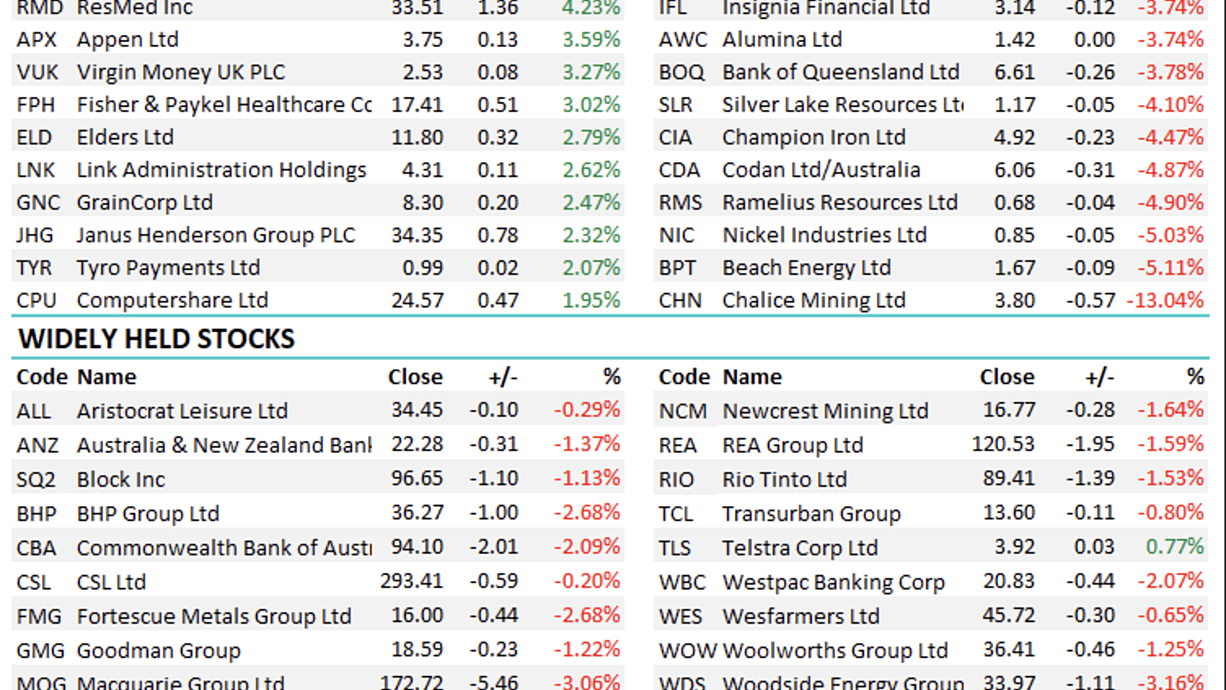 Have a great night
The Market Matters Team
---
Make informed investment decisions
At Market Matters, we write a straight-talking, concise, twice daily note about our experiences, the stocks we like, the stocks we don't, the themes that you should be across and the risks as we see them. Click here for your free trial.
The Match Out will be available each day after the market close. Follow my profile to be notified when the latest report is live.