The Match Out: Market hit on more aggressive rate hike, OMG - KFC to sub-in Cabbage for Iceberg – what a day!
---
The market was hit today following a more aggressive hike from the RBA with benchmark interest rates up +0.50% to 0.85%, double the +0.25% hike that was expected. We think this is the right move given current inflation, however, the quantum of the hike is a direct result of the RBA's prior inaction when rates were kept at emergency levels for way too long. They also signalled more to come but also said that inflation will miraculously fall back into their targeted 2-3% band next year. We certainly hope that's the case, although it seems quite fanciful.
The ASX 200 finished down -110pts/ -1.53% at 7095
All sectors lower, however, the Material sector (-0.19%) & Energy (-0.30%) were relative performers.
The interest rate sensitive sectors felt the pain, IT (-2.99%), Real-Estate (-2.93%) & Consumer Discretionary (-2.34%).
The RBA increased rates by +0.50% to 0.85%, the market was expecting +0.25% while only 3 out of 29 economists tipped such a hike.
The AUD initially rallied hitting a 72.46c high, but then finished the session flat at 72c while bond yields tested recent highs although tapered off soon after.
The 3-year bond added +0.16% to 3.13% while the 10-year yield increased by 0.07% to 3.55% i.e. the yield curve flattened which caused some selling amongst the banks. Banks borrow short, lend long.
Retailers also felt some pain today with the more aggressive rate hike reducing available cash in consumers' hip pocket + the RBA's guidance of more to come is a negative for discretionary spending.
Apple (AAPL US) announced plans to launch a Buy Now Pay Later product via their next iPhone – the BNPL stocks hit again – Zip @ 66c – Ouch!
Strandline (STA) +7.35% rallied on a good update, seems all on track for now.
Megaport (MP1) -5.56% down again and now trading below $6. This is the very point end of Aussie tech, it was trading ~$22 in November and had a lot of vocal supporters.
KFC having trouble with Lettuce supply and has been forced to use cabbage instead – that's a travesty for the favoured Zinger. Collins Food Group (CKF) down 3%,
Iron Ore was flat in Asia today.
Ditto for Gold which was trading around ~US$1842 at our close.
Asian stocks were mixed Hong Kong down -0.5%, Japan +0.36% while China was up +0.12%
US Futures are all down, between 0.77% (Nasdaq) & 0.50% (Dow).
ASX 200 Chart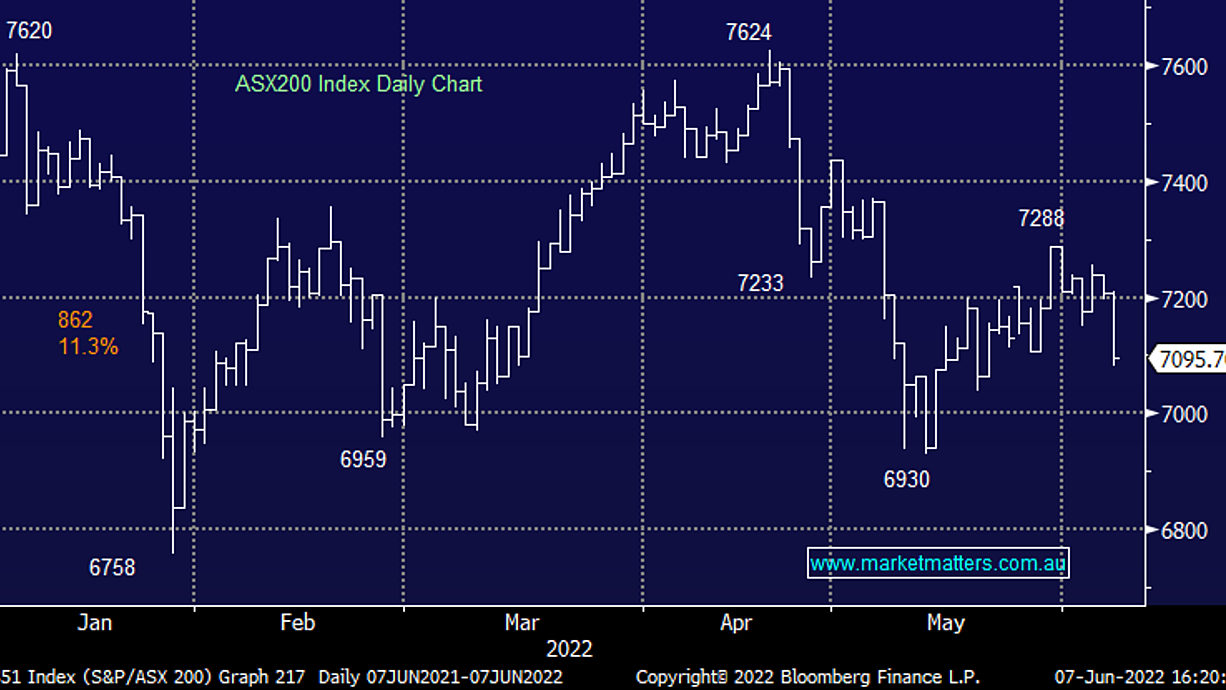 RBA– increased rates +0.50% to 0.85%
The RBA did the right thing today and raised rates by a more aggressive 0.50%. While we thought 0.40% was the right level, it was perhaps our OCD that played into this (would have left rates at 0.75%), however Governor Lowe did what only 10% of economists thought he would and took a more aggressive stance, sighting persistently high inflation, low unemployment and house prices that remain high. This was a big call and a few aspects stood out to MM:
- Inflation is expected to increase further, but then decline back towards the 2 per cent to 3 per cent range next year. This is a very optimistic view by the RBA, we think there are a barrage of risks around this stance.
- The board expects to take further steps in the process of normalising monetary conditions in Australia over the months ahead. They went onto say this will be data dependent but clearly they are poised for more moves.
- The market is now pricing in a 3.5% cash rate by mid-2023, which is a very aggressive stance. We are more of the view that rate hikes will be front loaded i.e. more aggressive now so to be less aggressive later.
- The sooner rates have transitioned back to more normal levels (remember, we're still at just 0.85%), the better it will be for equity markets overall.
- Bond yield rose with the Aussie 3 year yield testing recent highs at 3.16%, while the 10 years were up 0.07% to 3.55%.
Australian 3 year Bond Yields
Strandline (STA) 36.5c
STA +7.35%: another positive progress update for the junior mineral sands hopeful puts them on track for production before the end of the year. With their Coburn project in WA, Strandline are hoping to capitalize on strong mineral sands prices that are currently running around 35% higher than the feasibility study had priced in. On track and on budget is the message from the company and we expect shares to track higher given cashflow is now months away.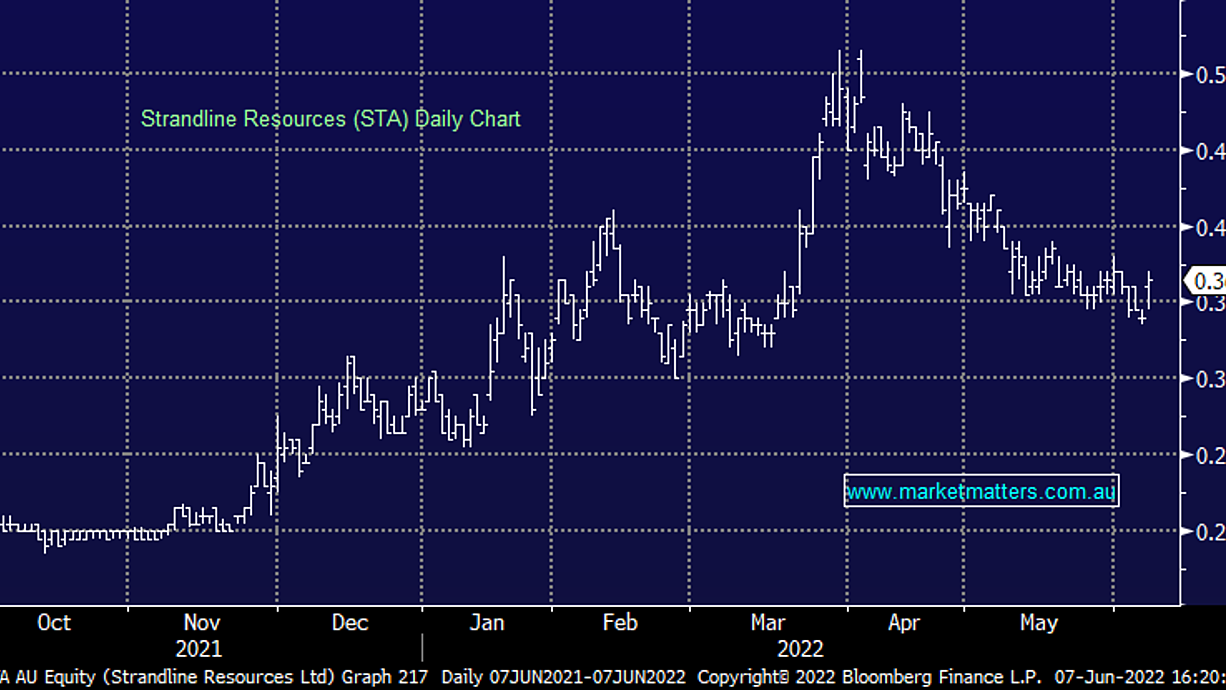 Broker Moves
Universal Store Cut to Neutral at Macquarie; PT A$4.40
Best & Less Group Cut to Neutral at Macquarie; PT A$2.40
PEXA Group Rated New Underweight at Jarden Securities
Karoon Energy Rated New Underweight at Jarden Securities
Carnarvon Energy Ltd Rated New Overweight at Jarden Securities
Event Hospitality Rated New Overweight at Jarden Securities
Healthia Rated New Buy at Barclay Pearce Capital; PT A$1.72
Cooper Energy Raised to Overweight at JPMorgan
Major Movers Today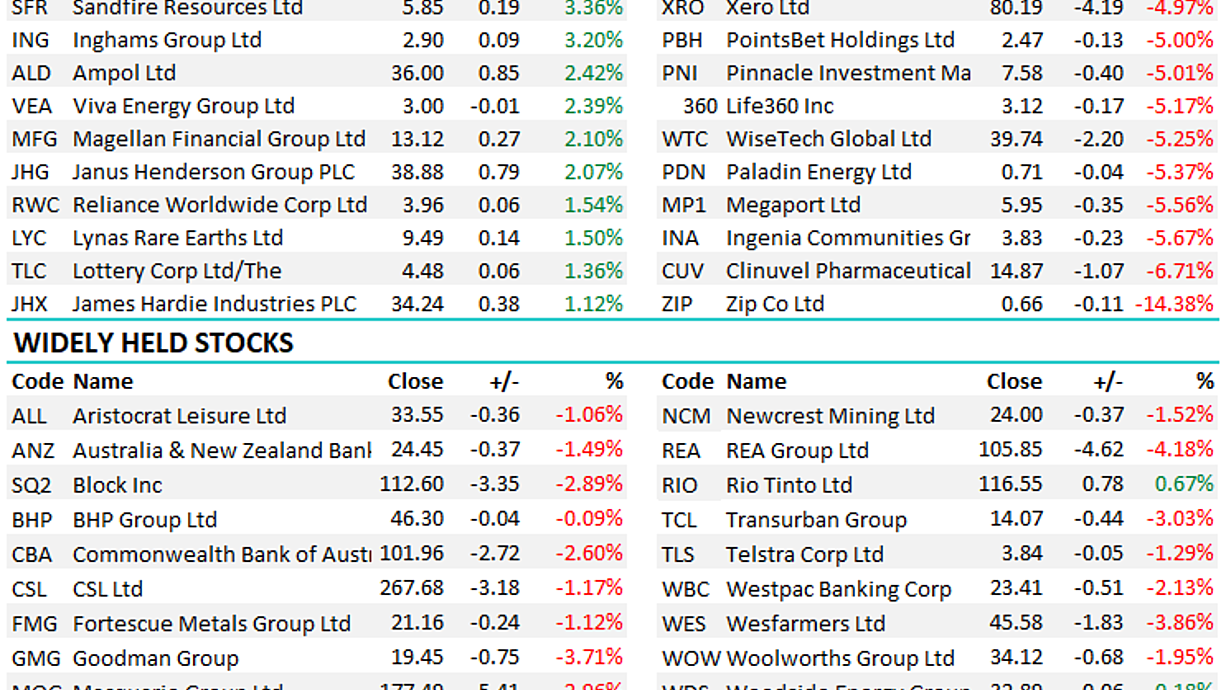 Have a great night

The Market Matters Team
Make informed investment decisions
At Market Matters, we write a straight-talking, concise, twice daily note about our experiences, the stocks we like, the stocks we don't, the themes that you should be across and the risks as we see them. Click here for your free trial.