The Match Out: Market knocked on US inflation, Property & IT weight, More dramas at Lake Resources
---
A tough session for the ASX following a stronger than expected inflation read in the US overnight, although a 2.6% decline versus 4-5% in the States could be considered a win! Interest rates sensitive sectors of Real-Estate and IT were hardest hit while the defensives provided some inkling of shelter, although when 193 stocks in the ASX 200 finish in the red, there's clearly not a lot of positivity to hang one's hat on.
The ASX 200 finished down -181pts/ -2.58% at 6828
The Utilities sector was best on ground relatively speaking (-1.43%) while Healthcare (-1.61%) & Staples (-2.21%) outperformed the weakness.
Real-Estate (-4.16%) and IT (-3.15%) the weakest links.
Lead Portfolio Manager James Gerrish was on Ausbiz this morning discussing defensive stocks to own – Click Here to view
Atlas Arteria (ALX) trading halt raising $3.1bn to fund the acquisition of the Chicago Skyway (motorway). The deal is priced at $6.30 versus last close of $7.81 however more accurately it's a 12% discount on the theoretical ex-rights price.
Auckland International Airport (AIA) -1.45% out with traffic numbers for August today saying they're back to 61% of pre-covid levels.
Ramsay Healthcare (RHC) -0.03% was flat after yesterday's tumble – we own and covered our views on RHC this morning which can be viewed here
Lake Resources (LKE) -16.54% fell on a dispute with their mine operators. The dramas continue at LKE.
Altium (ALU) -4.71% was weak on tech weakness while Bells also downgraded the stock to neutral. We're particularly bullish on ALU and prefer adding into weakness.
The market is now pricing +83bps increase in the US Fed Funds rate at the next meeting.
Futures markets in Australia are pricing +34bps when the RBA meets at the start of October, a 50bps hike clearly on the table. Hopefully, they go 40bps to get us back on an even keel of 2.75%!
Iron Ore was ~1% lower in Asia today however it remains resilient above $US100/dmt
Gold was flat at ~US$1701 at our close.
Asian stocks were down, although better than the US overnight, Hong Kong off -2.42%, Japan -2.64% while China fell -0.77%
US Futures are all up, around +0.25%
ASX 200 Chart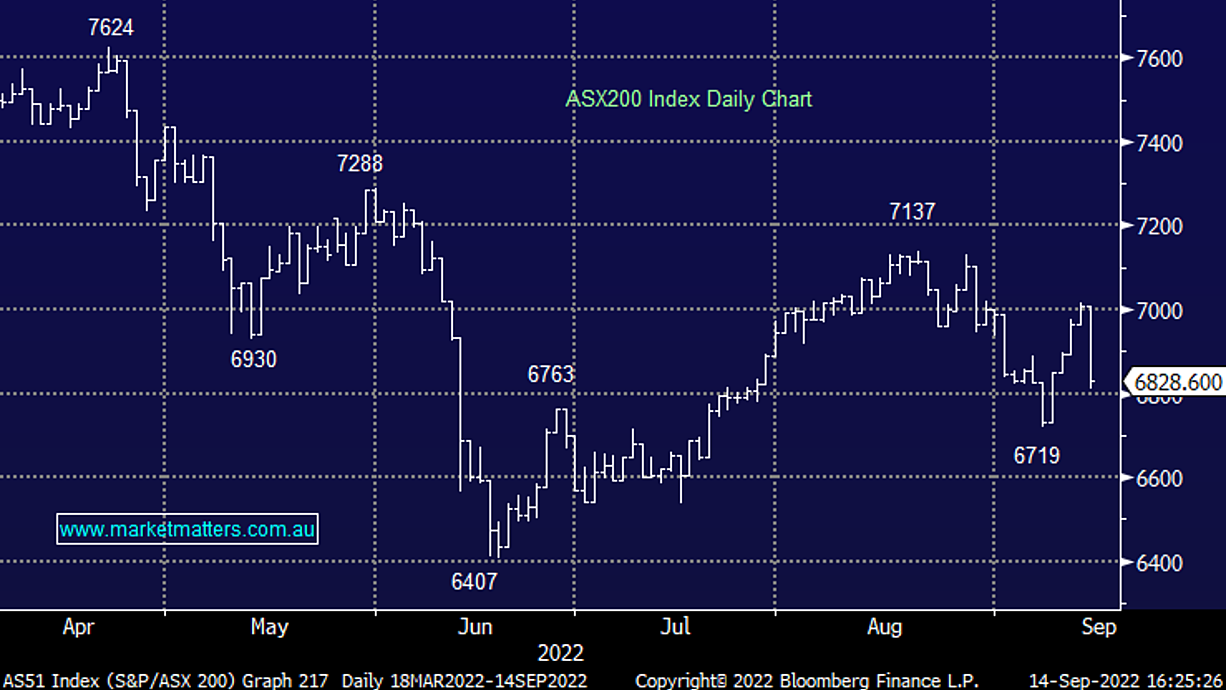 Lake Resources (LKE) $1.06
LKE -16.54%: the lithium hopeful tumbled today after getting caught in a tussle with the operations company they've employed at their Kachi site following a disagreement about milestone cut-offs. Lilac will earn a stake of up to 25% of the project if they complete 1,000 hours of operations and 2,500kg of lithium carbonate. Lake believes these milestones need to be met by 30 September, while Lilac believes they have until the end of November with the dispute now going to mediation. While Lake has been well-bid thanks to a strong rally in lithium stocks, it's had ongoing issues with delays to studies and turnover in key management positions as well as an attack from short sellers earlier in the year. Clearly, a few things bubbling away under the surface.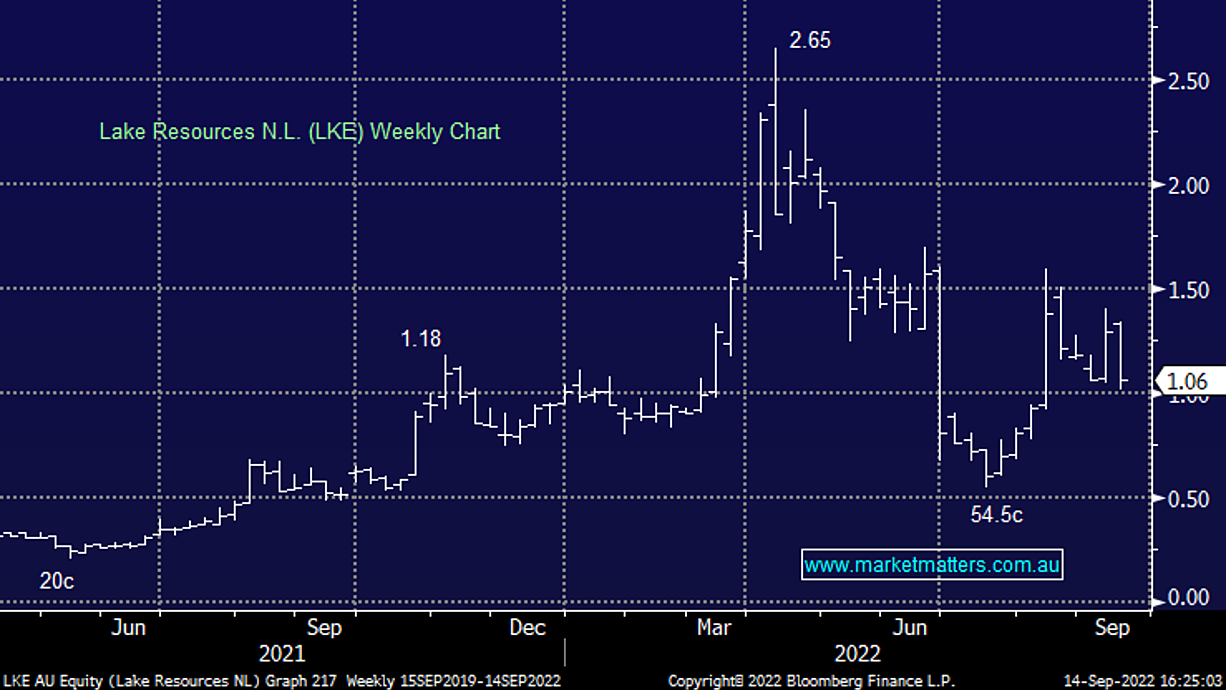 Broker Moves
Pepper Money Rated New Buy at Barclay Pearce Capital; PT A$3.39
Scentre Group Rated New Hold at Barclay Pearce Capital
IDP Education Rated New Underperform at Barclay Pearce Capital
ALS Cut to Neutral at Credit Suisse; PT A$12.60
Domino's Pizza Enterprises Raised to Neutral at Goldman
Coles Group Cut to Sell at Goldman; PT A$15.60
ANZ Bank Raised to Overweight at Morgan Stanley; PT A$26
Altium Cut to Hold at Bell Potter; PT A$40
Neuren Raised to Speculative Buy at Bell Potter; PT A$8.60
Major Movers Today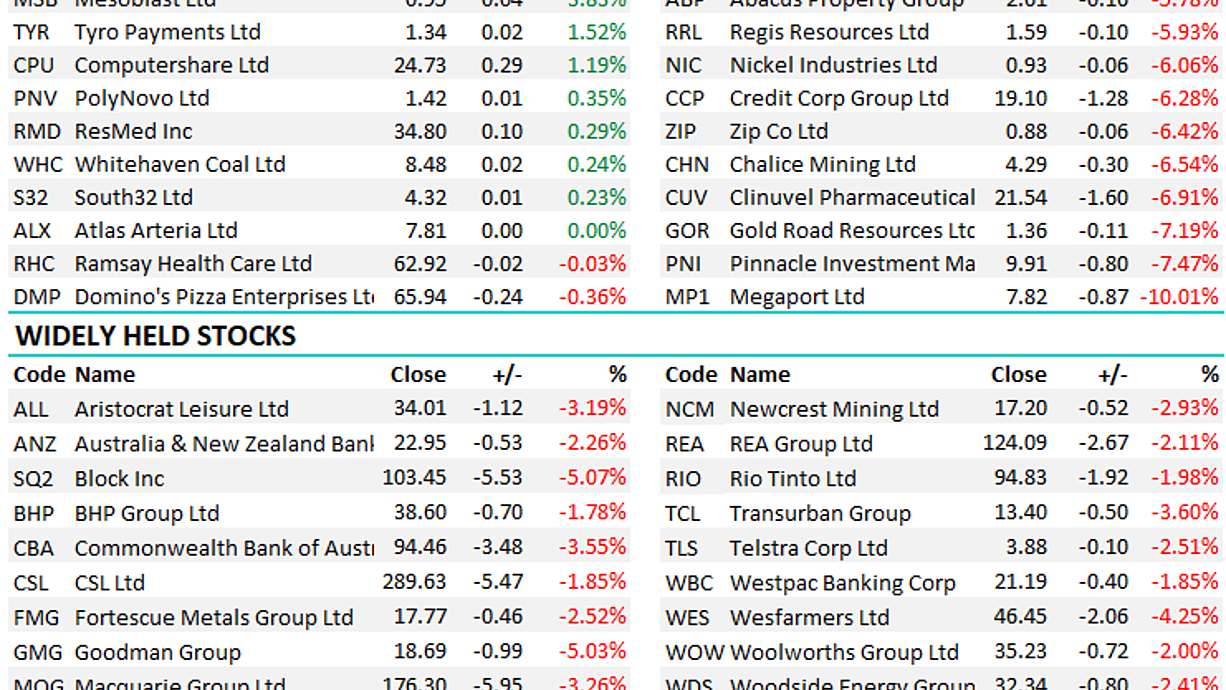 Have a great night
The Market Matters Team
Make informed investment decisions
At Market Matters, we write a straight-talking, concise, twice-daily note about our experiences, the stocks we like, the stocks we don't, the themes that you should be across and the risks as we see them. Click here for your free trial.
The Match Out will be available each day after the market close. Follow my profile to be notified when the latest report is live.