The Match Out: Markets in a holding pattern ahead of US CPI tonight
---
US inflation data will be an important release tonight and that will have a big bearing on where markets go from here. That uncertainty was obvious in the local market today with the index trading in a tight range, before popping higher into the close. The Energy and Resource stocks hit hard, particularly in early trade before some recovered while the retailers and IT stocks did well.
The ASX 200 finished up +15pts/ +0.23% at 6621
The consumer discretionary stocks were best on ground (+1.18%) while IT (+1.18%) & Communications (+1.18%) made up a tightly run race on the leader board.
Energy (-1.78%) and Utilities (-1.78%) the weakest links.
US Inflation data out tonight in the US – consensus sitting at +8.8% YoY. As one trader said on Bloomberg today, the market is short into this data-point, if it's not too bad, stocks will pop – we agree.
Across the ditch, the RBNZ raised rates by another 50bps, taking their benchmark to 2.5%.
We made a number of changes to portfolios today, generally increasing our exposure to resources into prevailing weakness – an international alert out shortly.
Goldmans went the other way and have downgraded their commodity price assumptions and outlook on the sector – Oz Minerals (OZL) cut to neutral but $20.50 price target v this mornings open of $15.93…We have gone the other way buying OZL today.
KMD Brands (KMD) +0.50% which is better known as Katmandu delivered a decent trading update this morning on the back of a strong winter period.
Qantas (QAN) +4.25% rallied following a good update from American Airlines overnight + Boeing also talked to strong demand for their planes.
ANZ -1.19% was the big underperformer amongst the banks, confirming they are in talks to buy MYOB from private equity giant KKR. Buying from private equity is seen as a bad move while ANZ thinking outside the box has also got the market offside.
After falling 38% yesterday, Sezzle (SZL) fell another 15% today as concerns circle around their funding – it seems clear they'll need to raise capital.
Gold was trading ~US$1725 at our close close.
Asian stocks were mixed, Hong Kong down -0.31%, Japan +0.61% while China was off -0.14%
US Futures are all up, the Nasdaq the best of them +0.53%.
ASX 200 Chart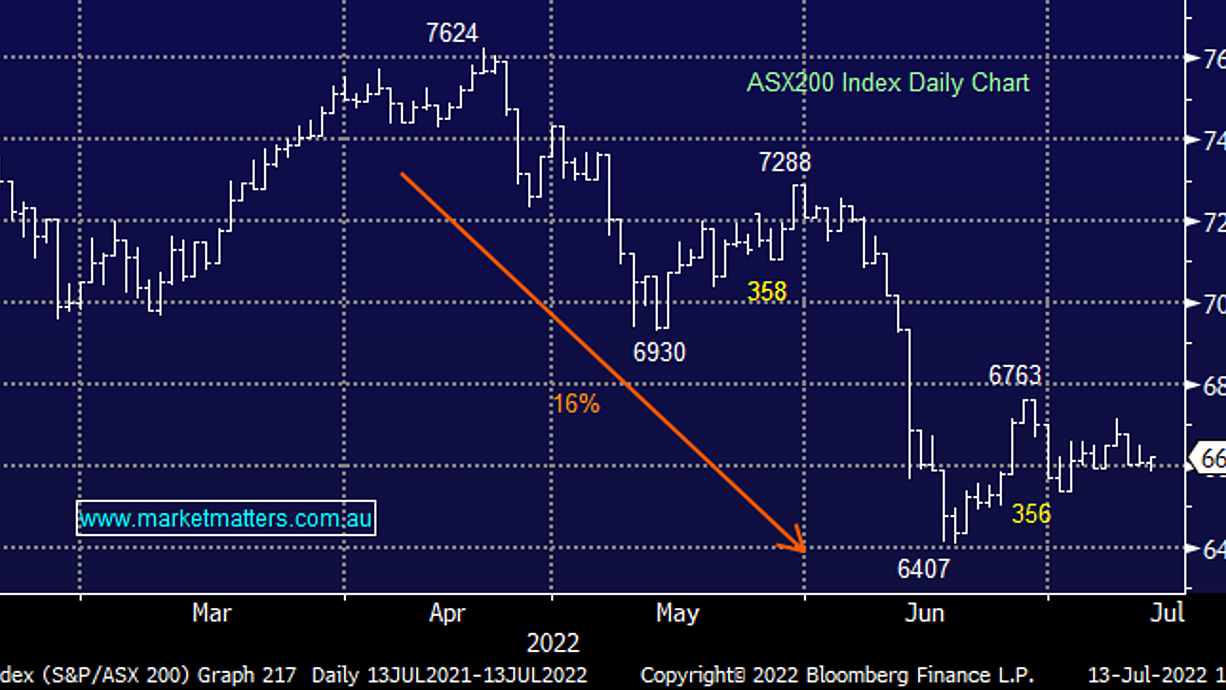 Broker Moves
Evolution Raised to Buy at Canaccord; PT A$2.70
Champion Iron Raised to Buy at Goldman; PT A$7.30
OZ Minerals Cut to Neutral at Goldman; PT A$20.50
Gold Road Raised to Buy at Argonaut Securities; PT A$1.41
Major Movers Today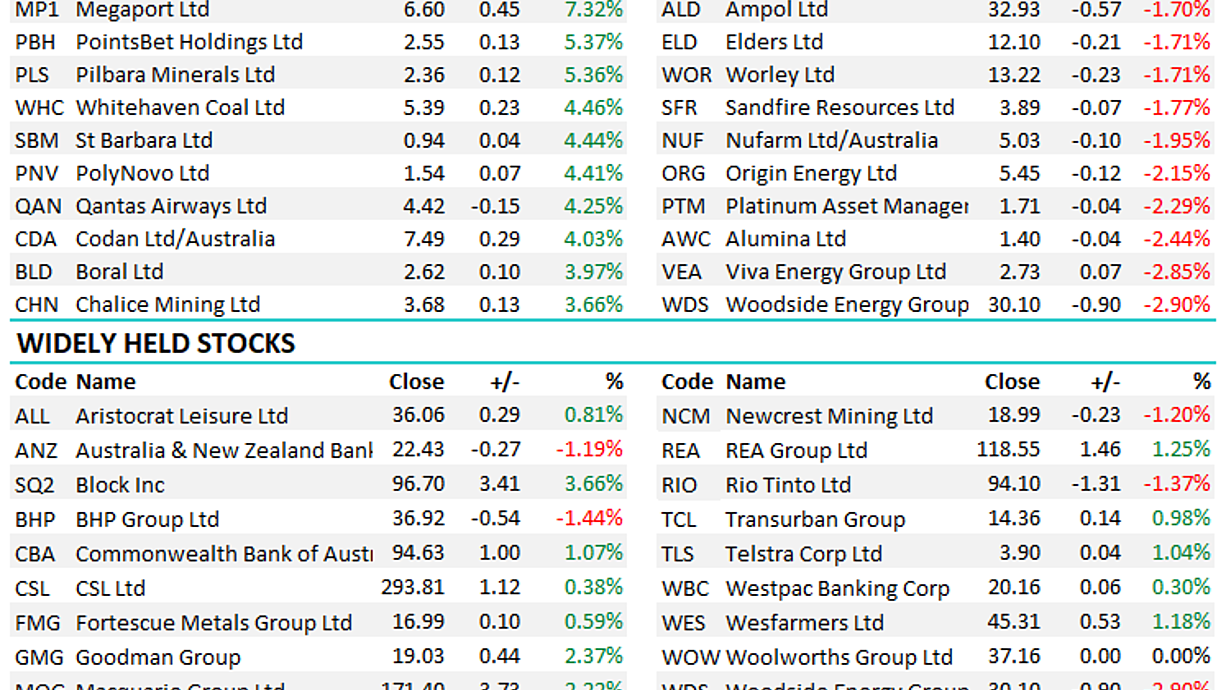 Have a great night,

The Market Matters team.
Make informed investment decisions
At Market Matters, we write a straight-talking, concise, twice-daily note about our experiences, the stocks we like, the stocks we don't, the themes that you should be across and the risks as we see them. Click here for your free trial.
The Match Out will be available each day after the market close. Follow my profile to be notified when the latest report is live.
---
Follow James Gerrish's wires
---