The Match Out: Stocks rally as RBA set to keep rates low, Amcor (AMC) struggles after reporting, Weekly video update
---
A solid session for Aussie stocks with the market up more than 1% led by the Energy sector, although Materials also bounced back today following a pullback in the $US overnight. Local reporting season is now underway while the US quarterly updates continue to flow through – we should have a better handle on company earnings over the next month however we suspect that guidance will again be fairly vague, particularly in consumer facing sectors.
The S&P/ASX 200 added +81points / +1.17% to close at 7087.
Energy (+2.84%) & Material stocks (+1.19%) led the line while the Utilities (-0.43%) and IT (-0.03%) were the only sectors that fell.
Amcor (AMC) -3.54% reported 1H results and reconfirmed full year guidance for earnings growth of 7-11%
In a trading update, mortgage Insurer Genworth (GMA) +4.03% showed how low delinquencies have been in the domestic housing market due to strong price growth.
The RBA's Philip Lowe provided some more 'meat on the bones' as to why rates are likely to stay low – the market remains sceptical though.
I was on Ausbiz this morning for the first hit out of the year talking Aussie Broadband (ABB) & Amcor (AMC). 

Shaw upgraded their price target for ABB today retaining the buy, while Credit Suisse upgraded to a buy equivalent following yesterday's trading update.

BHP +1.58% bounced back today after a few days of weakness – we remain bullish commodities & commodity stocks here.
Oz Minerals (OZL) also up +3.79% after a savage sell-off to start the year for the Copper company – we continue to own.

Iron Ore markets closed in Asia. 

Gold was flat at US$1799 at our close.

Japan was up +1.8%, Hong Kong & China are closed for China NY.

US Futures are pricing a stronger open, the Nasdaq +1.14% the best of them.
ASX 200 Chart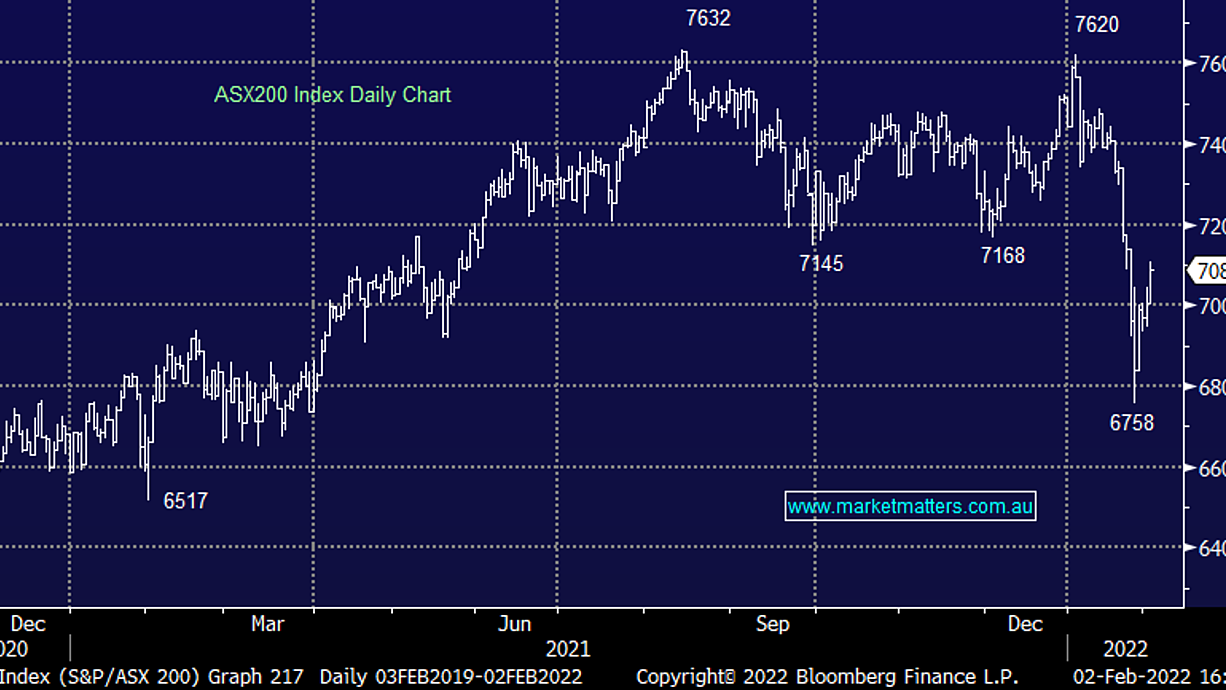 Weekly Video Update
The first Video of the new year with James & Harry providing an update on portfolio performance for January, a very tough month for equities. Overall, the ASX 200 was down 6.35%, although it experienced an ~11% decline from high to low while the small caps were down more than 9%. Watch the video to see how the Market Matters Portfolio's fared, and remember to subscribe to the Market Matters YouTube Channel, and if you do, hit the 'Like' button. Subscribers can view updated portfolio performance on the website as usual.
Click here to watch.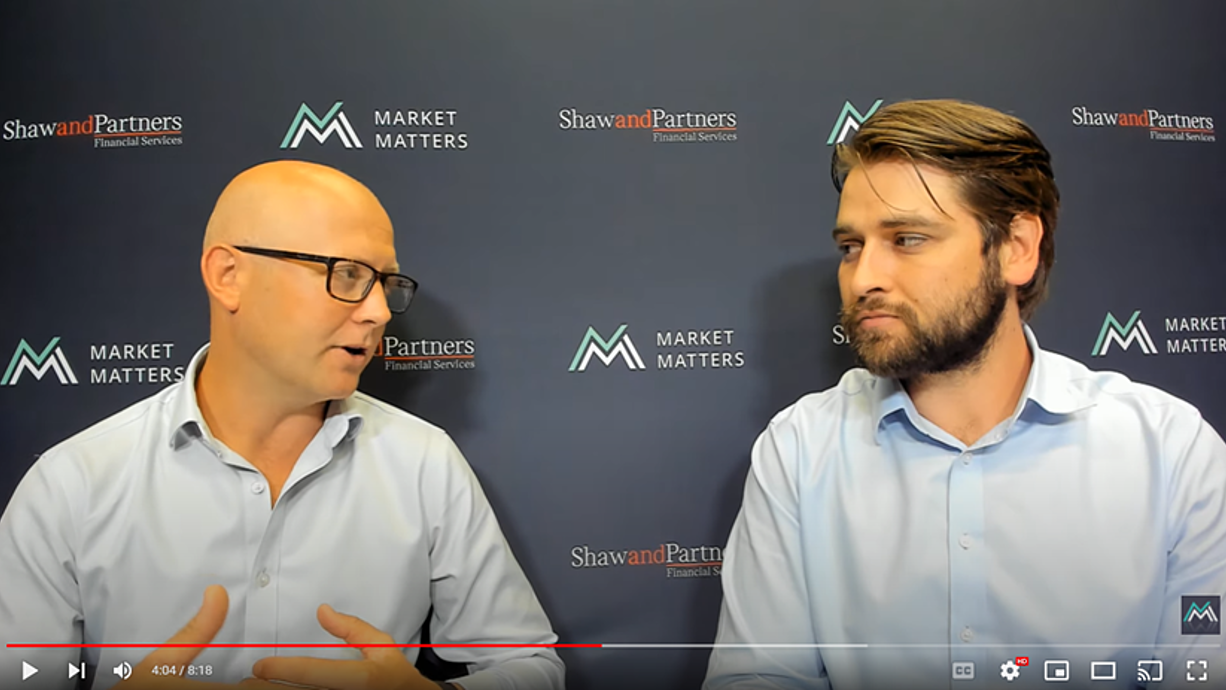 RBA remained in focus
Monetary policy is important and this week the RBA has been squarely in focus, today it was a speech from Governor Philip Lowe at the National Press Club that provided some more context around the central bank's current thinking. It seemed to MM that Lowe laid the foundations to keep interest rates lower for longer and the markets expectation / pricing of 4 hikes this year seems a long shot. That more dovish tone has seen bond yields peak and pull back this week inline with MM's expectations that yields may well have topped out for 2022. Lower rates are supportive of equities and today that was obvious with the market rallying over 1%.
MM believes bond yields have peaked for 2022.
Australian 3-year Bond Yield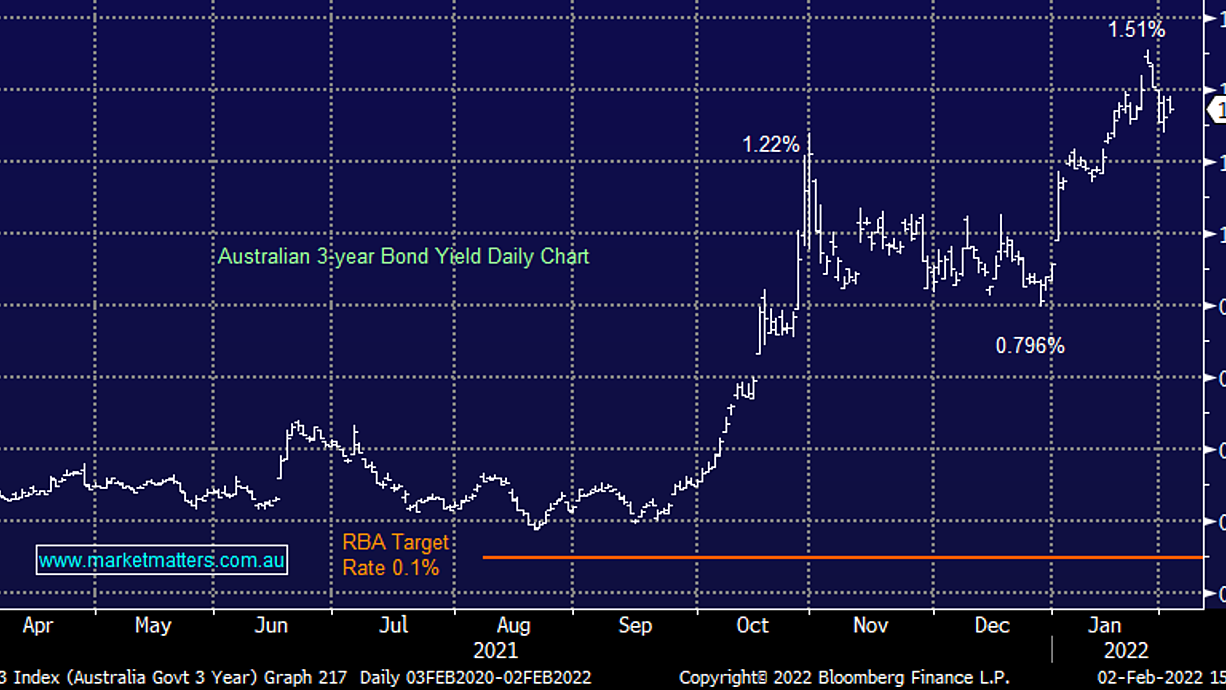 Amcor (AMC) $16.36
AMC -3.54%: global packaging giant Amcor fell today after the release of their first half numbers. Revenue jumped 12%, nearly topping $US7b, largely driven by price increases which accounted for 11%. Net profit was only 3% higher than the same period last year as costs bit into margins. Higher labour and input costs as well as supply chain issues weighed on the numbers. The company guided to 7-11% EPS growth for the year which was inline with expectations however the market appears to have taken a dimmer view on the outlook given costs that plagued the first half aren't expected to subside anytime soon. They flagged free cash flow of $US1.1-1.2b for the full year with the company flagging an additional $US200m will be spent on buying back stock in the next financial year. Amcor moved the primary listing to the US following the takeover of Bemis in 2019. CDIs still trade on the ASX, they'll receive a 16.85cps share quarterly dividend.
MM is neutral AMC.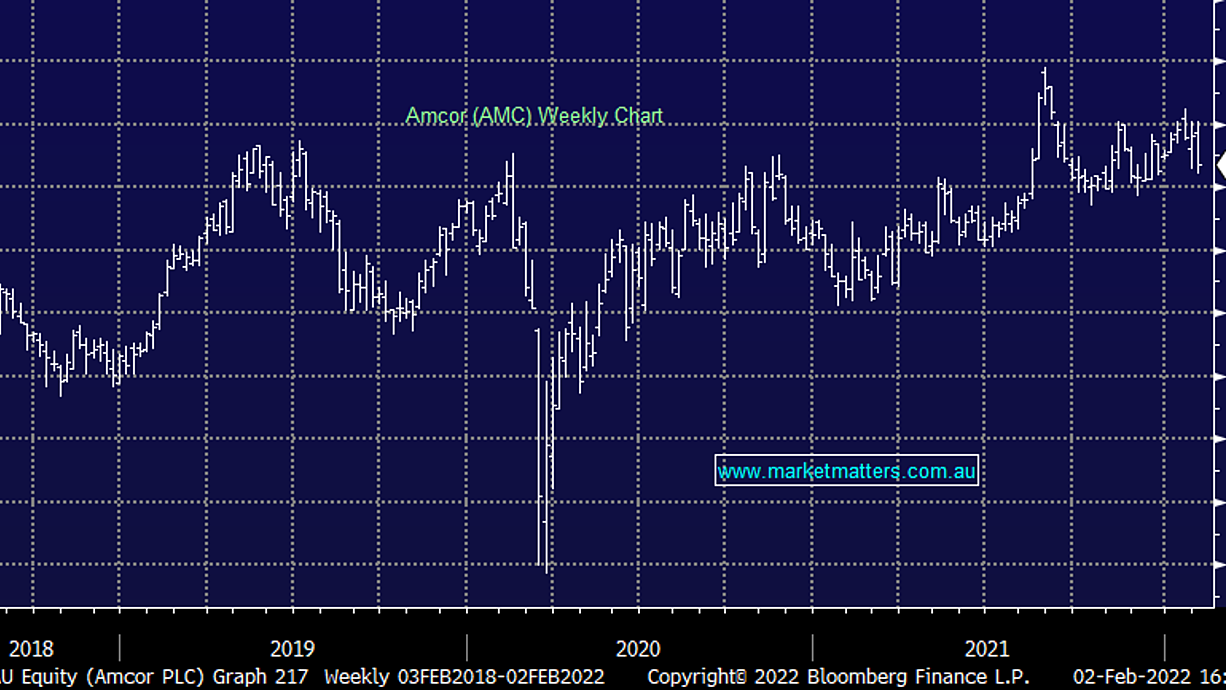 Broker Moves
Reece Cut to Underperform at Macquarie; PT A$18.20
Australian Clinical Labs Cut to Neutral at Citi; PT A$5.20
Cochlear Raised to Buy at Citi; PT A$220
Computershare Raised to Buy at UBS; PT A$22.50
ARB Raised to Buy at Ord Minnett; PT A$52.20
James Hardie GDRs Rated New Overweight at Jarden Securities.
Adbri Rated New Neutral at Jarden Securities; PT A$3
CSR Rated New Overweight at Jarden Securities; PT A$6.70
Aussie Broadband Ltd Raised to Outperform at Credit Suisse
Sezzle GDRs PT Cut to A$4.50 from A$11.97 at DA Davidson
Qantas Reinstated Buy at Goldman; PT A$6.40
Brambles Reinstated Sell at Goldman; PT A$9.10
BHP Rated New Hold at SocGen; PT A$40.29
CSR Raised to Outperform at Credit Suisse; PT A$6.70
Adbri Raised to Neutral at Credit Suisse; PT A$3
Technology One Raised to Buy at Shaw and Partners; PT A$11.90.
Major Movers Today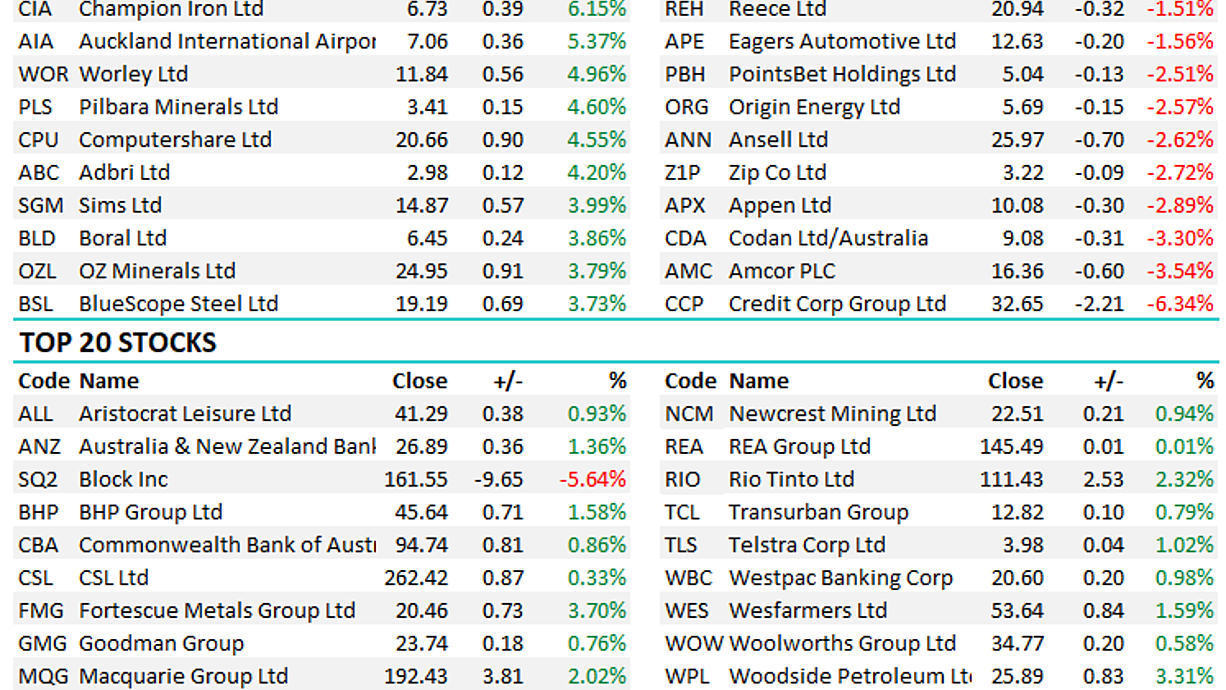 Enjoy your night
The Market Matters Team