The Match Out: Stocks rally then fade, Whitehaven declares a dividend, Bunnings profit declines
---
A bullish morning of trade with local reporting season underpinning the strength, it certainly seems corporates are doing well overall, plus we're seeing many with the confidence to issue guidance – something that was a concern ahead of results. But reports that Ukraine was shaping up to Russia scuttled that positive undertone and stocks fell into the close – the ASX 200 down around 70 points from the intraday high.

As an aside, I was at my daughters' school swimming carnival this morning: kids racing, parents and grandparents watching and cheering, how good is it that we're (hopefully) coming out of COVID? There's a lot to be optimistic about and on the whole, the Australian economy is doing well, which is being shown via a good reporting season, so far at least.
As we wrote this morning, we are optimistic at MM. We think 2022 will be a tougher, more volatile year from a markets perspective but that's all normal, part and parcel of the markets, and getting back to normality will be a huge win!
The S&P/ASX 200 added +11points / +0.15% to close at 7296.
Healthcare (+2.20%) and Industrial stocks (+0.86%) led the line while the Retailers (-3.37%) and Telcos (-3.04%) fell more than 3% a pop.
Local unemployment printed 4.2% as expected this morning and the AUD pulled back but there was also a degree of 'risk off' in that fall.
The late sell-off followed reports that Ukraine and Russia were shaping up again.
CSL +5.05% universally upgraded this morning following yesterday's 1H22 results that showed around75% of the market's FY22 EBIT expectations had already been achieved.
It was a huge day on the reporting calendar today, particularly for stocks held across our portfolios, and we've tried to cover all companies that interest us – sorry if we missed some.
In the large caps, Wesfarmers (ASX: WES) -7.48% was underwhelming at the profit line, higher costs and a year on year decline at Bunnings.
Telstra (ASX: TLS) -4.18% also fell after profit missed the mark, but the rest was fine and management reconfirmed FY22 guidance.
Woodside (ASX: WPL) +4.09% delivered a phenomenal set of results, the best I've seen in a while.
Goodman Group (ASX: GMG) -0.08% as management guided to growth of around 20% this year, up from 15%.
Newcrest (ASX: NCM) +1.49% is doing a good job managing costs.
Transurban (ASX: TCL) +1.55% steady as she goes, reconfirmed FY22 guidance.
Whitehaven Coal (ASX: WHC) -1.63% produced a good profit but there's more to come in the second half, management reinstating the dividend and launching a buyback – though there was nothing unexpected in today's update.
NRW Holdings (ASX: NWH) +15.36% rallied after increasing FY22 guidance, management now expecting operating EBIT to be between $150 million and $155 million, up from a range of $145 million to $155 million. The stock is cheap (at around 9 times) and it now has confidence in the fiscal year, which is why we saw the big pop in share price.
Crown (ASX: CWN) -0.72% delivered another loss but no one really cares anymore due to the takeover.
Iron Ore Futures -3.37% in Asia.
Gold was higher, rising $US4.50 to US$1874 at our close.
Japan down -1%, Hong Kong down, -0.40% & China up +0.20%
US Futures turned lower, S&P now down -0.42%.
ASX 200 chart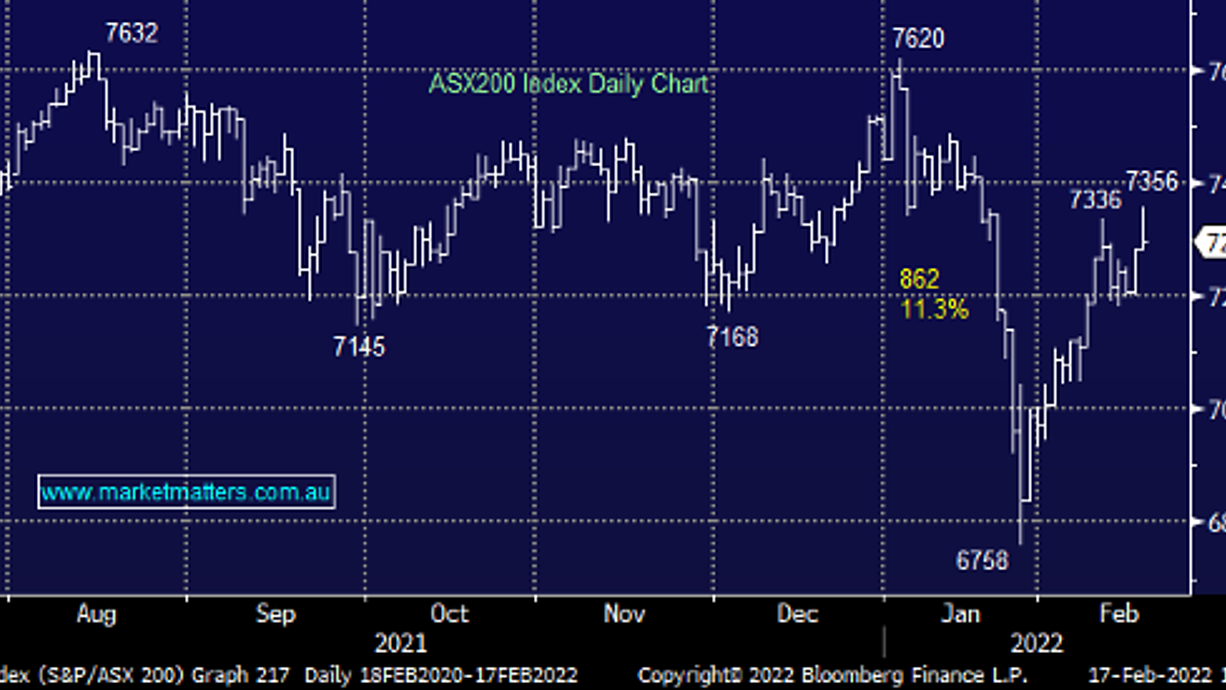 Telstra (ASX: TLS) $3.90
TLS -4.18%: 1H22 results delivered today were pretty much inline. They were a touch light on if we're being pedantic but nothing to change the investment case. Total income $10.89 billion versus $11.1 billion expected, underlying EBITDA of $3.495bn was up 5% YoY and in line with expectations while NPAT reported $743 million versus around $900 million expected but there are a few swings and roundabouts in that number. The dividend of 8 cents a share was as expected, while management also reconfirmed guidance for the full year, which is for a total income of between $21.6 billion and $23.6 billion and underlying EBITDA in the range of $7 billion and $7.3 billion.
Telstra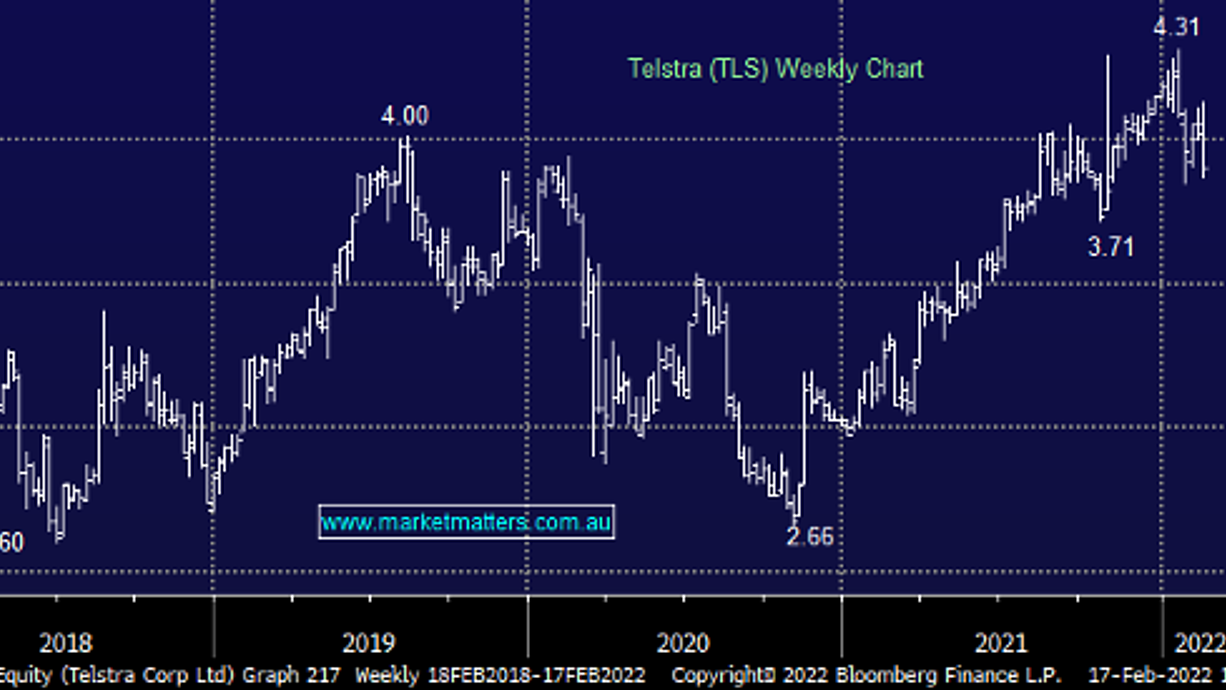 Wesfarmers (ASX: WES) $50.81
WES -7.48%: It's been ages since Bunnings has gone backwards but that was the case today, contributing to a 13% fall in first-half earnings at the group level. Management blamed COVID-related disruptions, including extended lockdowns, high levels of absenteeism and supply chain disruptions. Total revenue of $17.8 billion was flat year on year and ahead of the market, which was expecting $17.3 billion. But the after-tax profit of $1.21 billion was down -14%, missing the $1.29 billion expected while the dividend of 80cents a share was lower than the 85 cents pencilled in. No guidance was provided, which is customary for WES, but price inflation seems to be building and it seems like the company (for now at least) will suck some of this up – which could have an impact on margins going forward. WES has been weak leading into this result, something that prompted us to look at it a few times as a 'buy the dip' trade. But now we expect some downgrades to flow through, we might get an opportunity in WES nearer the $45 mark, around 20% below where we recently sold it.
Wesfarmers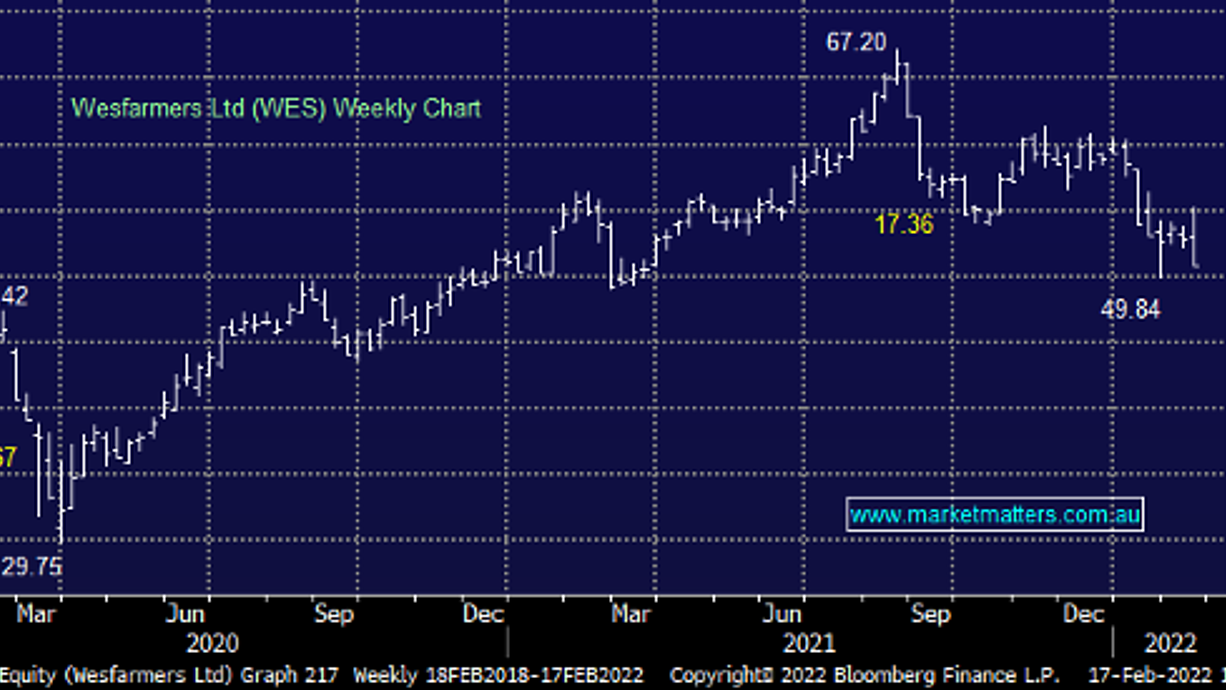 Woodside Petroleum (ASX: WPL) $27.72
WPL +4.09%: Reported calendar 2021 results today that were ahead of expectations. Underlying 2H21 NPAT of US$1,266 million was around 27% above consensus while the final dividend of US$1.05 a share was more than 50% above consensus expectations. This is a very strong set of results and leads the way for the rest of the domestic sector. In recent times, we've often noted how Australian operators have failed to perform in line with their overseas counterparts – today's result could change this trend. Over the past few years, the chorus of investors demanding returns from the sector has grown louder – the US Shale sector has responded, the supermajors have responded but up until now, the Australian operators had not. This is the first time I can remember that an Australian oil and gas company has so comprehensively beaten consensus estimates and at the same time provided a return to shareholders via a big dividend rather than reinvesting for future growth.
Our analyst Clarky had the following to say, which MM agrees with fully: There is no question we've gone past the point of no return regarding the 'Energy Transition' - this time is different. However, fossil fuels will be required to facilitate this transition, there is not enough investment occurring in fossil fuels, and the transition is going to take a long time - more than a generation. In my view, some companies in the sector are going to become cash machines, in the same way cigarette companies did after advertising restrictions in the 1970s. I suspect this won't be the last time we see WPL reporting a double-digit dividend yield (annualised) and exceeding earnings expectations….
Woodside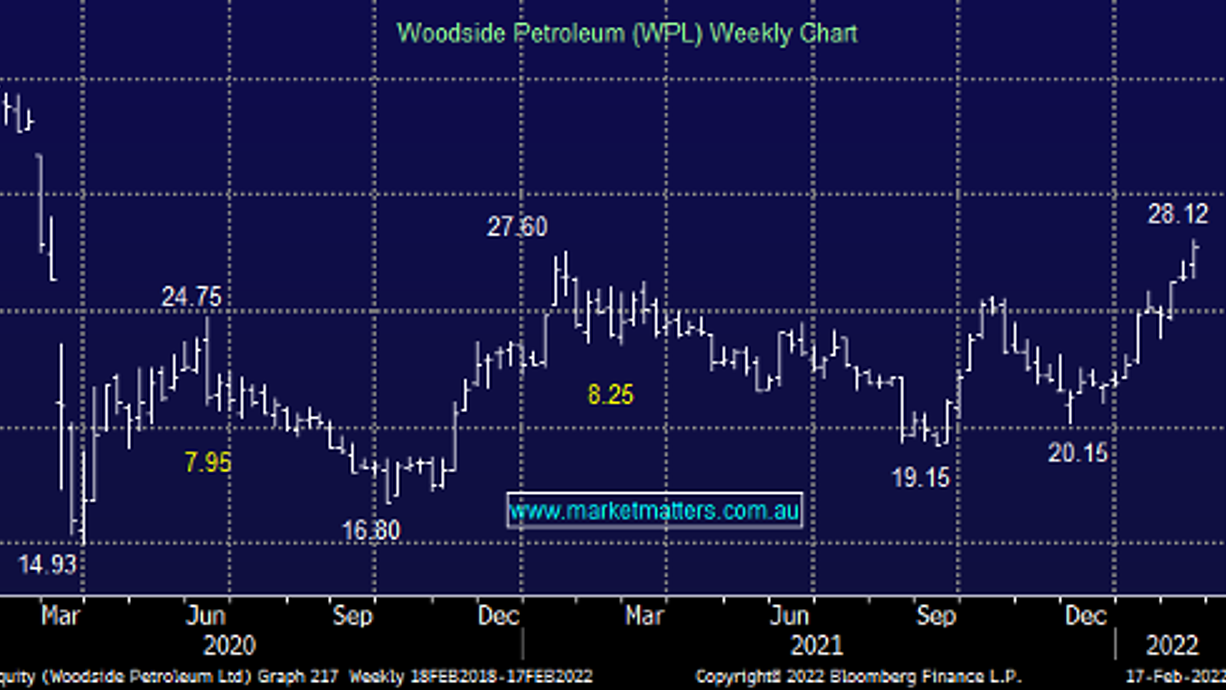 Whitehaven Coal (ASX: WHC) $3.02
WHC -1.63%: Reported first-half earnings this morning that were big as expected, plus it announced an 8 cent dividend, which was on the light side, and a share buyback. A few things to note here: The profit for the half was big at $341 million versus a $95 million loss in 1H21, however, we're still seeing a lag between realised prices and spot prices. This takes time to filter through, so we expect a 2H22 profit that is probably twice the 1H number. Using spot would give something like $1.3 billion for FY22. The cash generation in the half means the debt is now all but paid down and affords considerable flexibility in regards to capital management. The 8 cent dividend represented a 25% payout ratio which is at the lower end of the company's guidance of between 20% and 50%. Some in the market were looking for more, but management also added an on-market share buyback program of up to 10% of issued shares (capped at $400 million in total), which makes total sense given how cheap the stock is. For context, WHC is currently capped at $3.1 billion so it's a proper buyback, not just a 'marketing' buyback. We like stocks with tailwinds, and we think WHC has a tailwind for the foreseeable future. But today's result, including the dividend and the buyback, was already in the price – a classic example of "buy on rumour, sell on fact".
Whitehaven Coal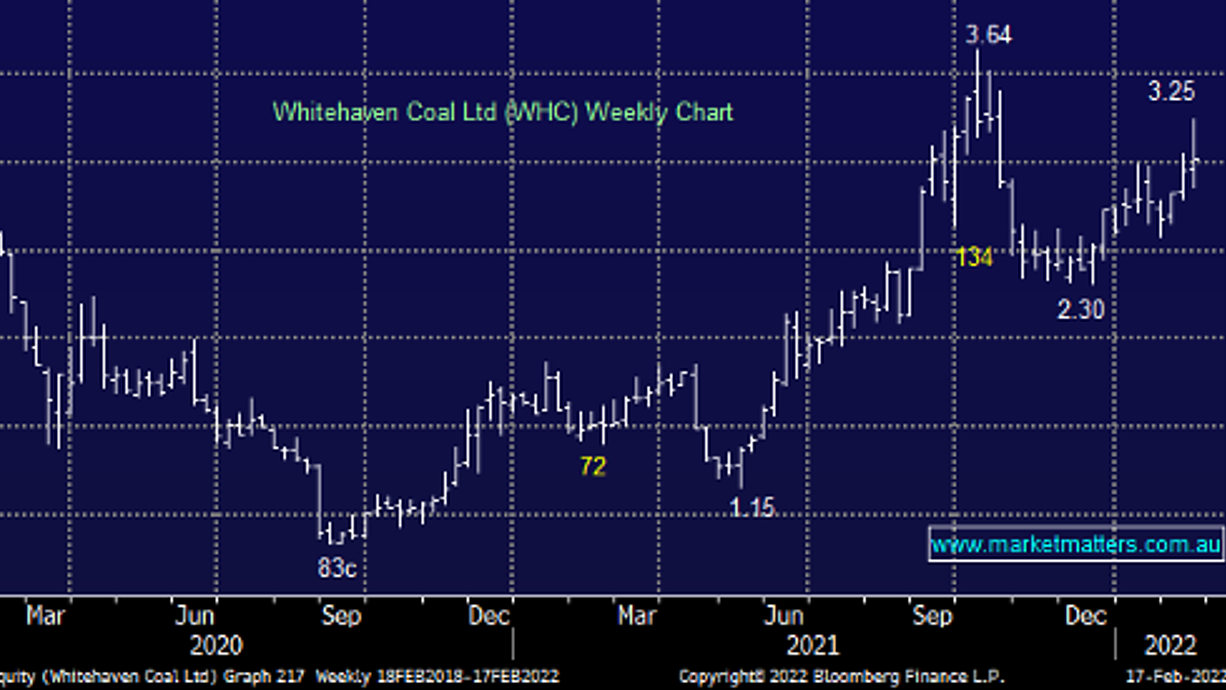 Goodman Group (ASX: GMG) $23.98
GMG -0.02%: shares in the industrial property company were strong early, only to close marginally lower despite a beat at the half-year result. It looked a 10% beat with profit up 27% to $786 million. Much of the growth came from development earnings, which was more than 50% higher. Rent increases were also coming through with like for like income growth of 3.4% while occupancy was mostly flat at 98.4%. The market seemed to be looking for a bit more out of the property income line given the tight demand for industrial space. The development pipeline continues to grow though, giving the company a strong runway for growth. Management bumped up guidance to 20% growth for the year, up from more than 15%, while the dividend is expected to be flat for the year after paying 15 cents at the half – matching the same period last year.
Goodman Group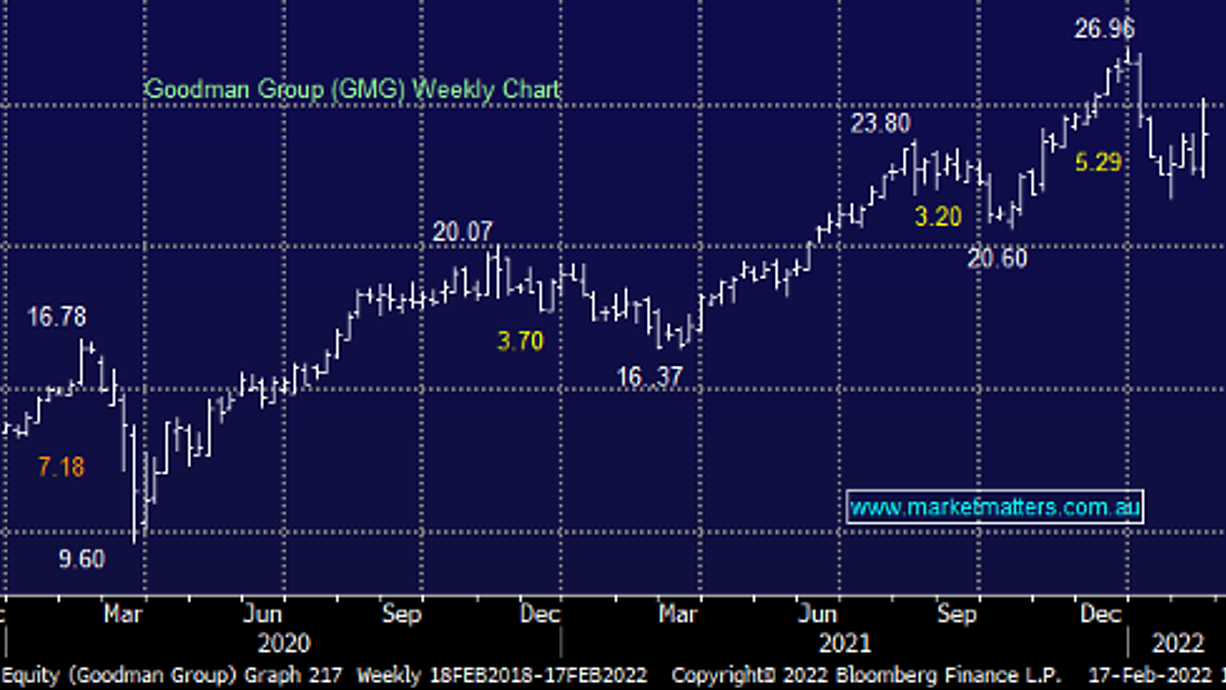 Abacus Property (ASX: ABP) $3.54
ABP +0.85%; the string of solid updates from Australian property companies continued today, with Abacus reporting a good set of numbers alongside FY22 distribution guidance, which shows confidence in the business. Whether you own ABP or not (we don't – we own National Storage (ASX: NSR) in our Income Portfolio), we all have property investments and ABP has its finger in a few pies, so to speak. Here are the high notes:
Funds from Operations (FFO) per security came in at 9.8 cents for the half, which was an increase of 8.2% compared to 1H21.
The value of its assets (NTA) has increased to $3.73 a share, an increase of 8.7% on FY21.
Management expects a distribution of at least 18 cents a security in FY22, reflecting a payout ratio in the range of 85-95% of FFO. The 1H22 payout of 8.75 cents a security was 89% of FFO.
Self-storage: The portfolio value increased by $140.8 million or 7.5% in the half. Cap rates compressed 27 basis points to 5.47%. For more information on cap rates, we discussed in a recent update on NSR – Click Here
Commercial: Rent collections remained resilient in the half with 96% of Office and 93% of Retail rents collected. The Commercial portfolio
Abacus Property Group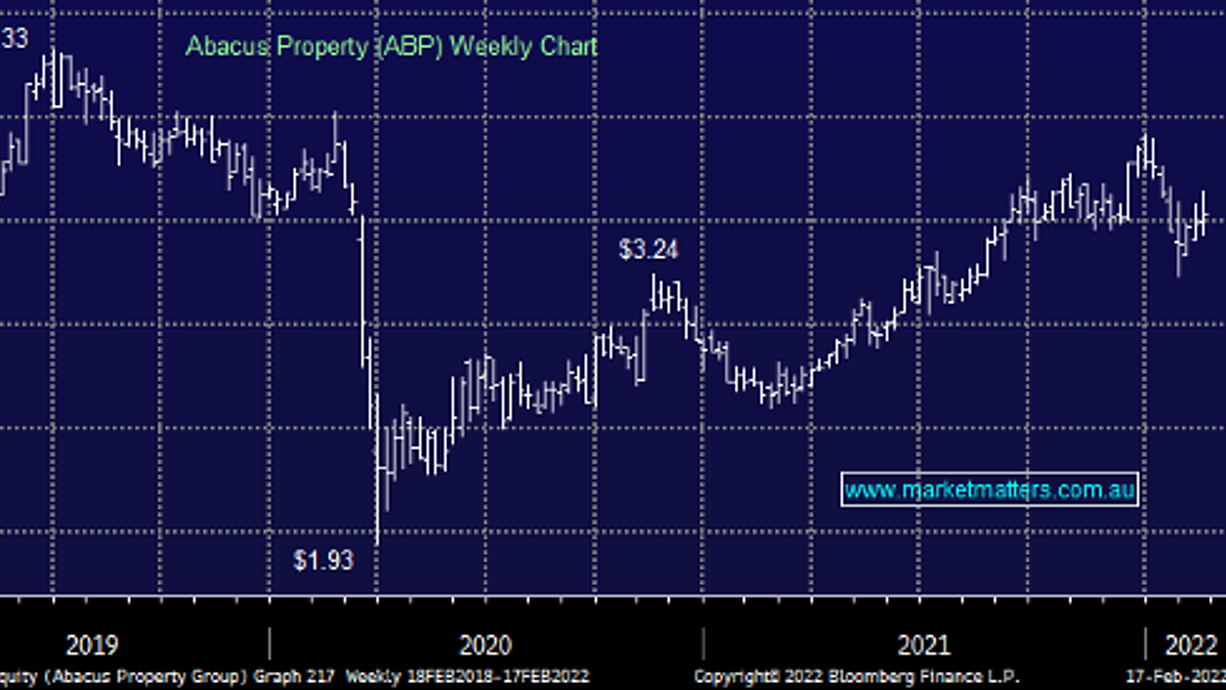 Transurban (ASX: TCL) $13.08
TCL +1.55%: not a lot of new news coming from the toll road operator today with revenue of $1.16 billion dropping down to EBITDA of $805 million, both in line with expectations, while it will pay a 15 cents a share interim distribution. Transurban reaffirmed guidance for an annual distribution in line with free cash excluding capital releases while continuing to invest in growth projects. In October, a Transurban-led consortium took full control of the WestConnex toll road in Sydney after reaching a financial close on a deal to acquire the New South Wales Government's 49% stake for $11.1 billion.
Transurban
Newcrest (ASX: NCM) $23.85
NCM +1.49%: The first half numbers out for the gold miner were positive. EBITDA and NPAT were slight beats to consensus despite a revenue miss as Newcrest managed costs well. The company has managed to replace a mill motor at its key Cadia mine in good time, which has enabled the company to maintain production guidance. Management has noted cost pressures coming through and it will need to work on energy consumption after Origin (ASX: ORG) announced the early closure of the Eraring Coal plant but the numbers are hitting expectations currently.
Newcrest
Broker moves
Pro Medicus Raised to Buy at Moelis & Company; PT A$55.10
Breville Raised to Buy at Ord Minnett; PT A$33
Netwealth Cut to Accumulate at Ord Minnett; PT A$15
Netwealth Raised to Neutral at Jarden Securities; PT A$13.80
CSL Raised to Overweight at Morgan Stanley; PT A$302
Evolution Cut to Underperform at Credit Suisse; PT A$3.60
Treasury Wine Raised to Outperform at Credit Suisse; PT A$13.50
Sigma Healthcare Rated New Buy at Shaw and Partners
CSL Raised to Overweight at JPMorgan; PT A$295
CSL Raised to Outperform at RBC; PT A$301
Endeavour Group Raised to Neutral at Credit Suisse; PT A$6.20
Major movers today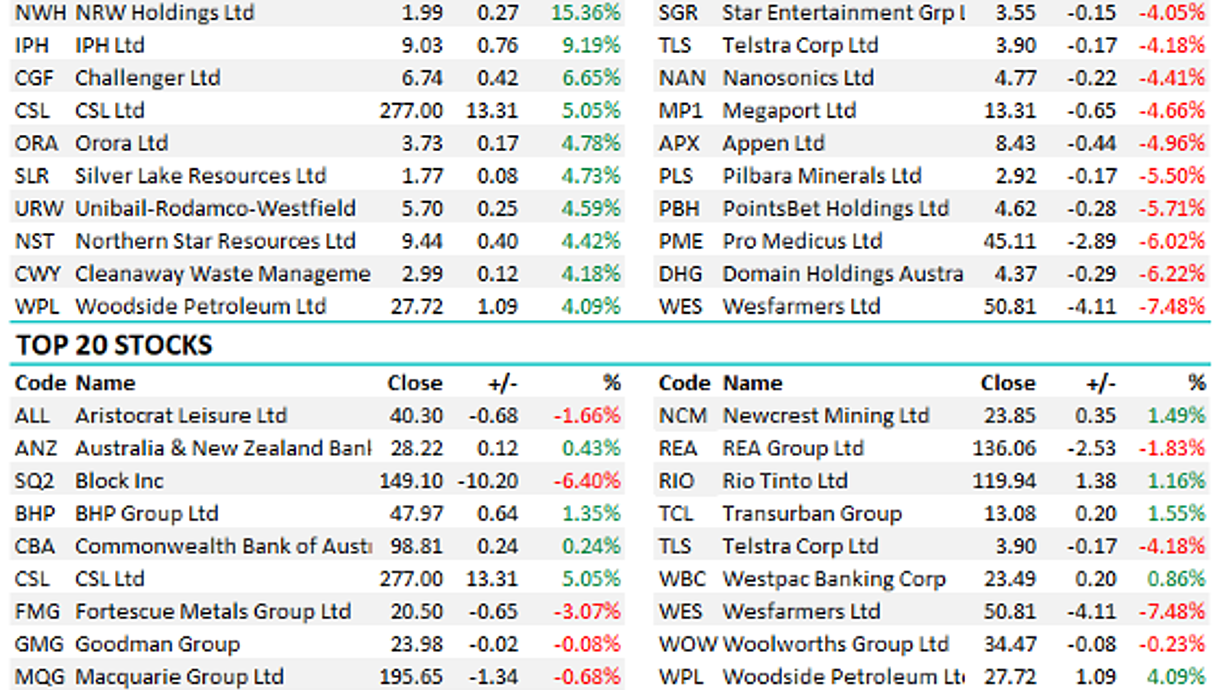 Enjoy your night,
The Market Matters team.
Make informed investment decisions
At Market Matters, we write a straight-talking, concise, twice daily note about our experiences, the stocks we like, the stocks we don't, the themes that you should be across and the risks as we see them. Click here for your free trial.
The Match Out will be available each day after the market close. Follow my profile to be notified when the latest report is live.
........
Livewire gives readers access to information and educational content provided by financial services professionals and companies ("Livewire Contributors"). Livewire does not operate under an Australian financial services licence and relies on the exemption available under section 911A(2)(eb) of the Corporations Act 2001 (Cth) in respect of any advice given. Any advice on this site is general in nature and does not take into consideration your objectives, financial situation or needs. Before making a decision please consider these and any relevant Product Disclosure Statement. Livewire has commercial relationships with some Livewire Contributors.