The Match Out: Stocks retreat from early highs, close flat, NRW Holdings (NWH) upgrades
---
A strong open for the local market however the best of the session was seen before little lunch with the ASX ending flat on the day, closing ~46 points below the session high, back below the 7000 handle. IT stocks continued to perform, particularly the small caps while Energy & Materials fell.
The ASX 200 finished down -1pt/-0.01% at 6974
The IT sector was best on ground (+1.87%) while Communications (+1.78%) & Utilities (+0.79%) were also strong.
Energy (-2.24%) and Materials (-1.06%) the weakest links.
NRW Holdings (NWH) +10.94% upgraded earnings guidance
Graincorp (GNC) -6.55% fell on a downgrade from RBC.
Centuria Industrial REIT (CIP) +3.83% said FY22 earnings were slightly up on FY21, but guided to a slight decline for FY23 – not too bad at all.
We reduced another tech holding in our Flagship Growth Portfolio today into strength – just trimming around the edges following a strong rally from recent lows.
This morning's Market Matters report looked at our plans from here with a specific focus on stocks we like if weakness does play out – Click Here to view
Barrenjoey initiated on fund managers today, they like GQG Partners (GQG), are neutral Pendal (PDL) and Perpetual (PPT) and don't like Platinum (PTM). Magellan (MFG) not covered given they own a chunk of BJ.
We own Pendal (PDL) and Pinnacle (PNI) in the space.
Citi put Qantas (QAN) on a SELL and $4.28 PT versus last of $4.56 – we tend to agree.
Iron Ore was ~4% lower in Asia today weighing on the materials, Fortescue (FMG) down 2% & RIO -1.55%%
Gold was flat at ~US$1771/oz.
Asian stocks were higher, Hong Kong up +1.63%, Japan +0.87% while China was up +0.44%
US Futures are basically flat.
ASX 200 CHART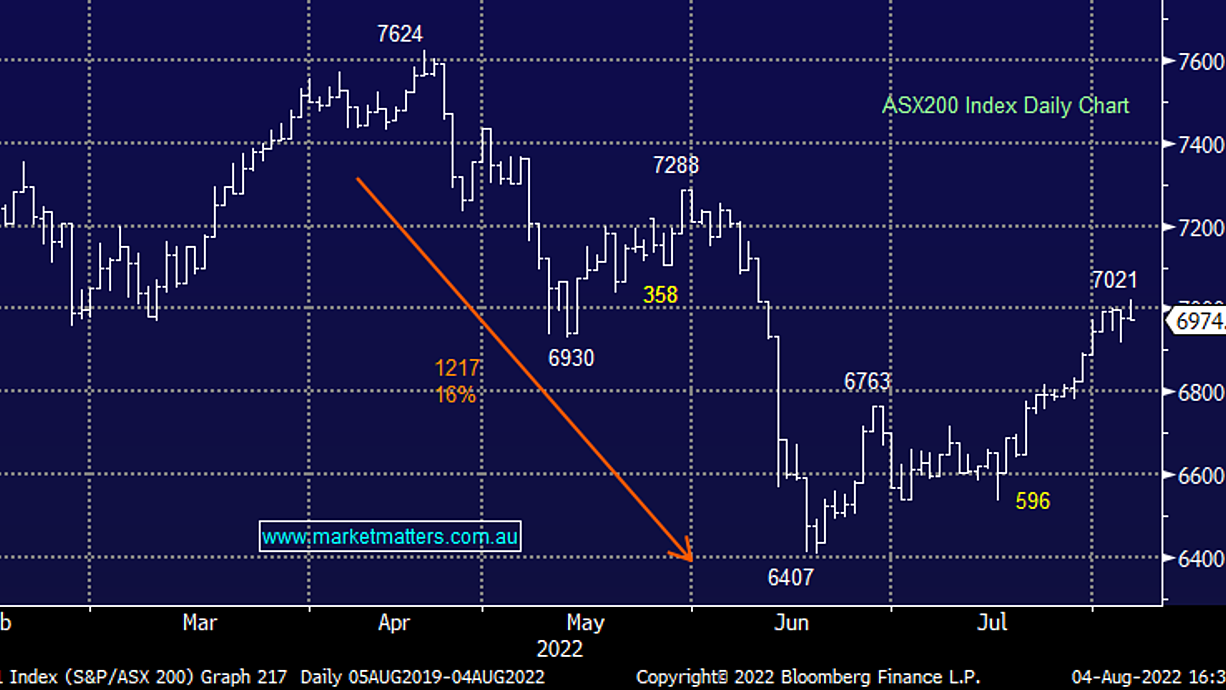 Centuria Industrial REIT (CIP) $2.98
CIP +3.83%: This week we saw a downgrade from Centuria Office REIT (COF) which dragged down Centuria Capital (CNI) in the process, given their 17% holding. Today the Industrial focissed CIP reported full-year earnings that were a touch above expectations, Funds From Operations (FFO) $111.7 million up +22% yoy and ahead of consensus of $110.5 million – on a per unit basis this was $0.182 versus 0.18 expected while the dividend was solid at $0.1730. Total assets jumped by a third to $4.1 billion, reflecting $765 million in acquisitions during the year – a big year for them and this helped to push their Net Tangible Assets up 11% to $4.24 per unit, while their shares were down 28%. There is clearly a lot of bad news baked into this particular cake and while earnings will be lower in FY23, with FFO guidance of $0.17 and a dividend of $0.16, we think the share price has now factored in more than enough pain. NB: CNI which we recently bought in the Income Portfolio owns 14% of CIP.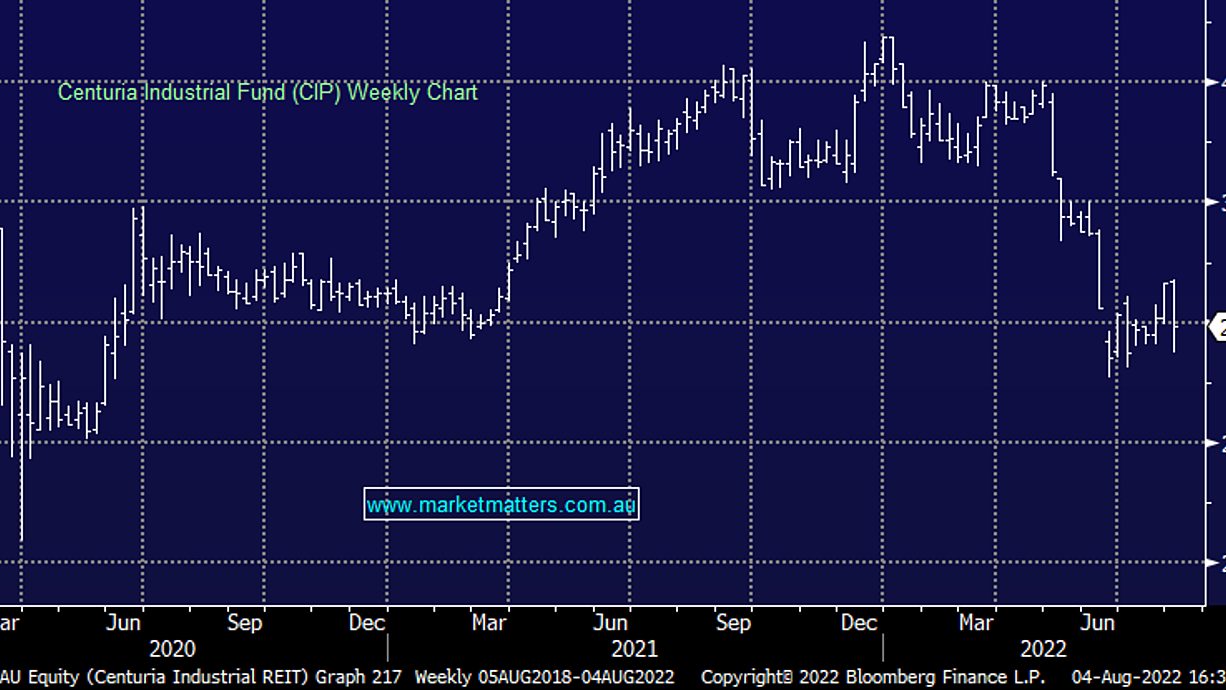 NRW Holdings (NWH) $2.13
NWH +10.94%: The Perth-based mining & construction contractor was out with upgraded guidance today, with EBITDA now tipped to be $157m versus the prior guided range of $150-$155m. Revenue guidance remained at $2.4bn implying they've done better in terms of margins. More details to be provided when they report FY22 results on the 18th of August, however, suffice to say, this inexpensive contractor is priced on sub 10x earnings and is performing better than the market had feared.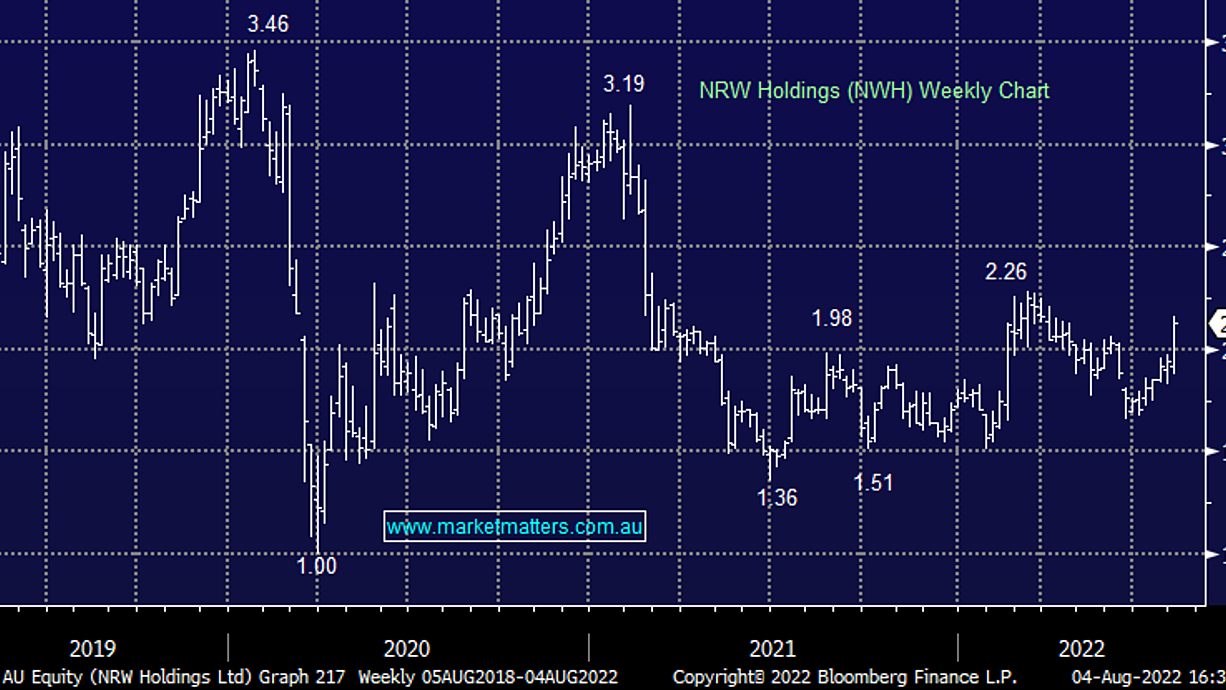 Broker Moves
OFX Rated New Hold at Blue Ocean; PT A$2.60
Pinnacle Investment Rated New Hold at Barclay Pearce Capital
Challenger Raised to Overweight at Jarden Securities; PT A$7.65
Stockland Reinstated Buy at Goldman; PT A$4.44
Mirvac Group Reinstated Neutral at Goldman; PT A$2.38
Technology One Cut to Neutral at Goldman; PT A$13.15
Tabcorp Cut to Underweight at JPMorgan; PT 90 Australian cents
GrainCorp Cut to Sector Perform at RBC; PT A$8.50
Qantas Cut to Sell at Citi; PT A$4.28
Pendal Group Rated New Neutral at Barrenjoey; PT A$4.10
Platinum Asset Rated New Underweight at Barrenjoey; PT A$1.40
Perpetual Rated New Neutral at Barrenjoey; PT A$36.50
GQG Partners GDRs Rated New Overweight at Barrenjoey; PT A$2.30
Orica Cut to Neutral at Credit Suisse; PT A$16.67
CSL Cut to Hold at Jefferies; PT A$318
Mesoblast Raised to Buy at Jefferies; PT A$1.10
Neuren Cut to Hold at Jefferies; PT A$5.30
Major Movers Today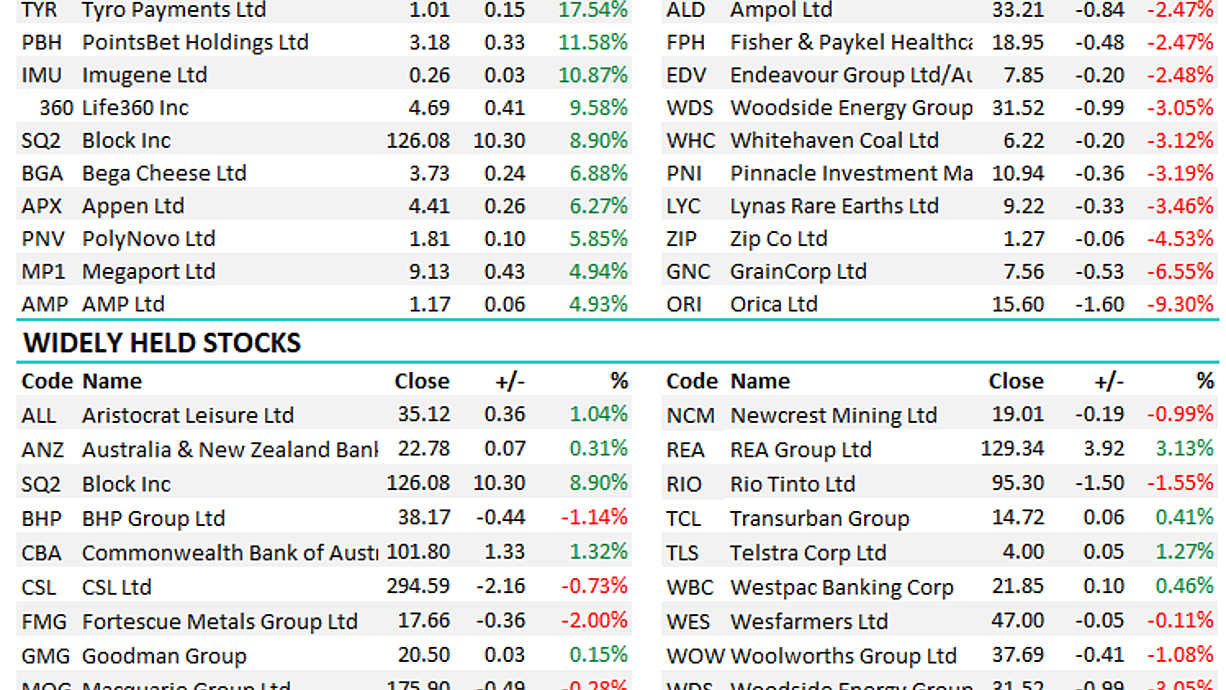 Have a great night
The Market Matters Team
Make informed investment decisions
At Market Matters, we write a straight-talking, concise, twice-daily note about our experiences, the stocks we like, the stocks we don't, the themes that you should be across and the risks as we see them. Click here for your free trial.
The Match Out will be available each day after the market close. Follow my profile to be notified when the latest report is live.