The news is good on the US (and parts of European) economy…so why is everyone depressed?
---
It was a forgettable quarter for equity markets, with the Australian market down 8%, though Australian investors investing offshore were shielded from this with an 8% fall in the Australian dollar seeing net losses of less than 1% in AUD terms - showing why global equities remain a good diversifier. Yet if we look the economic data, it just isn't that bad - economic data continues to come in ahead of expectations. There have been many reasons put forward for the falls, most of which are spurious and involve China. At Morphic, we think the issue is deeper: that equity markets are in the process of re-pricing to a lower inflation environment, one which bonds have already moved to. This is why bond yields haven't moved as much as one would normally expect in a fall like this. As such we think we are in most likely in a lower trading range and not a full blown bear market. For the full article please see the (VIEW LINK)
---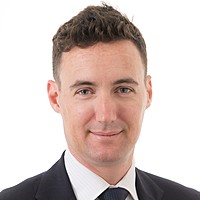 Co Head Global Equities (ex-Asia)
Ellerston Capital
Chad co-founded Morphic Asset Management in 2012. As a stock picker Chad is also a generalist but has strong regional knowledge of Europe and the Americas. He has also been awarded the CFA Charter.
Expertise