The opportunity (and challenge) of online grocery for Coles and Woolworths
---
The online grocery sector is inherently more complex than other forms of online retail. It is evident that the online grocery sector has not exhibited the same level of frenetic cadence or disruption that other forms of online retail have experienced.
Paradoxically, whilst the grocery sector is the largest component of the retail sector, its online presence remains in a nascent state. Given grocery's prominent position in retail spending, it is worthy to explore why its adoption has lagged other forms of retail online consumption, and consider the challenge and opportunity for Coles and Woolworths.
Unique challenges in online grocery
Grocery's under-representation in online spending can be largely explained by the idiosyncratic nature of the composition of goods sold. In its simplest form, the delivery of groceries through online channels offers a range of unique challenges.
Foremost, to capture a typical household grocery basket, three temperature levels are required, namely, ambient, chilled and frozen. The delivery of perishable items requires a higher level of diligence in its handling and temperature control. Undoubtedly, such considerations pose notable challenges in the management of the grocer's supply chain.
A further consideration for online grocery delivery relates to the elevated number of goods delivered, typically 45 to 50 items. Thus, the collection of multiple items requires greater coordination and time.
A noteworthy feature of grocery shopping relates to consumer behaviour. In the first instance, consumers have progressively, through economic necessity and/or lifestyle choice, started shopping more frequently. It is evident that basket sizes have progressively become smaller as consumers have actively chosen to shop on a more frequent basis.
A final challenge of the adoption of online grocery rests with the propensity of consumers wanting to inspect and touch perishable items before they purchase them.
The above list is not exhaustive, but it does highlight the distinctive challenges posed by online grocery delivery.
UK online grocery sector a market leader
The core attributes of the grocery market, therefore, does pose considerable challenges to online providers. As part of our due diligence process, we have visited the UK several times to gain greater understanding of the grocery industry.
The UK is a global leading market adopter of online grocery stores, boasting significantly higher penetration rates compared to its European, American and Asian counterparts. High population density coupled with a small geographic footprint has fostered a dynamic grocery sector.
Given its favourable characteristics, the UK has attracted many of the global supermarket chains to compete with its entrenched domestic counterparts.
Amazon, too, has recognised the potential latency in the UK by being an earlier online grocery adopter in 2010. Yet, despite considerable effort, Amazon's presence in online grocery has, to date, been noticeably muted with an online market share entrenched in the low single digits.
Instead, Ocado a UK based online grocer has been a more effective player capturing market share gains of c.15%. Through its proprietary warehouse technology Ocado's online strategy has delivered impressive revenue growth over the last decade.
Figure 1 - Ocado revenue growth and CAGR, FY17 Annual Report.
Conversely, at the same time, it is Tesco (UK's largest supermarket operator) that has captured the lion's share in online grocery sales with c.37% market share. It is apparent that store-based retailers such as Tesco are considerably more cost advantageous compared to the warehouse model of pure online players such as Amazon and Ocado. This is due to the brick-and-mortar stores' ability to capitalise on their purchasing power, existing distribution network, and hence, a cheaper delivery fee.
The opportunity (and challenge) for the Coles and Woolworths
The very nature of the abovementioned challenges for online grocery does provide clear advantages to the incumbent supermarkets. For the grocery sector, the physical footprint of the local supermarket has proven to a formidable barrier to entry. The clarion advantages for the incumbent supermarkets is also apparent in Australia.
Figure 2 - IBIS World, Online Grocery store market share by revenue
What is notable with the above chart is not only the dominant position held by the incumbent Woolworths and Coles brands, but the glaring absence of the discounters, namely Aldi and Costco, and the behemoth Amazon from the Australian online grocery sector.
In Australia, much of the disruption of the supermarket sector has not been from online competitors, rather it has been driven by the introduction of the discount models of Aldi and more recently Costco. In the same way as the UK, the online grocery market remains subjugated by the major supermarkets and disrupted by the discounters Aldi and Lidl.
By no means insurmountable, through its unique characteristics, online grocery has proven to be a thornier and structurally challenging sector. Critically, given the in-depth penetration of grocery stores in local communities and the paucity of suitable warehouse sites in densely populated areas, supermarkets retain significant cost advantages in the delivery of groceries compared to the warehouse model. Indeed, recognition of the value of a physical supermarket footprint is evident from Amazon's purchase of Whole Foods in 2016.
Whilst, I have outlined several underlying challengers associated with online grocery, it remains a fundamentally and pivotally important avenue of growth for all industry participants. Therefore, our gaze should remain firmly focused on monitoring the progress of the incumbents, notably Coles and Woolworths but equally on the challenger online grocery business models.
---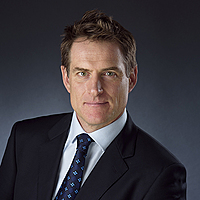 Chief Investment Officer
Blackmore Capital
Marcus is the co-founder and CIO of Blackmore Capital. Marcus' career spans over 27+ years focussed on Large Cap Australian Equities including work as a research analyst at McIntosh/Merrill Lynch, Portfolio Manager at Cooper Investors, and CIO...
Expertise