The stock planning to quadruple US lithium production
---
In recent years, major car manufacturers worldwide set aggressive goals for electric vehicle production, underwriting a chasm-like deficit in the lithium market. As the reality of the situation kicked in, and people started wondering where it was all going to come from, lithium prices increased a staggering tenfold in a little over 12 months.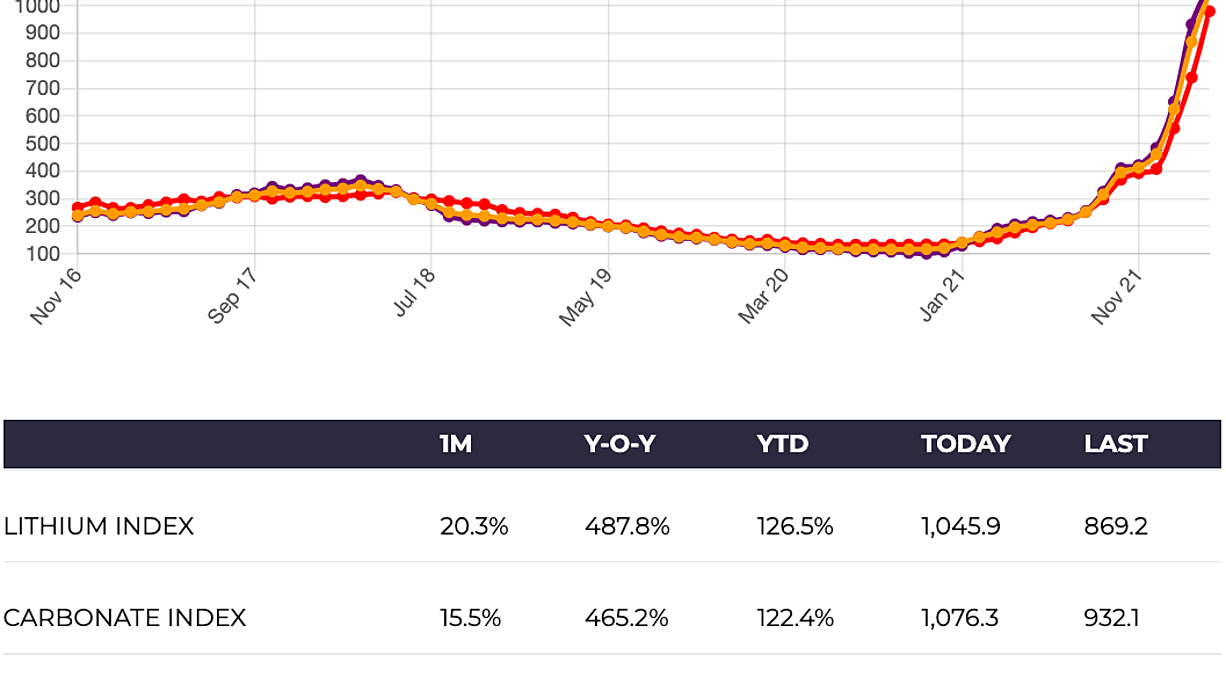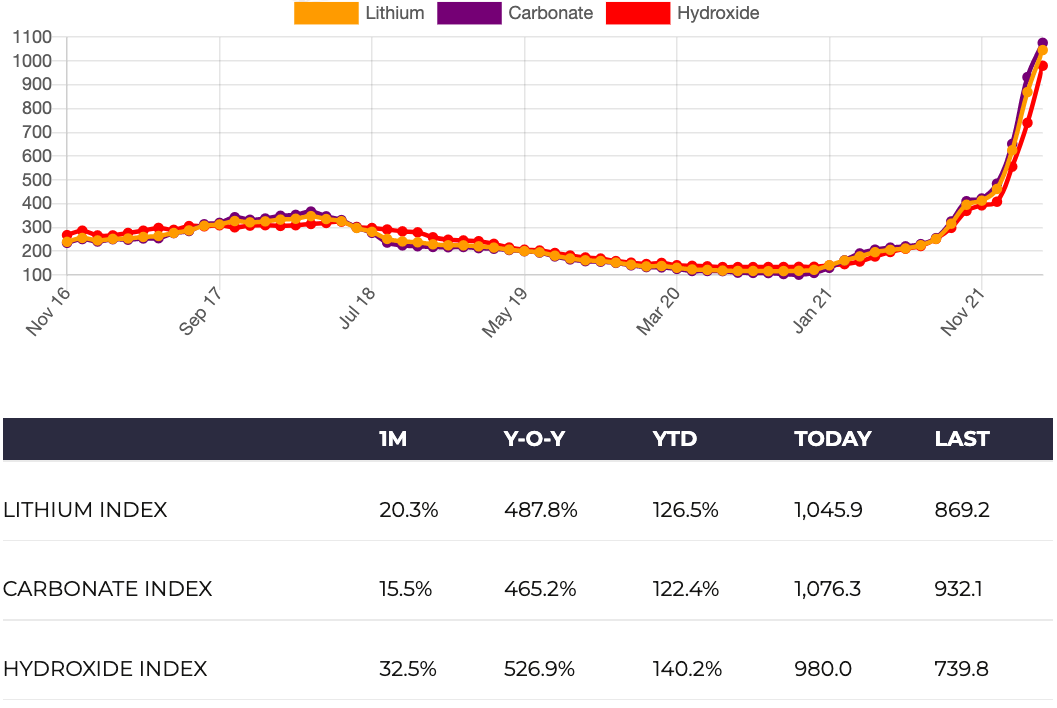 Source: Benchmark Mineral Intelligence

This kind of move might be something you see in microcap stocks but is less typical in a commodity. To get our heads around what this means for investors, we sat down for a chat with the MD of one of the ASX's largest lithium stocks. 
While lithium hopefuls aren't rare, what is rare are credible, long-term, lithium projects that have had all the groundwork done already and are able to produce at a meaningful scale and within a useful timeframe. As we hear on the podcast, this stock ticks those boxes and has the potential to become a major lithium producer in the US and quadruple the country's production from its current low base. Plenty of reason for the US to ensure the project gets the final approvals it needs. 
The company is ioneer (ASX:INR), a $1.5 billion market cap stock we recently added to the Small Cap Portfolio. ioneer is led by MD Bernard Rowe, who spent nearly an hour chatting with us for our most recent episode of 'On the Couch'. 
Since the podcast went out, ioneer's share price jumped, along with other midcap lithium stablemates like Core Lithium (CXO), Lake Resources (LKE), and Global Lithium (GL1). The reason being that the lithium crunch has caught Joe Biden's attention (or maybe he listed to the podcast!), and his administration has just flagged the prospect of invoking the cold war-era 'Defense Production Act', which would turbocharge US production for critical minerals, including lithium.
This move is part of the bigger picture of deglobalisation and bringing supply chains back home, but it also shone a bright spotlight on just how little lithium is produced in the US at present. As the most production-ready, lithium project of significant scale in the US, ioneer's project, Rhyolite Ridge, sits right in the box seat to benefit from this.
Bernard Rowe has been the MD since August 2007, a continuous tenure of 15 years which is not something you often see, and during this time he has seen a few lithium cycles and has helped drive the share price from a low of 3 cents up to today's 73 cents.
During our 53-minute podcast, we explore the backstories of both the supply and demand of the lithium market, and look at how things could unfold over the coming years as parabolic demand growth meets the hard reality of mine-building timeframes.
We also hear how he found Rhyolite Ridge, why it's not just all about lithium, and where they are in their journey toward permitting, construction, and production. We also cover how they plan to not just protect Tiehm's Buckwheat, a rare plant near the project, but to help its population flourish.
We thank Bernard for his time participating in this wide-ranging discussion, which will be very interesting for anyone who is looking at the lithium market. 
Please Click 'follow' to be among the first to get my future podcasts and wires. And for more market insights and stock recommendations, sign up for a FREE TRIAL with Marcus Today Stock Market Newsletter. 

........
Marcus Today offers information that is only general in nature. It does not take into account your personal financial situation, needs or objectives. Nor does it take into account the financial needs of any specific person. You should consider your own personal financial situation and needs or seek financial advice before making any decisions based on this information. For more information please see our Financial Services Guide.
---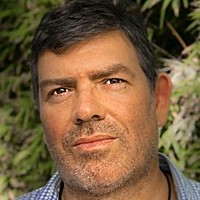 Commentator and Writer
Marcus Today
Henry started in financial markets in London in the 80s as an option trader before coming to Sydney and spending 7 years at Macquarie Bank including a stint running equity derivatives and cash trading.
Expertise