The underappreciated asset within Telstra
---
Telstra's earnings downgrade cycle has turned. Following several periods of lowering guidance and missing expectations, TLS has delivered a full year of earnings at the top end of its guidance range and earnings estimates have been on the improve.

A pivotal moment in the establishment of an investment thesis for Telstra was the announcement of the T22 strategic agenda, and in the FY19 results announcement, it is clear that management is on track in delivering on its targets. 
The simplification of product/plans in the market from 1800 down to 20 is game-changing both with regards to Telstra's cost to serve, but also in terms of its competitiveness in market and experience for customers. The removal of $450m of operating costs during the period takes the total cost savings to $1.2bn, and represents just under half of the total targeted savings, with an acceleration in cost cuts expected to be realised in FY20. Telstra has also established its 5G mobile network ready for use ahead of peers.

The Mobile division is the most important for Telstra, and subscribers continue to grow. Despite a period characterised by intense competitive activity, Telstra has remained competitive in the market, continuing to grow its mobile subscriber base throughout the year.

The year ahead
The most important operating business for Telstra is its mobile business, where the Industry structure has improved substantially over the past 6 months. As we face 2020, the threat of a 4th mobile operator appears to have been removed, and remaining operators have been heavily impacted by the government's decision to ban Huawei for use in 5G infrastructure.
As a result, peers are facing non-trivial capital expenditure programs in order to restructure networks, which is limiting their appetite and ability to compete aggressively on costs - and we have already seen a noticeable change in behaviour from Optus with regards to pricing and promotions. Telstra has a first-mover advantage in 5G, and having substantially restructured its mobile product offering over the past 12 months, enters this improved environment in a position of strength.

An interesting development to watch will be the potential for 5G network providers to bypass the NBN and provide internet services to households via mobile networks. Such a service has the potential to significantly lower costs to serve, relative to paying wholesale fees to NBN, and could be the catalyst for a restructure of the NBN wholesale pricing regime.
A unique and underappreciated asset within Telstra
The market has been heavily focussed on declining profits in the Fixed broadband business, as Telstra migrates towards the NBN wholesale model, and pricing pressure in mobile, as a result of increased pricing competition earlier in the period. We would argue that the former is well flagged and understood, and the latter has seen an improved trajectory towards the end of FY19, early FY20. 
What we think is potentially undervalued within Telstra is the recurring revenue stream from NBN which will reach c$1bn pa following the full rollout of the NBN, and then grow with inflation each year thereafter. We view this contracted income stream to be a quasi Government Bond, with an implied discount rate of c7%. 
At a time when long-term government bonds have fallen below 1%, we view this income stream as a unique and underappreciated asset. 
At a c7% discount rate, the recurring NBN payments make up c25% of Telstra's valuation, however using a lower discount rate, consistent with the trajectory of long term bonds globally, would suggest considerable upside to our valuation.
Be the first to read our latest insights by hitting the 'follow' button below
---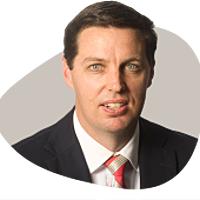 Pengana Australian Equities Income Fund, Co-Fund Manager
Pengana Capital Group
Mark is a Fund Manager for the Australian Equities Income Fund, and Analyst for the Australian Equities Fund, having joined Pengana in 2013. Prior to that, he was a research analyst at Morgan Stanley (UK & Australia), & chartered accountant with PwC.