Top Stock Picks: Review of 2021 and 2022 Candidate
---
This time last year I wrote a wire titled 'My Top Pick for 2021' and outlined the thesis for the company that I felt was going to be our best performing stock in the year ahead.
In this wire, I thought I'd review how that call went and then put my head on the block once again by calling out my pick(s) for 2022.
Judging My Top Pick for 2021
In that original wire I chose Motio (ASX:MXO) as my top pick. We'll get into the details of MXO in a moment, but first, how did I go?
When I published that wire the stock was 6.7c. Yesterday MXO closed at 9c, for a 34% gain.
In an ordinary year you'd call that a win, but 2021 was far from ordinary and 34% seems pedestrian relative to some of the returns experienced elsewhere.
The stock did get as high as 15.5c during the year, before retracing in response to the most recent round of lockdowns that impacted the media business. The returns were a lot nicer if you managed to time the trade well. For those that did, well done. Capital H hasn't sold any stock and we continue to buy more.
So, I'd give it a pass mark. It was a solid contributor for Capital H investors in 2021, but it certainly wasn't our best performer.
Before we get on to the pick for 2022, a quick review of MXO at a business level.
Motio – Delayed But On Track
MXO is a place-based media and audience experience company with its own network of screens across medical centres and leisure centres. In the health & medical vertical, MXO is now the leader, with a presence in c.600 centres Australia wide by April 2022.
The business generates revenue from 1) selling advertising space on its own screen networks (c.50% EBITDA margin), 2) producing content through its Enormity business, an out-of-home content and creative agency, 3) sales representation i.e. selling advertising on other company's networks and 4) increasingly through its burgeoning software and payments business.
During the year I was lucky enough to join the company as a Non-Executive Director, which has been an excellent experience. The quality of the team, in particular Adam Cadwallader (CEO) and Michael Johnstone (COO), is very encouraging as a shareholder and it's exciting to think about what MXO might be able to build in time. We are not trying to stay small for long.
There was some solid progress in 2022, including:
1) Acquired Medical Channel from SW1. This is a business that had some reputational issues and was viewed as a challenge for anyone to turn around. But this is what the MXO management team do best. The reputational issues that came with the business were reflected in (what I view as) a bargain price. The problems have been resolved, customer experience has been enhanced and MXO exceeded its targets for re-signing tier 1 and tier 2 medical centres and kept costs under budget while doing so.
2) Signed a 4-year deal with Australia's largest medical centre company, IPN, a member of the Sonic Healthcare Group. By April, MXO will be in 150 IPN centres across Australia. Alongside ForHealth (previously called Healius) MXO now owns and operates the screen networks in Australia's two largest medical centre companies, with a total of 600 screens by April.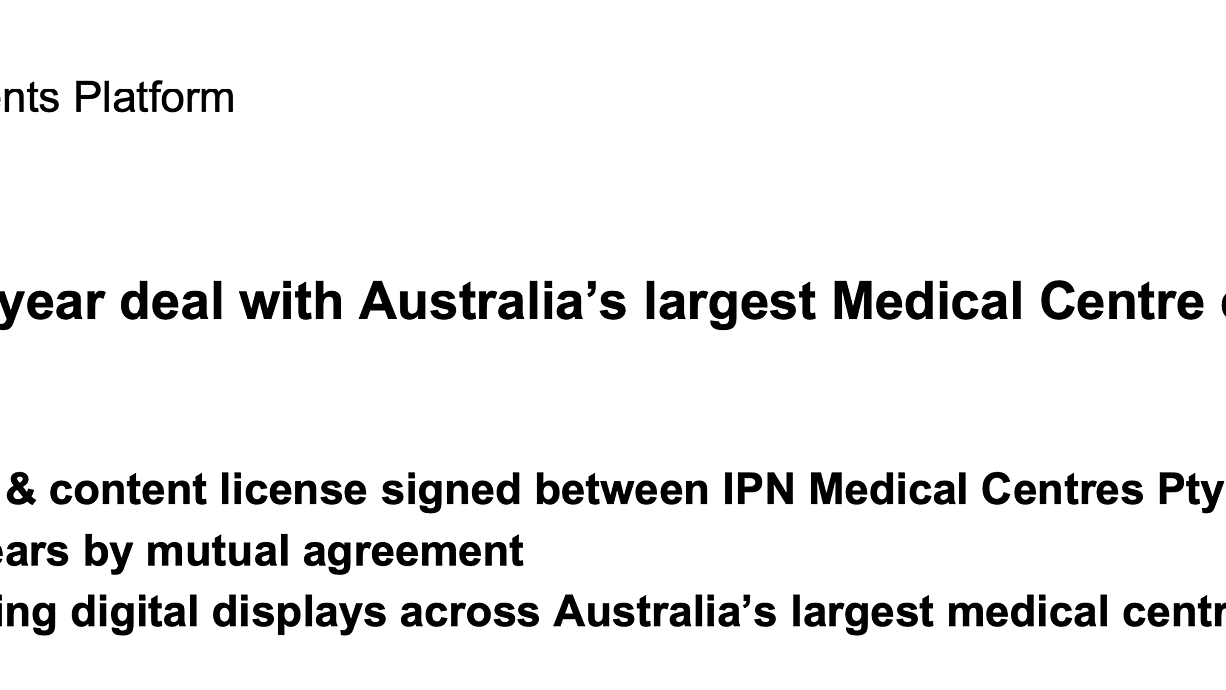 3) Finalised the legacy issues of XTD and replaced the Cross Track revenues. All revenue moving forward is generated from the new business ventures, which has essentially been started from scratch 2 years ago and grown rapidly to be the leader in the health vertical, and MXO have achieved all this while remaining operating cash flow neutral or slightly better.
Despite the above progress, the rolling lockdowns of 2021 had a real impact on the business. Trying to build and grow a place-based media business when everyone is staying at home is difficult, but it makes the above achievements all the more impressive.
The good news is that this growth seems deferred, not lost, and things have since started to rebound.
MXO told the market in October that forward media revenue was +101% over the pcp. Growth that was expected in 1H22 has been pushed into 2H22 and FY23, but the original thesis still holds true.
As a final comment, MXO has a clear mandate for acquisitive growth. With a weaker share price, structuring favourable deals became more difficult, but with the share price now rebounding acquisitions are most certainly back on the agenda.
MXO was a decent performer in 2021, but it didn't hit its straps. If Australia really is opening up for good this year, then 2022 might be the year that everything falls into place for Motio.
My Pick For 2022
This year I thought I'd diversify a little and rather than place all my eggs in one basket, I'd give you two stocks (+ one bonus stock for the watchlist) that we think are genuine candidates to be multi-baggers in 2022, both of which we've been buying recently.
Environmental Group (ASX:EGL)
Earlier this month my colleague at Capital H, Joshua Baker, published a wire outlining our thesis on The Environmental Group Ltd (ASX:EGL) and their potentially company-making recent trial results. You can read the update wire here, and the original here.
EGL is a highly profitable, well managed and growing business that finds itself right in the heart of what is probably the most exciting investment thematic of our time in decarbonisation and green investing.
Josh's note outlines why it is a high conviction investment for us and is certainly worth a read if you haven't already done so.
WebCentral (ASX:WCG)
We've outlined our thesis on this company before, which you can read here, so I'll focus solely on why we think it's good value.
WCG recently merged with 5G Networks and is now an integrated IT, hosting, data centre & managed services company, as well as the third largest domain provider in Australia, with well north of 300,000 SMB customers and >2m domains sold.
The complexity of that merger now hides what is, in our view, the cheapest IT services company on the ASX.
Here's why the stock looks cheap now:
1) Strong Balance Sheet - The merger significantly strengthened WCG's balance sheet from >$30m of net debt to approximately $10m today, or <1x EBITDA. This is important as it refreshes the company's capacity to make further acquisitions, which is typically the core engine for the majority of these types of companies (the most impressive example being UWL).
2) Bullish Guidance - The company has provided FY22 pro forma guidance of $105m revenue and 20% EBITDA margins exiting the financial year. They have stated they expect up to 50% EBITDA growth in FY23, all organic.
3) Effective Buyback of Shares - The merger results in the cancellation of c.70m WCG shares previously owned by 5GN, effectively a buyback. The share count post these shares being cancelled is approx. 330m, for a market cap at the current price of $127m. Note IRESS and similar data providers are yet to reflect this as the shares are still to be cancelled post the recent AGM, making the current stated market cap materially higher than it actually is.
4) Significant Discount to Peers - The above puts the stock on an EV/EBITDA of 6.5x exiting this current financial year. Uniti Wireless and Aussie Broadband both trade north of 20x. Over The Wire (which is a business very similar to the 5GN business that WCG just acquired) was taken over by Aussie Broadband for 12x. Web.com paid 10x back in 2019 for DreamScape, a comparable to WCG's domain business. So based on FY22 guidance numbers, the stock is clearly cheap, and if it stays this cheap will become a takeover target.
5) Clear Path to $30m EBITDA - In the recent investor presentation, WCG provided an EBITDA bridge outlining that they expect to be run-rating at $30m of annualised EBITDA by June 2023, from organic growth alone. If this is achieved it puts the stock on a ridiculously low multiple of 4x in FY23.
6) Free Cash Flow Increasing - Over the last year or so 5GN (now part of WCG) has been building out its own fibre network connecting 80 data centres across 5 capital cities. This will complete in 2022. As a result, CAPEX will fall to $5m in 2022 and again to just $2m in FY23, which would make WCG a cash generating machine if it hits the above earnings targets. That would be a lot of fuel for acquisitions, or potentially dividends, in c.18 months.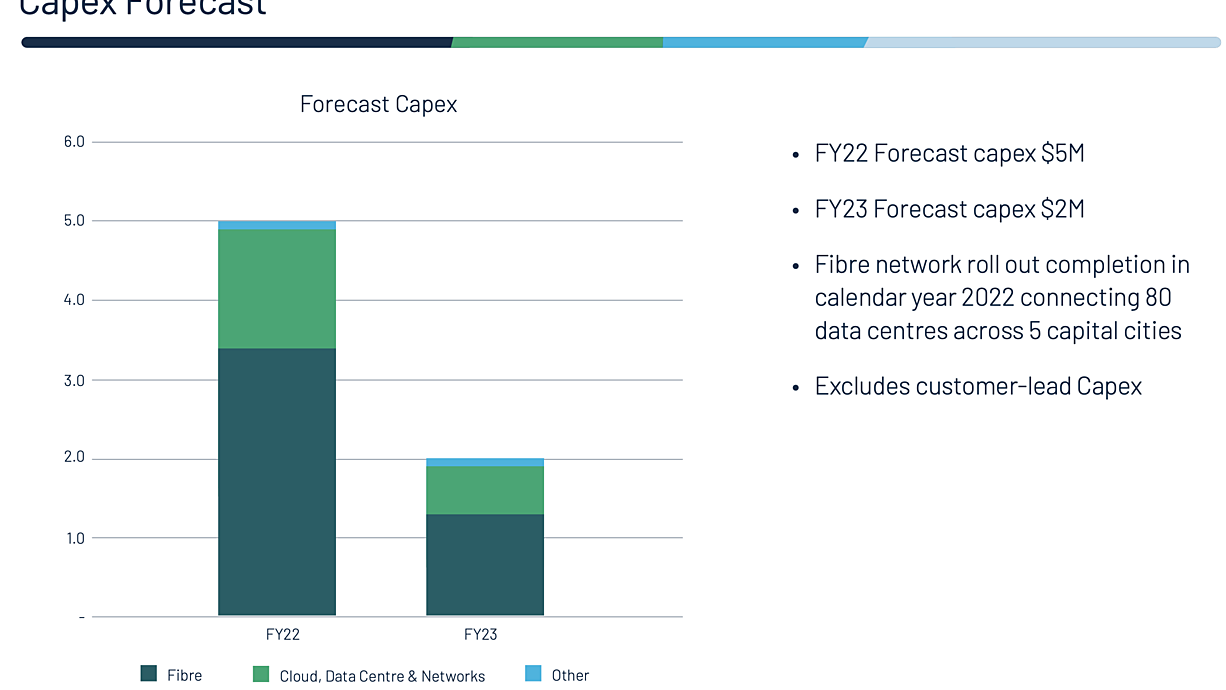 7) Services Demand Increasing Post Lockdowns – the 5GN side of the business experienced some weakness during the most recent round of lockdowns in 1H21 as clients stopped making decisions amidst uncertainty. That is beginning to reverse, and IT service providers in general should perform well in 2H22, 5GN included.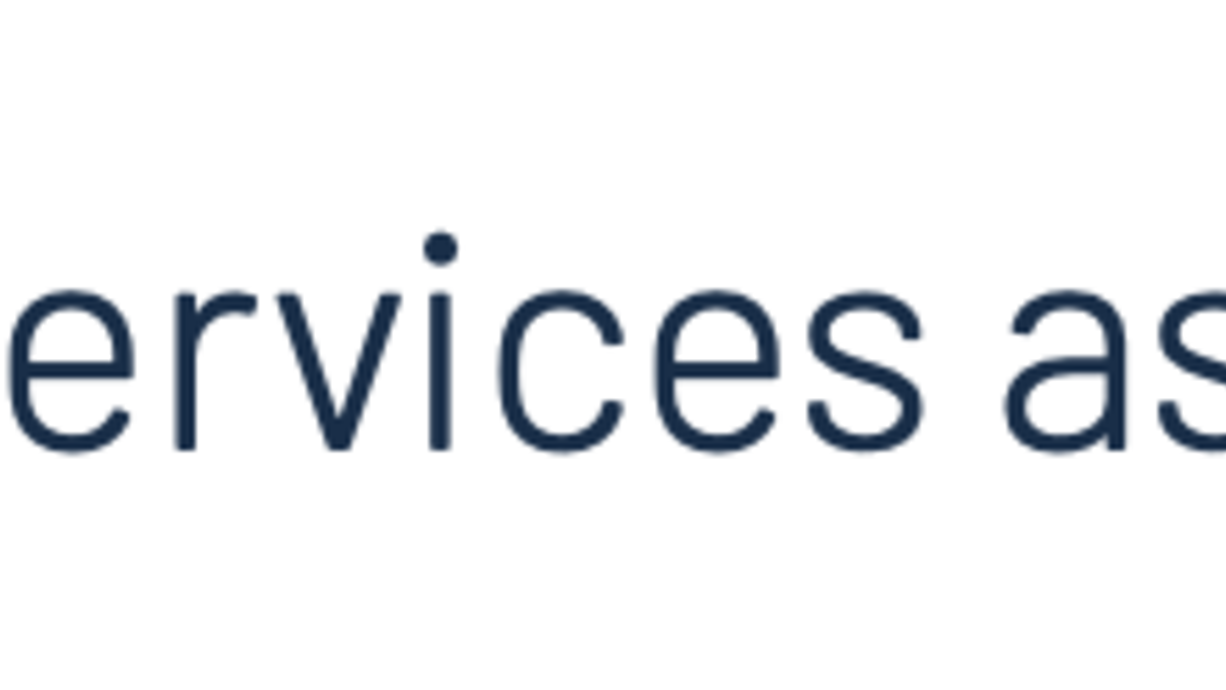 8) Strategic Stake and More Acquisitions to Come - WCG owns a strategic stake of 20% in Cirrus Networks (ASX:CNW). This business is similar to 5G Networks but with a larger hardware revenue component. We think an acquisition would make a lot of sense at the right price, as 1) CNW is strong in Canberra, where WCG has minimal presence and 2) the cost outs would be extensive given CNW have already identified $4m of annualised savings themselves.
9) Why is it Cheap? We were big supporters of the WCG/5GN merger, but it appears some 5GN shareholders weren't. Based on the share register and broker data, most of the selling since then has been retail shareholders who previously owned 5GN and were issued WCG scrip. We think that selling is a significant opportunity.
We've previously stated that we think WCG is a $1 stock. We continue to believe this is the case and have been adding to our position as a result.
Bonus Pick – ARC Funds
If any readers of this wire are close followers of Capital H, you will know that we began a new venture in 2021 called ARC Funds (ASX:ARC).
In full transparency, I am the Managing Director of ARC and Capital H is the largest shareholder. It is the largest position in the Capital H Active Fund.
We are building a multi-affiliate boutique funds management group, and have secured our first managers in Merewether Capital and Magnum Funds Management.
I mention it here as one for the watch list. If you need some holiday reading or stocks to research, you could do much worse than ARC, in my very biased opinion!
The Year Ahead
At Capital H, we spend very little time trying to predict macroeconomic outcomes or the short term direction of the markets.
We focus on finding attractively priced stocks with the potential to be multi-baggers, as there are always individual stocks performing well, regardless of the directions of the overall markets.  
We'll check back in this time next year to see if the stocks noted in this wire went on to be multi-baggers.
From the Capital H team, we hope you have an excellent Christmas and holiday break. See you in 2022.
........
Any information contained in this article does not constitute advice or a recommendation in any capacity. The information contained in this article has not taken into consideration your specific financial needs, goals or objectives, so please consider consulting a licenced adviser before considering acting on this information. Capital H owns shares in MXO, EGL, WCG and ARC.
---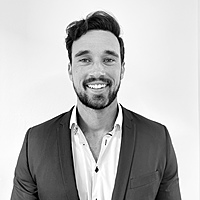 Founder of Capital H Management and Portfolio Manager of the Capital H Inception Fund. Previously worked for Pie Funds and Bligh Capital.
Expertise