Upside in zinc developers - even if metal's price falls from 10-year highs
---
Zinc prices are at 10-year highs but you wouldn't know it from looking at the share prices of the zinc project developers. While producers are enjoying good times on the bourse, shares in the next generation of zinc miners are drifting. But analysts say the developers offer plenty of upside.
The 10-year high in zinc prices has not amounted to much in the local market for the near-term developers.
While the established and new producers have been rewarded with strong share price gains in response to their higher earnings, the developers have been left out in the cold.
Because they are not yet in production, the argument goes that a 10-year-high metal price of $US1.55 a pound – it compares with the 2016 average of US95c and the 2017 average of $US1.29 – means nothing for them.
What's more, analysts en masse are forecasting that zinc will begin a retreat later this year towards a long-run price of about $US1.10/lb. It is something that could come to pass.
But it can be argued that the developers – again, because they are not in production - are not being priced properly in the market for a $US1.10/lb zinc world anyway, let alone a $US1.55/lb world.
It is a sentiment-driven distortion that reflects the en masse call that zinc is headed to $US1.10/lb. It will be resolved as the individual developers de-risk their projects, the ultimate de-risking event being to achieve first production without any nasty surprises.
So there is upside to be had in the developers in a $US1.10/lb zinc market, and something more again should zinc show up the commodity forecasters by sticking close to these higher levels for longer than they suspect.
New Century premium goes begging
The market in New Century Zinc (NCZ), the biggest of the near-term zinc developers, demonstrates the point.
It is shooting to have its tailings retreatment operation up and running in the September quarter and is currently trading at $1.39.
No less than Michael Slifirski at Credit Suisse has a $2.35 price target on the stock, a 70% premium.
In doing, Slifirski noted his valuation assumes a long-term zinc price of "only" $US1.04/lb.
"A clear re-rating opportunity will be achieving production to DFS specifications at mine restart, due in the September quarter 2018," Slifirski said.
He has NCZ posting net income of $149m in FY2019, rising to $282m in the FY2020. Impressive stuff for a company with a market cap of $490m. Massively so if you're tempted to plug in $US1.55/lb zinc prices.
As an aside, the firm's modelling does not include any uspside for the potential to bring forward zinc production from hard rock sources at Century to capture the benefits of the 10-year high in zinc prices.
It is something that NCZ is looking into in a feasibility study. Previously the plan was to produce zinc from hard rock sources after the tailings retreatment phase was completed.
Venturex closing in on mine development
Venturex is another example of a zinc (and copper) developer that has been left to trade as if zinc was something less than $US1.10/lb, let alone its actual price of $US1.55/lb.
Sulphur Springs' potential was outlined in a study in February last year. It built on previous studies and outlined a $166m project with average annual production of 32,000 tonnes of zinc and 12,000 tonnes of copper (in concentrates).
It found producing zinc at a cash cost of 14c/lb was possible (with the help of the high-grade copper) for an initial 12 years. Capital payback was put at 1.6 years.
Venturex estimated a pre-tax NPV of $338m and a 52% IRR based on a zinc price of $US1.15/lb and a copper price of $US2.93/lb. Both are much higher now and the zinc price used accounts for the expectation that zinc prices will weaken.
But the distortion in zinc developers talked about earlier is at play. Venturex is trading at 2.1c for a market cap of about $70m. (Euroz put a 4c price target on the stock back in November using the $US1.15/lb zinc pricing).
Even then, the 2.1c share price (there are 3.5 billion shares on issue) is after the stock put on 10% on Thursday in response to an impressive batch of infill drilling results from Sulphur Springs.
Both high-grade zinc and copper hits were reported and the identification of a previously unrecognised zinc-rich zone overlying the previously recognised copper zone enhanced the deposit's volcanogenic massive sulphide deposit credentials, with all of its exploration potential for other VMS pods to be found nearby.
More immediately, the success with the infill drilling program (best results included 30m of zinc from 169m and 36m of copper from 204m) points to a resource upgrade in the current quarter.
That will set the stage for Venturex to think about giving the go-ahead for a mine development come mid-year.
---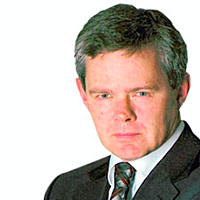 Principal
Independent Journalist
One of Australia's leading business journalists, Barry FitzGerald, highlights the issues, opportunities and challenges for small and mid-cap resources stocks, and most recently penned his column for The Australian newspaper.
Expertise