Webjet: 30% jump on results but still on a PE of 14
---
Webjet (WEB) reported one of the best results of reporting season to date yesterday, and the market promptly rewarded it with the stock finishing up 30% on the day - the strongest one day move on a result of any ASX300 stock this month.
We have written previously that WEB is a genuine growth stock that has been well priced, and that continues to be the case given the strong growth in earnings which continues to underpin the valuation.
FY19 guidance and consensus expectations likely to be exceeded
The interim result showed that the company has a good chance of exceeding its guidance and consensus expectations for the full year, and this is largely due to what was, without doubt, the standout segment of the result – the B2B WebBeds business. This segment was non-existent a few years ago, yet delivered a larger than expected EBITDA of $30.1m for 1H19 (up 136% on pcp) – an amount greater than what was delivered in all of FY18. Unbelievably, the earnings from this division will likely overtake those from the longstanding B2C Webjet division in 2020 (also growing well), such is the growth in the B2B business.
We've described both of WEB's businesses before, but will focus this note on the B2B WebBeds business given that it was the positive surprise of the result. To recap, WebBeds is a global hotel aggregation business, where hotel rooms are sourced from multiple suppliers, and then on-sold to other travel agents. The leverage for WEB is substantial, as they acquire hotel room inventory at agreed rates, while charging their customers a margin. WebBeds currently commands the #2 position globally and is winning share in key markets.
Margin expansion occurring sooner than expected
A key takeaway from the interim result is that the company seems to be at a scale now where it can focus on profitable growth. This is perhaps occurring sooner than the market had expected. EBITDA margins expanded nearly 10% to 35.4%, while the topline grew substantially – total transaction value (TTV) was up 65% while revenues grew 72%. The company said that their 'increased global size and scale means we have been able to shift our focus from growing market share to pursuing more profitable growth.'
Spotlight on substantial contract
In our last piece, we mentioned an angle that the market might be overlooking. This was a significant strategic partnership that WEB had signed with Thomas Cook in August 2016. As part of the agreement, WEB's B2B business took over responsibility for the management of Thomas Cook's hotel inventory. Since that time, a transition period has seen WEB absorb all the costs associated with servicing that contract, yet for a technical accounting reason, the company has not been able to recognise associated revenues until the contract shifts from the transitional management fee period to a volume-based service fee arrangement. This is due to occur on 1 June 2019.
For the first time, the company partly quantified that it expects this contract, along with a couple of other initiatives, to add at least $40m of EBITDA to FY20. This is on top of the $60-70m EBITDA we expect the division to deliver in FY19 (which would be +120% growth on pcp). This +$40m is significant and not something the market has been pricing in to date.
'8/4/4' target set for FY22
The other new significant piece of information yesterday was the '8/4/4' target that the company has set for FY22. This medium-term target relates to what the company believes it can deliver in regards to margins: an 8% revenue/TTV margin, a 4% costs/TTV margin, to achieve a 4% EBITDA/TTV outcome.
Forecasting out to FY22 is difficult, but it's conceivable that the above margins, when coupled with the impressive TTV growth rates that the division has been growing at (+65% in 1H19, but likely to slow on a larger base), could yield earnings 2-4x the $60-70m in EBITDA we expect in FY19.
Valuation as cheap as it's been in recent history
As always, we need to come back to valuation. Despite the +30% move in the share price on the day, on our numbers, WEB is trading on a PE of 14x FY20.
At the very minimum, putting the company on the average small cap industrial multiple (conservative given the quality and growth attributes of the company) yields a valuation close to $20/s, a +30% expected return from here.
WEB has proven itself over the last few years by growing its earnings per share at 25-30% compound. The result demonstrates a company that should at least continue to grow at those rates, if not higher, over the next few years.
---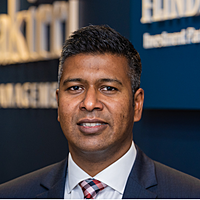 Partner and Deputy Portfolio Manager
Flinders Investment Partners
Naheed is Deputy PM of the Flinders Emerging Companies Fund which provides investors with an actively managed portfolio of listed small and emerging Australian companies, and is one of the top investment managers in the space.
Expertise