Westpac's Landmark Hybrid Impresses
---
In the AFR I argue that Westpac's landmark US$1.25 billion hybrid issued into the US market this week, which was initially 11x oversubscribed, will reduce the bank's need to issue future hybrids on the ASX and thereby choke domestic supply. This 10 year hybrid was also priced at a credit spread that was way below the spreads available on exactly the same hybrids on the ASX with much shorter maturities. So either sophisticated institutional investors offshore are wrong or the retail punters that dominate the ASX market need to revise their numbers. The bottom line is that this deal makes the listed sector look extremely cheap (click on that link to read for free or AFR subs can use the direct link here).  Excerpt below:

"This transaction casts into sharp relief just how highly sought after the major banks' hybrid paper is around the world. The deal, which was led by Westpac's canny long-term treasurer Curt Zuber, attracted an astonishing US$11 billion in initial bids based on its indicative "yield to call" of 5.375 per cent. That translates into a credit spread, or excess return, above government bonds of 3.25 per cent (325 basis points) assuming the hybrid is repaid after 10 years. (While it is perpetual, Westpac can "call" or redeem it on its 10th anniversary.) If you ignore the costs of swapping the hybrid back into Aussie dollars, the 325 basis point spread appears miles below that required by ASX investors for identical, yet shorter-dated, securities. ANZ's 6.5-year hybrid (ASX: ANZPG) has, for example, recently been trading on a spread around 385 basis points above the bank bill swap rate...Before launch ANZ's hybrid was trading on a 5.05 per cent yield (or a 299 basis points spread). This informed the trader and analyst community's consensus that the secondary market fair value for Westpac's 10-year hybrid was a yield between 5.1 per cent and 5.2 per cent. The absence of a significant new issue concession hinted that capital gains would be modest compared to the pioneering ANZ deal, which was generously priced and is now trading at more than 12 per cent above its June 2016 face value. That transaction helped spur a rally in ASX hybrids as investors realised that the major banks can raise AT1 capital elsewhere, which the Westpac deal reinforces again...The indicative 5.375 per cent yield certainly did its job, attracting a massive US$11 billion in bids from North America, European and Asian investors...Overwhelming support for the Westpac deal allowed Zuber to aggressively reprice the yield to a skinny 5.0 per cent, which was inside the shorter-dated ANZ security's spread before launch and even further below fair value marks. The book size nevertheless remained around US$8 billion with only US$3 billion of bids dropping out. Crucially for the ASX market, Westpac's 5.0 per cent yield translates into a 328 basis points spread above the three-month bank bill swap rate for 10 year AT1 risk. That compares very poorly with the 380 basis point spread offered on ANZ's new 7.5-year AT1 deal (ASX: ANZPH). It is noteworthy that whereas tier 2 subordinated bond spreads are trading well inside post-crisis tights set in mid 2014, ASX hybrids are pricing some 100 basis points wide of their 2014 nadir even though the big banks have radically improved their CET1 ratios and de-risked balance sheets...You earn the same interest rate on a higher-ranking, government-guaranteed UBank term deposit as you get on the major banks' longer-dated, 2-year subordinated bonds with regulatory equity conversion risks to boot. That makes little sense." Read full article at AFR here.
---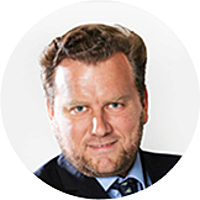 Portfolio Manager & Chief Investment Officer
Coolabah Capital
Chris co-founded Coolabah in 2011, which today runs $7 billion with a team of 33 executives focussed on generating credit alpha from mispricings across fixed-income markets. In 2019, Chris was selected as one of FE fundinfo's Top 10 "Alpha...