Why investors buy a good narrative
---
'Narrative' is a word we notice being used more frequently in market and investment commentary. Given how often it is repeated in this context we thought it worthwhile attempting to define it; 'A representation of a particular company or situation in such a way as to reflect or conform to an overarching set of themes; a story.'
We suspect the growing popularity of the word reflects a current environment of heightened uncertainty. When facts are difficult to ascertain it is easy to deploy a narrative instead. Narratives are powerful because they do not need to reflect the truth. They simply need to convincingly associate an investment with an accepted theme. Successful narratives can create vivid perceptions of reality with no regard to the truth.
We think you can place stock market narratives into four broad genre which we have explained in the table below.
Profitable positions can be taken in all four genres. One can invest in the 'Epics', speculate in the 'Fantasies', strip dividends from the 'Lullabies' or short the 'Horrors'. It is important to point out that a stock's narrative can shift from one genre to another. Epics can become Horrors (for example, most traditional media companies) and sometimes what starts as more of a 'Fantasy' can become a reality (Cochlear, Sirtex). We believe these shifts are associated with some of the most dramatic share price moves.
Observing the recent share price performance of stocks such as Afterpay, WiseTech Global and Isignthis highlights the role narratives play in setting share prices. These companies have delivered shareholders epic returns, yet the recent volatility in their share prices occurred in the absence of any reported change in business fundamentals. We think recent frenetic market activity is explained by a battle of opposing narratives. This was particularly obvious in the cases of Afterpay and WiseTech where the publication (with fanfare) of less optimistic research provided opposing narratives.
We think the above cases highlight an interesting development in the market. There is nothing new and particularly unusual about a negative research report. The fact that the publication of an alternative point of view generated elevated volatility indicates a high dependence on the narrative over the fundamental. We conclude that in some cases share prices are so divorced from fundamentals that they are almost entirely explained by narratives.
Investors have always relied on narratives to explain and predict a company's performance and commonly to discriminate between growth stocks vs value stocks. In the past we generally found correlations between narratives and fundamentals. For example, a company typically had to deliver earnings above expectations to sustain a premium valuation. Recently we have observed that some (already highly valued) companies have enjoyed rising share prices despite deflation of their earnings forecasts. For these companies the narrative and fundamentals appear disconnected. We believe the cases of Wisetech and Afterpay shown in the below charts displays that this lack of fundamental support ultimately creates a vulnerability.
Wisetech – Share price rose while earnings estimate fell, until the narrative was challenged
Afterpay – Share price rose while earnings estimate fell, until the narrative was challenged

There is no law which dictates that declining earnings revisions must see share prices fall however in our experience it is unusual to see a share price more than double in value while EPS forecasts are falling significantly. At best, these cases indicate investors remain confident in the narrative of longer term profitability (in spite of the woeful ability to predict short term earnings). At worst, they indicate investors aren't even aware of the fundamentals.

Narratives are powerful and useful tools which help explain and help predict share prices and markets. Keeping an eye on them can help identify epic investments or fantastic trades however we believe narratives need to be supported by fundamentals. In this sense fundamentals can act like an alarm clock which wakes you up before a dream turns into a nightmare.
Want to exploit inefficiencies in the market?
At NovaPort Capital, we focus on buying ASX-listed small and microcap companies.with an improving outlook at a significant discount to valuation. Stay up to date with our latest insights by clicking 'follow' below, or use the 'contact' button for more information.
........
The information contained in this document is current as at May 2019 unless otherwise specified and is provided by NovaPort Capital Pty Limited ABN 88 140 833 656, AFSL 385 329 (NovaPort). It is intended solely for holders of an Australian Financial Services License or other wholesale clients (as defined in the Corporations Act 2001 (Cth)). It must not be passed on to retail clients. Any information provided or conclusions made, whether express or implied, do not take into account of any person's objectives, financial situation or needs. Because of that, each person should, before acting on any this information, consider its appropriateness, having regard to their objectives, financial situation and needs. Past performance is not a reliable indicator of future performance. Fidante Partners Limited ABN 94 002 835 592 AFSL 234668 (Fidante Partners) is the issuer of interests in the NovaPort Smaller Companies Fund (ARSN 094 601 475) and NovaPort Microcap Fund (ARSN 113 199 698) (the 'Funds'). Offers of interests in the Funds are contained in the current relevant product disclosure statements (PDS) issued by Fidante Partners which are available on our website www.fidante.com.au. The relevant PDS should be considered before making any decision whether to acquire or continue to hold units in the Fund. In preparing this document, NovaPort has relied on publicly available information and sources believed to be reliable, however, the information has not been independently verified by NovaPort. While due care and attention has been exercised in the preparation of the presentation, NovaPort gives no representation, warranty (express or implied) as to the accuracy, completeness or reliability of the information. The information in this presentation is also not intended to be a complete statement or summary of the industry, markets, securities or developments referred to in the presentation. NovaPort is not licensed or authorised to provide tax advice. We strongly recommend that an investor seek professional taxation and social security advice for their individual circumstances. Any examples used are for illustration purposes only. Any opinions expressed in this presentation, including as to future matters, may be subject to change. Opinions as to future matters are predictive in nature and may be affected by inaccurate assumptions or by known or unknown risks and uncertainties and may differ materially from results ultimately achieved.
---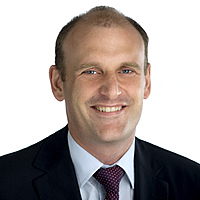 Fund Manager
NovaPort Capital
Sinclair Currie is a Principal and Co-Founder of NovaPort Capital with 24 years of investment experience. Prior to establishing NovaPort, Sinclair worked at Challenger Limited (Challenger) managing over $200 million in funds.
Expertise