Why Newcrest should be a core holding in the current market
---
From a macro point of view gold is interesting for a few reasons. Low (and negative) real interest rates seem to be supportive of gold prices at the moment and we see few reasons for a change in the structural trends pressuring rates. That said, money financed fiscal stimulus, or 'helicopter money', seems increasingly likely in Japan and potentially at some stage in the EU and in our view has a fair chance of achieving higher inflation – which is good for gold. It is the balance between these two situations that we think is particularly interesting, perhaps simply a measurement of the success of central bank policies and therefore credibility. Whilst rates are generally low and the risk of higher inflation exists out there somewhere, gold looks good to us and as central banks are stumbling towards improving policy credibility gold as a hedge looks pretty interesting also. Speaking of hedging the global political trends evident at recent votes – see Brexit and here in Australia make us wary of the upcoming US Presidential election as well as various upcoming votes across the EU. Political uncertainty is one of the few certainties out the at the moment!
At a micro level, Newcrest is generally accepted to be in the mid-stages of their turnaround, so the easiest money may have been made already – but – we see higher production, lower costs, a healthier balance sheet and the potential for the development of a third world class mine over the coming years in PNG at Golpu. NCM are already the global major with the largest reserves base and lowest cost base – not a bad starting point. Cadia is a low risk option to grow at very low costs, thanks to scale and by-product credits of copper and silver. It is yet to ramp up to full production. The biggest question here is likely how quickly mining reverts to reserve grade from higher mined grades currently, however in our view this is unlikely in the short term. Lihir has positive momentum on its side (finally) and with management happy to release aspirational milling targets it is encouraging that this improvement could persist for some time yet. As a result of improved performance at both of the mines that matter most margins are healthy and are set to expand further due to operational improvement, prior to contemplating the gold price. The balance sheet has been nursed back to health and although we wouldn't expect much of a dividend, at some point soon NCM should re-start paying one. New management have gained the confidence of investors for repeatedly meeting guidance as well as revisiting capital demands across various operations and managing to reduce these, most substantially the seepage barrier at Lihir which at one stage had a price tag 6x the current outlook! ($1.3bn v $0.215m) – so operational as well as capital soundness is back to the fore at NCM. There are a few cautionary items (this is still a gold mining company!) including issues of cost at both Telfer (WA) and Hidden Valley (PNG).  We tend to view these as low(ish) value ounces and as such resolution at either and/or both may have a positive impact despite the ensuing lower production levels.
So, where to from here? Nothing goes up in a straight line (disclaimer NCM just doubled!) however if/when the gold price moves either way the sensitivity is fairly dramatic.  An increase in the gold price of $50/oz adds around $3 per share to NCM in our view, which has broadly been reflected in the market rally over the past 6 months, so we don't believe NCM is ahead of itself at $1,350 gold. We think on account of the above it is more likely than not for these trends to persist and as such Newcrest is a significant holding in Altair's Core portfolios for the time being.
---

Follow Philip Parker's wires
---
---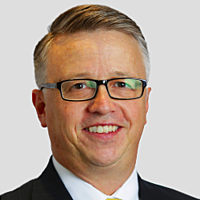 CIO/Founder
Altair Asset Management
Philip is founder and Executive Chairman of Altair Asset Management and is responsible for leading the company's business strategy. Philip also chairs Altair's Investment Committee, and oversees Altair's investment functions as well as...
Expertise
No areas of expertise