Why we need to switch our investment focus to China
---
Recently, some of the best investments in our global funds have been in Chinese companies like Tencent and Alibaba.  And that's hardly surprising. After all, in the words of the ex-Singapore leader, Lee Kuan Yew, China is now "the biggest player in the history of the world". 
China's ascendancy means that global investors who focus only on the US may be missing very profitable opportunities.
But there are observations to be made about China that are relevant to investors while also existing beyond the sphere of markets.
Recently in his investor memo, legendary US value investor Howard Marks wrote, "…uncertainties are unusual in terms of number, scale and insolubility in areas including secular economic growth; the impact of central banks; interest rates and inflation; political dysfunction; geopolitical trouble spots; and the long term impact of technology."
An adviser to one of the analysts we follow reflected similar sentiments when he was quoted thus: "What is scary about the current situation is the 'perfect storm' confronting the United States. It currently faces an external threat from the increasing economic power of China and the growing alignment of many nations with China. Also, several nations are beginning to behave more belligerently (Russian election meddling, Chinese threatening war over U.S. provocation, North Korea nuclear threat, Russian connection to North Korean nuclear capability, depletion of the U.S. fighting force after Iraq/Afghanistan/ISIS). Internally, America elected a President who is unpredictable and who many don't trust to act rationally (we are closer than most would think to a constitutional crisis) and a population which doesn't trust institutions, or more importantly, other Americans, all of which is being driven by inequality and a disconnection from the population…"
Meanwhile, it is noteworthy that China has been investing aggressively by expanding its maritime power under the One Belt One Road strategy.
In the last year more than half of all international port acquisitions have been made by Chinese buyers despite the fact, or perhaps because, global shipping is enduring a material downturn and traditional or typical buyers remain cautious.
In July Chinese state-owned China COSCO offered to buy Hong Kong's Orient Overseas Container line for more than US$6 billion.  In the same month a 99-year agreement to majority own and operate the Sri Lankan Hambantota port, which fronts the main shipping route between Asia and Europe, was purchased by China Merchants Port for US$1.1 billion.  According to the UK's The Financial Times, for the 2017 financial year, Chinese entities have invested more than US$20 billion in overseas ports across 68 countries linked to the One Belt One Road initiative – double the $9.97 billion invested in FY16.
Some analysts suggest China is driven to duplicate its dominance in global trade and simultaneously break Europe's dominance in container shipping by controlling ports from Nairobi in Kenya to Darwin in Australia.
China is the largest disrupter the world has ever seen. And the error of treating China as merely another 'big player' was highlighted by three-decade Singaporean Prime Minister Lee Kuan Yew, when he observed that the world will have to find a new balance because China is not just another big player but "the biggest player in the history of the world".
As China displaces the old guard in commerce and geopolitics, it creates new poles that destabilise the Earth's very axis.
In 2009 China displaced Germany as the world's largest exporter and in 2013 is replaced the US as the world's largest trading nation.
Lee Kuan Yew's comments were made to Graham Allison, director of Harvard Kennedy School's Belfer Centre for Science and International Affairs.  In her book, Destined for War: Can China and America Escape Thucydides's Trap? Allison observes: "Today, an irresistible rising China is on course to collide with an immovable America. The likely result of this competition was identified by the great historian Thucydides, who wrote: "It was the rise of Athens and the fear that this instilled in Sparta that made war inevitable." And Allison goes on to observe that any Hollywood producer making a film about China and the US on the path to war could cast no better lead than Donald Trump.
Allison describes the trap as the 21st Century's defining challenge and one of history's deadliest patterns: "When a rising power threatens to displace a ruling one, the most likely outcome is war. 12 of 16 cases in which this occurred in the past 500 years ended violently."
China's rise to prominence has caught many investors and policy makers off-guard.  This is understandable given the country's GDP has grown from just US$300 billion in 1980 to US$11 trillion in 2015.  According to Allison, for every two-year period since 2008, China's GDP growth has been larger than the entire Indian economy.
In a so-called 'enlightened' world that only measures success through the lens of money, the balance of power always rests with the richest.  China is the largest trading partner to more than 130 countries, and is not only the world's largest producer of steel, aluminium, furniture, textiles, mobile phones, ships and computers, it is also the largest consumer of everything from oil and solar power to vehicles and mobile gaming.
It is not lost on China that the United States has lost four of the five wars it has entered since WWII.  For investors it should not be forgotten that American billionaire value investor Charlie Munger remarked at this year's Berkshire Hathaway annual meeting: "I do think the Chinese stock market is cheaper than the American stock market. And I do think China has a bright future."
How policy makers respond to China will determine the future not only for investors but for everyone.
---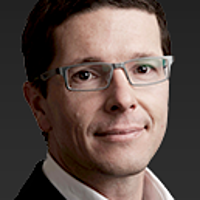 Chief Investment Officer
Montgomery Investment Management
Roger Montgomery founded Montgomery Investment Management, www.montinvest.com in 2010. Roger brings more than two decades of investment, financial market experience and knowledge. Roger also authored the best-selling investment book, Value.able.
Expertise