Will shopping centres go the same way as Channel 10?
---
The voluntary administration of Channel 10 is tangible evidence of the evolution of the media sector, with the station's reliance on the younger demographic challenged by social media, YouTube, online streaming and pay TV. The days of a family sitting in the same room to watch TV are long gone, with many families lucky to share meals together, let alone recreational time. There's no room for sentiment, with Mrs Mangel and Bouncer the dog (from the TV show Neighbours) replaced by YouTube and Instagram stars like PewDiePie and Tyler Oakley. This disruption has spread to most industries with REITs no exception.
There's been a lot of chat about the demise of the shopping centre with time poor households combining with technology to drive ecommerce. Book stores and music stores were the first hit, with newsagents and apparel now in the crosshairs. Much of the newsflow points to the US where there's numerous store closures, however, this has been expected given that there's >2x as much retail space per person, there's much more department store space, much more fashion and less food than their Australian counterparts. Local media is flooded with articles about Australia's supermarket margins contracting, pressure on department stores and discount department stores, and now there's retailers fighting back against landlords (eg. SumoSalad). So will shopping centres follow Channel 10's lead and fall from grace?
The tailwinds
The landlords all say that the struggles above have been going on for years, and we agree, with centres a collection of mini-businesses which expand and contract over time. Some evolve, some dissolve. There's always new entrants and "category killers" like Zara / H&M in the fashion space, and Mecca / Sephora in the beauty space, have replaced struggling retailers. Landlords have done a great job in repositioning centres towards more of a lifestyle precinct, with food, leisure and entertainment now a much larger proportion of rental income than a decade ago. This repositioning is a defence against e-commerce, with centres providing an "experience". People still like to go out to the movies, bowling, etc and grab some food at the local centre. The major tailwinds for retail are population growth that exceeds many other developed nations, a lower Aussie dollar (less offshore travel and more local spend) and greater focus by retailers on their omni-channel strategy as online retailers open stores and traditional retailers go online. Another positive is that REITs have been selling their "non-core" assets for many years, to the point where the sector's gearing level (debt to assets) is the lowest % since 2001. REIT balance sheets are in very good shape and there's strong cashflows to meet repayments. There's no risk of REITs doing a Channel 10 and trying to refinance their major credit line six months out!
The headwinds
There are question marks about the consumer's ability to keep spending with rising fuel, healthcare, insurance and utility bills (wait for the year end power bill). Plus there are the folks who are now being asked to switch from interest-only loans to principal and interest, or pay a higher margin when refinancing. And while the rise in minimum wage is good news for ~20% of all employees, the sting in the tail is that hours worked might decline should a firm's revenue not exceed the wage increase. Then there's the magnitude of new retail offerings via centre expansions and remixing towards food, which means that the incumbents will be impacted. There's seldom exclusivity given in any shopping centres, which means there's often numerous coffee outlets, salad bars, fast food offerings and it's the landlords job to increase customer traffic. When traffic and sales don't increase more than the number of new offerings, then that sales pie is shared between more retailers, and average profits should decline. Just because you double the centre doesn't mean you spend twice as much. When you double the food court, you don't visit two food retailers and spend double per meal (albeit I've been tempted). Most centre expansions occur to support future catchment growth (population and sales) but this takes time. Then there's the elephant in the room, being the arrival of Amazon and the expectation of further price deflation. As a result, we do expect lower growth to come out of centres going forward, via higher incentives or lower rents, plus we expect credit risk to increase. This should not be a surprise to investors. The saving grace is that tenants are contractually bound to pay rent, in most cases for many years, such that they have to pay rent before they pay shareholders. Obviously this is much harder should tenants go into administration but landlords get advanced notice of these events.
The upshot
While we expect a tougher retail sales environment and have lowered our growth forecasts, we don't subscribe to the general assumption that shopping centres will go the same way as Channel 10. REITs are fortunate to own ~17 of the top 20 shopping centres (by turnover), with the stronger tenants attracted to the stronger centres where customer traffic and potential sales are higher. At some points in the cycle the tide is coming in and at other times it's going out, with weaker tenants being replaced. It's interesting that while some of the retail REITs share prices have fallen ~20% from their 2016 peaks, pricing for physical retail assets in the direct market remains very strong, albeit there are very few transactions of large shopping centres. We are generally underweight retail landlords in the portfolio with the expectation of further negative newsflow in the space, however some names are now screening relatively attractive. When sentiment overtakes reality, it often provides good investment opportunities.
---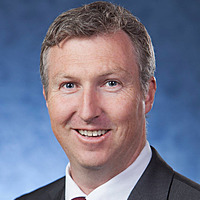 Pat Barrett has twenty five years experience in the listed and direct property industries, most recently covering property securities, infrastructure and utilities analysis at UBS.
Expertise