10 of the ASX's best management teams
---
We are often told that a management team can make or break a business. It's why industry jargon like "skin in the game" has become so renowned, and why investors idolise companies that are founder-led. 
In fact, recent research from Reuters found that founder-led companies materially outperformed those led by "suits". Founder-led tech firms, in particular, saw earnings growth of around 30% over the past five years, while companies led by recruited managers saw their earnings rise approximately 6.7%. 
So in this thematic episode of Buy Hold Sell, Livewire's James Marlay is joined by Montgomery Investment Management's Roger Montgomery and Investors Mutual Limited's Simon Conn for a look at the best management teams across the ASX. 
Our fundies will point to their favourite management teams (and outline why) across financials, energy and resources, retail, technology and healthcare. Plus, they also highlight the common attributes of killer management teams and boards so you can identify them yourself. 
Note: This episode was filmed on Wednesday 13th October 2021. You can watch, listen or read an edited transcript below. 
Edited Transcript
James Marlay: Hello, and welcome to this thematic episode of Buy Hold Sell. My name is James Marlay, I'm a co-founder of Livewire markets, and today we're joined by Roger Montgomery from Montgomery Investment Management and Simon Conn from Investors Mutual. Two great investors that know a lot about fundamentals.
And today we're going to be talking about one of the most common things that I hear fund managers tell us matters when it comes to assessing stocks, and that is finding good quality management teams.
Roger, I'll start with you. Could you tell me what are some of the things that you're really on the hunt for when it comes to finding good quality management?

Roger Montgomery: Well, let's remember that we're passive investors, so we don't get to influence company decisions. So what we're looking for first and foremost, is honesty and integrity. Now, this is often reflected in management that backs itself with the right incentives. 
If they're putting proper long-term incentives in place with a high proportion of their bonus at-risk, then that's really handy, but above all else, we think it's really, really important that management are absolutely brilliant capital allocators. 
That shows up in the profit retention versus dividend decision, or it might be in the price paid for acquisitions, or it could be the price paid for share buybacks.
James Marlay: Simon, what are some of the things that you really value in a management team? You've been around decades, so I imagine you've got a long list, but give us the shortlist of the top priorities.
Simon Conn: I think the big thing we focus on, a bit like Roger, is a management team that's shareholder-focused. As Roger alluded to, that comes through with acquisitions and divestments. So capital allocation is key, but also a really strong empathetic leader. 
You want someone who's shareholder-focused, but also leads the team with a clear mission and a clear direction. You want someone who states what and where the business is going, what their strategy is, and that comes through public releases, but I often find that's then reflected internally as well. 
That way the whole management team understands where they're going, and that drives a common purpose within the company. And I think that's been really tested in COVID. 
We've seen companies where management teams have all been dispersed to different parts of the country, and those businesses remained focused and continued to drive good outcomes for shareholders, and those have got a really strong, clear purpose, a really empathetic leader, but a strong leader and also a really good board.
And I've often found a chairman who's been there and done it before, can add a lot of value to a company in terms of driving shareholder outcomes and ultimately good returns for investors.
Financials top pick - Bank of Queensland
James Marlay: It's a good time to reflect and have a look at some of those standout teams. What we're going to do is we'll go across five sectors. Roger and Simon are going to each call out a standout management team and what it is that impresses them so much. Simon, I'll start with you. Financials, a big sector in the ASX. Could you call out a standout management team there for me? And what did you like about them?
Simon Conn: We own Bank of Queensland (ASX:BOQ) and we bought into that more recently, because we really like the chairman. Patrick Allaway has bought a million bucks of shares on his first day of the job. He's really built the board, and then the management team. 
He hired CEO George Frazis who has changed the management team and driven a clear focus on the home loan market. You've got three brands in that portfolio, now with ME Bank being recently acquired.
They have clarity of focus, really strong execution; they're renewing their information technology stack, which is a really important part of financial services. And we think they've got a really strong focus on shareholder returns.
Financials top pick - Goodman Group
James Marlay: Roger, is there something in the financial space, a management team that has caught your attention?
Roger Montgomery: Look, when you asked me the question James, I immediately thought of Macquarie Group (ASX:MQG) but I actually wanted to stretch the friendship and throw in Gregory Goodman from the Goodman Group (ASX:GMG). 
Greg's been there for 23 years or thereabouts. In terms of executive incentive and alignment with shareholders, they've just implemented a new 10-year plan. That'll see the testing and vesting periods for senior management out to 10 years.
Back in 2014, the company was generating about an 11% return on equity capital. Today they're two and a half times larger. Debt hasn't grown. It's there for a fraction of what it was relative to equity in 2014. And they're now generating a 17% return on equity. I mentioned capital allocation earlier, those numbers really do reflect excellent decision-making with respect to capital.
Resources top pick - Mineral Resources
James Marlay: Roger, I know mining and resources is typically not your space, but it is a big sector on the ASX. Is there a management team in either resources or energy that stands out for you?
Roger Montgomery: Well, since we'd launched the small companies fund, I've had to take more of an interest, because Gary and Dom are right into the space, particularly in terms of lithium. I'm going to throw in Mineral Resources (ASX:MIN) and Chris Ellison and his team.
Somehow they managed, I don't know how they do it, but they managed to run the world's largest crushing contractor. It's a top-five lithium miner and it's Australia's fifth largest iron ore exporter. 
He's entrepreneurial - he managed Monadelphous out of receivership, and in the 15 years he's been at the helm and since Mineral Resources listed in 2006, he's increased shareholder equity on the balance sheet by 43 fold. That's mostly come from retained earnings, which has increased 164 times. And net profits in that time are up 64 fold. Most importantly, profitability has risen during his tenure, and return on equity has gone from 26% in 2007, to 41%. 
This is a company that has, in their annual report, talked about return on invested capital of 63 times. And so there Chris is somebody who is really, really focused on the right things, and that's why we like them.
Resources top pick - Senex Resources
James Marlay: That sounds like search engine optimization for fund managers. Simon, Roger has got a point, it's hard to have a conversation about Mineral Resources without hearing about Chris Ellison. What's your standout CEO or management team in the resources or energy space?
Simon Conn: It's always a difficult sector, but one that stands out for us is Ian Davies at Senex (SXY:ASX). I think Senex Resources has been a really good performer over the last 12 months. I think that's really a product of many years of hard work by Ian and the team up there. Also led out by Trevor Bourne on the board, who's the chairman. He's excellent as well. 
So a really good management team and a singular focus on shareholder returns and just driving improved performance out of their coal seam gas fields on the east coast. They exited their legacy asset in the Cooper Basin. They exited the oil business for a good price. And this year, as a testament to their strategy, they started paying dividends.
Senex is really trying to fill that gap we see on the east coast with the shortage of gas. And they're just very focused on the fields that they operate. They're not looking to try and build an empire, but just trying to generate good cash and grow production gradually through time and building a really quality book of customers.
They've got people like CSR, Orora, and Visy on long-term contracts, which underpins a very long, dated contract book, which generates pretty consistent cash flows. Senex is a business we think is underrated by the market and underappreciated. But Ian's done a really good job and I think he continues to position the business well going forward.
Retail top pick - Myer Holdings
James Marlay: Now, one industry where the CEOs and the management teams really earned their dollars over the past 18 months is retail. You wouldn't have wished it on your worst enemy to be running a retail business through COVID. Although it actually turns out to have been quite a fruitful place. Simon is there a retailer out there that catches your eye for the quality of their management team?
Simon Conn: One who made good money over the last 12 months is Myer Holdings (ASX:MYR). I know it's a bit of a controversial decision and not many people are big fans of the department store, but I think John King has worked to rebuild the management team again. 
Nigel Chadwick, the chief financial officer, has a really strong focus on the customer proposition. And if you look at the cash flow that business has generated over the last three years, they're now in a net cash position. They've delivered the first, second-half profit since 2017 in their recent result.
They're in a very strong position, they continue to shrink their footprint and focus on profit per square metre, not sales per square metre. So instead in the past when they were trying to just grow the top line, they're very focused on profit.
And they've really become one of Australia's unsung heroes in the online piece. They've got an online business that does over $500 million, which positions them as one of the largest online players in the market. And one that's growing very quickly.
Retail top pick - Alliance Aviation Services
James Marlay: Roger, is there a retailer that sort of rings the bell for you?
Roger Montgomery: James, there's a bunch. There's Roger and Andrew Brown at ARB (ASX:ARB). Alan and Peter Wilson at Reece (ASX:REH). The teams at City Chic (ASX:CCX), Adairs (ASX:ADH), Nick Scali (ASX:NCK), Accent Group (ASX:AX1), and even the newly appointed Victor Herrera of Lovisa (ASX:LOV). I think he's going to do an outstanding job - he's certainly incentivized to.
But again, I'm going to stretch a friendship and throw an airline at you. And I reckon the airline services company, Alliance Aviation Services (ASX:AQZ), and the team under Scott McMillan there. He's been managing the company as director for nearly 20 years. 
He has managed to build a business model that remarkably suits the sector's very, very deep cycles. 
He's been really patient and opportunistic, taking advantage of a slump in the industry to buy planes at distress prices. And they've developed a business model that I think delivers attractive and relatively predictable returns on capital in an industry that is certainly not known for that. 
I mean a 30% return on capital over their listed life is a very simple demonstration of what I said earlier about what to look for in identifying solid management. And we reckon there's more value creation to come now that they've bought those Embraer E190 aircraft during the slump.
Technology top pick - Pro Medicus
James Marlay: Let's go to technology, a slightly more ritzy sector than airlines Roger, who are the technologist management teams that you think are quite visionary and executing exceptionally well?
Roger Montgomery: Well, it's interesting you say the word visionary because in the ASX All Technology Index, you find a lot of companies with really aligned founder led businesses. And here I'm going to go with Sam Hupert and Anthony Hall who are co-founders of Pro Medicus (ASX:PME). 
Since 2015, equity on the balance sheet's grown threefold, and three-quarters of that have come from retained earnings. Just 4% of that growth in equity has come from capital raisings. And in that time, profits have grown eightfold. 
This is a highly profitable business with a huge runway in front of it and a diligent bunch of really smart capital allocators at the helm.
James Marlay: It's probably not the biggest sector I'd imagine in an IML portfolio Simon, but you guys always find interesting ways to access different sectors. Is there a technology management team that ticks the boxes for you?
Technology top pick - Readytech Holdings
Simon Conn: One that we like and made good money for over the last 12 months is ReadyTech (ASX:RDY). It's a little bit below the radar and probably not well understood by the market, but as Roger was alluding to, it's got a founder-led CEO in Marc Washbourne who has, I think, reinvested in the business since the IPO.
He's done a great job in terms of growing that business. More recently, he added a third vertical to his portfolio in terms of the OpenOffice acquisition. But essentially the business operates in several verticals. They've got a workforce business, where they supply workforce management tools for SMEs. They've got an education division, which provides a lot of student management software for TAFEs and universities.
And they're just in the process of implementing their largest implementation at Bendigo TAFE, which has been done all through COVID, which I think is a testament to the strength of the team and the vision that Marcs' got. 
And again, I think they're underappreciated by the market as they're trading at around 22 times PEs, which is half the multiple of his competitors like TechnologyOne, which trades at over 50 times.
Healthcare top pick - Integral Diagnostics
James Marlay: Final sector we're going to touch on is healthcare. Simon, we'll stay with you. What's a stand-out team in the healthcare sector?
Simon Conn: One that we've made good money out for our investors over the last three to four years is Integral Diagnostics (ASX:IDX). CEO Ian Kadish is a doctor by training, but he's also a very strong businessman and really disciplined around how he runs the business. 
He's built a strong management team under him, and he's also well-led by Helen Kurincic on the board, a strong board with two radiologists. So he's empathetic with the healthcare professionals that he employs, but also understands the balance between looking after the health care needs of patients, the needs of doctors, but also generating a profit.
One of the things that has been happening in radiology is technology's come into play more and more. He's been very adept at using artificial intelligence to increase the productivity of doctors, allowing them to see more tests and also highlighting injuries or elements within the body, with scans, which delivers better outcomes for people. 
Healthcare top pick - ResMed
James Marlay: Roger, we're going to finish up with you. In the healthcare space, what's your standout management team?
Roger Montgomery: Mick Farrell and Rob Douglas over at ResMed (ASX:RMD). Both have been there a very long time. Michael's been there for 21 years. 
What we like about it is they've surrounded themselves by equally impressive people who are running the various divisions and geographies. And what we like is that all those people are given air time. So investors can be confident it's just not all Mick and Rob.
We like the fact they've timed their investments well. They've diversified appropriately into software as a service through their Brightree and Propeller acquisitions. And that's given them channels outside sleep.
What we like also is that they communicate in a really consistent, measured way. Investors can track their progress, and they haven't stuffed up, even in a minor way, at least recently.
James Marlay: We've given you 10 cracking ASX leadership teams across five different sectors. I hope you enjoyed the show and remember to subscribe to our Livewire YouTube channel. We're uploading fresh content every week.
Can't get enough of Buy Hold Sell?

Give this wire a like if you've enjoyed the discussion and hit follow to be notified when new episodes are released.
If you're not an existing Livewire subscriber you can sign up to get free access to investment ideas and strategies from Australia's leading investors.
---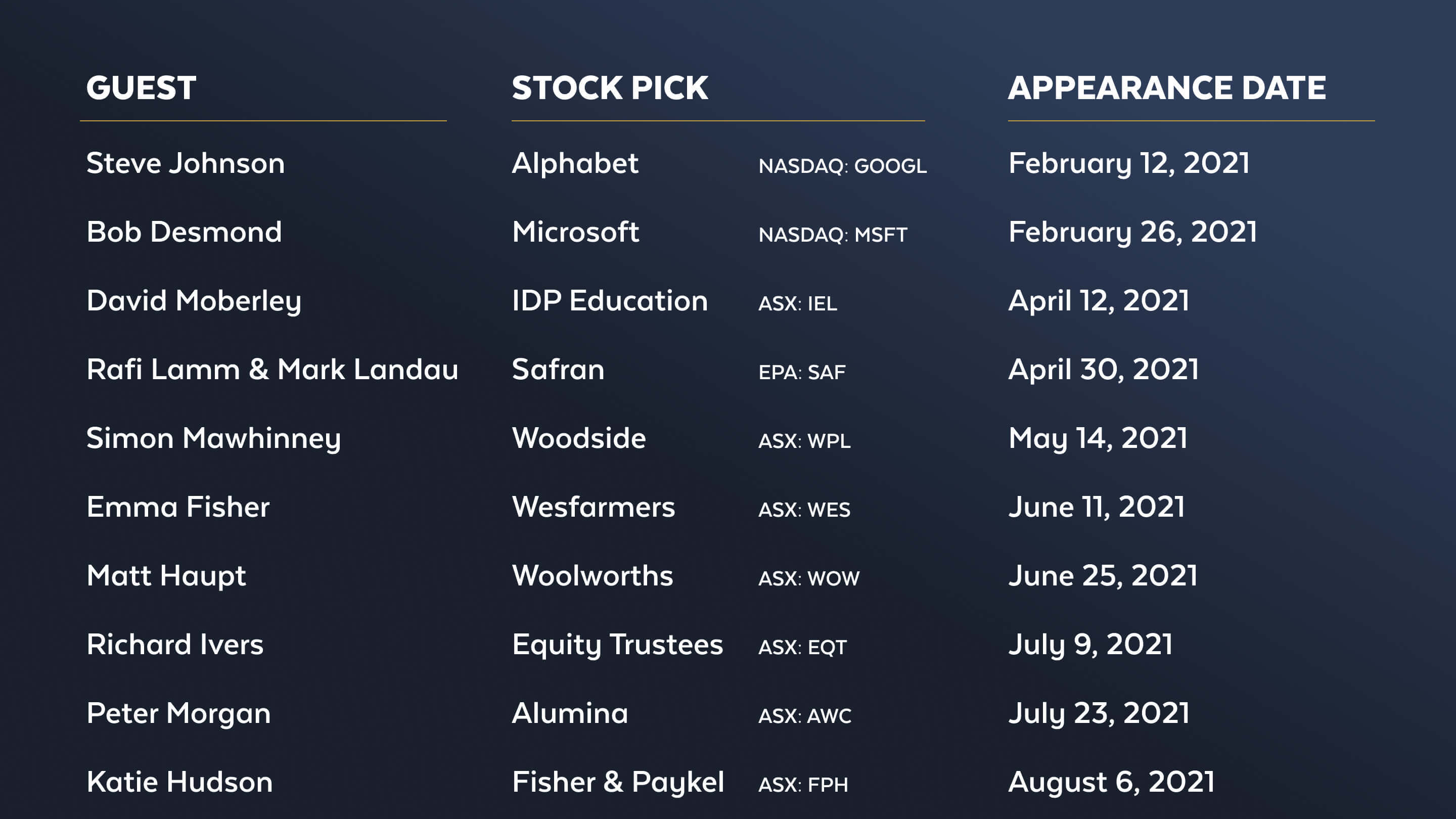 Equities
13 stock picks to own for the next five years
........
Livewire gives readers access to information and educational content provided by financial services professionals and companies ("Livewire Contributors"). Livewire does not operate under an Australian financial services licence and relies on the exemption available under section 911A(2)(eb) of the Corporations Act 2001 (Cth) in respect of any advice given. Any advice on this site is general in nature and does not take into consideration your objectives, financial situation or needs. Before making a decision please consider these and any relevant Product Disclosure Statement. Livewire has commercial relationships with some Livewire Contributors.