Higher returns by moving lower in the capital structure
---
Moving lower down the capital structure of higher rated corporate issuers can be a smart way to add higher returns to well diversified portfolios. In this article we take a look at what the capital structure is.

Background
The current interest rate environment, with inflation rising and the likelihood of cash rate rises also increasing sharply has left many investors wondering about how to improve investment returns without taking on too much risk. Unfortunately, the relationship between risk and returns means that it is difficult to achieve better returns without taking on more risk, but some ways remain better than others.
There are two ways to take on additional risk in fixed income, either by increasing credit risk or by taking on more interest rate risk. Within credit risk there are also typically two further ways to add incremental risk to generate a higher return.
The first is to invest in bonds issued by companies with lower and/or sub-investment grade credit ratings (such as the Hunt Companies Inc. 5.25% 15 Apr 2029 senior unsecured bond); and the second is to invest in junior ranking securities issued by larger investment grade rated companies (such as the ING Groep 3.875% hybrids). The Hunt bonds and ING hybrids both have sub-investment grade ratings but sit at opposite ends of their issuer's capital structures.
In this note we will take a closer look at the second of the two options mentioned above – moving down the capital structure to junior ranking securities.
Capital Structure
So, what exactly is the capital structure? The diagram below should be familiar to most of our readers. It describes the simplified capital structure for a typical bank (as it includes term deposits). A corporate issuer would be the same but without this particular rung in the ladder.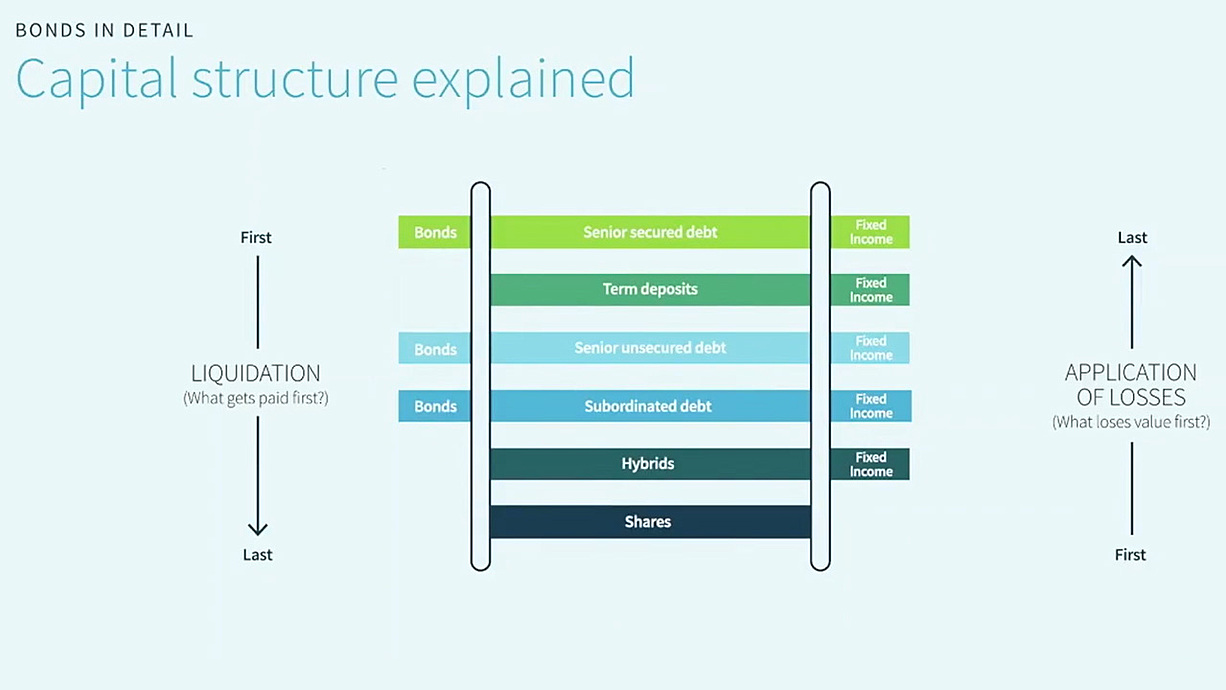 A few of the main considerations when analysing the capital structure of a company include:
Risk - ranging from senior secured debt as the least risky down to equities as the riskiest.
Priority of payment in liquidation/administration - senior debt should be paid out first (with secured debt having first call on the specified security), then all subordinated debt, then all hybrid debt and if any funds remain, equity holders share the balance. Some lower ranking securities also have the ability to defer coupons, which are usually cumulative.
Application of losses - with equities to bear the first loss and the security of senior debtholders' investments only threatened once all other junior capital sources have been exhausted.
Maturity/call features - securities ranked lower down the capital structure tend to have longer (or perpetual) maturity dates with optionality for the issuers to redeem (call) the security prior to maturity. In accordance with risk, the expected long-term return increases as you move down the capital structure.
However, if as an investor you feel comfortable with the credit risk of a company then by that logic you should feel comfortable investing lower down the capital structure of that company as the likelihood of receiving all the coupons and capital back on a subordinated bond is very high. Conversely, if the credit quality of the issuer is not as strong then it makes sense to move higher up the capital structure when investing in the bonds issued by the company.
Also keep in mind, even when we talk about the most junior fixed income securities, they still remain far less risky than shares. If you feel comfortable investing in a company's shares, you should feel even safer again about the risk of investing in even that company's most junior bonds.
Current opportunities
Below is a list of some recent investment opportunities, which sit lower down the capital structure of the issuer that our clients have been considering. Please contact us at FIIG if you would like further information about the risks and mitigating factors associated with these securities.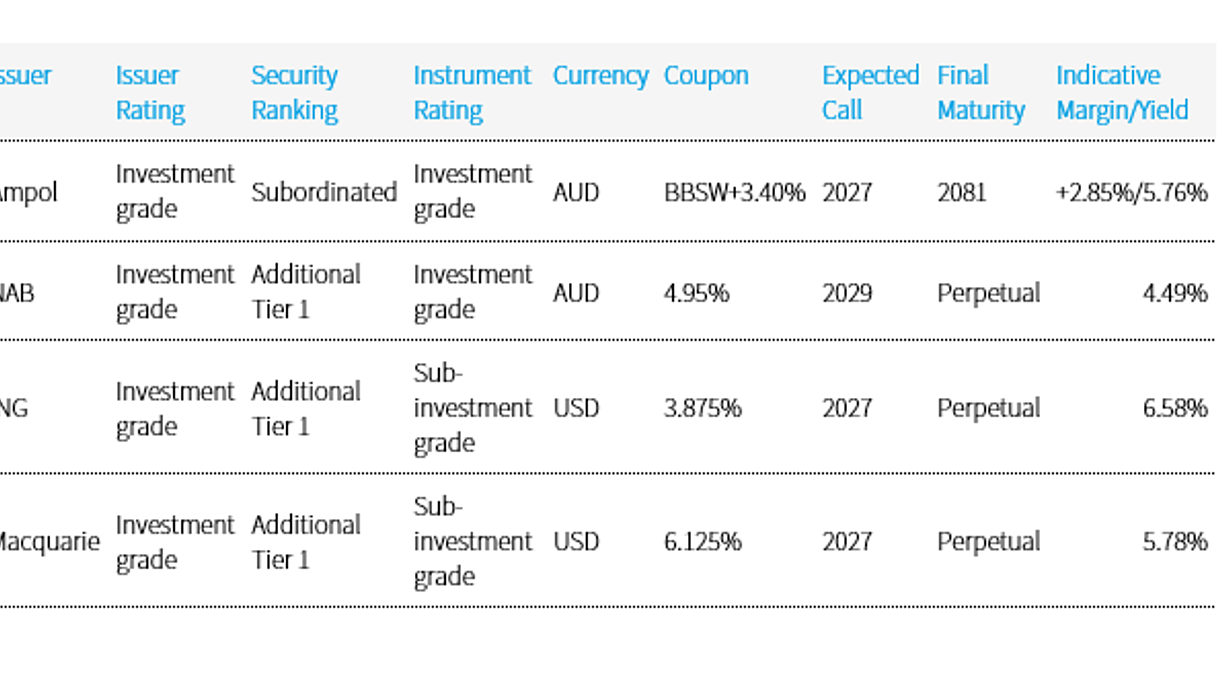 This document has been prepared by FIIG Investment Strategy Group. Opinions expressed may differ from those of FIIG Credit Research.

........
This document has been prepared by FIIG Investment Strategy Group. Opinions expressed may differ from those of FIIG Credit Research. The contents of this document are copyright. Other than under the Copyright Act 1968 (Cth), no part of it may be reproduced, distributed or provided to a third party without FIIG's prior written permission other than to the recipient's accountants, tax advisors and lawyers for the purpose of the recipient obtaining advice prior to making any investment decision. FIIG asserts all of its intellectual property rights in relation to this document and reserves its rights to prosecute for breaches of those rights. FIIG Securities Limited ('FIIG') provides general financial product advice only. As a result, this document, and any information or advice, has been provided by FIIG without taking account of your objectives, financial situation and needs. FIIG's AFS Licence does not authorise it to give personal advice. Because of this, you should, before acting on any advice from FIIG, consider the appropriateness of the advice, having regard to your objectives, financial situation and needs. If this document, or any advice, relates to the acquisition, or possible acquisition, of a particular financial product, you should obtain a product disclosure statement relating to the product and consider the statement before making any decision about whether to acquire the product. Neither FIIG, nor any of its directors, authorised representatives, employees, or agents, makes any representation or warranty as to the reliability, accuracy, or completeness, of this document or any advice. Nor do they accept any liability or responsibility arising in any way (including negligence) for errors in, or omissions from, this document or advice. FIIG, its staff and related parties earn fees and revenue from dealing in the securities as principal or otherwise and may have an interest in any securities mentioned in this document. Any reference to credit ratings of companies, entities or financial products must only be relied upon by a 'wholesale client' as that term is defined in section 761G of the Corporations Act 2001 (Cth). FIIG strongly recommends that you seek independent accounting, financial, taxation, and legal advice, tailored to your specific objectives, financial situation or needs, prior to making any investment decision. FIIG does not provide tax advice and is not a registered tax agent or tax (financial) advisor, nor are any of FIIG's staff or authorised representatives. FIIG does not make a market in the securities or products that may be referred to in this document. A copy of FIIG's current Financial Services Guide is available at www.fiig.com.au/fsg. An investment in notes or corporate bonds should not be compared to a bank deposit. Notes and corporate bonds have a greater risk of loss of some or all of an investor's capital when compared to bank deposits. Past performance of any product described on any communication from FIIG is not a reliable indication of future performance. Forecasts contained in this document are predictive in character and based on assumptions such as a 2.5% p.a. assumed rate of inflation, foreign exchange rates or forward interest rate curves generally available at the time and no reliance should be placed on the accuracy of any forecast information. The actual results may differ substantially from the forecasts and are subject to change without further notice. FIIG is not licensed to provide foreign exchange hedging or deal in foreign exchange contracts services. FIIG may quote to you an estimated yield when you purchase a bond. This yield may be calculated by FIIG on either A) a yield to maturity date basis; or B) a yield to early redemption date basis. Some bond issuances include multiple early redemption dates and prices, therefore the realised yield earned by you on the bond may differ from the yield estimated or quoted by FIIG at the time of your purchase. The information in this document is strictly confidential. If you are not the intended recipient of the information contained in this document, you may not disclose or use the information in any way. No liability is accepted for any unauthorised use of the information contained in this document. FIIG is the owner of the copyright material in this document unless otherwise specified.