A top-performing stock you've never heard of
---
Only a third of the 2,300 international companies in the MSCI World index have been listed since 1990. Of these, it might surprise you that the top-performing stock over the last 32 years is not Berkshire Hathaway or a high-flying tech stock like Microsoft or Apple.
It's a little-known business called Jack Henry & Associates, headquartered in a sleepy Missouri town with a population of 9,000, which is 1 of 15 high-quality companies held in the Aoris portfolio. $1 invested in Jack Henry on January 1st 1990 would be worth $3,450 today!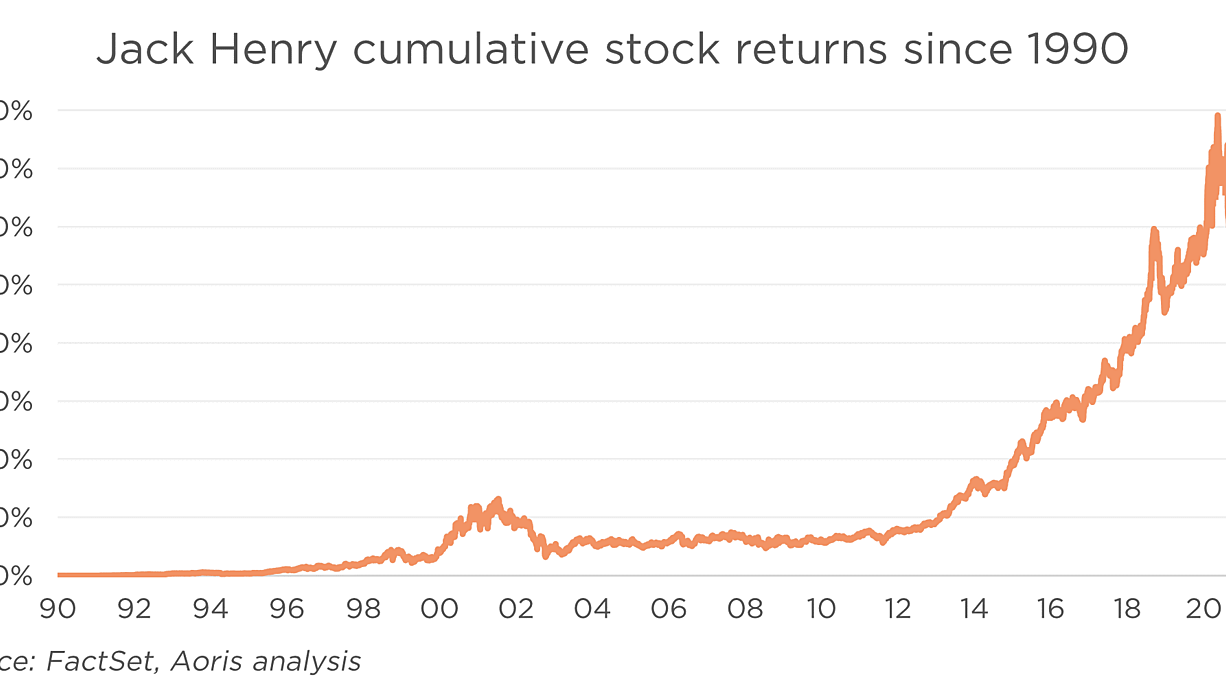 What does Jack Henry do?
Unlike the dominance of the big four Australian banks, in the US there are thousands of small banks and credit unions who develop personal, local relationships with customers.

Jack Henry provides essential software that is used to run small financial institutions in the US. Its products include the core accounting system for banks, which keeps records of customer accounts and transactions, and a range of ancillary services such as mobile banking, fraud detection, processing customers' card payments, and software used by bank tellers. Large banks have the internal IT resources to build this themselves, but smaller institutions rely on outsourced providers like Jack Henry.
Let me share some attributes that have allowed it to generate such strong long-term results.
1. Resilience
Jack Henry rarely loses customers, with a retention rate north of 98%. The consequence of failure to a bank's IT system is catastrophic so they want to deal with a software vendor that has a strong industry reputation, which makes it nearly impossible for new entrants to displace Jack Henry's products. Jack Henry serves 700 credit unions today, and it has lost only five credit union customers altogether over the last 25 years.
Most of Jack Henry's revenue comes from recurring software subscriptions. Its products are mission-critical for its banking customers who need to keep investing in their IT systems to stay competitive and ensure that they're secure and compliant with ever-changing regulations. This is true regardless of the economic environment.
As a result, Jack Henry's profits have been extremely resilient even in times of crisis. Its revenue grew and its profit margin was stable during both the GFC and the COVID-19 pandemic. In fact, the pandemic requires banks to adapt from serving customers in physical branches to online, which necessitates further investments in their digital banking systems.
2. Steady growth
By winning new customers and doing more business with its existing customers Jack Henry has grown its revenue on an organic basis, meaning without help from acquisitions, by 6-7% p.a. for many years. Jack Henry benefits from a growing need for banks to invest in their IT systems to offer their own customers a modern banking experience and remain competitive.
This rate of growth might seem pedestrian relative to the allure of flashy tech companies doubling their revenue in a single year, but investors also need to consider the durability of that growth and the risk of competitive slippage. Jack Henry has been able to sustain its healthy growth rates for a very long time, while slowly but steadily gaining market share against its peers who have grown at a rate of around 4% p.a.
3. Consistent profitability
Loss-making, fast-growing businesses have captured investors' imagination in recent years. Jack Henry is decidedly boring in this respect. It has been profitable in every year since it IPOed in 1985, and over the last ten years it has earned a very healthy and consistent operating profit margin of 25%. It pays out 40% of its earnings as a steadily growing dividend.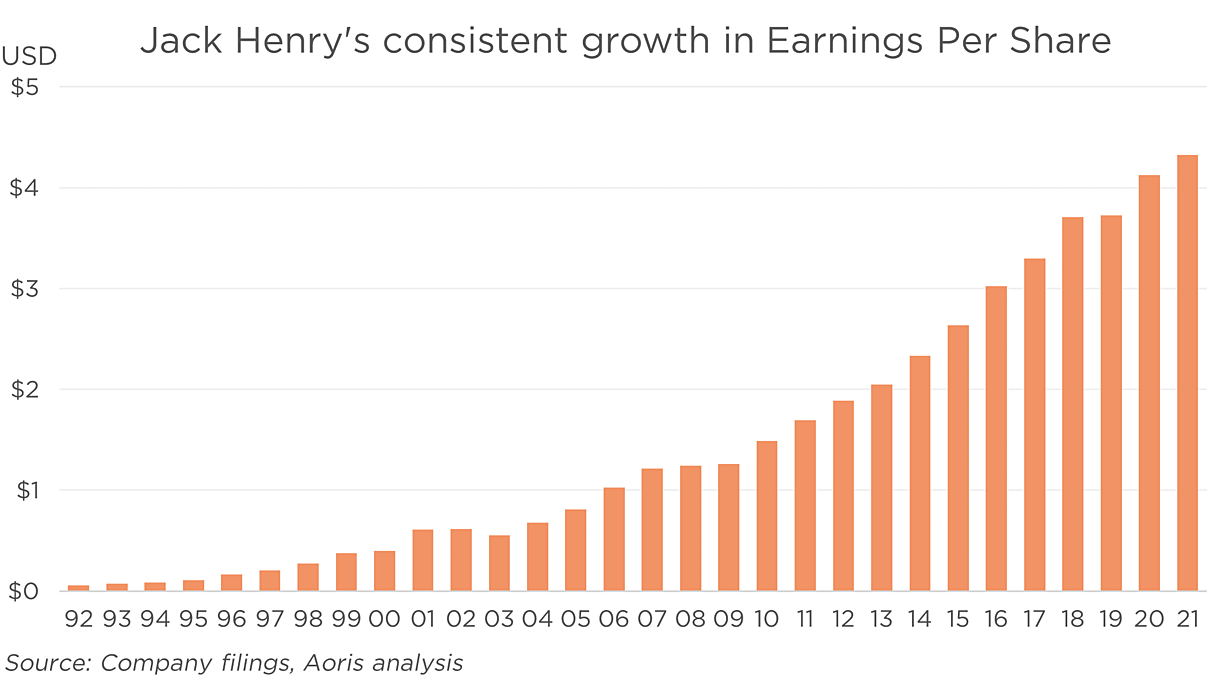 4. Focus
Since its founding Jack Henry has been focussed on serving the needs of US community banks and credit unions. It is known for having the highest customer satisfaction and the best customer service in the industry.
Meanwhile, its two major competitors, Fiserv and FIS Global, have both made transformative large acquisitions in areas of payments completely unrelated to banking software. As I discussed in this earlier Livewire article, most large acquisitions fail as the integration effort is a distraction that can compromise the performance of the acquirer's core business, especially when companies are expanding into new areas.
Jack Henry has eschewed large acquisitions and it wins, on average, one new customer a week from competitors that have taken their eye off the ball.
In summary
Good investment outcomes don't depend on being part of exciting, high-growth parts of the market. Businesses like Jack Henry that grow profitably and steadily for a long time are incredible engines of wealth creation. You can find out about our portfolio of 15 such businesses and our distinctive investment approach on the Aoris website.

........
All data sourced from company filings and Aoris analysis. Views published in this wire do not constitute investment advice.
---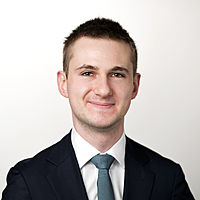 Senior Investment Analyst
Aoris Investment Management
Delian is a Senior Investment Analyst at Aoris Investment Management. He has over nine years of experience analysing equities, including seven years looking at global companies.
Expertise