A vital issue for our most precious asset
---
In 2015, the United Nations launched its 17 Sustainable Development Goals (UNSDGs) as a blueprint for a more sustainable future. Along with heightened awareness of the risks presented by climate change, (1) the UNSDGs elevated the importance of ESG issues within the global and economic agenda. Water and waste are now a direct focus for five of these goals. 
Sustainable water and waste practices also support many of the other goals. According to the 2020 UN World Water Development Report: 'Water is the ultimate connector in the global commitments towards a sustainable future: the 2030 Agenda for Sustainable Development and its goals are highly dependent on improved water management.' (2)
Essential services for a sustainable world 
With continuing growth in our world population, improving water and waste management is becoming a vital issue for governments and businesses to address. As standards of living surge and drive consumption, these rapidly evolving industries have the potential to make a significant impact on public health, economic prosperity and environmental protection. There is an opportunity for investors to harness growth in demand for these services and contribute to their capacity for sustainable resource management for the benefit of both people and the planet. 
Policy reforms foster opportunity
This global focus on policies that support responsible and efficient use of resources and materials is giving rise to greater regulatory scrutiny of water consumption and waste disposal practices.
"Today, humanity uses the equivalent of 1.75 Earths to provide the resources we use and to absorb our waste. This means it now takes the Earth one year and eight months to regenerate what we use in a year. "
Major public and private spending is expected to support a wider range of technologies, products and services that enable more efficient management of water and waste. This complexity in the value chain for both sectors gives rise to investment opportunities in companies where innovation is driving sustainability and growth.
Competition for a scarce resource 
A secure water supply is as much an economic imperative as it is a goal for a sustainable future. Many industries rely on water for production, from agriculture to energy, from mining to semiconductor manufacturing. With the expected acceleration in demand for water for human consumption and industrial production, it's clear that companies, and governments are both facing a future where access to water is high on their agenda. 
Technology for water-wise operations 
Only 0.5% of the water on our planet is available as fresh water.(3) Solving the equation of growing demand for this finite supply is creating a flourishing water industry that supports less wasteful distribution and use of water as well as water treatment and recycling. Water infrastructure and technology companies are supplying everything from filter membranes to pumps and equipment and software to track data and analytics for water usage and quality. For both businesses and consumers, there is an economic incentive to seek out sustainable solutions to reduce water consumption.
More companies are setting targets to reduce water withdrawals
A focus on China: on a journey to water security
China's supply of renewable fresh water is low, at only about a third of the global average on a per capita basis. As one of the fastest-growing economies, this makes water scarcity a serious threat to ongoing development. In the country's twelfth five-year plan (2011 –2015), water security was top of the agenda. Since then, the Chinese government has spent hundreds of billions of dollars on reservoirs, water diversion and irrigation projects. Market-based reforms designed to reduce water use and encourage water recycling and reclamation by industries are also in train. 
As a country leading the way in growth through industrial and commercial production, China is one of many emerging economies showing potential as a fast-developing market for water-related services.
However, investors should be aware that this sector remains exposed to the usual governance risks of emerging markets. 
Waste management: From linear to circular 
The disposable culture of developed economies is spreading to developing countries, driving growth in waste of all kinds. The World Bank estimates that by 2050, developed nations will produce 25% more waste, East Asia 50% more and South Asia twice as much.(4) For cost-effective, environmentally friendly solutions to manage this waste, more businesses and governments are looking to a circular economy, where resources are recycled or returned to nature instead of being discarded. With China putting an end to waste imports from 2018, many countries have been given no choice but to find onshore solutions for managing waste. 
Developed countries are also introducing policy measures to support a circular economy. The European Union (EU) is leading the charge with 2018 legislation aiming to recycle 70% of municipal waste and 80% of packaging waste by 2030.(5)  These steps toward mandating a sustainable approach to waste management create many opportunities for businesses to profit from supporting a longer lifespan for resources, as well as protecting the environment from the burdens of resource extraction and the hazards of discarded waste. 
Recycling electronic waste, for example, creates a price-competitive supply of metals such as aluminium, copper and zinc. Extracting virgin metal is more expensive and uses more energy, so recycled alternatives are cheaper and offer environmental benefits in terms of reduced energy use and greenhouse gas emissions. Converting waste into energy is another opportunity for greenhouse gas reduction. Waste-to-energy plants burn municipal solid waste (MSW) to generate electricity.
The Environmental Protection Agency estimates that for every tonne of MSW sent to a waste-to- energy plant, a tonne of greenhouse gas emissions is avoided.(6)  This sector is expected to be valued at US$41billion by 2025,(7) making up a large proportion of the global waste industry, with a total projected value of US$487billion in 2025.(8)
Case study
Ballast water treatment: A water and waste challenge 
The global shipping industry uses large quantities of seawater as ballast to keep ships stable. When ballast water taken on board at the origin of a ship's journey is discharged as wastewater at its destination, this can introduce foreign marine species to the local ecosystem. This is considered to be one of the five major threats to aquatic biodiversity and can also cause serious health issues for humans. 
With continuing growth in international trade, there is a clear need to stop this contamination of marine ecosystems. The BWM (Ballast Water Management) Convention, adopted by the United Nations IMO (International Maritime Organisation) and effective from 2017, requires international ships to manage their ballast water to ship-specific standards. By 2024, all ships must have ballast water treatment systems.(9)

The global ballast water treatment systems (BWTS) market is expected to grow from c.US$20billion in 2017 to c.US$118billion by 2025.(10) This presents a significant investment opportunity in the competitive BWTS market. As at 31 July 2020, the Fidelity Sustainable Water & Waste Fund held Veolia Environment and Xylem, two stocks showing strong prospects for growth through the treatment of ballast water, in addition to their other waterand waste-related revenues.
The case for water and waste investing
The Fidelity Sustainable Water & Waste Fund offers a unique approach to investing globally into companies across the water and waste value chains. To learn more, visit our new Livewire Fund profile here. 
Footnotes
1 World Economic Forum, Global Risks Report 2020, 'Severe threats to our climate account for all of the Global Risks Report's top long-term risks'. 2 The United Nations world water development report 2020: water and climate change, p.5. 3 US Bureau of Reclamation, Water Facts – Worldwide Water Supply, 23 July 2020. 4 Kaza, Silpa; Yao, Lisa C.; Bhada-Tata, Perinaz; Van Woerden, Frank. 2018. What a Waste 2.0: A Global Snapshot of Solid Waste Management to 2050. Urban Development; Washington DC: World Bank. 5 EU Action Plan. European Commission. 6 ASM 2018. The World of Metal Recycling: The Facts. 7 (VIEW LINK) Channel J. and Curmi E. 2018. Sustainable Cities. Citi Global Perspectives and Solution. 8 Patil A. & Kumari P. 2019. Waste Management Market by Waste Type (Municipal and Industrial) and Service (Collection and Disposal): Global Opportunity Analysis and Industry Forecast, 2018–2025. Allied Market Research. 9 International Maritime Organisation (2019). 10 Research, H. (2019). Ballast Water Treatment Systems Market Worth $117.55 Billion by 2025: Hexa Research.

---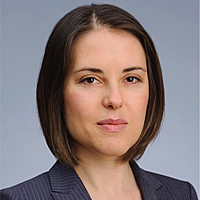 Lead Portfolio Manager
Fidelity International
Velislava Dimitrova has over 12 years of investment experience, initially working as an analyst until 2014, covering a number of sectors including European media, European utilities and materials. In 2018, she built on her vision of running a...
Expertise