Amazon's relentless focus on price, convenience and customers has created structural problems for the Amazon model. A raft of specialty retailers whose share prices are rising have recognized the opportunities created by the Amazon model.
Internet newcomers like Etsy, PetMed EXpress, Wayfair, Global Sources, and private internet sites such as Chef Shop recognize the two-edged sword  and the opportunity for them to get back customers as Amazon prepares to swallow Whole Foods Market.
Many suppliers of good quality specialty and organic foods recognize that shelf space will be reduced for their products at Whole Foods stores which will be replaced by private label products.
Specialty Suppliers also have recognized that their future does not lie with Amazon and many will not give up their margins to supply and compete on the Amazon website where price and convenience rules.
Consumers have not forgotten that they went to Whole Foods for quality not price and convenience. The Amazon model emphasizes price and convenience not quality and they will look for other places to shop for what they want.
For suppliers the end of "me too" products is in sight while those with a real brand difference that cannot be bought on Amazon or at Whole Foods will flourish.( Many suppliers already will not deal with Amazon).
The process was already underway when the acquisition of Whole Foods was announced and has given the specialty competitors sudden recognition .
Etsy (ETSY) has climbed steadily from around $14 to $15.24 since the Amazon acquisition of Whole Foods .. Etsy supplies home made craft goods ( not specialty food as yet) Petmed Express ( medicines for pets) and Wayfair ( home furnishings) all have improved since the deal and all compete with other Amazon products.
In food the big cap stocks to watch are Kroger, Costco and Walmart which all plunged after the announcement. Kroger especially, which carries as much if not more organic and high quality produce as Whole Foods, will not be interested in giving up customers.
Kroger trades at 3 times book with a return on equity of 30 per cent and a PE multiple of 11 times. Consensus earnings will drop about 10 per cent in 2018 which compares with the 30 per cent drop in the share price from above $30 to the low $20's since the deal was announced. Amazon trades at 25 times book, with a return on equity of 15 per cent and PE multiple of 188 ( 9.4 times the average for the s and p 500.
Right now the trend is your friend ( until the bend at the end).
John Kimber
Independent Research
---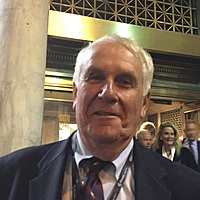 Independent Investment Research
Over 30 years in Australia, South Africa, London and the United States John Kimber has worked in investment research, advisory, and corporate finance at Prudential Securities, BT Alex Brown and Ord Minnett. He completed his series seven...
Expertise
No areas of expertise