An opportunity like no other for small caps
---
As the country pulls itself out of a global crisis we see both monetary and fiscal stimulus working overtime, presenting an opportunity like no other for small caps. Historically, the majority of fiscal stimulus has been provided to those businesses related to asset ownership. This is due to central bank stimulus flowing through financial institutions who prefer loans secured against assets.
Fiscal policy differs as it's deployed by governments who are not seeking to obtain a return on investment but aim to support areas that will benefit the population. Sectors seen as less credit-worthy in the past will now receive direct support like never before.
Small caps are also benefitting from the underperformance of the Big Banks. The increased regulatory risk brought on by the financial services royal commission and governance risk resulting from the Anti-money laundering breaches has caused divestment from this portion of the market. We think small caps have seen a lot of this cash flow as a result and led to their outperformance of large caps this year.
The sectors that we see benefitting most from this combination of monetary and fiscal stimulus are:
Childcare
First home buyers
Healthcare
Aged care, and
Renewable energy
In a recent interview, I sat down with Sinéad Rafferty, Investment Specialist at Fidante Partners to give my thoughts on the outlook for small caps and the impact on markets from increased fiscal spending.
Want to exploit inefficiencies in the market?
At NovaPort Capital, we focus on buying ASX-listed small and microcap companies with an improving outlook at a significant discount to valuation. Stay up to date with our latest insights by clicking 'follow' below, or use the 'contact' button for more information.
........
The information contained in this document is current as at May 2019 unless otherwise specified and is provided by NovaPort Capital Pty Limited ABN 88 140 833 656, AFSL 385 329 (NovaPort). It is intended solely for holders of an Australian Financial Services License or other wholesale clients (as defined in the Corporations Act 2001 (Cth)). It must not be passed on to retail clients. Any information provided or conclusions made, whether express or implied, do not take into account of any person's objectives, financial situation or needs. Because of that, each person should, before acting on any this information, consider its appropriateness, having regard to their objectives, financial situation and needs. Past performance is not a reliable indicator of future performance. Fidante Partners Limited ABN 94 002 835 592 AFSL 234668 (Fidante Partners) is the issuer of interests in the NovaPort Smaller Companies Fund (ARSN 094 601 475) and NovaPort Microcap Fund (ARSN 113 199 698) (the 'Funds'). Offers of interests in the Funds are contained in the current relevant product disclosure statements (PDS) issued by Fidante Partners which are available on our website www.fidante.com.au. The relevant PDS should be considered before making any decision whether to acquire or continue to hold units in the Fund. In preparing this document, NovaPort has relied on publicly available information and sources believed to be reliable, however, the information has not been independently verified by NovaPort. While due care and attention has been exercised in the preparation of the presentation, NovaPort gives no representation, warranty (express or implied) as to the accuracy, completeness or reliability of the information. The information in this presentation is also not intended to be a complete statement or summary of the industry, markets, securities or developments referred to in the presentation. NovaPort is not licensed or authorised to provide tax advice. We strongly recommend that an investor seek professional taxation and social security advice for their individual circumstances. Any examples used are for illustration purposes only. Any opinions expressed in this presentation, including as to future matters, may be subject to change. Opinions as to future matters are predictive in nature and may be affected by inaccurate assumptions or by known or unknown risks and uncertainties and may differ materially from results ultimately achieved.
---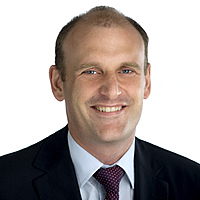 Fund Manager
NovaPort Capital
Sinclair Currie is a Principal and Co-Founder of NovaPort Capital with 24 years of investment experience. Prior to establishing NovaPort, Sinclair worked at Challenger Limited (Challenger) managing over $200 million in funds.
Expertise