AUD struggles as global and domestic factors weigh
---
The last week has seen global risk appetite improve, although the AUD has struggled to capitalise and any rallies have proved fleeting. We summarise key events in the market this week in the transcript and video below. 
Earlier on in the week, global risk sentiment improved, US data remained strong, Equities were up and bond yields moved higher moved higher. Although this narrative changed in recent sessions with the focus again returning to trade tensions, with stories that President Trump is keen to press ahead with 200bn tariffs of Chinese imports as early as next week. At the same time, emerging market currencies have been hit very hard, with Argentinian peso tumbling over 13% in a day, Turkish lira and South African Rand also under attack.
Domestically, the Australian dollar recovered from the dramas in Canberra last week and the change of Prime Minister, but despite the improved backdrop has still been the worst performing G10 currency over the last week.
The data this week didn't help either with Q2 business capital expenditure declining 2.5% and business's plans for future spending also soft, this removed some of the upside potential for next week's Q2 GDP data to be released on Wednesday. In addition, the notoriously volatile dwelling approvals data showed a fall of 5.2%, in line with our expectation of renewed weakness in this sector.
Out-of-cycle hike from Westpac
However, the biggest fall in the currency this week actually came earlier on, when Westpac raised mortgage rates 14bps. Now, this follows similar moves from the smaller and regional banks, but the market pounced on this move, presuming it means the other banks will follow suit and thus reducing the likelihood of any official move from the RBA.
This saw a corresponding fall in interest rates with markets pricing just a 20% chance of RBA tightening by this time next year. Westpac Economics recently extended their forecast for the RBA to remain on hold through 2018, 19 and 20, and partly this is due to the tightening in conditions we are already observing in the absence of RBA rate hikes.
This tightening emanating from macroprudential policies from the banking regulator APRA, and this rise in wholesale funding costs which is being passed through to households and corporates.
As we move from traditionally less liquid August into more normal trading conditions in September, it really feels like US–China trade wars heating up again and Emerging markets haven't really stabilised.
Domestic politics and local data has weighed on the currency, but AUD/USD should be able to avoid a break of the mid-August lows near 0.72 if USD continues to weaken. That said, it does look like the theme of AUD underperformance could continue, especially if global risk appetitive deteriorates further on emerging market concerns.
The week ahead
Next week sees a busy local data slate. Retail sales Monday, RBA meet on Tuesday, to be followed by Q2 GDP and trade balance data. For GDP, our economics team is picking a 0.6% growth for the quarter, 2.7% for the year.
US labour day holiday may thin markets, but we'll be watching for further developments on trade policy, any deterioration set to impact risk sentiment. While this could again weigh on Aussie, the August lows of 72c should hold.
We'll be back to talk to you next week
---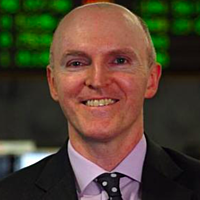 Senior Currency Strategist
Westpac Bank
Sean Callow is Westpac Bank's Senior Currency Strategist, based in Sydney. Sean focuses on the Australian dollar and other G10 and Asian currencies. He has worked in strategy and economics roles in New York, London, Singapore and Melbourne.
Expertise