Australians Love a Bet (ASX: TAH)
---
Tabcorp has long been the number 1 operator of sports and racing wagering in Australia, with exclusive retail licences now across all States and Territories (with the exception of WA which is in the process of privatising its wagering operations). 
Tabcorp is Australia's largest wagering and sole lottery operator with exclusive retail licences in all States and Territories (with the exception of WA, which is in the process of privatising its wagering operations).
Together Lotteries and Wagering make up around 85% of group profits.
The Wagering category has been highly competitive in recent years, however the regulatory landscape is changing and Tabcorp stands to benefit substantially.
The Lottery business continues to be one of the best business models in Australia.
The merger of Tabcorp and the former Tatts business is expected to result in substantial cost and revenue synergies that will underpin profit growth in the medium term.
Despite this strong foothold, in recent years online corporate bookmakers have taken market share, with their competitive position benefiting from being domiciled in an abnormally low tax regime in the Northern Territory.
That is all about to end. As the online bookmakers have taken share, Tabcorp has not been alone in leaking industry profits. For the States and Territories, taxes on wagering is a significant part of the public purse, and they do not benefit from bets placed online with a bookmaker domiciled in the Northern Territory. To protect their interests, they have each introduced a 'Point of Consumption Tax', which has the effect of taxing the bet in the State/Territory that the transaction took place. As a result, the online bookmakers will no longer be able to exploit a competitive tax advantage. Many online bookmakers will no longer be profitable, and those that survive, will have lower levels of profit to re-invest in marketing/customer acquisition. Through their state based licences, Tabcorp are expected to see very little change to their tax obligations, and we expect in the medium term to see revenue and profit growth trends improve.
The lottery business we believe is one of the best business models in Australia.  As in wagering, Tabcorp enjoys exclusive long dated licences across Australia (again with the exception of state operated lottery in WA). This licence regime was recently tested by online operator Lotto Land - which was subsequently shut down by the government, re-inforcing Tabcorp's dominant position in the sector. Lotteries are high volume, low value transactions, with zero risk of loss to the operator and virtually no competition. There is no working capital or inventory to manage, and the customer base is large and fragmented. Growth is steady CPI plus with the operator able to support growth through price increases and tweaks to the rules of the game. Profits are growing faster than revenue largely due to migration to online (saving commission expense to newsagents). 
In summary, we invested in Tabcorp for the following reasons:
High quality operator – Tabcorp is a high quality, regulated and respected operator of wagering and lotteries product, with exclusive licences and strongly aligned with their respective State and Territory Governments.
With an improving operating outlook – the wagering industry is undergoing one of the most significant changes to the regulatory regime in many years, and Tabcorp should benefit from the subsequent weakening of their online bookmaking competitors.
Now supported by one of the highest quality businesses on the ASX – following the merger with Tatts, Tabcorp now has ownership of what we believe is one of the highest quality businesses in Australia, with steadily growing cash flows to support the more competitive wagering business.
With medium term growth underpinned by internal synergies – Tabcorp's near term performance is not reliant on a buoyant consumer to grow - the merger with Tatts Group is expected to result in at least $130m of cost and revenue synergies over the next 3 years – representing c20% growth from the combined profits of the businesses in FY18.
Valuation supportive – We were able to buy Tabcorp shares at an After Tax Cash Earnings Yield of c7%, and paying a fully franked dividend yield of c6%.
This stock is currently held by our Australian Equities Income Fund.
 
Never miss an update
Stay up to date with the latest news from Pengana's Australian equity team by hitting the 'follow' button below and you'll be notified every time I post a wire.
Want to learn more about Pengana? Hit the 'contact' button to get in touch with us or visit our website.
---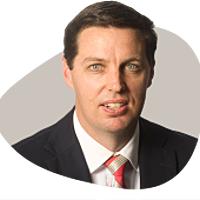 Pengana Australian Equities Income Fund, Co-Fund Manager
Pengana Capital Group
Mark is a Fund Manager for the Australian Equities Income Fund, and Analyst for the Australian Equities Fund, having joined Pengana in 2013. Prior to that, he was a research analyst at Morgan Stanley (UK & Australia), & chartered accountant with PwC.