Ben McGarry - Going Long In Capital Preservation - Podcast
---


The Totus Capital Alpha Fund is up 9% CYTD for 2020, during a period when global equity markets have rerated significantly. Throughout the episode, Ben discusses the opportunities he believes are being created in markets, and the short term trends that have been created by the virus. Similar to our previous guest John Hempton, Ben argues that this is a virus issue at its core which cannot be solved through central bank intervention.
Ben also discusses the ongoing management of Totus' book, which may contain circa 80 shorts and 40 longs on any given day. As well as his outlook on BNPL (Buy Now Pay Later) platforms, proposed rental concessions and other impacts across the different age demographics.
The Totus Alpha fund has been running since 2012, and up to the end of Feb 2020 has returned 17.4% p.a. (net of all fees).
More podcasts
If you're enjoying Inside the Rope and don't want to miss a future episode, subscribe now to get notified when a new episode is released.
........
This research note has been prepared without consideration of any client's investment objectives, financial situation or needs. Before acting on any advice in this document, Koda Capital Pty Ltd recommends that you consider whether this is appropriate for your circumstances. While this document is based on the information from sources which are considered reliable, Koda Capital Pty Ltd, its directors, employees and consultants do not represent, warrant or guarantee, expressly or impliedly, that the information contained in this document is complete or accurate. Koda does not accept any responsibility to inform you of any matter that subsequently comes to its notice, which may affect any of the information contained in this document. © Copyright Koda Capital 2019 | AFSL: 452 581 | ABN: 65 166 491 961 | www.kodacapital.com
---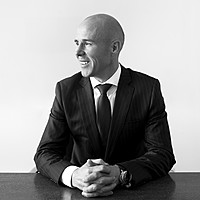 Adviser & Partner
Koda Capital
David Clark is an Adviser & Partner at Koda Capital. In his podcast 'Inside the Rope', David interviews some of the leading minds in wealth management.
Expertise