Copper leading resources higher
---
The copper price is often regarded as a barometer of the world economy because of its wide-ranging applications in industrial production and electrical equipment. Copper is used everywhere from homes and factories, to electronics and power generation and transmission, so demand for copper is often viewed as a reliable indicator of economic health.
Solid fundamentals for copper 
Goldman Sachs is bullish on the copper price this year.  Although the copper price was weak in March, GS put this down to temporary factors including weather. In GS's view, both fundamentals (e.g. steady supply and delayed demand) and sentiment (e.g. concerns over global growth and trade frictions) negatively impacted the copper price. On China demand, GS's analysis suggests that the later-than-usual Chinese New Year played a role and inventories have largely moved in line with previous years' experience once the timing of the Chinese New Year is taken into account. 
According to GS's channel checks, there are already some green shoots of demand increases. Historical patterns also suggest that inventories should normalize in the coming weeks. The key ingredients of GS's bullish copper view this year have not changed, and are as follows:
Strong global growth,
Cost inflation,
China copper scrap imports ban, and
US dollar weakening.
GS expect copper prices to move higher toward their US$8,000/t year-end target (from US$6,830/t currently). 
The copper price has actually been trending higher since the start of 2016, taking resources stocks higher with it. Short-term and long-term correlations between the copper price and the share prices of the big Australian miners is quite high.
BHP and RIO's correlation to copper
Rio Tinto and BHP Billiton are both significant producers of copper, chiefly through their stakes in the world's biggest copper mine, Escondida in Chile, and virtually every other commodity they sell is sensitive to global demand. 
The first chart shows the correlation between the LME 3-month rolling forward copper price and RIO's daily share price since the start of 2016.
The second chart is a longer-term one back to 2000 showing BHP's share price against the LME copper price. 
For investors looking for a pure-play copper stock, one that screens well is Sandfire Resources (SFR.ASX), which we mentioned in a recent wire.
Sandfire has a PEG ratio below 0.25, a high free cash flow yield, high ROE and net cash on its balance sheet.
Time to top up resources exposure?
The chart below shows the relative performance of the Australian All Resources Index against the ASX 200 Index, as well as the 200-day moving average. Resources stocks have been generally outperforming the market since the start of 2016, after a multi-year period of underperformance once the mining boom ended in 2011. 
Often a key part of structuring a concentrated Australian equity portfolio to perform well against the benchmark is to have the right weighting in resources relative to the benchmark.
Post the mining bust, many portfolios are still underweight resources exposure. Over the very long term that may not matter too much. But it can make a big difference to relative performance over the short to medium term when resources are running. 
Several strategy teams are recommending overweight resources exposure at the moment, which is typical for late-cycle equity markets. It might be a good time to review portfolios to at least remove big underweights to the sector, by topping up resources exposure, if that is the case. 
---
This article is prepared by Mason Stevens Limited (Mason Stevens) ABN 91 141 447 207 AFSL 351578 and is general advice only and does not take into consideration yours or your client's personal objectives, financial circumstances or needs and should not be relied upon as personal advice. You should consider this information, along with all of your other investments and strategies when assessing the appropriateness of the information to your individual circumstances. Securities, by nature, rise and fall and as a result investing in securities including derivatives involve risk. Past performance is not a reliable indicator of future performance and may not be achieved in the future. Mason Stevens and its associates and their respective directors and other staff each declare that they may hold interests in securities and/or earn fees or other benefits from transactions arising as a result of information contained in this article.
Mason Stevens ensures that the information provided is accurate and complete but does not warrant its accuracy or reliability. Opinions and or information may change without notice and Mason Stevens is not obliged to update you if the information changes. Mason Stevens and its associated companies, authorised representatives, agents and employees exclude to the full extent by law, liability of whatever kind, including negligence, contract, fiduciary duties or otherwise, to investors or anyone else in respect of any loss or damage, including indirect  or consequential loss or damage, foreseeable or not, arising from or in connection with this information.
---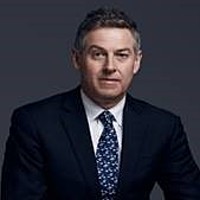 Head of Equities
Mason Stevens
Responsible for identifying domestic and international equity investment opportunities. 25 years of financial markets experience as an equity strategist, economist, analyst, portfolio manager and consultant.
Expertise