De-globalisation is reshaping our world
---
In the AFR I write today that if you believe the excerpts from John Bolton's new book on his term as national security adviser to President Donald Trump, the putative leader of the free world is as mercenary and capricious as the worst possible caricatures, and is fundamentally undermining the US-established western liberal-democratic order. This of course is creating openings for its existential strategic rival, China, which President Xi Jinping has failed to capitalise on. Read the full column here or AFR subs can click here. Short excerpt below:
In one telephone call between Trump and Xi, the former celebrity apprentice host "stunningly turned the conversation to the coming US presidential election, alluding to China's economic capability and pleading with Xi to ensure he'd win," Bolton claims. "You're the greatest Chinese leader in 300 years!" Trump allegedly told Xi, "amending that a few minutes later to 'the greatest leader in Chinese history'."
In another classic anecdote Bolton recalls that "when Xi said he wanted to work with Trump for six more years…Trump replied that people were saying that the two-term constitutional limit on presidents should be repealed for him". (In 2018 Xi removed the two-term limit on Chinese presidents to become a leader for life.) A master politician, Xi responded by saying that "the US had too many elections he didn't want to switch away from Trump, who nodded approvingly".
This stuff is frankly hard to make-up: it is like watching the brilliant 2004 satire Team America: World Police recast in 2020.
And yet you would be disappointed if you had hoped to see some desperately-needed error-correction from Xi to resist the seemingly inevitable Western decoupling of supply-chains from China, which combined with huge demographic headwinds, massive excess capacity, weak per capita incomes and miserly consumption demand, fundamentally threatens the Middle Kingdom's long-term prosperity and the Chinese Communist Party's (CCP) legitimacy.
We've had the fast-tracking of the new national security laws in Hong Kong that will finally give the CCP complete control over that recalcitrant democratic isle. What was once Asia's premier financial centre is all but dead as a dodo, creating an enormous opportunity for Australia and Singapore as top talent and valuable capital flee from the authoritarian regime.
Concurrently, the PLA appears to have provoked military conflict with its nuclear neighbour India at 14,000 feet (4,300 metres) along the contested border at Ladakh, which has resulted in more than 63 casualties between the two armies (and if you believe the Indian press, as many, if not more, on the Chinese side).
The worst military skirmish between China and India since 1967 has unsurprisingly pushed the latter further into the eager embrace of its quadrilateral partners, Australia, Japan and the US, including a new "Comprehensive Strategic Partnership" between Australia and India that will involve defence cooperation focussing on the Indo-Pacific region, which is looking like it will become the new Middle East.
The Indian government is now flagging that it will ban Chinese companies from supplying any telecom equipment to state telcos and may prohibit private mobile operators from using gear provided by Huawei and ZTE. Sound familiar? The UK and Canada have recently canvassed similar decisions following in the footsteps of Australia and the US.
After the border stoush, state-owned Indian Railways scrapped project contracts awarded to Beijing National Railway Research and Design Institute of Signal and Communication Group in another example of Chinese-induced decoupling.
A new and emboldened political consensus in the US that China is an unambiguous strategic threat that must be actively thwarted has seen no less than three aircraft carriers deployed to the Pacific and the first US military flight over Taiwanese territory (claimed by the Chinese) since 2015.
Misguided Chinese attempts to engage in economic coercion with Australia by threatening tourism, education, beef, barley and coal exports have been completely counterproductive, precipitating an unprecedented public resolve from the prime minister and foreign minister that they will resist Chinese efforts to undermine the liberal-democratic trading system with a coalition of like-minded developed nations.
In an important new speech, foreign minister Marise Payne was remarkably direct when declaring that "it is troubling that some countries are using the pandemic to undermine liberal democracy to promote their own more authoritarian models". "As Prime Minister Morrison said in March of this year, there are some who believe liberal democracies and free societies cannot cope with these sorts of challenges," Payne continued. "We will prove them wrong here in Australia."
Payne expressed deep concern that "we have seen disinformation pushed and promoted around the coronavirus pandemic and around some of the social pressures that have been exacerbated by the pandemic", highlighting a European Commission report that "concluded foreign actors and countries – in particular Russia and China – had carried out targeted disinformation campaigns seeking to undermine democratic debate and exacerbate social polarisation, and improve their own image in the COVID-19 context".
Payne went on to say that she'd been "very clear in rejecting as disinformation the warnings of the Chinese Government that tourists and students should reconsider coming here because of racism". "The disinformation we have seen contributes to a climate of fear and division when, at a time like this, what we need is cooperation and understanding."
Finally, she revealed that Australia had co-signed with 131 other countries a statement in the UN warning that COVID-19 had "created conditions that enabled the spread of disinformation, fake news and doctored videos to foment violence, to divide communities".
All of this explains why we are very focussed right now on relations between China and the West, and what this portends about the future.
Get investment ideas from industry insiders
Liked this wire? Hit the follow button below to get notified every time I post a wire. Not a Livewire Member? Sign up for free today to get inside access to investment ideas and strategies from Australia's leading investors.
........
General Disclaimer: Past performance does not assure future returns. All investments carry risks, including that the value of investments may vary, future returns may differ from past returns, and that your capital is not guaranteed. This information has been prepared by Coolabah Capital Investments Pty Ltd (ACN 153 327 872). It is general information only and is not intended to provide you with financial advice. You should not rely on any information herein in making any investment decisions. To the extent permitted by law, no liability is accepted for any loss or damage as a result of any reliance on this information. The Product Disclosure Statement (PDS) for the funds should be considered before deciding whether to acquire or hold units in it. A PDS for these products can be obtained by visiting www.coolabahcapital.com. Neither Coolabah Capital Investments Pty Ltd, EQT Responsible Entity Services Ltd (ACN 101 103 011), Equity Trustees Ltd (ACN 004 031 298) nor their respective shareholders, directors and associated businesses assume any liability to investors in connection with any investment in the funds, or guarantees the performance of any obligations to investors, the performance of the funds or any particular rate of return. The repayment of capital is not guaranteed. Investments in the funds are not deposits or liabilities of any of the above-mentioned parties, nor of any Authorised Deposit-taking Institution. The funds are subject to investment risks, which could include delays in repayment and/or loss of income and capital invested. Past performance is not an indicator of nor assures any future returns or risks. Coolabah Capital Institutional Investments Pty Ltd holds Australian Financial Services Licence No. 482238 and is an authorised representative #001277030 of EQT Responsible Entity Services Ltd that holds Australian Financial Services Licence No. 223271. Equity Trustees Ltd that holds Australian Financial Services Licence No. 240975. Forward-Looking Disclaimer: This information may contain some forward-looking statements. These statements are not guarantees of future performance and undue reliance should not be placed on them. Such forward-looking statements necessarily involve known and unknown risks and uncertainties, which may cause actual performance and financial results in future periods to differ materially from any projections of future performance or result expressed or implied by such forward-looking statements. Coolabah Capital Investments Pty Ltd undertakes no obligation to update forward-looking statements if circumstances or management's estimates or opinions should change except as required by applicable securities laws. The reader is cautioned not to rely on forward-looking statements.
---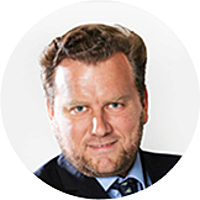 Portfolio Manager & Chief Investment Officer
Coolabah Capital
Chris co-founded Coolabah in 2011, which today runs over $8 billion with a team of 26 executives focussed on generating credit alpha from mispricings across fixed-income markets. In 2019, Chris was selected as one of FE fundinfo's Top 10 "Alpha...