Diversification isn't a luxury. It's a necessity.
---
Reporting season not doing it for you? Looking at a one year return of -4.41% in the index? There are alternatives… Like simply being in assets denominated in US$, the value of which has appreciated 27% in one year. Or in Amazon, which has gone up 60% (in US$. Aussie dollar add another 27%.) You are not alone. The tax office aggregated data for self-managed super fund data showing that SMSF's hold 30.3% of their total assets (a whisker under A$150b) in listed Australian shares and virtually the same amount in cash. In overseas shares, there was A$1.9b, or just 0.39% of the total SMSF pool. So it's official. As a nation of SMSF investors, we are under-done internationally. Why is international diversification important? Because a proportion of our spending goes offshore – in the form of cars, furnishings, clothes, consumer goods, travel, entertainment etc. As the Australian dollar falls (and likely, continues to fall) the cost of these goods will go up. Diversification isn't a luxury, it's a necessity. (VIEW LINK)
---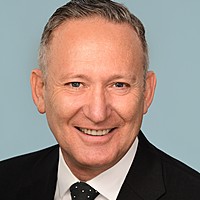 CIO of Loftus Peak, a specialist global fund manager with a track record of successful investment in some of the world's fastest-growing listed businesses.
Expertise