Dividend gains and dividend pain
---
Falling domestic interest rates had primed the Australian equity market for a poor bout of earnings results.
By and large results were soft, but not disastrously so.
When it comes to dividends, we still find they are rising, however, the pace of increases has slowed considerably from the first half of the year.
Dividend pain - AMP, Telstra, Adelaide Brighton and Speedcast
AMP and Adelaide Brighton set the early tone for the reporting season by pre-announcing poor results and omitting dividends.
Royal Commission impacts continued to weigh on the results of many financials, with remediation costs continuing to climb. Slower residential and civil construction, along with rising input costs impacted Adelaide Brighton and this was also reflected in a poor result for Boral.
Telstra cut its final ordinary dividend from 7.5c to 5c a share, and also cut its special from 3.5c a share to 3c a share, although these changes simply mirrored the interim falls from February. Compared with two years ago, Telstra has now cut its full year ordinary dividends by 68% and its total dividends including specials by 48%.
But Speedcast produced what was probably one of the most disappointing results of reporting season. The satellite communications provider cut its dividend completely and its share price has fallen around 70% since the start of August, at time of writing.
Dividend gains – JB Hi Fi, BHP, RIO and Fortescue
JB Hi Fi defied expectations of soft consumer spending in retail, recording 7% earnings growth, some 3% above expectations, and increasing their final dividend by 11%.
BHP rewarded shareholders with a 30% increase in dividends, Rio increased ordinary dividends by 28% but topped that off with a billion dollars in special dividends.
Fortescue beat them all by doubling last year's dividend. Given Fortescue had already paid two special dividends this year to get ahead of the potential ALP franking credit policy, this was a very strong dividend result. All up Fortescue has paid $1.14 ($1.63) in cash (gross of franking) dividends over the past year, representing a trailing cash yield of over 14% (20% gross). However, with iron ore prices falling heavily in August, this probably represents the top of this cycle, with the big three iron ore miners all underperforming in August.
An honourable mention – QAN
Qantas probably deserves an honourable mention. Despite underlying earnings per share falling 11% on the back of a massive $614m increase in fuel costs, its strong cash flow position enabled the airline to reward shareholders with a 30% rise in final dividend to 13c fully franked, together with a surprise $400m off-market buy-back. We think this is a pretty commendable result given that fuel prices are largely out of their control and two years ago Qantas could only pay a 7c unfranked final dividend. Plato expects to participate in the buy-back.
The outlook for income stocks
The average increase in dividends for the stocks we follow at Plato Investment Management following this reporting season is 9% (this is interim or final ordinary dividend compared to same dividend last year), although perhaps a better reflection of the trend is to use the median increase of 3%.
In the February reporting season, we found the average dividend increase was 22%, with the median increase at 5%.
With market expectations for cash rates now factoring in the likelihood of 2 further 0.25% rate cuts, the demand for dividends should only increase.
However, investors should be cautious and not risk investing in just one or two traditional Australian income stocks. We believe the best approach is a diversified portfolio of income stocks, managed with an individual's taxation perspectives in mind.
Want to learn more about income?
Plato Investment Management is an Australian owned boutique equities fund manager specialising in maximising retirement income for pension phase investors and SMSFs. To find out more click "contact us" below.
---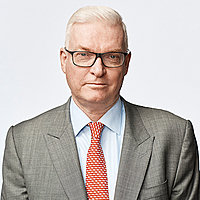 Managing Director
Plato Investment Management
Don has over 25 years investment management experience. He founded Plato Investment Management Limited in 2006. Prior to Plato, Don was Head of Active Equities, Asia Pacific and a member of the global Senior Management Group at State Street...
Expertise