Frank Lowy and Hamish Douglass: 16 life and investing lessons
---
In the latest episode of the Magellan — In the Know podcast, Hamish Douglass talks to his friend and mentor, Sir Frank Lowy AC, the legendary co-founder of the Westfield global retailing empire and founder of the Lowy Institute.

The two mates are thousands of kilometres apart but sound just like they're sitting back with drinks on a warm Sydney afternoon.
Lowy, speaking from Israel, draws on his experience growing up in war-torn Europe, and opens up about suffering the loss of his father to the Nazis just as his family planned to escape.
He relates how he came to Australia via the fledgling state of Israel and built the first of Westfield's shopping centres from a single delicatessen in western Sydney on the wave of post-war immigration.
Lowy says the benefit of hindsight allows him to discern the threads of his success. He's still annoyed with himself for making a huge error that was costly and embarrassing, but sees how it changed him for the better.
In this wire, I have cherry-picked 16 tips for life and enterprise from the interview.
(Note: You can listen to the whole podcast and read the full edited transcript here.)
Lowy started with a quick retelling of his turbulent childhood and how he found himself drawn to Australia with so many others in the wake of World War II.
Sir Frank Lowy: I was born in Czechoslovakia in 1930. Eight years later, it became Hungary, so I was a Hungarian.
The antisemitic laws prohibited Jews from owning businesses. So my father, in 1942, decided to move to Budapest, where we were able to mingle with the world without being known that we are Jews.
It all came to a sudden stop on 19 March, 1944. The German army occupied Hungary and life turned terribly worse. I lost my father the next day because they caught him in the street and I haven't heard from him since. I had a sister and a brother, and I went into hiding and I stayed with my mother.
I decided to immigrate to Palestine. I joined the Israeli Army in 1947 and fought in the Arab-Israeli war.
I learnt accountancy at night, so I got a job in a bank, and I enjoyed myself very much. But I was very much longing to be with my mother and sister and brother, who survived the war. They, meanwhile, immigrated to Australia. I decided to join them and they sent me the air tickets and I arrived in Australia in early 1952.
#1 Be ready to give
I lost my father early in my life — I was 12 or 13. Then I stayed with my mother. But both of them together and individually taught me to be charitable; to share. Once we discussed it and my mother said:
 "If you have little, give little; if you have a lot, give a lot." So that became my ethos in life.
#2 There's opportunity in numbers
Looking back is a lot easier than looking forward. Looking back, most of the decisions that we took were strategic business decisions. John could have opened the delicatessen in Bondi Junction or in the city. And we chose Blacktown.
Immigrants were pouring into Sydney, Australia, and most of them went to the western suburbs and Blacktown. We built few shops next to us. And it was very successful. We rented them and we sold them. So that was our first real estate venture.
On top of that, the landlord of ours in Blacktown had four or five acres behind our shops. We already heard about shopping centres in the United States.
And we bought that piece of land, we hired an architect and created a small shopping centre. It was an unbelievable success.
#3 Be curious, optimistic and paranoid — and listen to instinct
Practically my whole business career was always, I have an instinct. And then I followed and did the research about my instinct and that's where I make decisions.
But I'm very curious and, as you know, I'm paranoid. But, at the same time, I'm an optimist, because you cannot be a real estate developer without being an optimist.
But the paranoia must follow you. And I think I can attribute my success to those feelings. And then the people I choose to be with.
#4 Negotiate with yourself first
I think what I used to do is decide by myself where I want to be in ... negotiations. And I just didn't give in. Occasionally in business, you have to be giving in to give the other guys some victory also.
But I decided where I want to be at the end of the negotiation. And once I got there, there was nowhere to go.
I don't like negotiations that drag on for a long time. I lose patience. I know where I want to be. So why play around? Just set your position and stick to it.
#5 Never stop moving
If you stand still, to get going is quite difficult sometimes. It takes a few steps before you can move.
But if you keep moving all the time your feet, and you need to jump or walk or run, it's much easier to do. Standing still is not my nature anyway.
But opportunities come to you if you look for them.
#6 There's more to luck than just being lucky
You take advantage of opportunities, but you have to see the opportunity.
The two centres that we built in London have changed the company's profile. It became a worldwide company, and in effect, it enabled the sale , because Unibail really wanted to be in Europe more than they were, and also, they wanted to go to the United States.
I really wanted Westfield to be in the centre of Europe, which was London. And I tried over 20-odd years to establish ourselves there, but I didn't give up. You have to work hard. You have to be determined.
#7 Spreadsheets can't see the big picture
Decisions are not made on a spreadsheet. The spreadsheet is to prove to you that what you want to do is either right or wrong, and that's why that spreadsheet is necessary. But ... my spreadsheet really was my instinct.
Education
Money makes money: 10 investing tips from Hamish Douglass
#8 Always watch your leverage
The size of leverage that you are prepared to take is very important. In 1979, we were over-leveraged, and we formed the trust. In 2004, we amalgamated it, because Westfield itself was over-leveraged and the Westfield trust wasn't leveraged, because it was only equity.
I know what over-leveraging is. In the beginning, we had to be in order to move forward. But then, later on, you needed to be secure, not over-leveraged, and not to be at risk where you don't need to be at risk.
#9 Learn from others
Life is about learning, not standing still. And I learned a lot from you, and I'm very pleased to hear from you from time to time how much you enjoy the interaction between you and I.
There are a lot of other people that influenced me. I enjoyed working with my sons. Unbelievable luck. We get on well. It's not a honeymoon that we agree all the time with each other.
We respect each other, so when we debate, then at the end, there is a consensus. And when there is a consensus, there is no better way to make decisions.
#10 Don't hide mistakes
There was one business activity that I did and I didn't do my homework, and it was driven by ego — when I went into the television business. It turned out to be a disaster.
But when I cleared up the mess, I had some very good advice. I had a person that worked in the company and he was doing my PR.
And I sat down with him after we sold it. I said, "What do we do now?"
He says, "Frank, it was a big mistake that you have done. I can introduce you to a senior journalist, but you have to come clean."
And I said, "What do you mean, I have to come clean?"
"Tell the world that you have made a mistake."
I wanted to be credible and I wanted to admit that I have made a mistake, and it was accepted, and actually, I haven't heard any criticism afterwards.
#11 Know when to switch off
We all know that I was very successful and am very successful. If I would get the time again, I would like to do it a bit easier, because as good as it was, and as good as it is, it was very, very hard to be chairman of Westfield, managing director, chairman from 1965 till 2018, 2017.
It required a full commitment all the time, whether it was day or night. Saturday, Sunday was not a problem for me.
But if I would do it again, I would like to observe Saturday and Sunday. But people tell me, "Had you observed Saturday and Sunday, you probably wouldn't have gotten where you were."
#12 Unchecked ego can lead you astray
The world has forgotten my debacle on television but I haven't. I remember it. And I'm still cranky with myself that I did what I did because of ego.
There is no room for ego in life, at least not in business, but in life also.
You have to recognise the other side of the world, the other person, the other people, the other country, the other language, all this, you've got to mould into them rather than get over them.
#13 Stay curious
I am very interested in what I do, but basically, I probably inherited from my mother and father. But I'm very curious.
I don't want to stop because I'm 91. I'll stop when I have to. At the moment and for the last four or five years that I'm not in business ... just on my own and my three sons, I enjoy what I do.
I enjoy talking to you now. I enjoy my activities within the Lowy Institute and think tank that I chair here in Israel for the Middle East.
Life is very interesting if you are interested, and I don't spare myself.
#14 Stay physically active
I get up in the morning around 6:00, 6:30 — I go to the gym. I spend there a couple of hours before I start life. It's a lesson that you get energy in the gym. I do some swimming and come up for breakfast.
#15 Don't lose heart
As I explained to you, the TV was a disaster for me, but I compare it to rough seas. You have to swim in the sea. You have to come up for fresh air and stay with fresh air.
That kept me well to be determined, not to lose head and purpose. And there were some tough times.
Particularly in the early days, the risks were, of course, you had to borrow, you had to over-borrow. And you had to be sure that you sold in time so that you were able to pay the bank back.
#16 The sun will rise tomorrow
I think that life rolls. It doesn't stop; life rolls.
Once I had a failure, another one, the World Cup, to bring the World Cup to Australia. I was miserable, of course, I was cheated out of the position, but I came back from Zurich and I had to face the music.
The journalists were waiting for me and I accepted again the responsibility. And I said, "You know what, fellows, the sun will rise tomorrow."
I don't always succeed, but most of the time I say to myself, the sun will rise tomorrow.


---
So, what about you? Who are the most influential investors you have read or followed? What's the one tip you'd share with other readers?
Lowy and Douglass related some important tips. We'd love to hear from you, too. What is the best investment lesson, or tip, you have learned? Is there one book, or even one quote, that you have found the most persuasive or influential? If so, please share in the comments below. Thank you.
Education
Money makes money: 10 investing tips from Hamish Douglass
Equities
13 stock picks to own for the next five years
Never miss an episode

Give this wire a like if you've enjoyed the discussion and hit follow to be notified when new episodes are released.
If you're not an existing Livewire subscriber you can sign up to get free access to investment ideas and strategies from Australia's leading investors.
The edited transcript above was drawn exclusively from Magellan — In The Know with Hamish Douglass. Listen to the full episode below:
---
---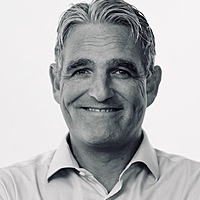 Content Director
Livewire Markets
Matt Buchanan is Head of Content at Livewire Markets. Matt is an avid investor with many years' experience in journalism and product in senior roles at the Sydney Morning Herald, the ABC and Microsoft, before landing his dream job with the...
Expertise