Hamish Douglass - The behaviours of great investors
---
In the special 100th episode of Inside The Rope, David is joined by Hamish Douglass of Magellan. Throughout the episode, Hamish references some of the world's greatest investors such as Warren Buffet, Benjamin Graham, Phil Fisher and Peter Lynch and discusses the impact these legends have had on Hamish's own approach to investing. Hamish highlights some of the key behaviours that lead some investors to be successful and offers thoughts on how we can leverage these behaviours throughout our own investing to achieve better outcomes.

David and Hamish additionally discuss Hamish's stance on cryptocurrencies, and reflect on Hamish's previous prediction that it is inevitable Bitcoin will go to zero. Lastly, Hamish shares his current view on the COVID-19 pandemic, as well as his thoughts on the potential impact of inflation on financial markets.
Hamish Douglass is Co-Founder, Chairman and Chief Investment Officer of Magellan Financial Group, and Lead Portfolio Manager of Magellan's Global Equity strategies. Hamish is a former member of the Australian government's Financial Literacy Board, the Australian government's Takeovers Panel, the Australian government's Foreign Investment Review Board and the Forum of Young Global Leaders – World Economic Forum. Hamish is a Director of the Victor Chang Cardiac Research Institute.
Not already a Livewire member?
Sign up today to get free access to investment ideas and strategies from Australia's leading investors.
More podcasts

If you're enjoying Inside the Rope and don't want to miss a future episode, click 'follow' below to get notified when a new episode is released.
........
This research note has been prepared without consideration of any client's investment objectives, financial situation or needs. Before acting on any advice in this document, Koda Capital Pty Ltd recommends that you consider whether this is appropriate for your circumstances. While this document is based on the information from sources which are considered reliable, Koda Capital Pty Ltd, its directors, employees and consultants do not represent, warrant or guarantee, expressly or impliedly, that the information contained in this document is complete or accurate. Koda does not accept any responsibility to inform you of any matter that subsequently comes to its notice, which may affect any of the information contained in this document. © Copyright Koda Capital 2020 | AFSL: 452 581 | ABN: 65 166 491 961 | www.kodacapital.com
---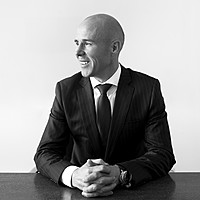 Adviser & Partner
Koda Capital
David Clark is an Adviser & Partner at Koda Capital. In his podcast 'Inside the Rope', David interviews some of the leading minds in wealth management.
Expertise