Global race is on for base metals
---
Mining's big boys are back in the chase for base metals, as this week's deals by BHP and South32 show. A lack of big-scale exploration success in recent years is fuelling growing concerns about a longer-term supply deficit, which is in turn increasing the strategic appeal of existing resources.    
The big end of town has got busy slipping some new base metals resource positions into their future development pipeline.
South32 has just written a cheque for the US1.3 billion cost of acquiring the 83% of US zinc developer Arizona Mining it did not already own and BHP has just paid a 30% premium to increase its stake in SolGold, owner of the Cascabel copper-gold deposit in Ecuador, with Newcrest also on the register.
The big boys have also stepped up their mineral exploration budgets, all of which were seriously under done in the capital restraint years of 2012- 2016.
There is nothing magic about the M&A moves or the exploration step-up. It has to happen in an industry that depletes its underlying resource base on a daily basis.
What the activity does point to is that good-sized base metal resource positions – unlike the bulk commodities – are not all that common.
As a result, known resources have strategic appeal to anyone in the business who wants to be around in 10, 15 or 20 years' time.
It is against that backdrop that Orion Minerals (ORN) has come into its own since its counter-cyclical acquisition of the Prieska zinc-copper project in South Africa's Northern Cape province back in 2015.
The now-gone AngloVaal mined more than 47m tonnes of zinc-copper mineralisation at Prieska from 1971 to 1991. It called stumps because it had mined the original reserve and because metal prices at the time were not conducive to pushing on.
Orion's $8.9m acquisition of the abandoned operation was a punt that Prieska had more to give. And it was right. An aggressive drilling program enabled Orion to report a maiden resource estimate earlier this year of 29.4Mt containing 1.11mt of zinc and 365,000t of copper.
It's not done yet either, with a hectic drilling program involving up to 18 drilling rigs recently completed.
While the program was essentially an infill program designed to achieve an upgrade in resource confidence, Orion has reported the drilling also "identified very promising possible extensions to the current resource which will be drill tested in coming months".
As it is, an updated resource based on the infill program is due to be released in mid-December and will be fed into the bankable feasibility study on a Prieska development in the June quarter next year.
The BFS has been in the works since July 2017 with a 1.2Mtpa mining and processing operation producing about 40,000t of zinc and 12,000t of copper annually the original plan.
Now the expectation is for a 1.8-2Mtpa. At the lower rate, 60,000tpa of zinc and 20,000t of copper would be hard to ignore, particularly as the gold and silver credits will contribute to what could be very low costs of production and very strong EBITDA numbers.
Orion last traded at 3.1c for a market cap of $52m. The above production profile suggests the market cap is on the mean side of things, presumably because of Prieska's South African location, even if South32 has a manganese operation in the region.
Orion itself is happy that SA's revised mining charter holds no fears for it. Independence Group must be thinking the same. It took up a $5m placement in Orion at 5c a share in May, not for Prieska, but for Orion's nickel projects elsewhere in the Northern Cape's Areachap Belt.
Berkeley Energia
Here's one for the brave – Berkeley Energia (BKY). It has lost 43% in the last two days on concerns that its advanced Salamanca uranium project in Spain would not get the necessary approvals to proceed.
Media reports on the potential roadblock by Reuters and others prompted a trading halt on Wednesday and somewhat remarkably, Berkeley resumed trading on Thursday.
We say somewhat remarkably because Berkeley has yet not been able to clear the matter up, saying it was waiting on a response from the powers that be. The market slammed the stock another 7c or 21% to 26.5c.
Why trading in the stock resumed without some serious clarification is anyone's guess. The market in Berkeley is seriously trading in the dark at the moment and given we are talking about the land of manana, it could stay that way for longer than is ideal.
Still, there were buyers of the stock at its lower levels yesterday. They come from the camp that, shock and horror, it's all a media beat-up.
They are betting that all that has happened is a request for more information ahead of a licence being issued.
Salamanca is a good-sized project in what looks like a firming uranium market. It's proposed 4.4m/lbs of annual production would make it a top-10 producer.
If the Spanish authorities do give Berkeley some comfort on the licence process, the stock will bounce back. But as mentioned earlier, it's one for the brave.
NTM Gold
The junior explorers have pretty much been abandoned by investors as a result of the market shakedown.
It means that the explorers are now at rock-bottom pricing. Lots of them deserve that treatment.
But a lot do not, and it has to be assumed that the trickledown effect of a recovery in the broader market – or at least a period of stability - will make its way down to those deserving of a fresh look.
Leonora gold explorer NTM has put its hand up on that basis. Fresh from establishing a 538,000 oz resource at its flagship Redcliffe project from known deposits, NTM has stepped out to find new deposits on its 40km section of the prospective Mertondale shear.
It has had early success, with a first pass aircore drilling program producing multiple 1g/t – plus hits across a number of prospects, with the Hub prospect in particular shining with a 7m hit grading 4.71g/t from 40m to the end of the hole.
Because it already has 538,000oz under its belt (with more at depth and along strike likely), it can be said that if any of the "potential" new gold discoveries from the on-going AC program shape up, NTM will quickly move in to game changing territory.
NTM will also start beeping on the acquisition radars of the four companies with treatment plants within trucking distance of Redcliffe - St Barbara, Saracen, Dacian and Red 5.
As it is, NTM is trading at 3.5c for a market cap of $11.5 or a lowly $20 a resource ounce after deducting its cash. Gold resource ounces don't come much cheaper.
---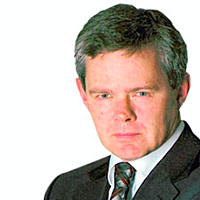 Principal
Independent Journalist
One of Australia's leading business journalists, Barry FitzGerald, highlights the issues, opportunities and challenges for small and mid-cap resources stocks, and most recently penned his column for The Australian newspaper.
Expertise