Hedge guru tips huge rate spike
---
In the AFR today I highlight that Australia's main fixed-rate, or Composite Bond index has once again been hammered, suffering significant capital losses as the world reluctantly accepts that long-term interest rates need to rise.
The Fed is now on track for three interest rate hikes in 2017, which is in line with our base case at the start of the year, in a shock to the dominant "doves", which are dropping out of the sky left, right and center.
This week ANZ's chief economist back-flipped from his call of no RBA rate increases in 2018 to now forecasting two. More interesting is hedge fund and former Goldman Sachs economist Tim Toohey's call that long-term yields could spike 130 basis points because US inflation is likely to increase much more than the market currently expects. (Click on this link to read for free or AFR subs can use the direct link here).  
Excerpt below:
"Last week I caught up with an old buddy and macro hedge fund trader Brett Gillespie, who offered much valuable guidance when I was setting up my own investment business seven years ago.
Gillespie has spent the last 12 years running $1 billion for the famed global macro shop Tudor, where has punched out consistently strong returns with low risk. In a role reversal of sorts, he has spun out to set up his own boutique manager in partnership with Ellerston Capital, which is 25 percent owned by James Packer.
Earlier this year Gillespie convinced respected Goldman Sachs chief economist Tim Toohey to join his team. And this month it was revealed that former RBA governor Glenn Stevens, who was reportedly in the running for a gig as a CBA director before the Austrac dramas, had likewise agreed to jump on board. (Stevens would have joined ex-Treasury boss Ken Henry and the preceding RBA governor Ian Macfarlane as game-keepers who after retirement promptly became poachers, which is not a pattern I would like to see repeated.)
Gillespie's edge is second-guessing the cash rate decisions of the RBA and other central banks through what he argues is a better-than-average ability to forecast global macro outcomes over the next three to nine months. He is certainly one of the most astute monetary policy seers I have seen. After five downside surprises to US inflation this year, Gillespie asked Toohey to determine whether there was some signal in the monthly noise. "Tim noted that the soft inflation readings had very wide dispersion – most of the items in the CPI basket were falling," Gillespie recalls.
Breaking US inflation into five sub-categories, Toohey discovered that they all happened to coincidentally decline at the same time for completely different reasons. As this random synchronicity invariably flushes out of the data, Toohey forecast that core inflation in the US would bounce 0.5 percent over the next six to nine months. "Now that would surprise the world – and in particular the bond world," Gillespie averred.
As it turned out, US inflation did indeed surprise on the high side a few days later, with Goldman Sachs highlighting that core consumer price pressures were expanding at their fastest pace since January 2017. Another insight Toohey furnished concerned the impact of the Fed's announcement on Thursday that it will cease reinvesting maturing bonds on its balance sheet into new assets in what is called "quantitative tapering".  
The Fed's research implies this will only lift long-term rates by  about 75 basis points spread over many years, which Gillespie characterises as "inconsequential". Yet Toohey arrived at a very different conclusion: a global unwinding of central bank asset purchases suggests "10-year bond yields in the US [will] rise 130 basis points by the time we enter 2019"." 
---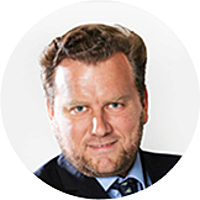 Portfolio Manager & Chief Investment Officer
Coolabah Capital
Chris co-founded Coolabah in 2011, which today runs over $8 billion with a team of 26 executives focussed on generating credit alpha from mispricings across fixed-income markets. In 2019, Chris was selected as one of FE fundinfo's Top 10 "Alpha...