Housing losses are going to get worse... (And RMBS downgraded)
---
Today I argue that our 2017 forecast for a 5% to 10% peak-to-trough drop in national house prices, which we are already 40% of the way to achieving, could extend to a larger 10% to 15% draw-down if lenders keep on (justifiably) lifting mortgage rates with their out-of-cycle hikes and Labor is elected to government and bans negative gearing while increasing capital gains tax on investment properties (via its proposal to halve the CGT discount). Indeed, property investors may already be pricing in an ALP victory given the deteriorating housing conditions. Crucially for investors in RMBS, I believe there is a very significant probability of credit rating downgrades for the AB through to D tranches in RMBS deals of between 1-3 notches given S&P has said this will automatically occur once national house prices decline by 10% or more (in view of the corresponding increase in the LVRs of loans backing these bonds). While this will generate losses on RMBS, buying opportunities should emerge in 1-2 years time. Excerpt only enclosed (click on this link to read my AFR column or AFR subs can click here):
While the Reserve Bank of Australia blew the mother of all housing bubbles with the equivalent of thirteen cuts to its cash rate—from 4.75 per cent in 2011 to an all-time low of 1.50 per cent in 2016—the Australian Prudential Regulation Authority can take credit for engineering the correction that commenced in 2017.
Ironically, when APRA started its campaign to tighten lending standards in December 2014, it was forced into a stealthy battle with its sister agency, the RBA. Despite warnings from this column that a bubble was brewing in 2013 and 2014, the RBA recklessly slashed its cash rate another four times over 2015 and 2016. Oh and this is after repeatedly assuring us since 2012 that its ultra-cheap money policies would not fuel super-strong house price or credit growth.
Whereas APRA was prudently pushing mortgage rates higher by introducing unprecedented credit rationing on investment and interest-only lending, the Martin Place mavens were chiselling the cost of borrowing. Go figure.
The good news is that APRA's boss Wayne Byres could not have delivered a more presciently timed correction. While the economy has been booming—as we have long argued—with above-trend real GDP growth of 3.4 per cent over the last 12 months (smashing consensus forecasts for only 2.9 per cent growth), national home values have shrunk 4 per cent from their October 2017 peaks. The downturn in the most buoyant market, Sydney, has been even sharper with prices falling some 6 per cent from their September 2017 highs according to the best available index provider, CoreLogic.
Few countries throughout history have had the opportunity to cauterise financial stability problems during a boom—most have to pick up the pieces after the bust. And yet as Australia's budget moves, as we previously forecast, into surplus earlier than anyone else anticipated on the back of lofty commodity prices, record employment growth, and elevated business conditions, our oft-lambasted Achilles heel—overvalued bricks and mortar—is fortuitously mean-reverting.
I suspect the budget may currently be in surplus on a rolling 12 month basis to 31 August on both the fiscal balance and net operating balance measures, which means that Josh Frydenberg should be the first treasurer in a decade to preside over a balanced set of books. 
---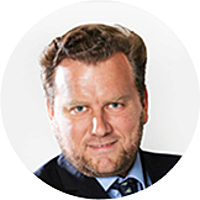 Portfolio Manager & Chief Investment Officer
Coolabah Capital
Chris co-founded Coolabah in 2011, which today runs $7 billion with a team of 33 executives focussed on generating credit alpha from mispricings across fixed-income markets. In 2019, Chris was selected as one of FE fundinfo's Top 10 "Alpha...