How much more are we willing to pay for sustainably sourced goods?
---
"We make the future sustainable when we invest in the poor, not when we insist on their suffering." Bill Gates
Here's an interesting UBS Evidence Lab survey of Australian consumers taken in the first two weeks of April, arguably the peak of the lockdown restrictions and heightened concern about pandemics (and job security). The survey asked how much more consumers would be willing to pay to:
shop at a store only sourcing sustainable goods; and
use renewable energy in their homes.
Interestingly, as UBS notes, "consumers revealed they were more willing to pay for sustainably sourced goods (65%) than for renewable energy (51%)". Higher energy bills would appear to continue to rank as a sore point for consumers. When moving beyond the category of "just a bit more" to two to three times more, similar results were found. Those prepared to pay more than twice for sustainably sourced goods was around 51%, compared with only about 38% for renewable energy.
When looked at by age cohorts, those younger than 35 years were more prepared to pay more than twice for sustainably sourced goods than those over 35 years—roughly 62% versus roughly 46%. For renewable energy it was starker (and lower) at about 55% for under 35-year olds and around 30% for those older (falling to 10% or so for those over 65 years old).
Interesting stuff. Obviously, when it comes to paying hard dollars rather than completing a survey, results can differ. But at least on the face of this survey, there's a significant appetite among Australian consumers for sustainably sourced goods and energy. However, that demand is clearly concentrated in the younger cohorts…and people are much more excited about sustainable goods than renewable energy.
How much would you pay for….
Align your investment with your values
The desire to invest responsibly has never been stronger. At Crestone, we work with a wide range of investors who are looking to align their investments with their values. Click the 'CONTACT' button below to get in touch with us.
........
General advice notice: Unless otherwise indicated, any financial product advice in this email is general advice and does not take into account your objectives, financial situation or needs. You should consider the appropriateness of the advice in light of these matters, and read the Product Disclosure Statement for each financial product to which the advice relates, before taking any action. © Crestone Wealth Management Limited ABN 50 005 311 937 AFS Licence No. 231127. This email (including attachments) is for the named person's use only and may contain information which is confidential, proprietary or subject to legal or other professional privilege. If you have received this email in error, confidentiality and privilege are not waived and you must not use, disclose, distribute, print or copy any of the information in it. Please immediately delete this email (including attachments) and all copies from your system and notify the sender. We may intercept and monitor all email communications through our networks, where legally permitted
---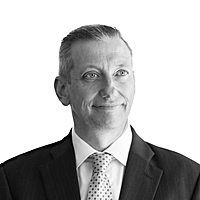 Chief Investment Officer
LGT Crestone
Scott has more than 20 years' experience in global financial markets and investment banking, providing extensive economics research and investment strategy across equity and fixed income markets.
Expertise